Easter Eggs (Dyed with Onion Skins)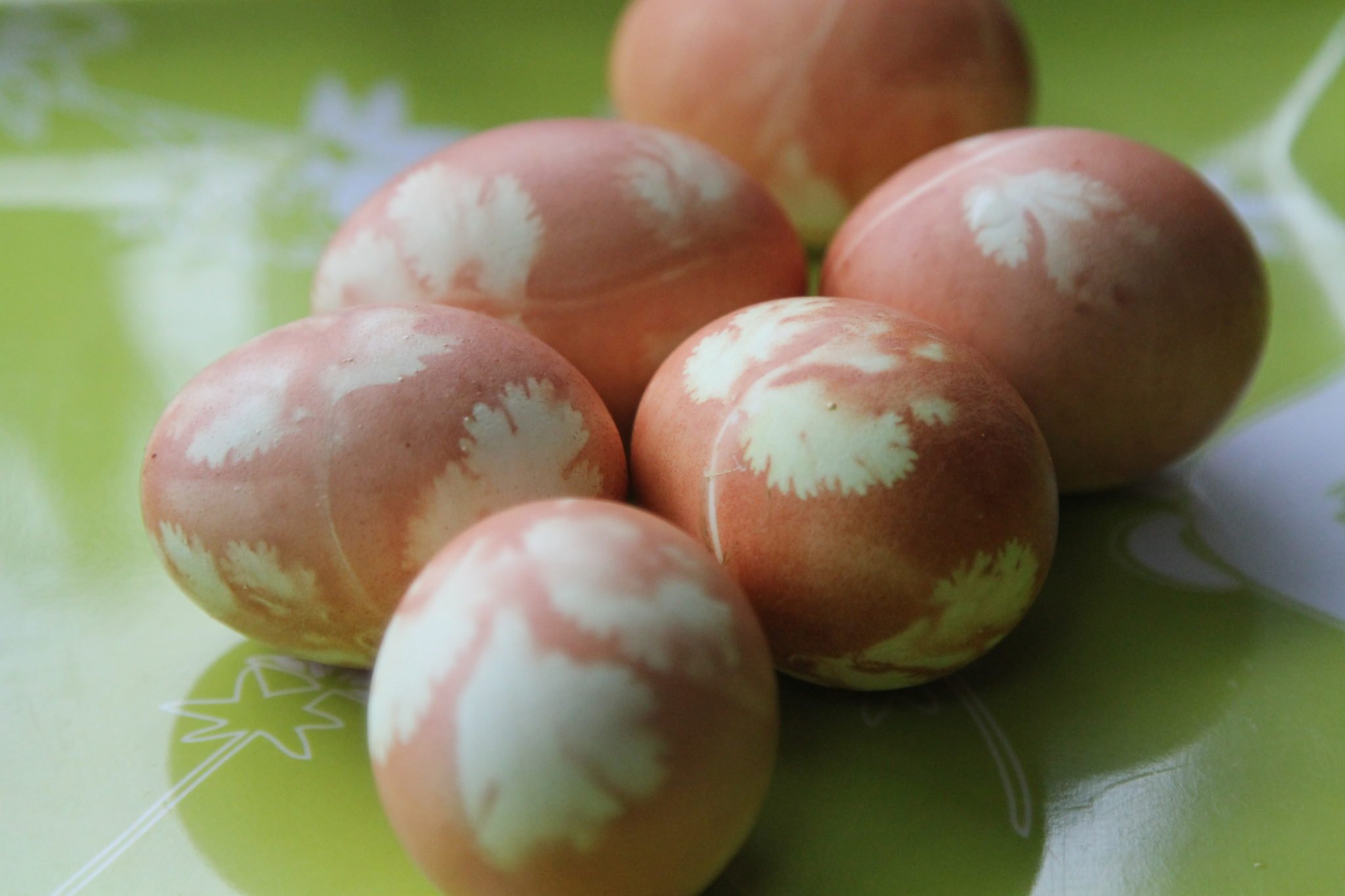 My favorite thing about holidays is the traditions attached to them. I guess I've always been sentimental, but it seems the older I get, the more sentimental I become. Easter is a special time of year, where we celebrate the fact that we serve a risen Lord. It's also a time to partake in Easter traditions. Dyeing Easter eggs in onion skins in an Easter tradition I intend to carry on for the rest of my days.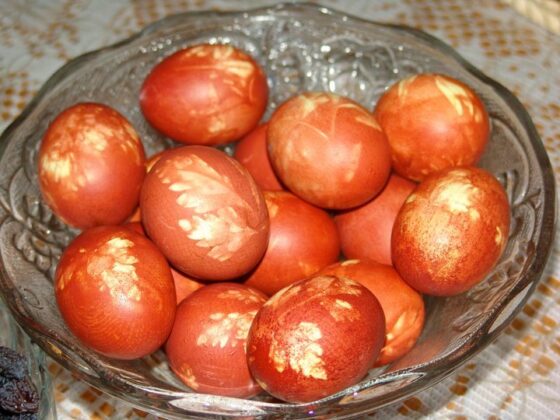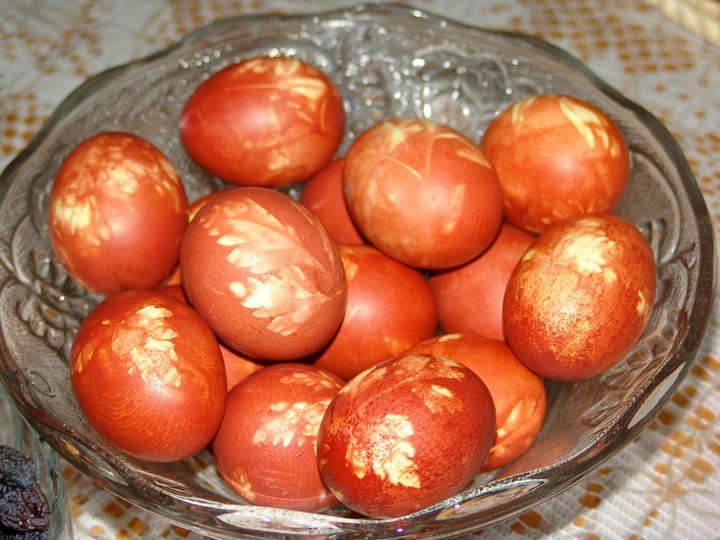 Easter Traditions
We have an Easter tradition at my church. Our Pastor announces "He is risen!" (referring to Christ). The congregation responds "He is risen indeed!" Assyrians have many Easter traditions as well. One of them is dyeing Easter eggs with onion skins. Since I'm a very traditional girl, I dye my Easter eggs the same way every year. It's funny because my sister, Beni, recently sent me a video of someone using whip cream to dye their Easter eggs. I replied with, "sorry, I'm making mom's traditional eggs, I'm all about the tradition." Her response was "I'm all about easy!" So, if you want the easy way, be a quitter, and follow the link above. But, if you want to learn the ancient Assyrian way of dyeing eggs, continue reading!
Another Assyrian Easter Tradition
Another Easter tradition Assyrians have is playing a game with the Easter eggs once they're dyed. This tradition involves challenging family members to see whose egg is the strongest. You do this by attempting to crack their boiled egg with yours. The one with the cracked egg loses, while the one with the intact egg continues on to the next round, and challenges someone else. The person who has no cracks in their egg at the end is the winner. In my immediate family, we like to sweeten the deal by giving the winner a twenty dollar bill! This game is not exclusively an Assyrian one. Greeks play the same game, along with many other Middle Eastern Christian cultures.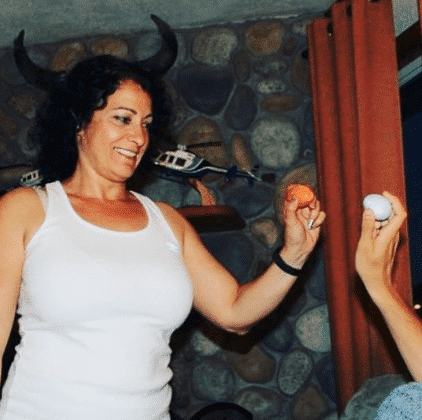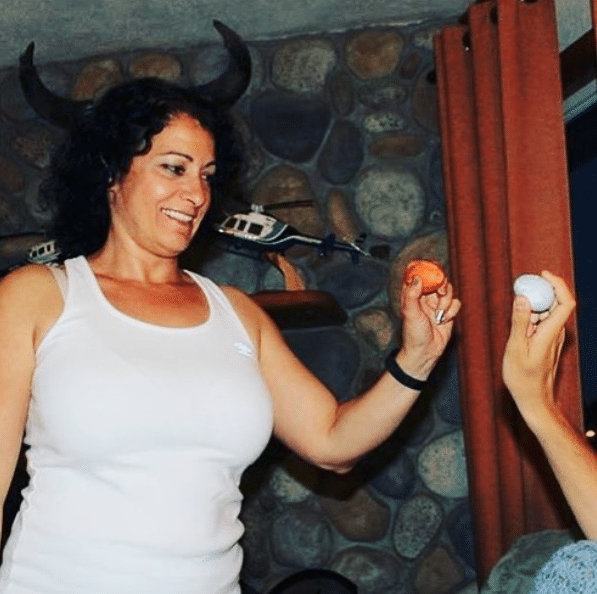 Mom's Dyed Easter Eggs
As mentioned before, Assyrians use onion skins to dye their Easter eggs. Mom used to collect onion skins throughout the year. When Easter came around, she had plenty of skins to dye her eggs with. I do the same thing now. My mom took her egg dyeing a step further; she wrapped cilantro and Italian parsley leaves around the eggs to achieve intricate details on her beautifully dyed eggs. I loved watching her in her kitchen, as she carefully wrapped each egg in a square piece of cotton cloth, and tied it in place with string. She always used the same method; the end result was always flawless!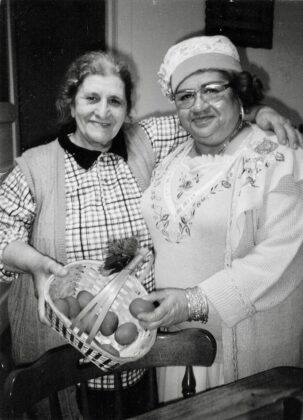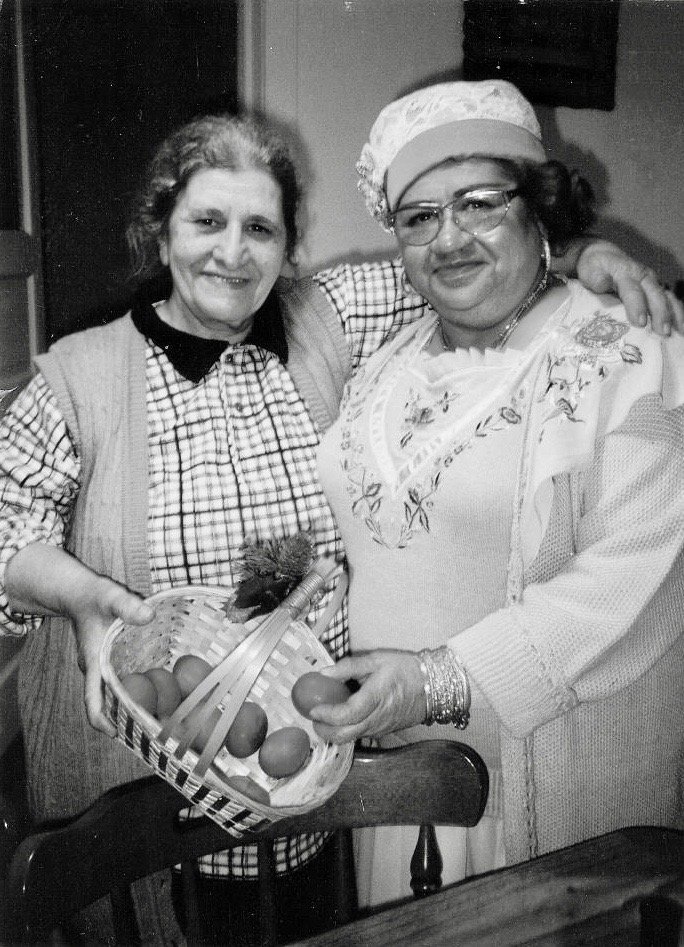 Various Dyeing Options
Over the years, I've played around with different dyeing ingredients to achieve various colors. Some of the ingredients I've used include tea, coffee, turmeric, purple cabbage, and food coloring. I recommend experimenting to see what colors you can come up with. I've also tried different things to wrap the eggs in, including cloth, paper towels, napkins, and pantyhose. Below you'll see some examples from previous years. Besides using different dyes, I played around with different leaves, flours, and herbs to achieve a variety of patterns. Have fun hunting for flowers and leaves from your own garden, just make sure the plants are not poisonous!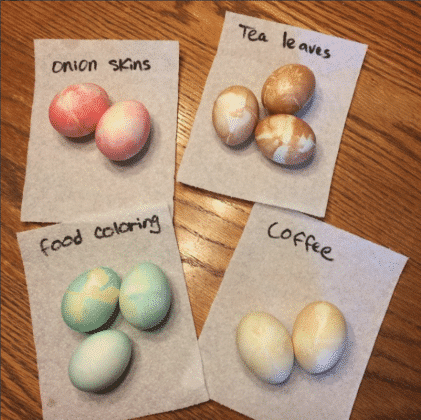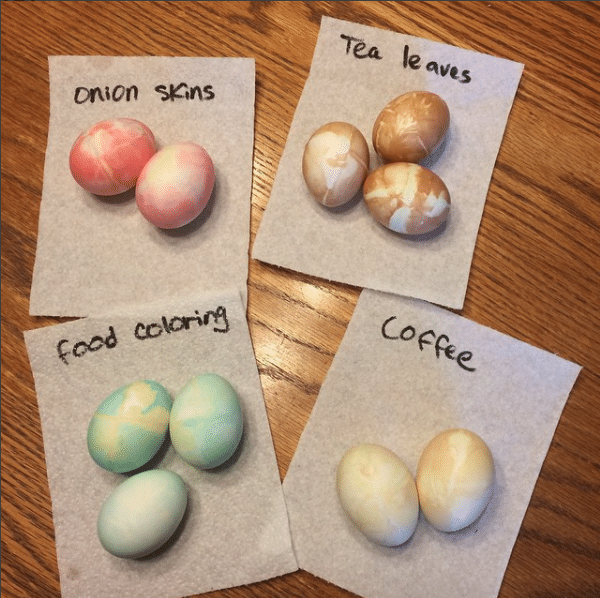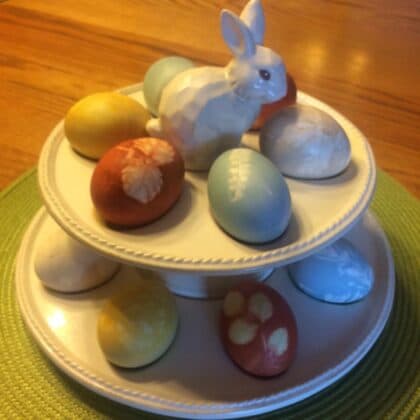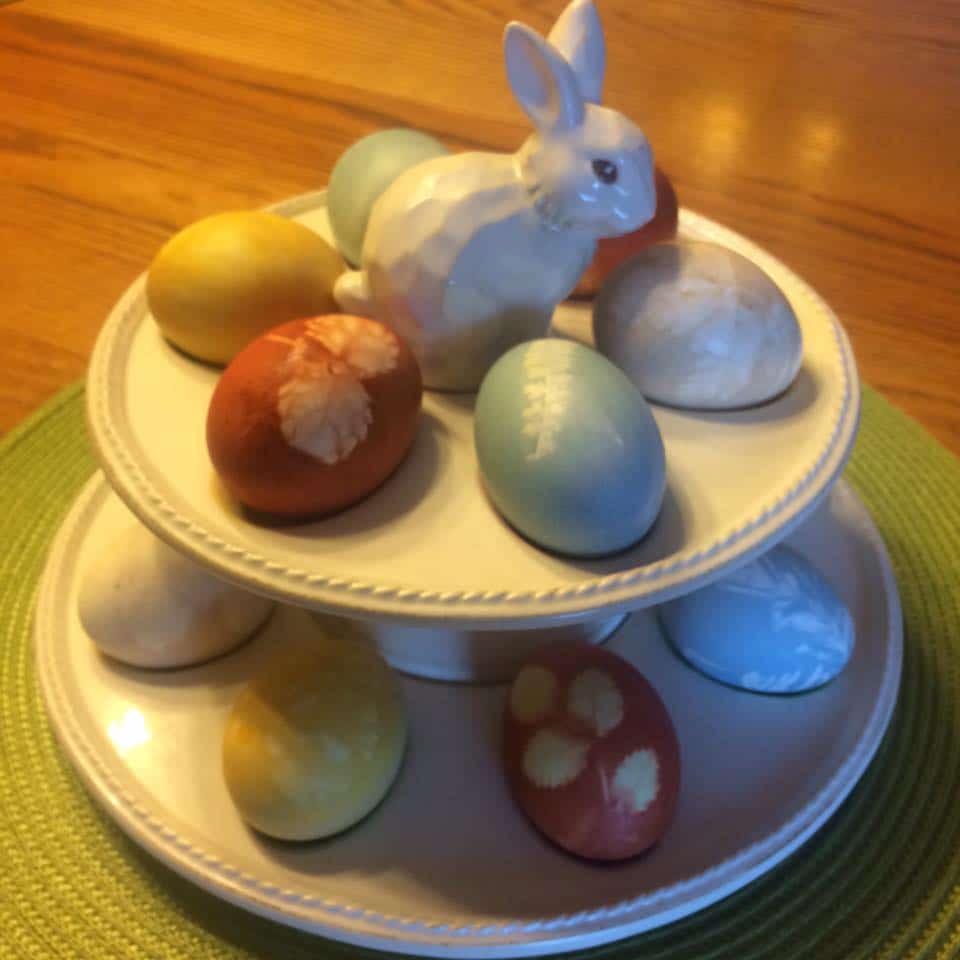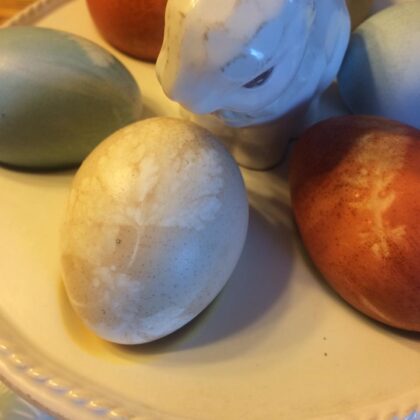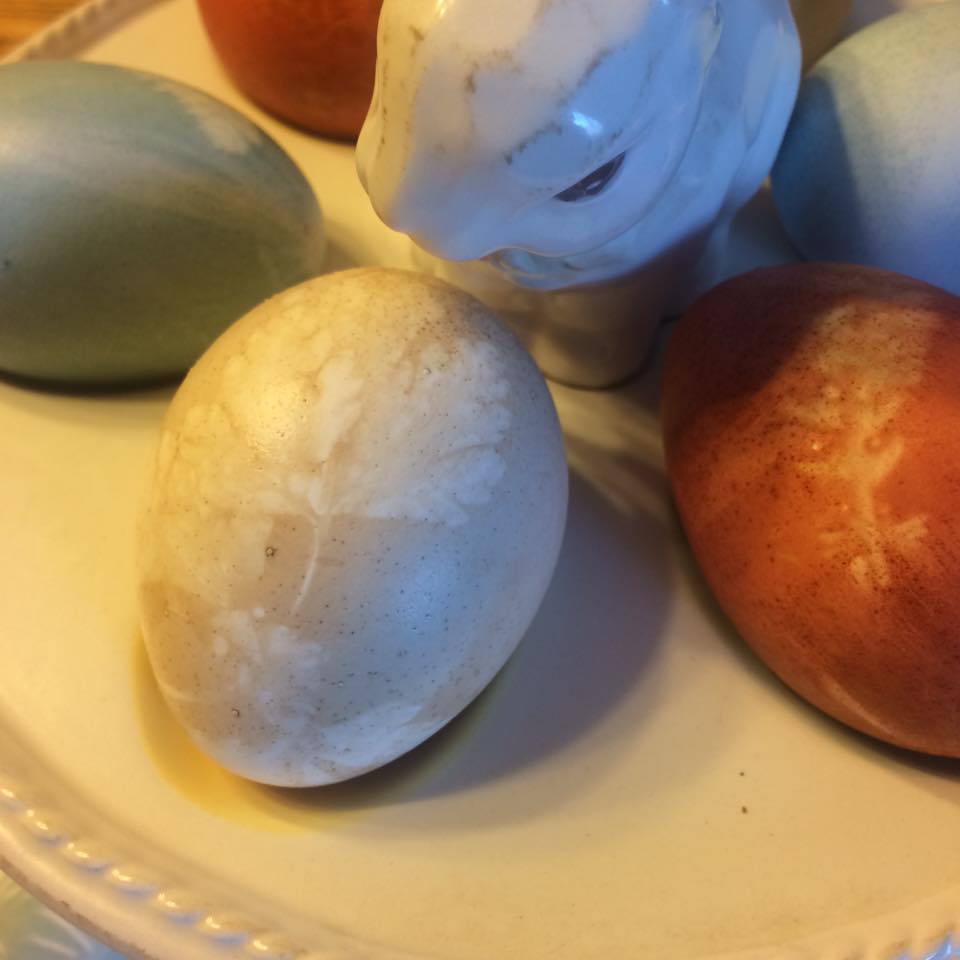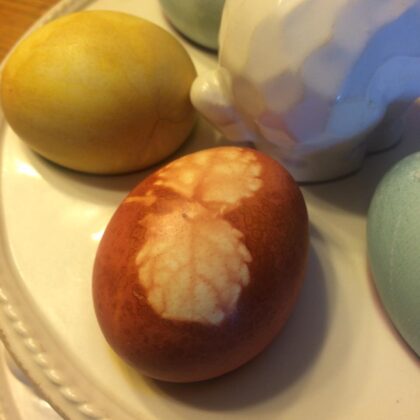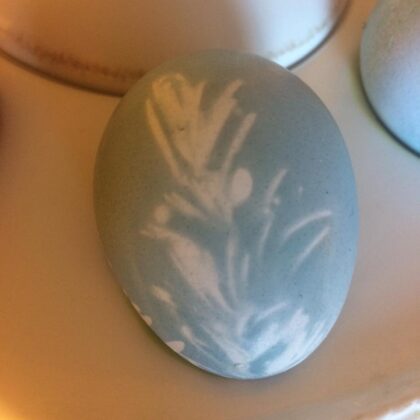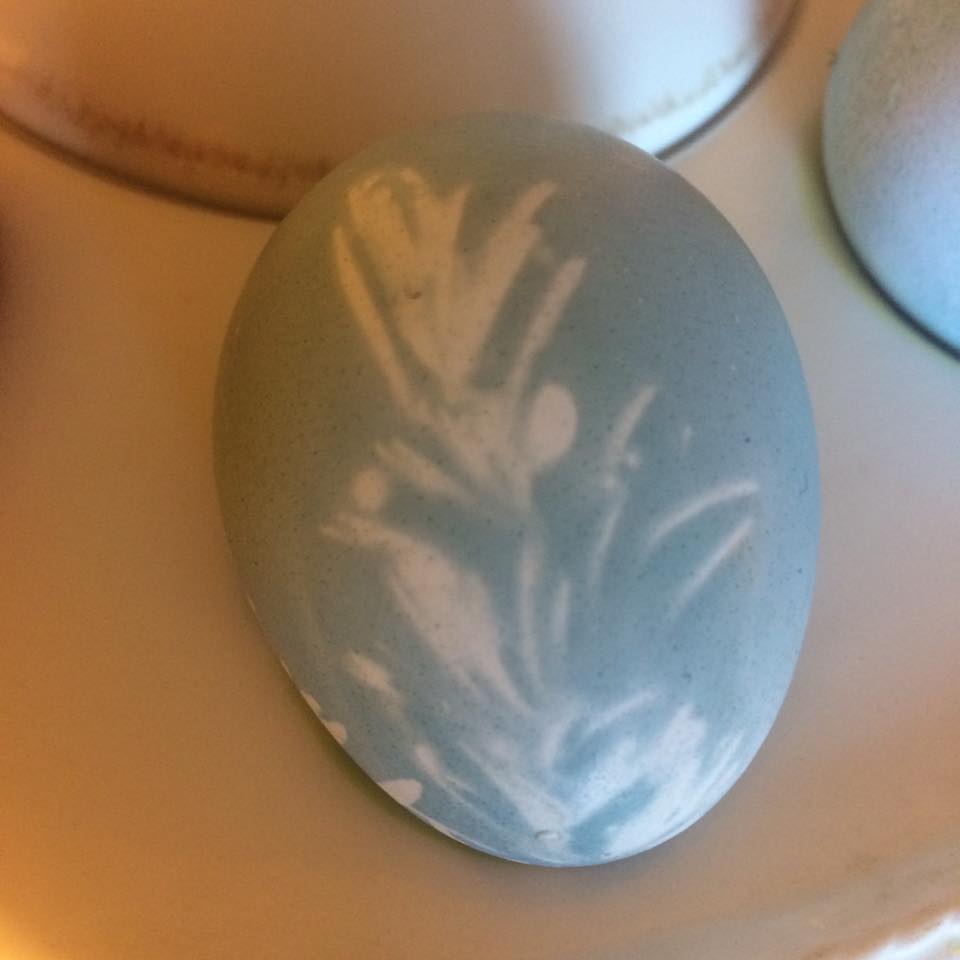 Do you Pinterest? Please help a girl out by pinning and sharing!
---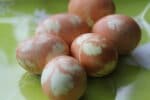 Easter Eggs (Dyed with Onion Skins)
Ingredients
6

eggs

2

cups

onion peels

6

sprigs

cilantro or parsley

6

rubber bands

6

white napkins
Instructions
Gather all your ingredients before you start.

Carefully place one sprig of cilantro or Italian parsley, or whatever you are using, over each egg. Make sure the leaves lay flat onto the egg. They stick better if you moisten the egg first.

Carefully cover the egg with a napkin, and gather the napkin towards the back of the egg.

Tie the napkin tightly with either with string or a rubber band. Do the same with the remaining eggs.

Carefully place the eggs in an electric tea kettle.

Cover the eggs with onion skins, then fill the tea kettle with water. Add a few tablespoons of white vinegar if you'd like. The vinegar is supposed to help the color adhere better, but my mom didn't use it, and hers were always amazing.

Bring the water to a boil. Once the water reaches the right temperature, it will shut off automatically. At this point, you can leave the eggs in there for at least a half an hour, or until the water cools off, up to an hour.

Carefully take out one egg at a time.

Remove the napkin, and carefully peel off the sprig.

Rinse off the egg in cold water.

Continue until all the eggs are uncovered, and display those beautiful eggs proudly!
---
---