Why make bone broth? Well, for starters, it's easy to make, relatively cheap, and chock full of health benefits. I realize that for some of you, it may seem like too much of a hassle in today's fast-paced world. But please stick around, I'm going to do my best to change your mind!
Bone Broth Health Benefits
Are you aware that bone broth is full of nutrients, high in protein, minerals, and amino acids? Here are some ways that bone broth can benefit your body: To start, it aids in digestion, boosts your immune system, and helps you grow healthy hair and nails. Next, the collagen in the broth is reported to have anti-aging properties, aiding with your skin's elasticity; anyone mind looking a little younger? Furthermore, with added benefits like strengthened bones and joints. So you see, the effort that goes into making this highly nutritious broth is definitely worth it!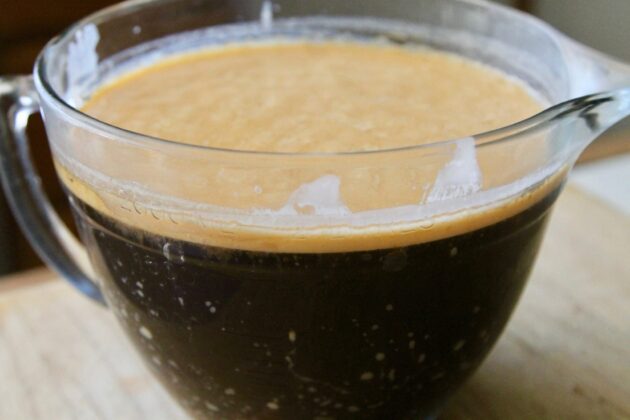 Broth, Stock, and Bone Broth
Have you ever wondered what the difference is between broth, stock, and bone broth? Well, after doing some research on the subject, here is what the general consensus seems to be: First, a broth is made by simmering meat, vegetables, and water. It's only cooked for a few hours, and usually retains it's liquid form once cooled. A stock is made with roasted bones, vegetables, and water. The stock is usually simmered for up to six hours. When cooled, the texture resembles jello. Bone broth, on the other hand, is made with water that's simmered with roasted "meaty" bones, along with vegetables. It's cooked for a much longer time, up to 24 hours. This longer cooking releases even more nutrients and minerals, making it the healthiest options. It is also richer in color and taste.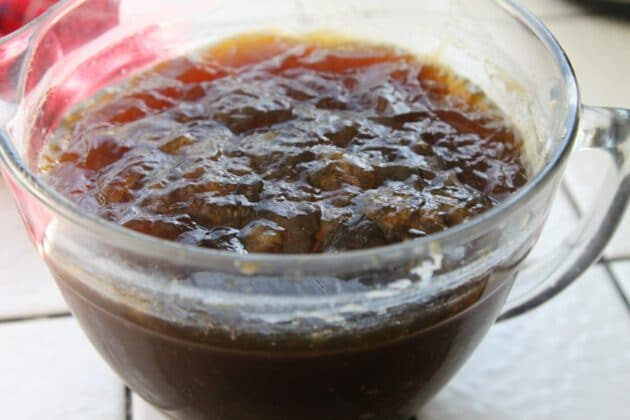 Final Thoughts
I hope I have convinced you to invest some time in making this highly nutritious bone broth. It will keep in your freezer until the next time you need it. Also, it's a perfect base for stew or soup! In closing, here's a tip for you dog lovers. After cooking, remove meat scraps off the bones, and a little broth, cooked vegetables, and mix in your dog's dry food.  Trust me, they'll love you for it! Don't let the look on Winston's face fool you, he's actually very happy!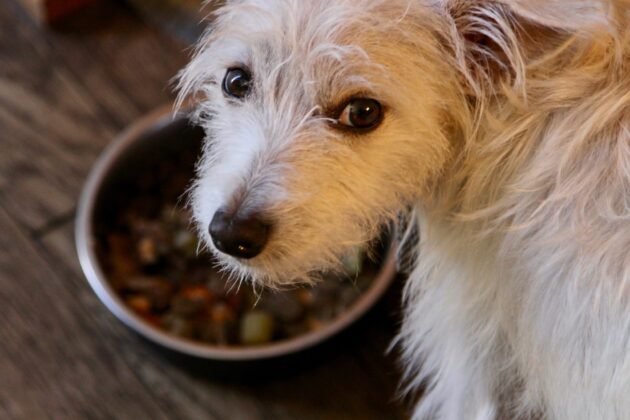 Do you Pinterest? Please help a girl out by pinning and sharing!
---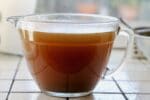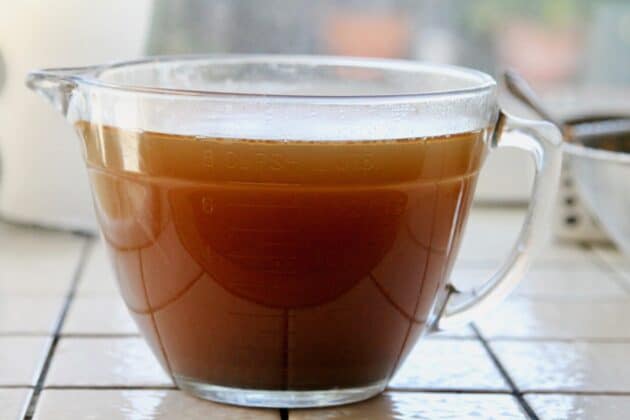 Bone Broth 101
Healthy and delicious bone broth that you can make at home!
Servings
:
6
1 cup servings
Ingredients
4 - 5

large

soup bones

(I used elk bones)

2

T.

tomato paste

1/4

tsp.

salt

1/4

tsp.

pepper

1

large

onion

chopped

3

cloves

garlic

chopped

2

large

carrots

chopped

2

stalks

celery

chopped

1

tsp.

peppercorn

1

tsp.

salt
Instructions
Heat oven to 450 degrees F

Place soup bones in a roasting pan. Smear the bones with tomato paste. Drizzle with olive oil, and sprinkle with 1/4 tsp. salt and pepper. Roast in the oven for one hour.

Meanwhile, chop up the vegetables and add to a stock pot. Add 1 tsp. salt and the peppercorn.

After an hour has elapsed, turn off the oven and remove the bones. Add the bones to the stock pot.

Add 1 cup of water and scrape up the pan juices. Add to the stock pot.

Add approximately 8 cups of water to the pot. Bring to a boil, then simmer over low heat for 12 hours. You can also make this recipe using a slow cooker. I let mine go for twenty hours. The longer you let it go, the better it will be!

Strain the broth into another container.

At this point, you can use the broth to cook with, or store for later use.

If you'd like to reduce the fat content, just cool the broth in the fridge until the fat hardens. The fat layer can then be easily removed.

I like to divide the broth into two cup portions and freeze them in quart-sized ziplock bags. You can also pour the broth in silicone ice trays and freeze for smaller portions.
Nutrition Facts
Bone Broth 101
Amount Per Serving
Calories 69
Calories from Fat 36
% Daily Value*
Fat 4g6%
Carbohydrates 0.8g0%
Protein 6.4g13%
* Percent Daily Values are based on a 2000 calorie diet.