Have you ever heard of Fried Chicken Mushrooms? Lyophyllum decastes are meaty, delicious mushrooms that don't taste like fried chicken but have a chewy chicken-like texture which might explain their name.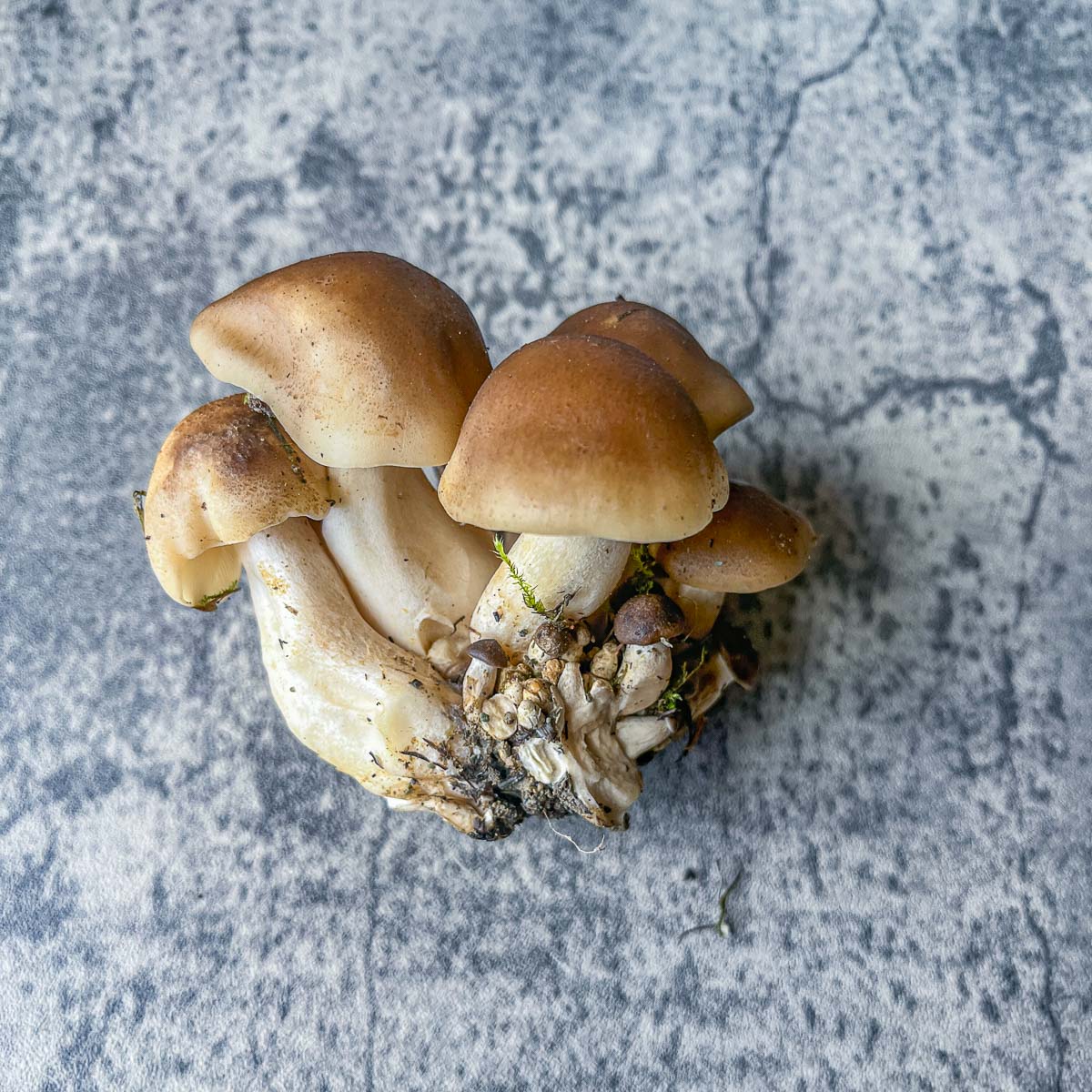 Foraging mushrooms is fun and rewarding and is one of my favorite pastimes. Does that make me a dork? If so, I embrace my dorkiness. However, before you go frolicking into the woods looking for mushrooms there is so much to learn! Eating the wrong mushrooms can make you sick or even worse, kill you!
It's for this reason that I belong to a few foraging groups on Facebook. Most of these groups have experts that can help you identify the mushrooms. I also pay for a mushroom identification app which comes in handy. It's not always 100% accurate but I've learned so much from it.
Finally, there are mushroom identification guides that can be extremely helpful. I own All That the Rain Promises and More and I really like it. It comes highly recommended in the foraging community. When foraging mushrooms, it's always a great idea to verify the information through various sources. Never eat a mushroom unless you're 100% sure you know what it is.
In this post, I'll share everything you ever wanted to know about Fried Chicken Mushrooms but were too chicken to ask. 😉
Jump to:
🍄 How To Identify Fried Chicken Mushrooms
There are so many things to consider when identifying mushrooms. This includes where they are found, their size, the time of year they are fruiting, whether they have gills or pores if the stem is hollow or solid, their color, odor, and so on...
How do Fried Chicken Mushrooms grow?
Also known as Clustered Lyophyllum, these tasty mushrooms usually grow in dense clusters with their stalks joined at the base. When you do find them chances are there are more in the area so look around for more clusters. Some clusters can have up to a hundred individual mushrooms! Risotto for dayyyyyyys!
Where do Fried Chicken Mushrooms Grow?
Lyophyllum decastes are referred to as "Chicken of the Gravel" for a reason. One common place where they pop up is in gravel. As a matter of fact, all the ones that I have foraged have been right along our driveway where there's a mixture of gravel and grass. They can also be found in disturbed ground and along paths.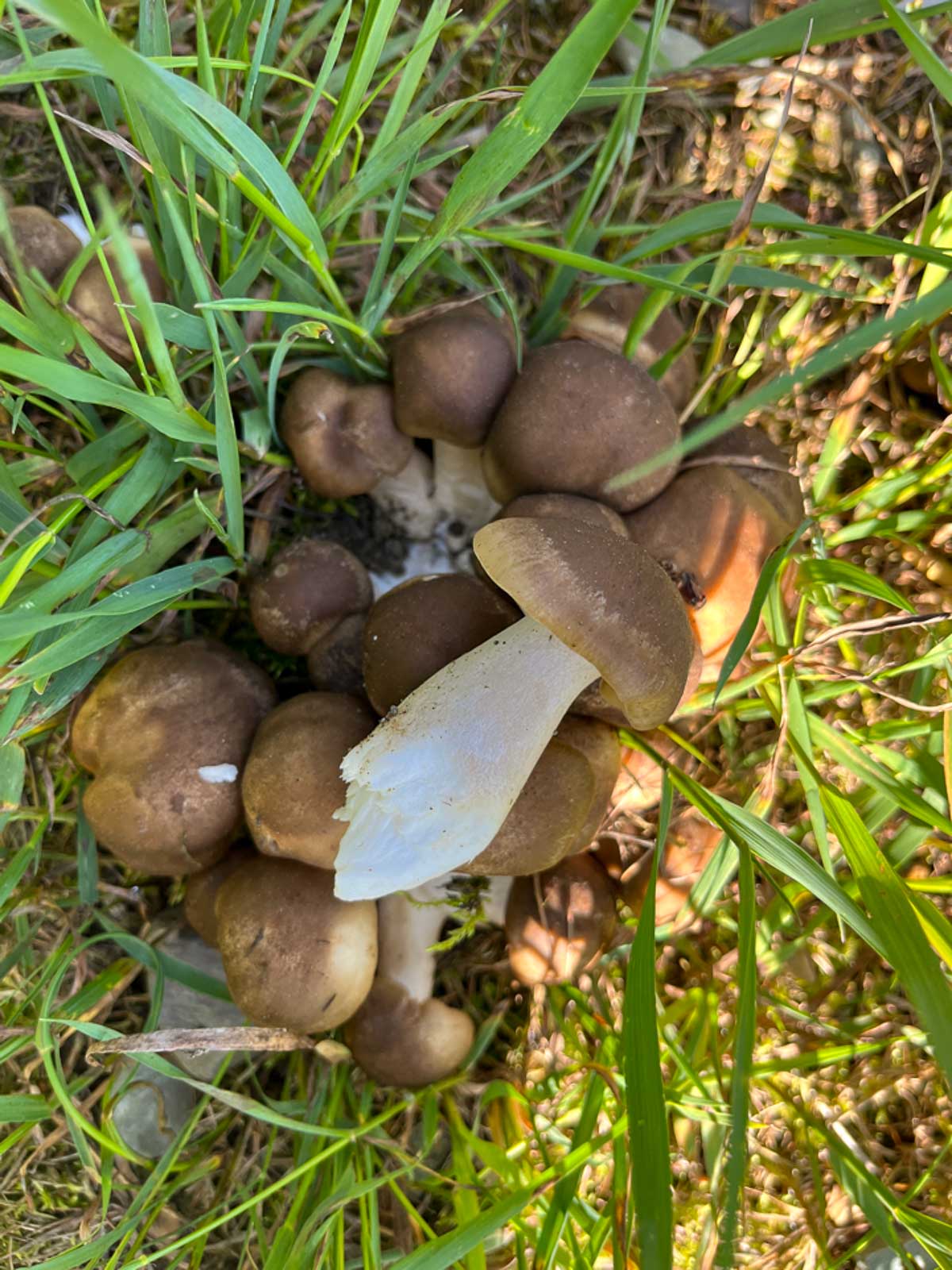 What time of year can you find Fried Chicken Mushrooms?
Lyophyllum decastes' growing season varies by location. Here in Montana, their growing season is late spring through fall.
Lyophyllum Decastes Distinguishing Features
Cap: The smooth caps range in color from grey, tan, brown, to dark brown. As the mushrooms mature, their dome-shaped caps flatten out and eventually turn upwards. They also get lighter in color.
Stalk: Their white to light-beige stalks are solid, tough, and usually curve at the bottom. They attach to one another at the base.
Gills: Fried chicken mushrooms have white, tight gills.
Scent: Fried chicken mushrooms have a very mild scent.
Spore Print: Each type of mushroom has its own spore print and color. Spore prints can be almost any color, white, black, tan, pink, and so on. Fried Chicken Mushrooms have a white spore print. If the mushroom you find has a black spore print and know that fried chicken mushrooms have a white spore print, you'll know you've misidentified the mushroom.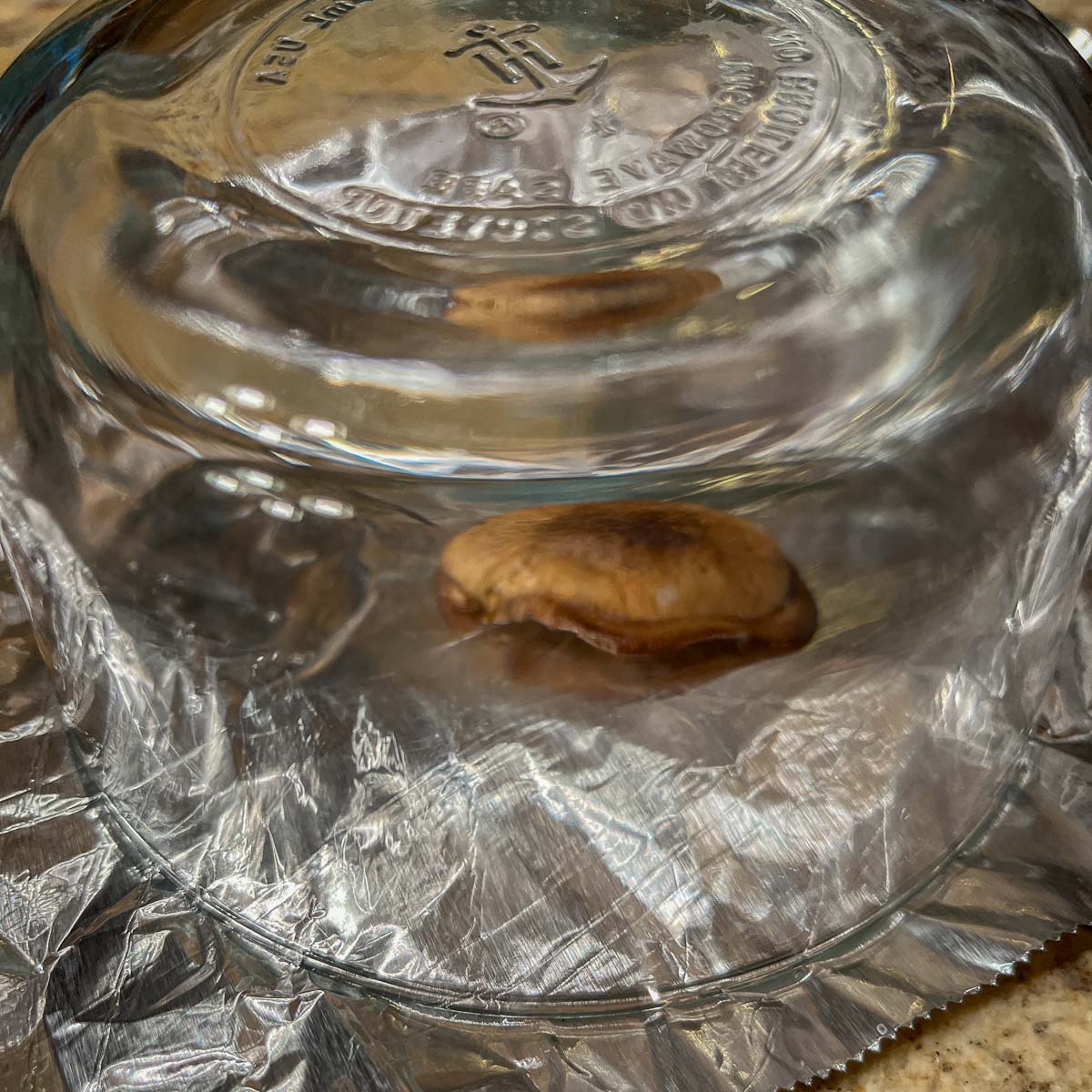 In order to see the spore print, remove the mushroom's stalk and place the mushroom gill-side down on a piece of paper, cardboard, or foil. I use foil since a white print will be hard to see on a white piece of paper and a black hard to see on black paper and so on. Add a few drops of water on top of the cap then cover the mushroom with a bowl. After 12 hours or so look under the cap to see the spore print color and pattern.
🧽 How to Clean and Store Fried Chicken Mushrooms
To clean the mushrooms, wipe the caps off with a damp paper towel then use a paring knife to trim the stems and scrape off the debris. The knife can also be used to clean under the cap in between the mushroom's gills.
Optionally, you can give them a quick rinse under cool running water and dry them off with paper towels. If you prefer, you can use a mushroom cleaning brush instead.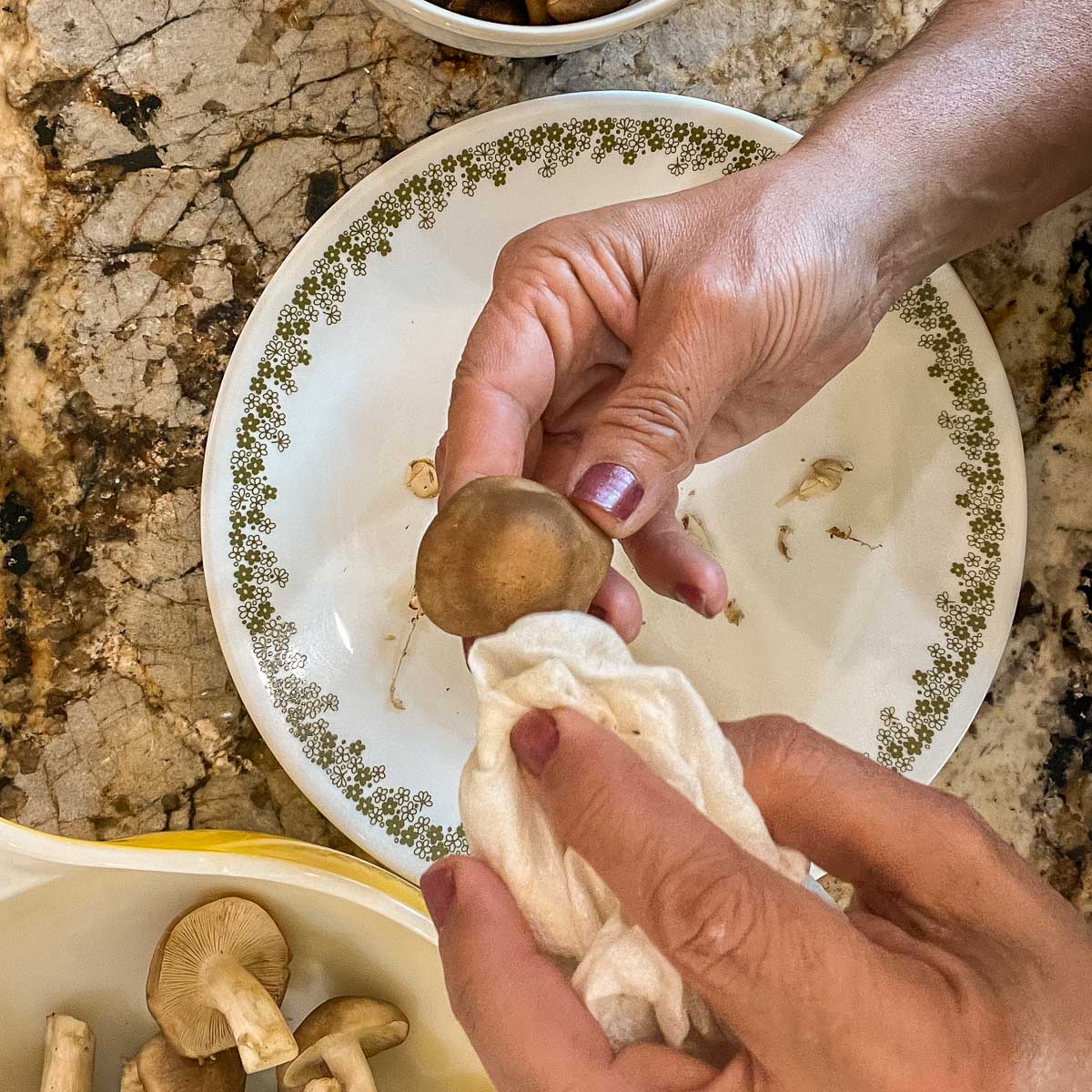 👩🏼‍🍳 How to Store and Dehydrate Mushrooms
Freshly picked fried chicken mushrooms can be stored in a paper bag in the fridge until you are ready to either cook them or store them.
If you decide to store them, slice cleaned mushrooms or leave whole and freeze them on a tray, and once frozen transfer them to freezer bags.
Another option is to dehydrate the mushrooms and rehydrate them in warm water or wine when you're ready to cook them. To dehydrate the mushrooms, space them out on the dehydrator's trays then use the lowest setting on your dehydrator for 8 hours or until they're no longer soft or damp. To ensure they stay dry, I like to add a food-safe Silica Gel pack to the bag to remove any remaining moisture.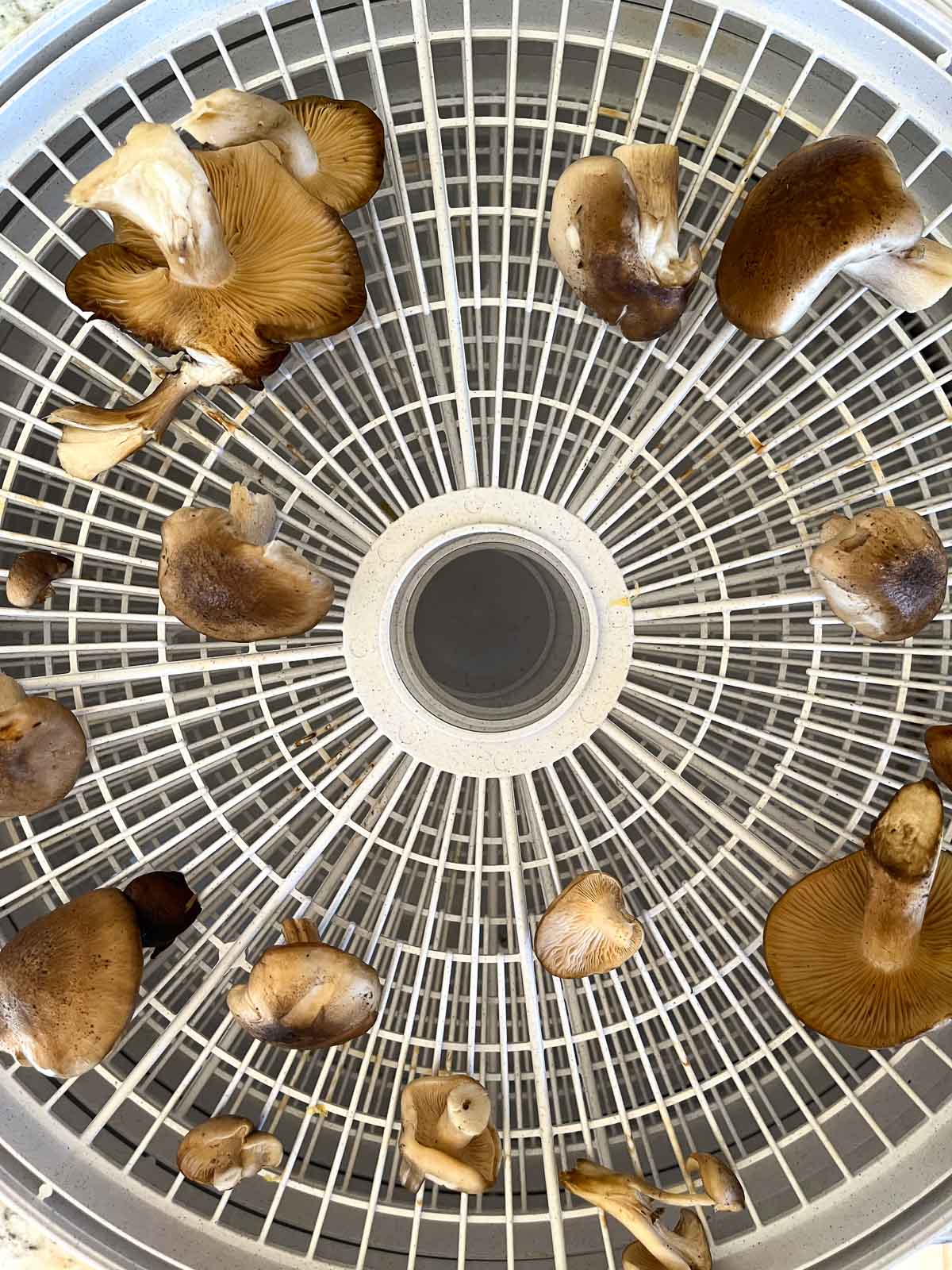 🍵How to Prepare Fried Chicken Mushrooms
There are so many ways to enjoy Lyophyllum decastes! They can be stir-fried or sauteed in butter. Similar to other mushrooms, they can be added to mushroom omelettes, cheesy scrambled eggs, pizza, or risotto.
Some people puree the tough stems and use them in soups and stews. The mushrooms have a thickening agent making them perfect for this use. They can even be used to make Vegan Fried Chicken!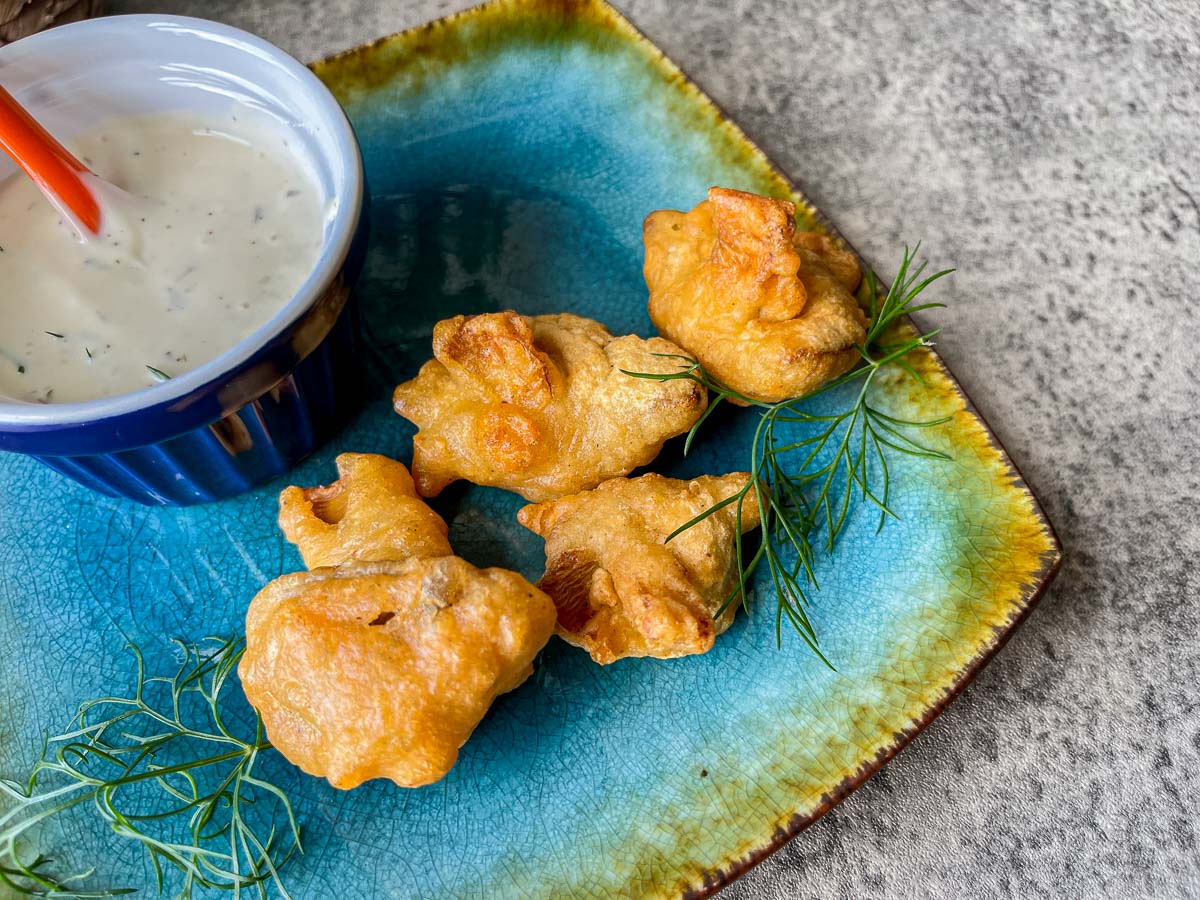 🤷🏻‍♀️ FAQs
Can you eat fried chicken mushrooms?
Yes, however, some people experience stomach upset so it's always a good idea to exercise some caution when trying them for the first time. Eat a small amount to see how your body reacts to it before indulging.
What do fried chicken mushrooms taste like?
Fried chicken mushrooms have a pleasantly mild flavor. Some describe it as having a radish-like flavor, although I've never tasted that flavor myself.
Where can I find fried chicken mushrooms?
Look for fried chicken mushrooms along the disturbed ground, gravel roads, and woodland paths. You can also purchase them at some farmer's markets.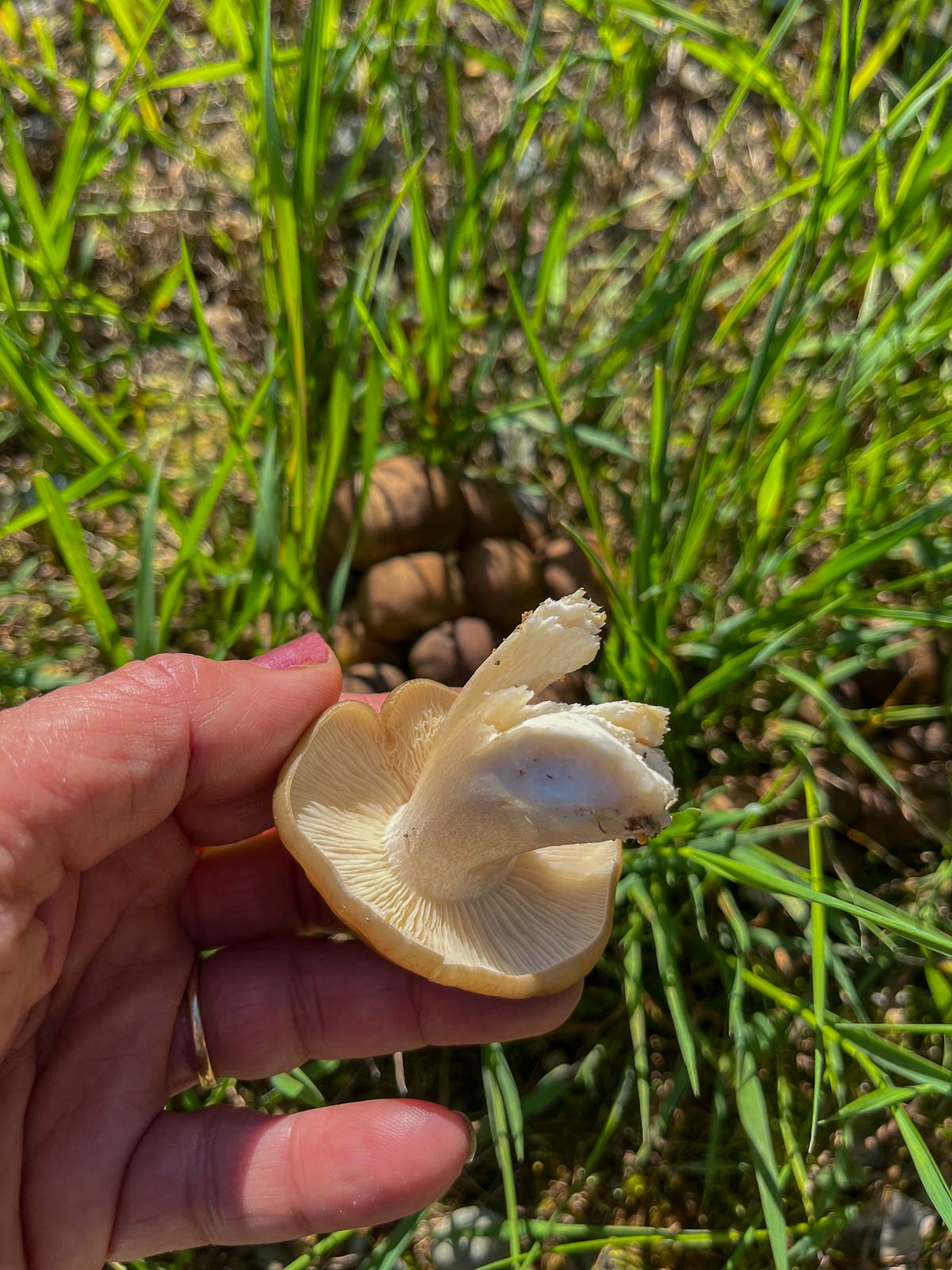 Disclaimer: Some mushrooms are toxic. Mushroom poisoning is a possibility if you are inexperienced in foraging for mushrooms. I, myself, am still learning how to identify and forage mushrooms. Before consuming any mushrooms or serving them to others, please be 100% sure that you have properly identified them. Please do not rely solely on the information provided in this post. Cross-referencing mushroom identification with various reliable sources is always good practice.
🥘 Related Recipes
Love this recipe? Please leave a 5-star 🌟🌟🌟🌟🌟rating in the recipe card below & a review in the comments section further down the page.

Stay in touch with me through social media @ Instagram, Pinterest, TikTok, and Facebook. Don't forget to tag me when you try one of my recipes!