Membrillo (Quince Paste)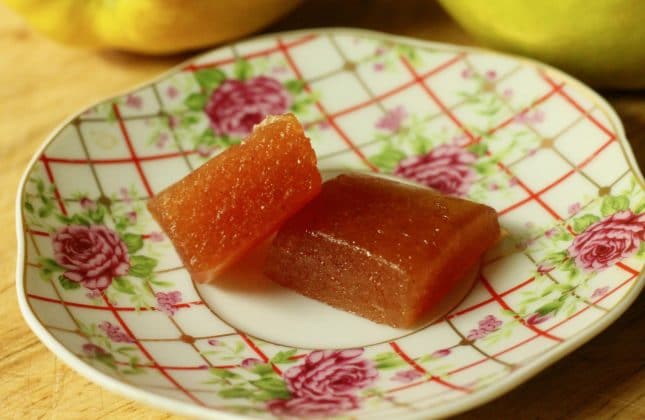 Fall is my favorite season for many reasons; cooler weather leaves changing colors, decorating for Halloween, pumpkin spice lattes, and baking lots of yummy food! Fall is also the time of year I scour the grocery stores, in search of quince. Quince, after all, is the main ingredient in membrillo. Although, in the past, I've mainly used quince to make quince jam.
What is Membrillo?
You might know "Membrillo," by its other name, "quince cheese." It is a thick jelly made with quince, sugar, lemon, and vanilla. Quince fruit is cooked down, pureed, and simmered with sugar and other flavorings. The paste is either cooked over the stove until thickened, and deeper in color, or cooked down in the oven. This is a slow process, taking hours to prepare, but the result is totally worth it! The delicious thick paste is then cut into squares or strips. Quince cheese is commonly served with Manchego cheese and wine.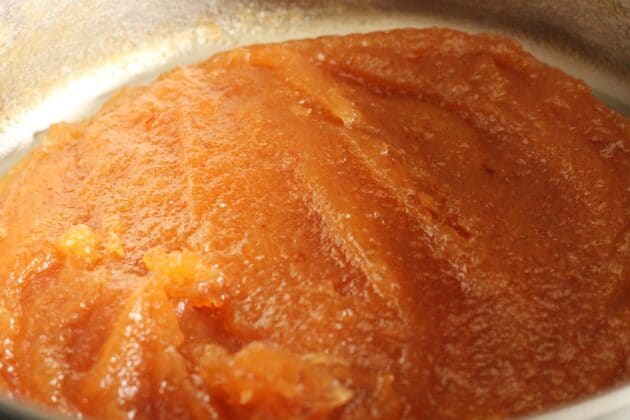 What is Quince, and What Does it Taste Like?
The elusive quince; I have spent the last three weeks searching for this unique fruit.  Usually, when I ask the folks working in the grocery section if they have quince, I get a blank look in response. This look is usually followed by the following question; "what is quince?" To this, I reply, "it's what you would get if a pear and an apple had a baby." Some believe the serpent tempted Eve with a quince, instead of an apple. But, I don't necessarily believe this, since quince is not a fruit that you can pick off the tree and sink your teeth into. Quince tastes better cooked, such as in this membrillo recipe.
The Origin of Quince
Quince was cultivated in the Mesopotamian Plains, and was known to the Akkadian people as "supurgillu." Assyrians call quince "sparijleh," can you see the similarity? That is because, after the fall of the Akkadian Empire around 2150 B.C. , the Akkadian people were formed into two separate groups Assyria to the north and Babylon to the south). So, once again, we find an Assyrian connection!
Quince Cost and Availability
When I finally found quince last week, I bought four at $2.29 each…worth it! Quince is definitely on the pricey side, and available for a short window of time in late Fall. If you do end up buying some, do yourself a favor and leave them on the counter for a few days. This way you can enjoy their heavenly aroma for a few days as they ripen further.
How Long Does Membrillo Last?
(the following is a recipe update)
How long the membrillo will last depends on your living arrangement. If you have a family that loves sweets, you won't have to worry about it lasting, or storing it for that matter. If, however, you plan on enjoying this scrumptious paste over time, I have good news for you. The membrillo I made last year is still just as delicious! I simply stored it in the fridge in a wax paper-lined Tupperware. So feel free making this recipe ahead of time, just resist the temptation to eat it all before you plan on serving it!
Do you Pinterest? Please pin & share!
---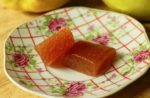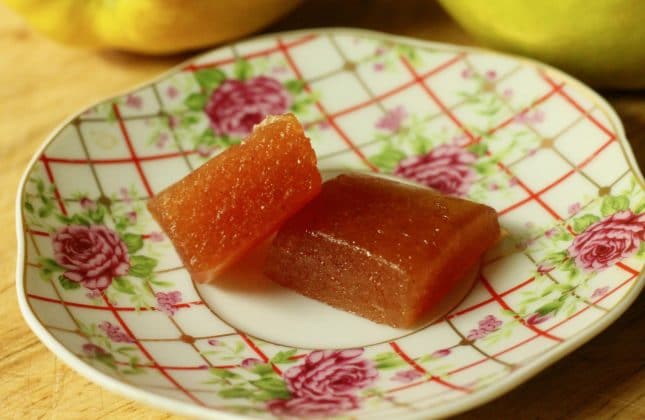 Membrillo (Quince Paste)
Spanish membrillo, quince paste, perfect for serving with cheese and wine.
Instructions
Butter one side of parchment paper and place (buttered side up) into an 8 x 8 ceramic dish. Set aside for later.

Wash and remove the fuzz off the quince, especially if freshly picked. The fuzz will most likely already be cleaned off from store-bought quince.

Chop the quince into chunks. You can either peel them, or leave them as is.

Place chopped quince in a six-quart saucepan and cover with plenty of water.

Bring to a boil and cook, covered, for 40 minutes, or until the fruit is fork-tender.

Once done, drain into a strainer.

Puree the quince in a food processor until you achieve an applesauce consistency. Using a kitchen scale, weigh the quince puree, then add back into the empty saucepan.

Weigh out an equal amount of sugar and add to the quince. In my case, it was a pound of each. Stir over low-medium heat until the sugar liquifies. Slit the vanilla bean down the center and add to the same pot.

Stir frequently while cooking. You will notice that the color of the quince will begin to deepen the longer it cooks.

After about an hour of cooking, remove the vanilla bean and stir in the lemon juice. Continue to cook, stirring frequently.

This is what the quince looked like after 1-1/2 hours of cooking time.

Using a spatula, transfer the mixture into the prepared dish.

To achieve a smoother surface, I used a buttered sheet of parchment paper to cover the membrillo. I then ran my hands over the parchment paper to smooth out the surface.

Refrigerate the membrillo for a couple of hours until it sets. To serve, cut into squares and serve with Manchego cheese and wine.
Nutrition Facts
Membrillo (Quince Paste)
Amount Per Serving
Calories 104
% Daily Value*
Total Fat 0g 0%
Cholesterol 0mg 0%
Sodium 0mg 0%
Total Carbohydrates 27g 9%
Protein 0g 0%
* Percent Daily Values are based on a 2000 calorie diet.
---
---