Persimmon-Pumpkin Bars
In a recent post, I mentioned getting some hachiya persimmons from my friend's mom. I'm so thankful that she is sweet enough to remember me every year. The first thing I did was eat a few raw, yum! I then decided to make persimmon jam for the first time, double yum! The last few finally ripened a few days ago. I decided to use them to create this persimmon-pumpkin bars recipe. I'm happy to say that the recipe turned out great! As a result, I now get to pass on the recipe to you!
Hachia Vs. Fuyu Persimmons
In my persimmon jam post, I explained the differences between hachiya and fuyu persimmons. If you are not familiar with these differences, please refer to that recipe to get some clarification. Below, you will find the image I shared in that post to show the differences in appearance.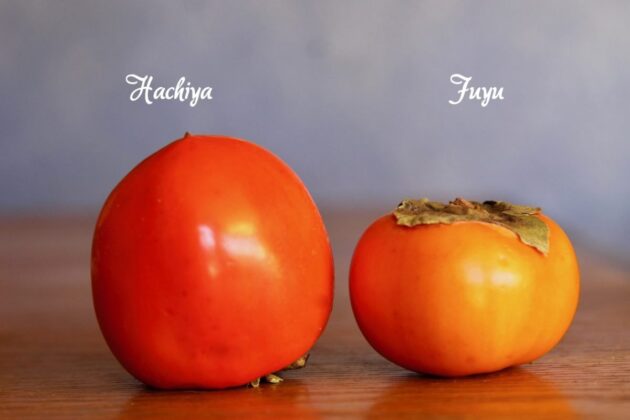 Persimmon-Pumpkin Bars
With Thanksgiving being right around the corner, these persimmon-pumpkin bars would fit perfectly into any Thanksgiving menu. This is a recipe you can easily prepare a few days in advance, giving you one less thing to bake on Thanksgiving day. So put on your Thanksgiving apron, and let's get baking!

Friends with Persimmons
Wouldn't you know it, right after we had eaten all the persimmons I had received, my husband came home with a huge bag of fuyu persimmons and limes. A friend from work recently purchased a house with a yard full of fruit trees. Lucky for us, they like to share! I guess the persimmon gods are smiling down on us. 🙂  We've now worked out a deal. They give me fruit off their trees, and I make delicious treats to share with them, like these persimmon-pumpkin bars. You could say it's a win-win situation. I've never cooked with this variety before, so I have more experimenting to do in my lab… err, kitchen.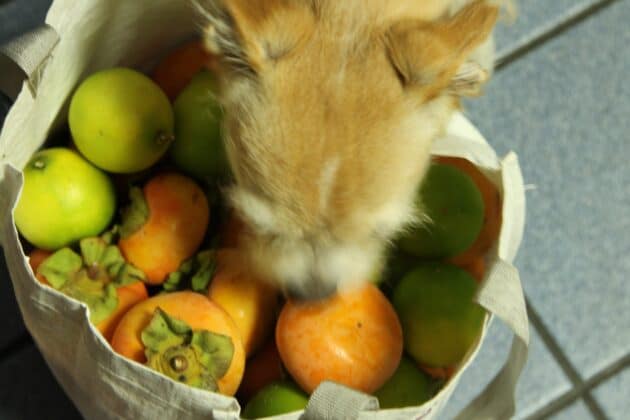 Do you Pinterest? Please pin & share
---
Persimmon-Pumpkin Bars
A perfect combination of persimmon and pumpkin, resulting in a moist and delicious bar!
Instructions
Preheat oven to 350 degrees F.

Add eggs, sugar, oil, applesauce, persimmon pulp, and pumpkin to a mixing bowl. Mix on medium until creamy.

Mix in all the dry ingredients, finishing off with the flour. Lastly, stir in the chocolate chips.

Pour the batter into a greased 9" x 13" pan and bake for 45 minutes, or until the batter is firm to the touch.

While the cake is baking, clean the mixer bowl to use for the cream cheese frosting. Add butter and cream cheese to the mixing bowl and blend until smooth. Gradually stir in the powdered sugar. Mix in the vanilla and set aside.

When the cake is done, remove from the oven and cool completely.

Spread the icing over the cooled cake. Try to keep your family away until ready to serve it.
Nutrition Facts
Persimmon-Pumpkin Bars
Amount Per Serving (1 slice)
Calories 298
Calories from Fat 144
% Daily Value*
Total Fat 16g 25%
Cholesterol 47mg 16%
Sodium 213mg 9%
Total Carbohydrates 46g 15%
Protein 3g 6%
* Percent Daily Values are based on a 2000 calorie diet.
---
---