Pulled Pork
This is my quick and easy pulled pork recipe. Recipes like this one leave you "non-cooks" without any excuses. This recipe only has a few steps. This means no matter what your cooking skill or level, you can pull this off. I have faith in you!
What Exactly Is Pulled Pork?
Pulled pork is a way of cooking a pork roast using low temperature and extended cooking time to your advantage. The end result is an extremely tender roast. In fact, the meat is tender enough to fall apart, or should I say be "pulled apart?" Although a shoulder cut or a pork butt is generally used, I have had better results using pork strips. The strips are also much cheaper than a roast. An added bonus is that the dry rub penetrates the meat better. It isn't constrained to the exterior of the pork, like when using a roast. Oh, did I mention it also cooks faster?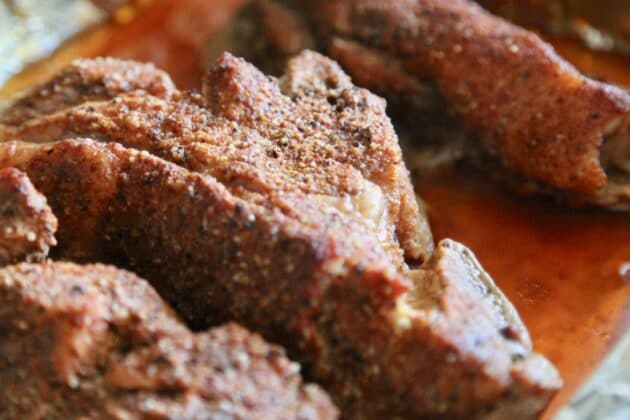 Serving Suggestions
Pulled pork can be eaten in a variety of ways. The most popular perhaps is in a bun, drizzled with barbecue sauce, and topped with coleslaw. I'm getting hungry just thinking about it! Another way to eat it is in corn tortillas (like carnitas) topped with shredded cheese, diced onion, cilantro, and sour cream. It's also great in a quesadilla, rolled in a burrito, or used to make a killer breakfast burrito. Here's one more option, just grab handfuls and shove them in your mouth! I may or may not have done that last suggestion. 😉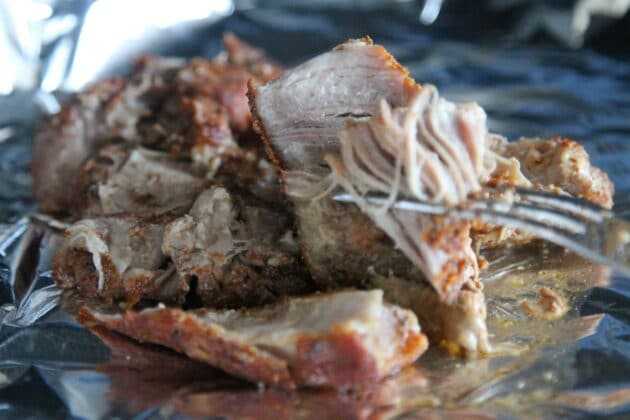 Dry Rub Options
Although there are many pre-made dry rub options, I like to make my own. You can find my recipe HERE. I know not everyone enjoys making things from scratch. Perhaps you're limited on time, or just want to keep it simple. In that case, you have my blessing to purchase a dry rub instead.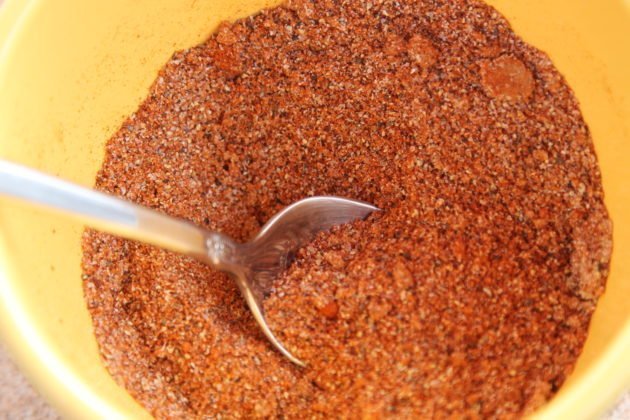 Do you Pinterest? Please help a girl out by pinning and sharing!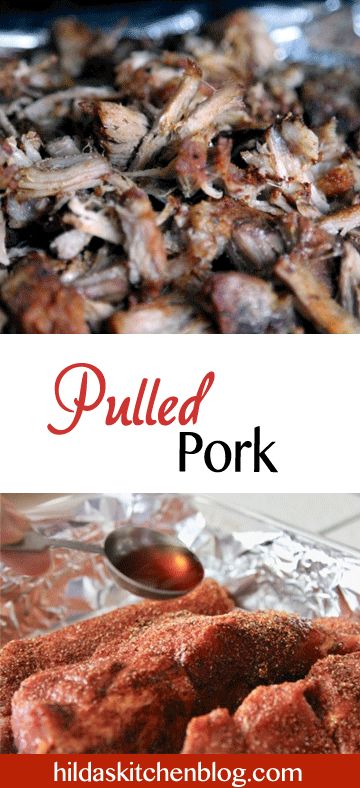 ---
Pulled Pork
Ingredients
2

lbs.

pork strips

4

T.

dry rub seasoning

(see recipe link)

2

T.

red wine vinegar
Instructions
Preheat oven to 325 degrees F.

Wash pork strips, then pat dry. Sprinkle on all sides with the dry rub seasoning.

Place in a foil-lined ceramic dish. Pour the vinegar all over the pork strips.

Seal with additional foil and marinate for a few hours. Once ready, bake for 3 hours.

Remove from the oven and carefully remove the foil.

At this point they can be easily shredded with a fork.

Place the shredded pork on a foil-lined pan. Pour a few spoonfuls of the pork rendering over the pork.

Broil for five minutes, or until the pork is slightly crispy along the edges.
---
---