Creamy Yogurt and Purslane Dip
What is healthier than spinach, and the key ingredient in this tasty dip? Purslane! If you're not sure what that is, don't feel bad, most people don't. Purslane dip might possibly be the healthiest dip you'll every try. But before we get to the recipe, allow me tell you a little bit about this edible weed. You probably have it growing in your yard at this very moment!
Is Purslane Good For You?
Purslane is an edible succulent that has a slightly sour taste. It can be eaten as is, steamed, or fried. It's also a wonderful addition to soups, such as booshala. Nutritionally, it has six times more vitamin E than spinach and seven times more beta-carotene than carrots. It definitely qualifies as a superfood.

Purslane: To Weed or to Eat?
Most people consider purslane to be a pesky weed, but other cultures know of its many health benefits. Chances are you have this weed invading your garden right now. You're likely to find it growing amongst the plants in your garden or in-between cracks in your concrete. It's very hardy and can be hard to control. Now that you're "in the know," consider harvesting it as food, instead of eradicating it as a weed. If you harvest the purslane from the ground, make sure it has not been sprayed with pesticides, or "watered" by animals. You can either use scissors to cut the sections you want to use, or just pull the whole plant from the root. Don't worry, they'll find a way to grow back! The yellow flowers, seeds, and stems are all edible.

Purslane Dip
Over time purslane will release a pinkish liquid into the dip. Although this will not change the flavor of the dip, it will affect the appearance. For this reason, I don't recommend preparing purslane dip ahead of time. Be sure to use my Home-made Yogurt recipe when preparing this dip. But if you don't have the time to make the yogurt ahead of time, you can use Greek yogurt instead.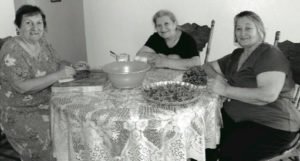 If you enjoyed this recipe, you may be interested in my Dill Greek Yogurt Dip!
Do you Pinterest? Please pin and share!
---
Creamy Yogurt and Purslane Dip (Poorpookheena B'Mesta ooh Tooyma)
Creamy yogurt and purslane did. It's like spinach dip, but healthier!
Course:
Appetizers, Side Dish
Ingredients
4

cups

purslane

chopped

3/4

tsp

salt

divided

1

T

olive oil

divided

2

cups

plain yogurt

3

cloves

garlic

pressed

1

T

butter

melted
Instructions
Wash harvested purslane thoroughly, after removing the roots and drain on paper towels.

Chop purslane into 1" pieces and steam for approximately five minutes, or until wilted.

Squeeze out any excess water. Sprinkle with 1/4 teaspoon salt and saute in olive oil for a few minutes.

Add purslane to the yogurt, along with the pressed garlic, remaining salt, and melted butter. Mix well, and drizzle with additional olive oil, if desired. Serve with pita chips, crackers or bread.
Nutrition Facts
Creamy Yogurt and Purslane Dip (Poorpookheena B'Mesta ooh Tooyma)
Amount Per Serving
Calories 142
Calories from Fat 90
% Daily Value*
Total Fat 10g 15%
Cholesterol 24mg 8%
Sodium 513mg 21%
Total Carbohydrates 8g 3%
Protein 5g 10%
* Percent Daily Values are based on a 2000 calorie diet.
---
---