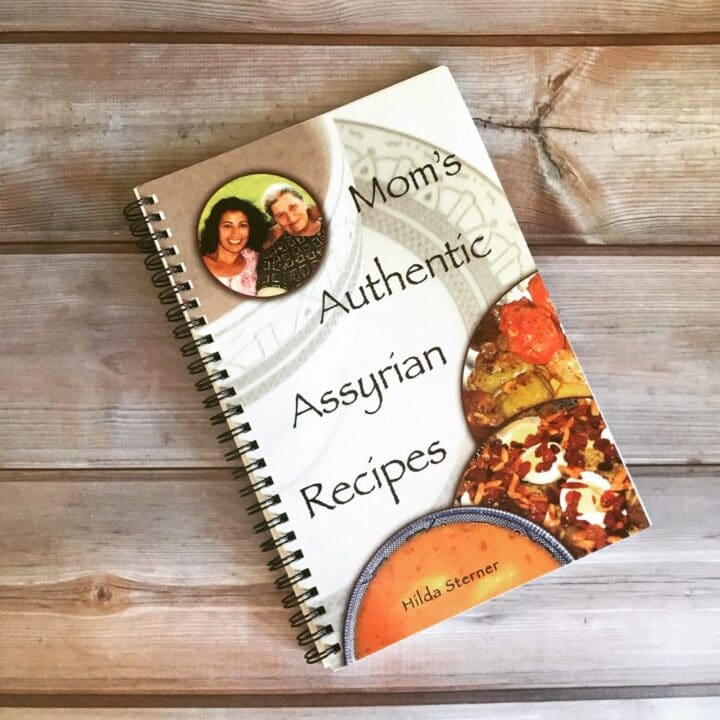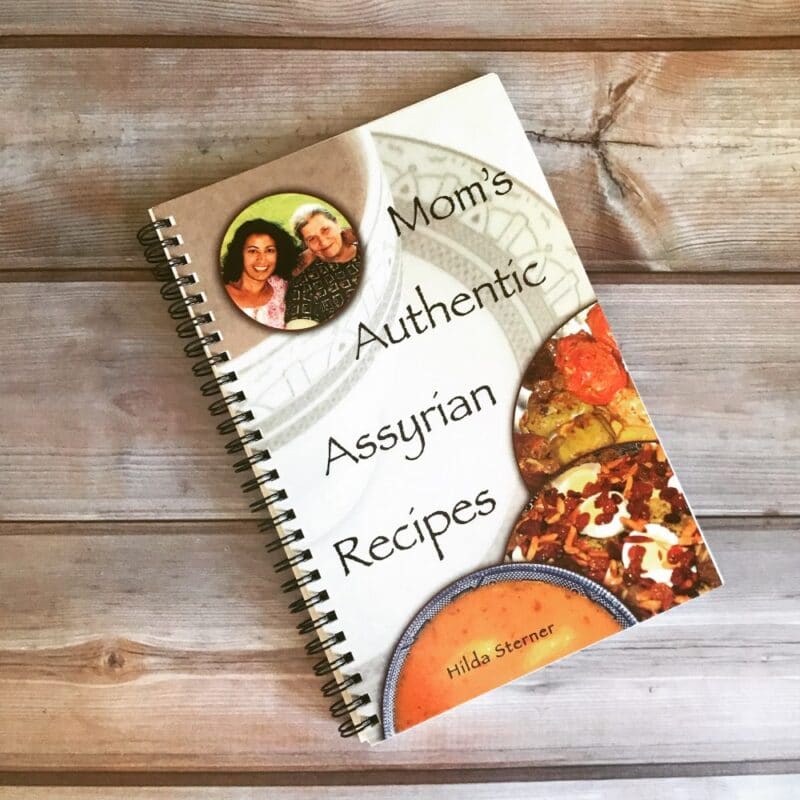 130 pages with 82 recipes. Every recipe includes a picture, some in black and white, some in color.
Chapters on Assyrian history, holidays, and traditions.
Special ingredients section.
Old family photos and stories to go with them!
Teaching Others to Cook Assyrian Food
Initially, my goal was to teach the younger Assyrian generation how to cook our traditional food. But I also wanted to introduce our history, culture, and delicious food to everyone else.
I never expected all the positive emails and letters that I have received since publishing the book in 2008. Of those, my favorite communication has been with ladies who are married to Assyrian men.
These ladies share similar stories of surprising their husbands with Assyrian meals, using the recipes in my cookbook. After all, if I can help one young bride to impress her Assyrian mother-in-law, then I have succeeded. Happy Cooking!
Purchase Your Copy Today!
I will be on vacation from 6/1/23-6/18/23. Books purchased during this time will not ship until 6/19/23.
Mom's Authentic Assyrian Recipes can be purchased for $24.95. If you need more than one copy (they make great gifts) you can get up to 3 books and pay the same flat-rate shipping price ($8.15). See below for overseas shipping!
Exciting News!
I recently listed my cookbook for sale on Etsy, where I sell some healing salves. The best part? I offer overseas shipping! Many of you have been asking for that option so I'm excited to oblige! Just follow the link below: https://www.etsy.com/shop/MontanaHealingSalves
Testimonials
"I was so excited to receive this cookbook. I have over 100 cookbooks and I love to cook and bake. I was excited to see some of my favorite foods listed in this book. I'm so happy that Hilda took the time to share these recipes with the world. I've eaten these foods all my life and now I am happy I can cook them for family and friends since I never had the recipes written down. Thank you for taking the time to collect these recipes in written form because our mothers never did, because they always did it from the memory. If you like Middle Eastern food that is delicious and healthy - then you must get this cookbook." —KC (Amazon Review)
---
"This book actually has Iraqi Assyrian recipes. I was beyond ecstatic when I received the book and started to read the recipes. What I love about it more is it actually has our history which makes it very personable. Not only that, Hilda wrote a little note when I received the book with her appreciation. That melted my heart, letting me know that there are still humble people out there in the world. Thank you for this amazing book". — Stephanie Korkis
---
"This was a gift for my Assyrian mom. She loved it since she never learned my Grandmother's recipes. Thank you, Hilda, for putting this book together for those of us 3rd generation Assyrians who grew up outside the culture, this is a great way to reconnect. My mom said it brought back wonderful childhood memories. God bless you and your family!" —Susan McGinnis
---
Great Middle Eastern Food! Great family recipes! Color and black and white photos of a number of the finished dishes. I feel blessed to have a glimpse into this family - you share in family photos, Assyrian heritage & traditions, and love (food)!
---
"It is an excellent book, very well done. It is exactly what I was looking for and it is an excellent gift too!"—Published on May 20, 2013, by Marodeen
---
"An important cookbook...well written, with recipes that are superb. We recommend this to all cooks wishing to extend their repertoire." —James Meeker
---
"As I held the cookbook in my hand and started to read through it, all I could think of was my grandmother, Lisa, making these great meals herself. I'll try to make them too. Thank you and God Bless." —Dennis Bitvarda
---
"I just wanted to write and say THANK YOU! I came home from work to see your cookbook. I loved each and every page and absolutely love all the family pictures that you have included. I must say you fulfilled my dream. I had always wanted to take photographs of my mother's cooking just like you have. I have a few notes I have made here and there but never managed to do what you have accomplished. My beloved mother passed away 2 years ago at age 56 and no words can describe the loss. I regret not doing all the things I would have loved to do and share with her. I have tried my best to keep the Assyrian tradition alive and cook like she did. But like you said, nothing tastes as good as her food. I was searching the internet looking for Assyrian foods when I found your book. I will also order a book for my 2 brothers to keep as well." —Love Dina Daniel
---
"Just to let you know, I received the 3 books today in extremely good condition! Very quick, indeed. I am very excited to start cooking and try all these new recipes. I also come from an Assyrian background (yet find it hard to communicate with family to learn recipes, as sometimes language is the barrier). I must say, I am extremely happy to have found your book and will definitely let everyone know about it. Take care, and thanks once again." —Elizabeth Malvaso
---
"I received your book about 2 weeks ago and love it. It is very straightforward and my family has been 'shocked' by my cooking abilities. Thank you again for a wonderful book." —Gloria Audisho
---
"I have just received your cookbook. I am in love with it! You did such a wonderful job and I enjoyed looking at every page. The pictures of you and your family are beautiful. I can not wait to start cooking away! Thanks again and God bless." —Cristina
---
"I just wanted to let you know that I have been using your cookbook since I received it. Today I am baking Kileche for the second time since I received the book! I love them, they are just like my Mom's. As I said In my earlier e-mail, I love your book. The recipes are truly authentic Assyrian recipes. I hope you are working on a second cookbook! God Bless you!" —Alice
---
"I am writing to inform you that I am in receipt of the three books which I had ordered. Please accept my earnest gratitude for the speed and efficiency in which they reached me. Congratulations on the publication of this much-needed resource. Every contribution to the field of Assyrian literature, whether in academic, religious, historical, or cultural form is valued immensely and I only hope that others, like yourself, become contributors to this much-neglected field. Again, I look forward to reading the book thoroughly and wish you the utmost success for the future. Kind Regards" —J. Haweil
---
"Excellent cookbook with easy recipes, complete with colorful photos. The book will give you a warm, fuzzy feeling of being part of a wonderful, loving family who created and ate many great meals together." —Leanne Preihs
---
"This is exactly what I've been looking for! I can never learn how to cook like my mother since she doesn't measure anything! I've always wanted to learn how to cook some tasty and delicious Assyrian meals. I can't wait for this book to come! Thank you so much for this!"—Ashuriena Abraham
---
"I received your book yesterday and I was thrilled. I've been waiting for an Assyrian cookbook for quite a while. I have a newborn baby, and although I was very tired, I couldn't help but browse through the book. You did a great job! Can't wait to try the recipes. This will make a great gift." —Nora Marcos
---
"Hilda, you honestly did a great job with the book! I love how you got pictures of every dish and your recipes are so easy to follow. It's just awesome! I hope you will come up with the second book, as I'll be the first one to purchase it! I can't wait to try out some of your great recipes." —Valantina
---
"I received the book today... yay! I was excited to see the Nazook cookie recipe which is not so easy to come by. Thanks for your efforts."—Anese
---
"Hi Hilda, this is Sajida. Thank you so much for mailing the cookbook. I really like it. Me and my daughter are soooo glad! God Bless You! " —Sajida Khan