A couple of times a year, my husband, Scott, likes to surprise our daughter, Nena, by bringing home octopus to smoke. It was during a family vacation to Hawaii many years ago that Nena fell in love with "Smoked Tako." That's the Hawaiian name for smoked octopus ("tako" is Japanese for "octopus"). Flying to Hawaii a few times a year is not in our budget, so we had to come up with our own version of smoked tako to keep Nena happy!
Smoked Octopus Brine
Although I tried many different brines, they never achieved the flavor I was going for or one that would satisfy Nena. They were either too sweet, too salty, not enough flavor, or the wrong flavor altogether. Luckily, I'm not one to give up easily! After a lot of trial and error, I came up with this brine. It was good enough for Nena to approve, and I hope it satisfies your picky eaters too!
Cleaning and Preparing the Octopus
Before you can make smoked octopus, it needs to be brined. But before even that happens, we need to clean and prepare it. This step is not for the faint of heart. It's a little slimy, but I know you could do it! You will need to remove the head from the tentacles and remove what's inside, leaving only the hood. Then you will need to remove the beak from the top of the tentacles. Yes, octopus have beaks, go figure! Although you'll notice in the clip below she refers to the beak as "guts." Check out this short but helpful clip that demonstrates how to clean the baby octopus, then come on back!
Cleaning and Preparing Octopus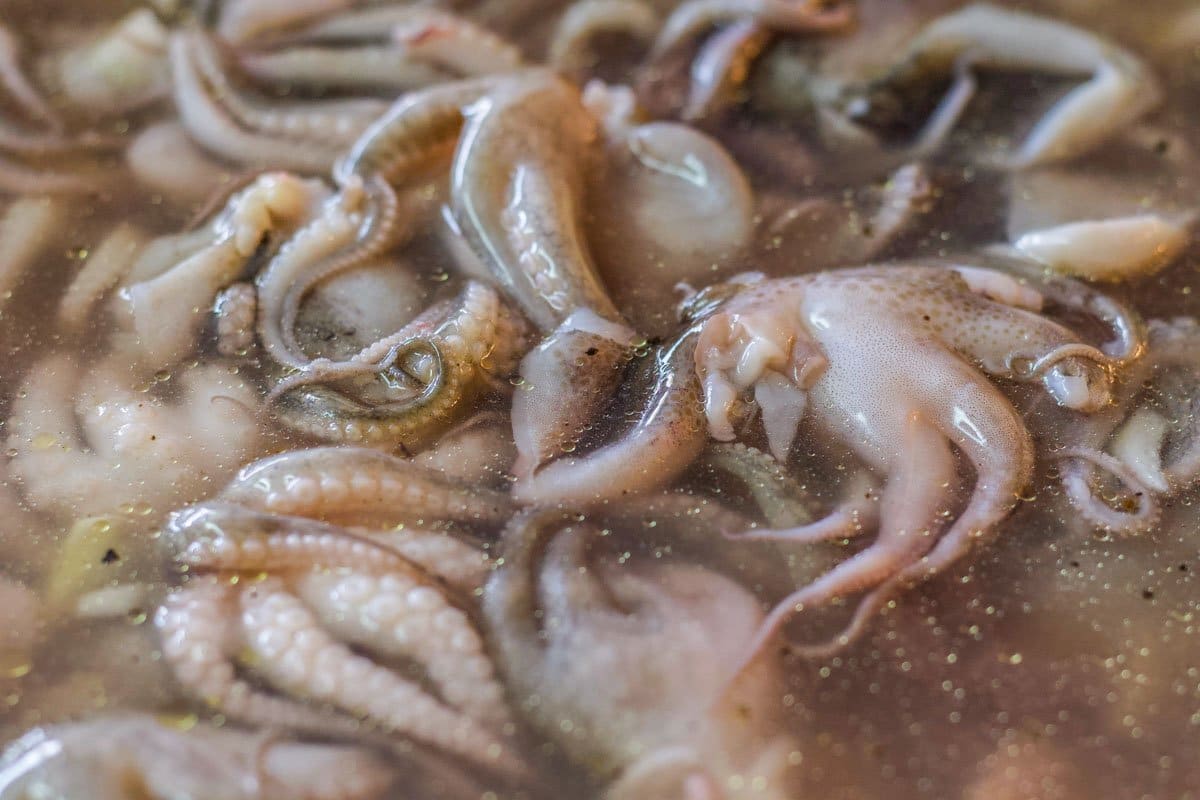 If you are still with me and didn't get grossed out by the video, awesome, glad you're back! Read on for the rest f the recipe!
Steps to Perfectly Smoked Octopus
Clean the octopus as instructed in the video link above, and marinate overnight using the recipe below.
Remove trays from the smoker and set the temperature to 250 degrees F, and the time to 2 hours.
Soak wood chips in water for 30 minutes, then drain and add to the smoker tray.
Remove octopus from brine and place directly on smoker trays, or line the trays with foil first.
When the smoker starts smoking, place trays back in the smoker, and turn the temperature down to 140 degrees F.
Smoke octopus for one hour to one and a half hours (taste after one hour).
Enjoy!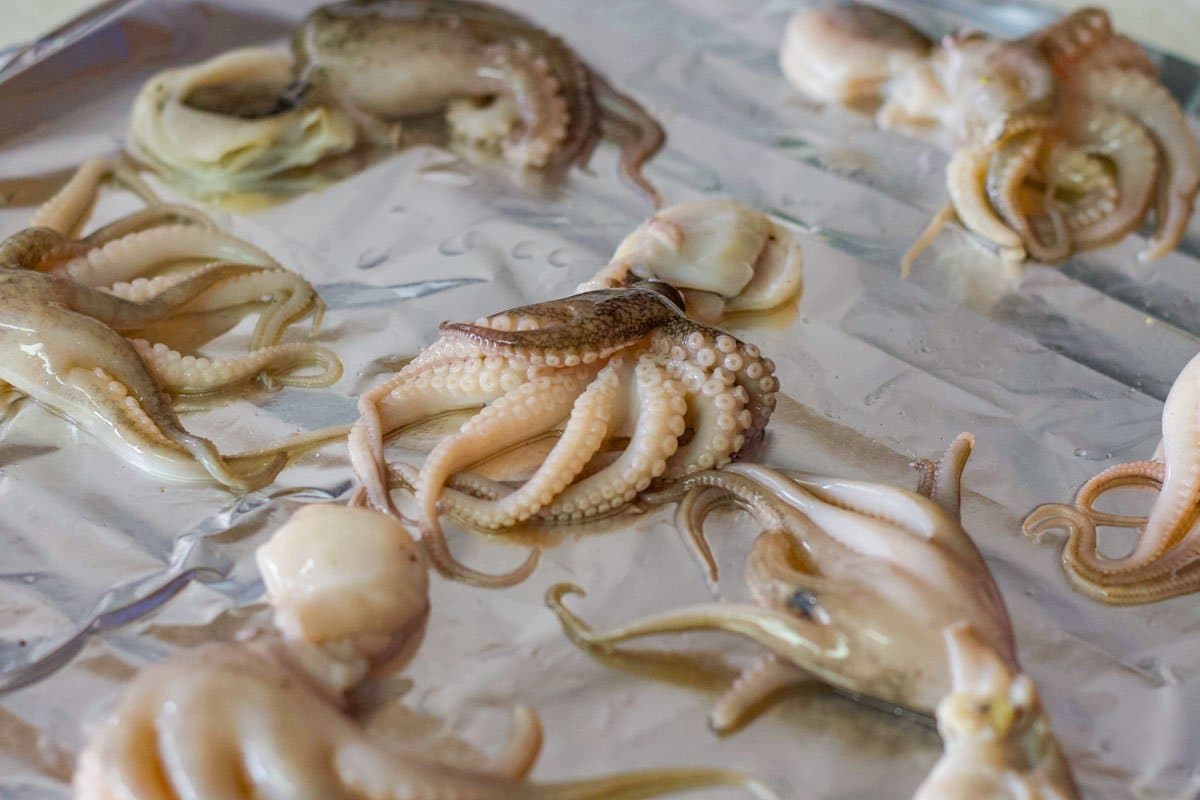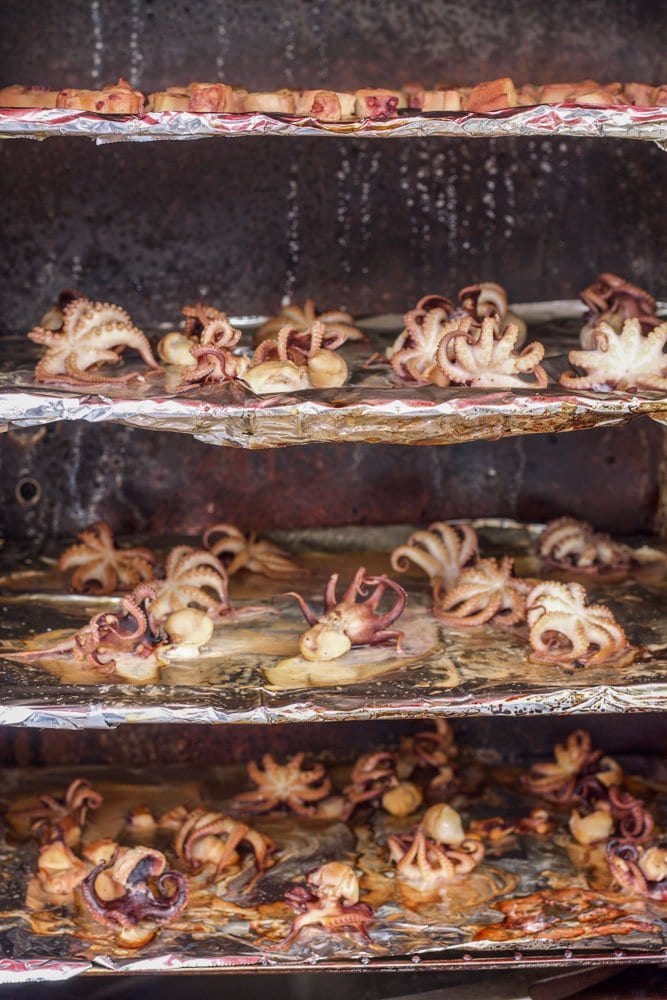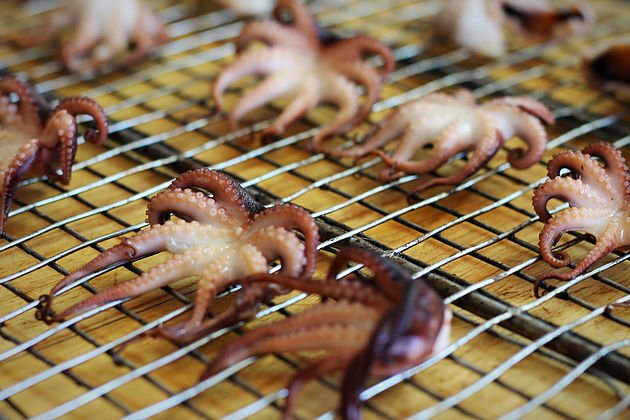 Do you Pinterest? Please pin & share!
If you enjoy smoked recipes, you might also like my smoked brisket recipe!
---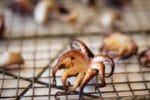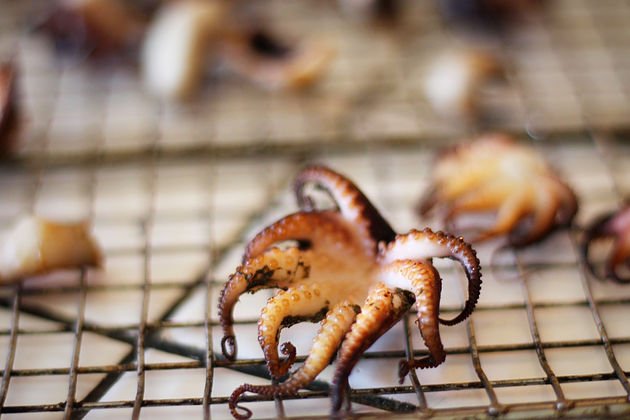 Smoked Baby Octopus
Succulently smoked baby octopus. Add to a salad, or eat as a snack!
Course:
Appetizers, Side Dish
Ingredients
2

lbs

baby octopus

1

quart

water

2

T

sea salt

1

T

red wine vinegar

2

T

olive oil

1/2

small

yellow onion

chopped

4

cloves

garlic

chopped

1

tsp.

cracked black pepper
Instructions
Mix the brine ingredients, making sure the salt is completely dissolved. Place octopus in the brine and refrigerate overnight.

Set an electric smoker to 250 degrees F. While the smoker is heating up, soak hickory wood chips in water for 30 minutes. Remove octopus from the brine solution and arrange on the smoker shelves. When 30 minutes have elapsed, drain the wood chips and add to the smoker.

When the smoker is ready, turn the temperature down to 140 degrees. Place shelves back inside the smoker, and smoke the octopus for 1 to 1-1/2 hours, or until you achieve the desired flavor/texture.

Once you're satisfied with the results, remove the octopus from the smoker, and go to town on those bad boys! Nena likes to eat them like jerky, but I'm sure other ideas can be found online, such as adding them to a salad, or pasta. Have fun creating!
Nutrition Facts
Smoked Baby Octopus
Amount Per Serving
Calories 270
Calories from Fat 81
% Daily Value*
Fat 9g14%
Cholesterol 0mg0%
Sodium 3821mg166%
Carbohydrates 5g2%
Protein 46g92%
* Percent Daily Values are based on a 2000 calorie diet.