Recently I discovered that I'm part Italian. I wish my parents were still alive so that I could share this news with them. This was exciting news to me since it meant I have a whole new culture, and recipes to discover. This gave me the idea for this Authentic Italian Pizzelle Recipe post. Enter my good friend, Diane, who's husband is Italian. Diane makes pizzelle for Christmas every year. In case you're wondering, "Pizzelle" is pronounced "pitˈzell" in Italian. They are also referred to as "Italian waffle cookies." This year, I decided to crash Diane and Rick's pizzelle-making party. Although I own a pizzelle iron and know how to make them, I thought it would be more fun to make them with "my people." After many mishaps, we managed to make some chocolate pizzelle.  Turns out Diane can't talk AND follow a recipe. We did manage to have some laughs though. Later, I experimented with a few other flavors on my own.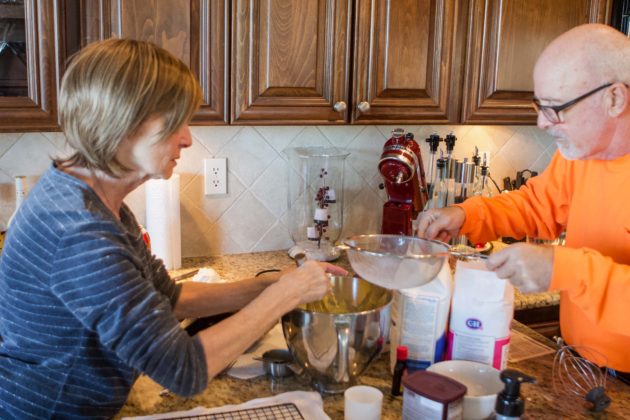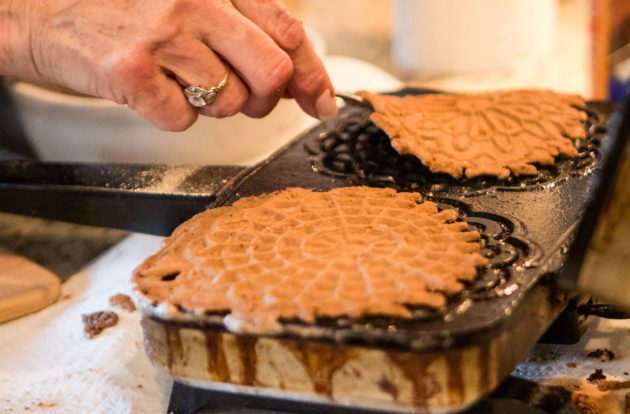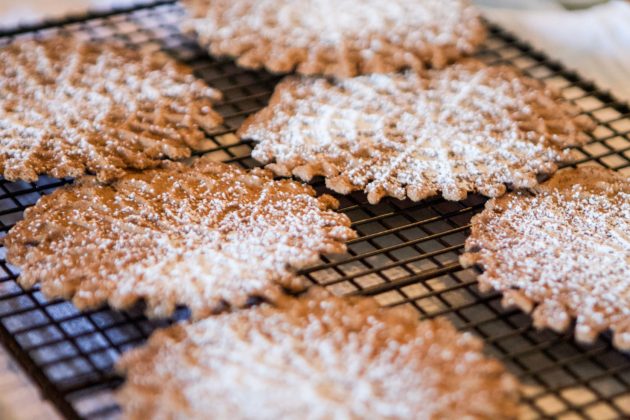 Authentic Italian Pizzelle Recipe
In order to make this authentic Italian pizzelle recipe, you need a pizzelle waffle iron. A pizzelle recipe is usually included in the package. Although I thought Diane had a "secret recipe" passed down from her Italian mother-in-law, she doesn't. In fact, Diane uses the recipe that came with her pizzelle maker, which looks ancient by the way. My new pizzelle iron came with the same exact recipe. Furthermore, all the recipes I found online use the same basic recipe. The variation comes with the flavors/extracts added. Although anise is the traditional flavor, there are other popular flavors like chocolate, almond, and vanilla.  For the record, I love the traditional anise flavor, but I'm excited to try some new flavors too!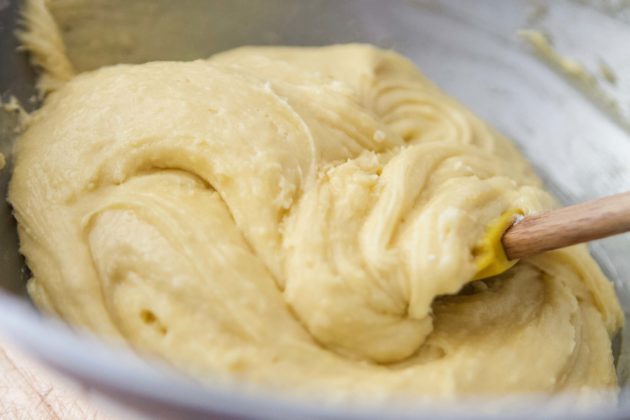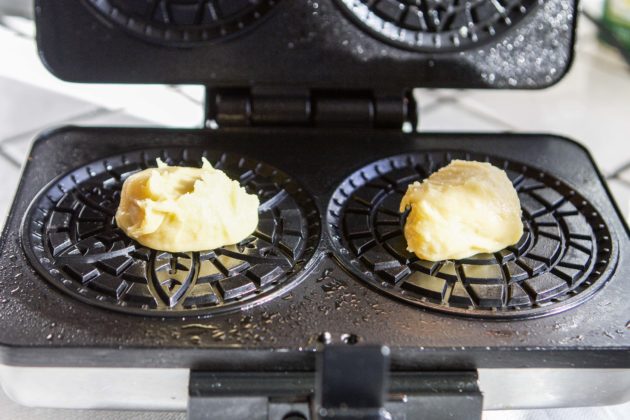 What do pizzelle taste like?
One of the things I love about this authentic Italian pizzelle recipe is the mild flavor. They are also light and go perfectly with a cup of coffee or tea. Pizzelles are not overly sweet, and low calorie, so you can enjoy more than one, guilt free! But perhaps the thing that pizzelle are known for best is their crispness. The taste also depends on the type of pizzelle you make. Besides the flavors mentioned above, you can also find the following flavors: ginger, peppermint, orange, and my personal new favorite, cardamom! Although I'd never considered adding nuts, Diane added chopped pecans to her chocolate batter and it was delicious!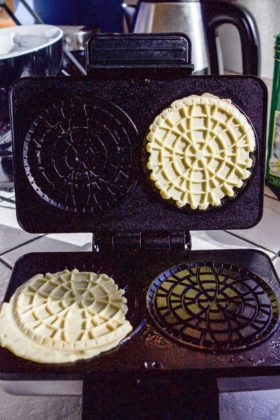 Pizzelle Variations
To make cardamom pizzelle, replace the anise extract with 1 tablespoon vanilla extract, and 1 teaspoon cardamom.  For lemon pizzelle, replace the anise extract with 1 tablespoon lemon juice, and the zest of one lemon. After playing around with different variations, I've settled on my favorite; cardamom-anise walnut pizzelle. To make them, added 1 tsp. cardamom powder, 1 T. vanilla, 1 tsp. anise extract, and 1/3 cup ground walnuts. I hope my Italian ancestors aren't rolling around in their graves with this crazy combination! You may want to start with the authentic Italian pizzelle recipe but then experiment with your own favorite flavors. If you come up with a great new flavor, I'd love to hear about it in a comment below!
Pizzelle Cannoli Shells, Ice Cream Cones, bowls, and more!
Now that you know how to make authentic Italian pizzelle, let's have some fun! Did you know that pizzelle can be used to make cannoli shells? To do this, you need to shape them when the pizzelle are warm (they become crisp as they cool off). Cannoli tubes or forms can be used to make the shells. Another tool that comes in handy is an ice cream cone mold. The molds are used to make pizzelle ice cream cones. Be sure to purchase the 5″ pizzelle iron, instead of the 3″ pizzelle iron,  which would be too small to make cannoli shells and ice cream cones. Another idea would be to drape the soft pizzelle over an overturned small bowl. Once the pizzelle cool off and harden, they make an edible ice-cream bowl. Finally, you can use two pizzelle to make an ice-cream sandwich; great idea, right?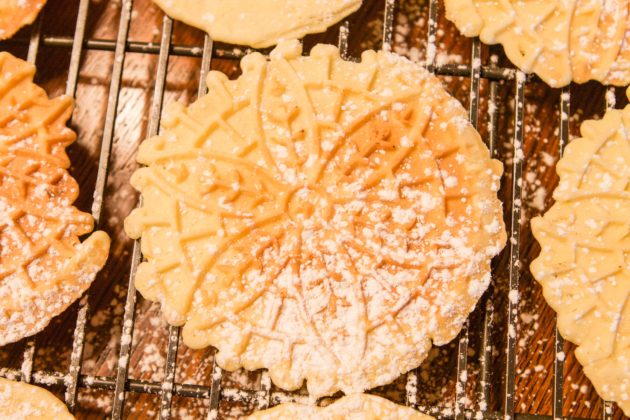 Do Pizzelle freeze well?
The answer to this question is both yes and no. Because the pizzelle are so delicate, introducing moisture by freezing them can cause them to lose their crispness. But from my personal experience, they still hold up rather well. I recommend freezing a few and then deciding if you want to freeze the rest. Meanwhile, I do recommend storing them in tins (which can be found at any Dollar Store) this time of year. They last for months when stored like this. The tins are also a great way for you to give the pizzelle to family and friends for Christmas. So be sure to spread some love around with these delicious cookies. Merry Christmas from my family to yours!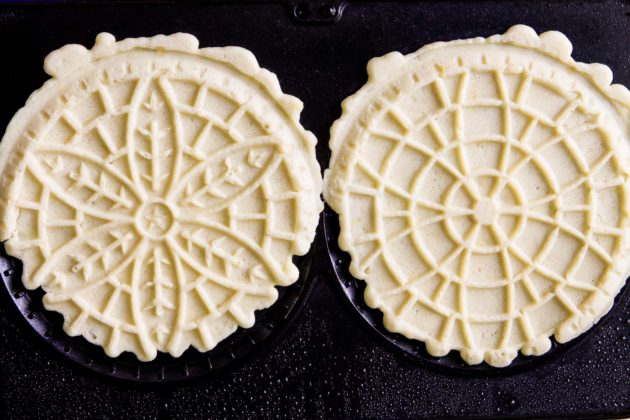 Do you Pinterest? Please Pin and share this post!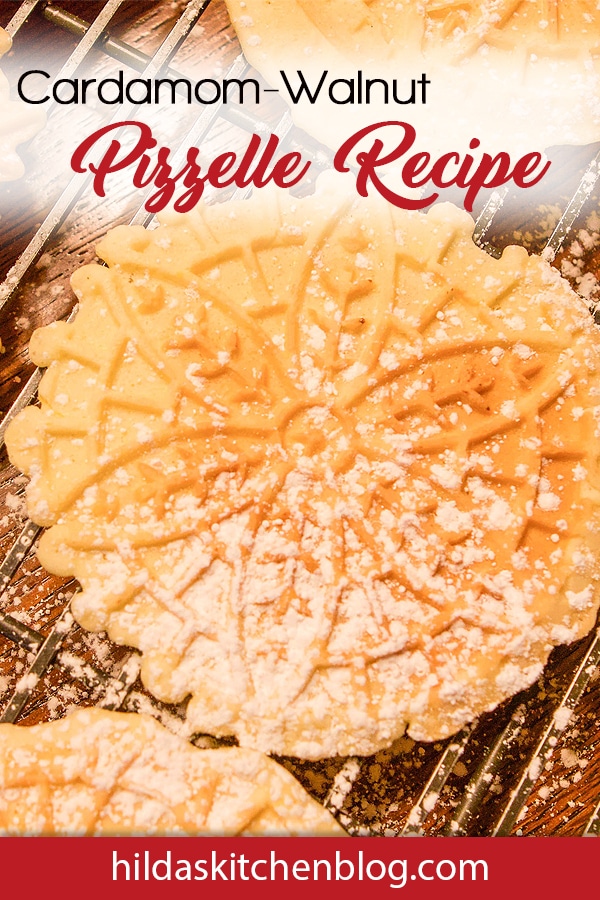 ---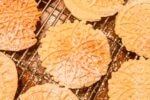 Authentic Italian Pizzelle Recipe
Easy pizzelle recipe, a traditional Italian cookie, using a pizzelle iron.
Ingredients
3

medium

eggs

3/4

cup

white sugar

1/2

cup

unsalted butter

(melted)

1

T.

anise extract

1-3/4

cups

white flour

2

tsp.

baking powder

1/8

tsp.

salt

non-stick cooking spray

1/4

cup

powdered sugar

(for dusting)
Chocolate Pizzelles
1/4

cup

cocoa powder

1/4

cup

sugar

(additional)

1/4

tsp.

baking powder

(additional)
Instructions
Heat the pizzelle waffle iron, while you prepare the batter.

Whisk eggs, white sugar, butter, and anise extract in a large bowl. Sift in the flour, baking powder, and salt until the batter is smooth.

When the iron is ready to use, spray with non-tick cooking spray.

Place one tablespoon of batter on each of the hot plates, and close the lid.

Cook until hardly any steam is being produced, usually somewhere between 45 seconds to a minute.

Use a fork to remove the pizzelle to a wire rack to cool. Continue until the batter is all used up.

Sprinkle with powdered sugar, and store in tins.
Nutrition Facts
Authentic Italian Pizzelle Recipe
Amount Per Serving
Calories 63
Calories from Fat 36
% Daily Value*
Fat 4g6%
Cholesterol 26mg9%
Sodium 42mg2%
Carbohydrates 7g2%
Protein 1g2%
* Percent Daily Values are based on a 2000 calorie diet.