Cardamom is easily my favorite spice. It also happens to be very prominent in these cardamom shortbread cookies. I guess that explains why they are my all-time favorite cookie! In the Middle East, these cookies are called "Shakar Lama" or "Shakarlama" (both spellings are used). In Arabic, "Shakar" means sugar, although I'm not sure what "Lama" means, or if it's even a word by itself. I've also seen recipes in which these cookies are referred to as "Ghraybeh," but Shakar Lama is a more common name.
Easy Shakar Lama Cookies
Shakar lama cookies are definitely one of the easiest cookies to make. Unlike other complicated Middle Eastern sweets like Baklava, Kileche, or Nazukeh, these cookies are simple enough for anyone to make. I suppose the best way to describe them would be cardamom-flavored shortbread cookies. They only have a handful of ingredients, with Cardamom being the most "exotic." That being said, I don't see a reason why you can't bake them today!
Variations
In my cookbook, Mom's Authentic Assyrian Recipes, I recommend rolling the dough into a rope, and bringing the ends together, then adding an almond in the center. You can still choose to make them that way if you wish. However, since I published my book in 2008, I've come up with a better way; forming the dough into a log, then chilling, and slicing into discs. This method is not only easier but makes for a prettier cookie! Some prefer to shape them into triangles, but I prefer making them round. Another variation that you might come across is adding ground almonds into the dough. This gives the cookies an extra crunchy texture.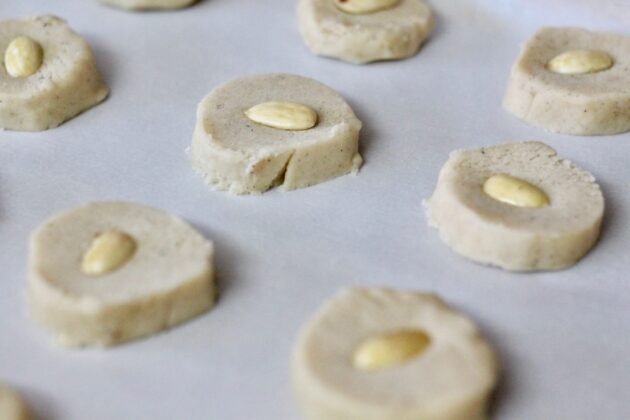 Shakar Lama and Chai
Shakar Lama cookies are usually served with some strong Middle Eastern tea or chai. But, speaking from experience, they are great with coffee too! Don't even get me started on how amazing they are with a nice, tall glass of milk. So do yourself a favor and make these addicting cookies soon. As one of my friends recently posted, "life's too short, go ahead and lick the bowl!" See you next time!
You may also enjoy the following recipes: Vegan Shortbread Cookies, Caramel Apples, The Best Biscotti Recipe, and Caramel Apple pie.
Do you Pinterest? Please help a girl out by pinning and sharing!
---
Don't forget to check out my  Classic Middle Eastern Food Combinations.
Cardamom Shortbread Cookies (Shakar Lama)
Melt in your mouth sugar cookies, with the delicious addition of cardamom.
Cuisine:
Assyrian, Middle Eastern
Ingredients
20

almonds

3/4

cups

of butter

1/2

cup

sugar

1-1/2

cup

all-purpose flour

1

tsp.

cardamom

1/2

tsp.

salt
Instructions
Pour boiling water over almonds and soak while you work on the dough.

Cut butter into 1" pieces, add to a stand mixer, along with the sugar. Mix until thoroughly blended. Scrape down the sides of the bowl with a spatula.

Add the flour, cardamom, and salt into the sugar and butter mixture. Mix until everything is incorporated.

Place cookie dough on a piece of Saran wrap. Cover the dough with the plastic wrap and roll into a log. Chill the dough in the refrigerator for 30 minutes.

Pre-heat oven to 375-degrees F.

Using a pastry scraper, slice the chilled roll in half, then in quarters. Slice each quarter into five equal discs. Place discs on a parchment-lined cookie sheet.

Remove the skin off of the almonds, then pat them dry with the paper towels. Press one almond into the center of each cookie.

Bake for 20 minutes, or until the edges of the cookies are golden brown.
Nutrition Facts
Cardamom Shortbread Cookies (Shakar Lama)
Amount Per Serving
Calories 150
Calories from Fat 72
% Daily Value*
Fat 8g12%
Cholesterol 18mg6%
Sodium 61mg3%
Carbohydrates 18g6%
Protein 2g4%
* Percent Daily Values are based on a 2000 calorie diet.