We're having Easy Stuffed Mushrooms for dinner tonight. Piping hot, cheesy mushroom caps, loaded with a mixture of cream cheese, cheddar, fresh dill, jalapeño, and minced garlic. Oh yeah, did I mention they're also low carb?
These stuffed mushrooms would also be great to serve on the side with Chimichurri Protein Noodles.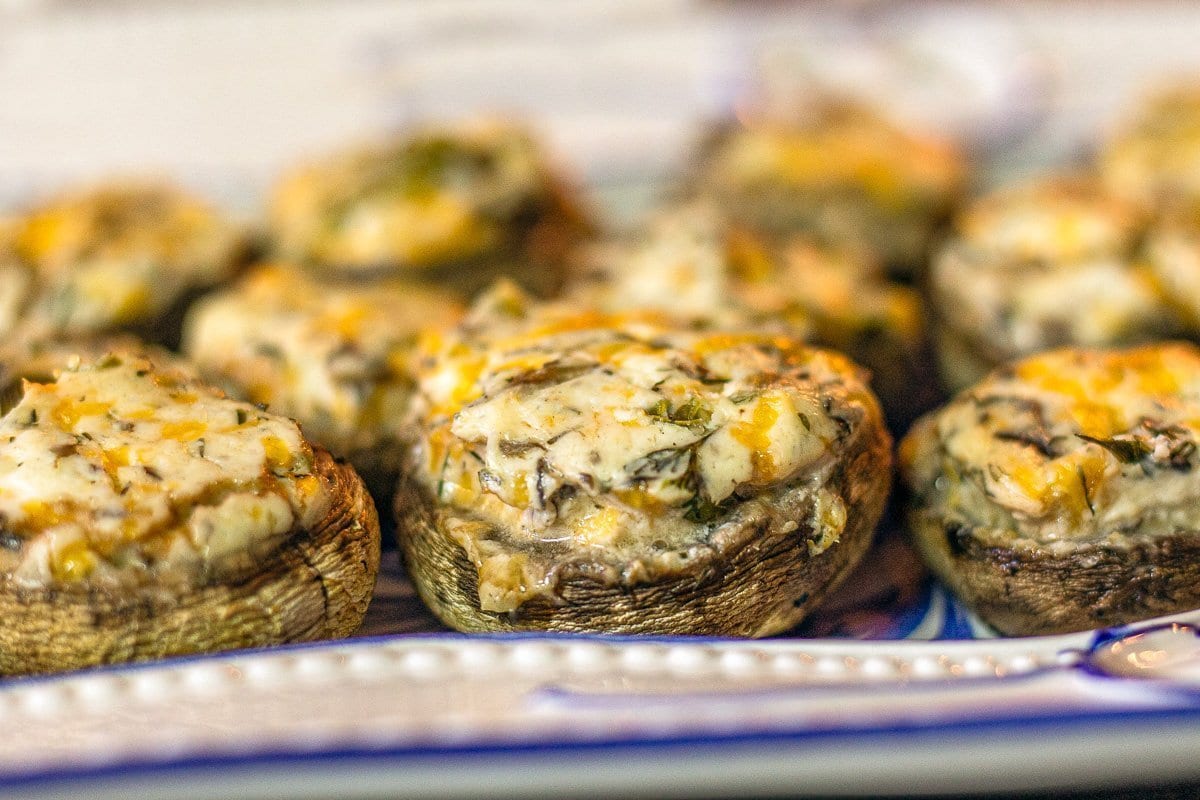 We all know stuffed mushrooms are a perfect party appetizer, am I right? However, my daughter, Nena, eats them wrapped in warm corn tortillas.
I guess you could call them Stuffed Mushroom Vegetarian Tacos. This recipe was not only her idea, but she also assisted with the creation of the recipe.
If I had come up with this recipe on my own, it would have turned out slightly different. How you ask? One word. BACON.
I would have topped the mushrooms with crumbled bacon before baking or stirred it into the cheese mix prior to stuffing the mushrooms.
Unfortunately, Nena doesn't eat pork, she loves pigs far too much! I had to use every shred of self-control to restrain myself. If you love bacon as much as I do, you might want to add 1/4 of a cup of crumbled bacon.
Prep the Mushrooms for Stuffing
Clean mushrooms as described above.
Carefully remove the stems. Freeze half the stems for later use.
Using a small spoon, scoop out some of the flesh from inside the mushrooms to expand the area to be filled.
Easy Stuffed Mushrooms Filling
Chop stems and add to the mushroom flesh that was scooped out.
Add olive oil, or butter, to a skillet over medium heat.
Toss in the chopped mushrooms stems and garlic. Sauté for approximately five minutes.
While the mushroom mix is cooling, microwave the cream cheese in a medium bowl for 30 seconds to soften.
Mix cream cheese, sautéed mushrooms and garlic, and the remaining ingredients until thoroughly mixed.
Fill mushrooms with the filling mix.
Baking the Stuffed Mushroom Caps
Preheat oven to 375-Degrees F
Place stuffed mushrooms on a baking sheet with a rack. This will allow the juices from the mushrooms to drip down into the pan.
Bake for 20 minutes.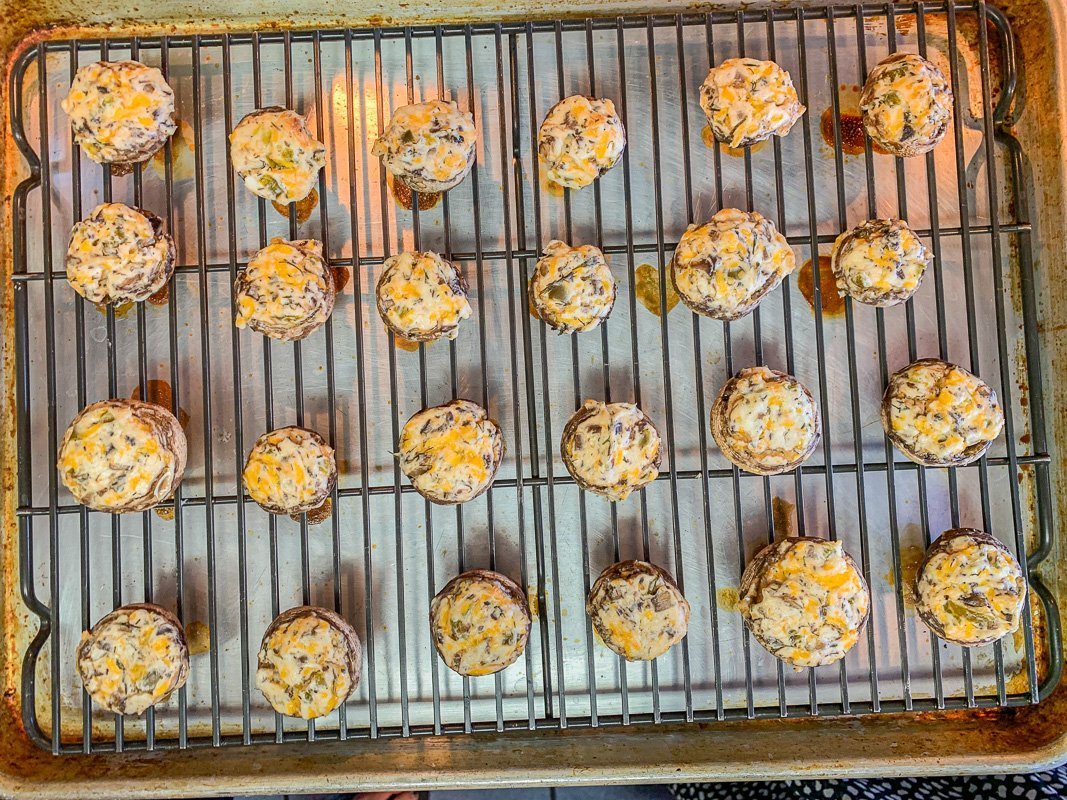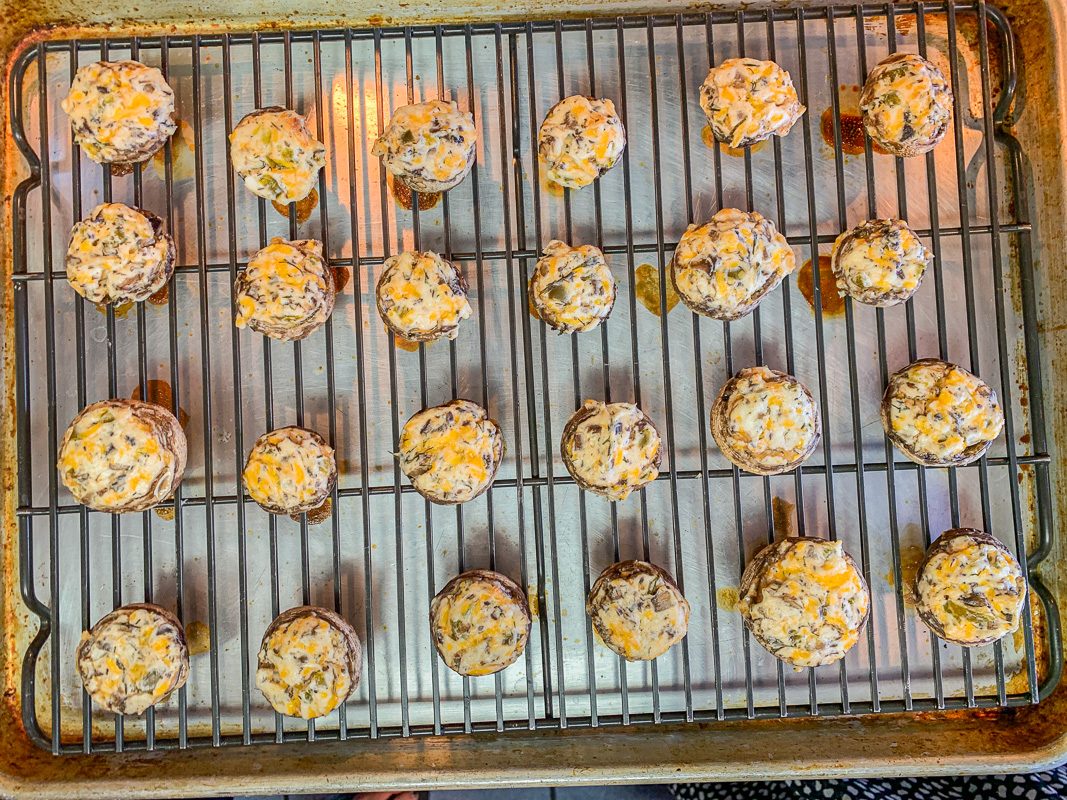 Other Mushroom-Filling Ideas
The following suggested ingredients may also be mixed in with the filling ingredients. However, some of these ingredients (bread crumbs, for example) would no longer make this a low carb stuffed mushroom recipe.
bread crumbs
pinch of salt and black pepper
parmesan cheese
blue cheese
crab meat
shrimp
fresh minced parsley
chopped black olives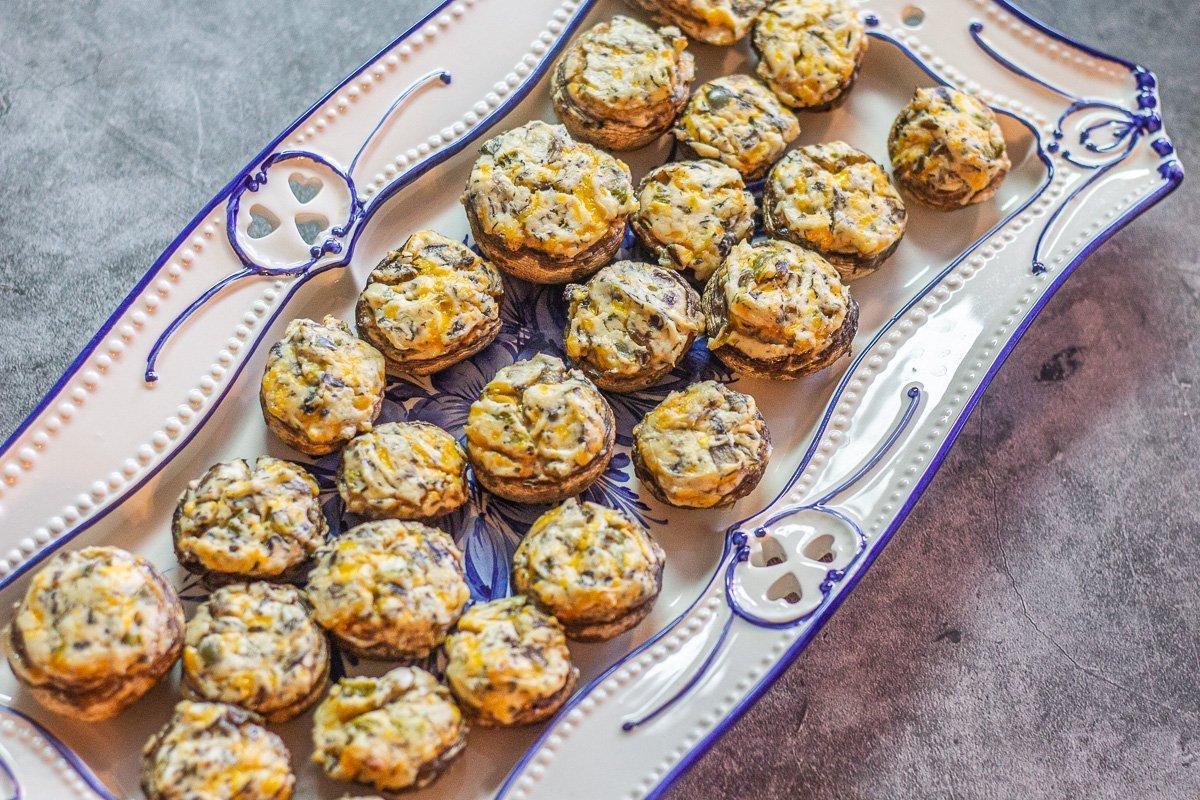 Frequently Asked Questions
What Are The Best Mushrooms For Stuffing?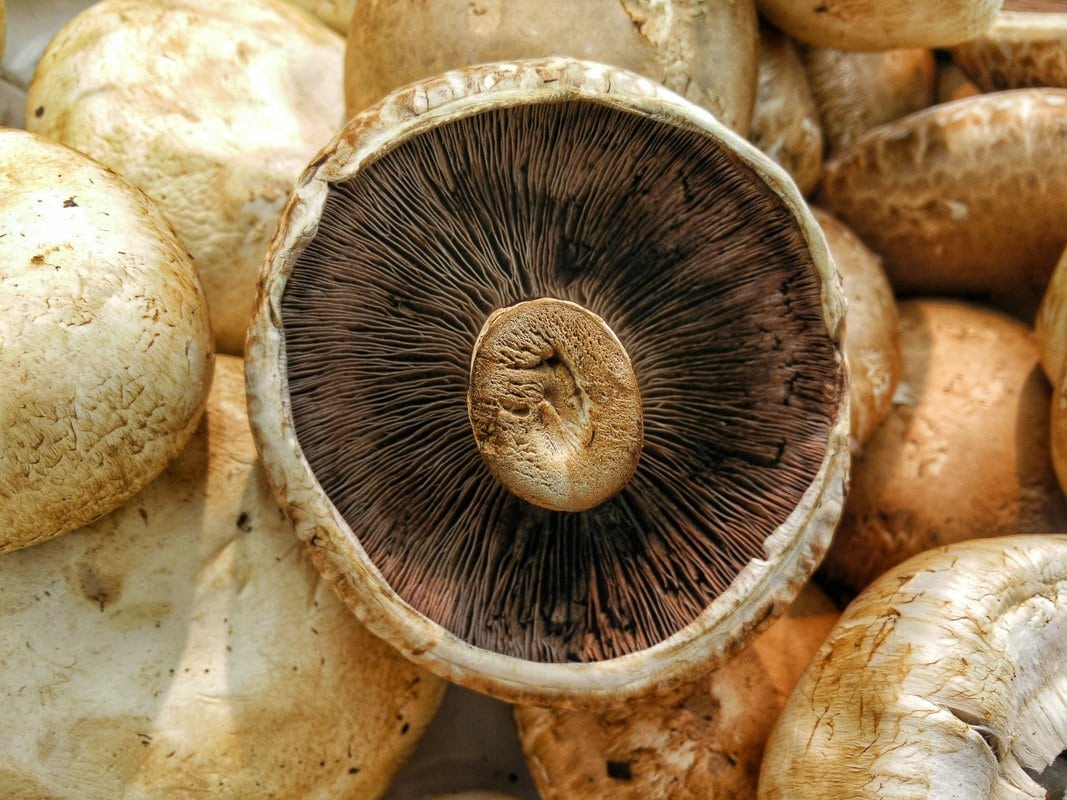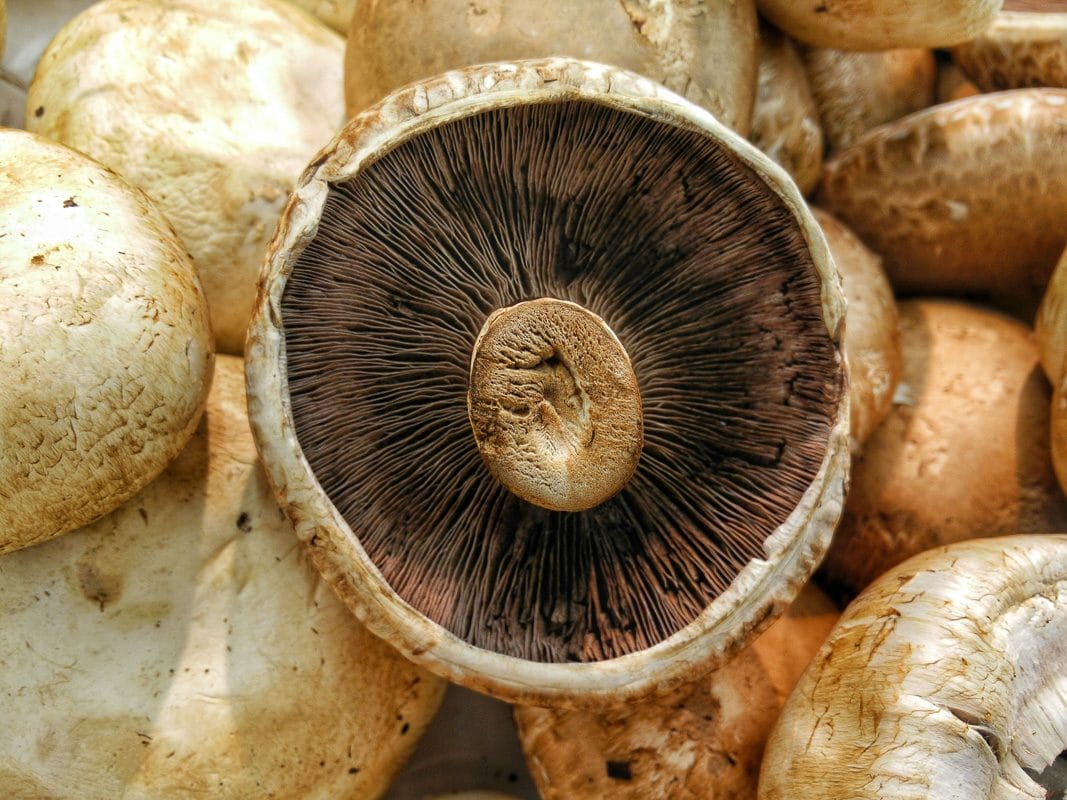 There are many mushroom varieties out there and I love every one of them, with Morels being my favorite. Although Morels have a hollow center, they would not be my first choice for stuffing. Instead, I would use any of the following:
Baby Bella Mushrooms
White Button Mushrooms
Cremini Mushrooms
The above-mentioned mushrooms are a perfect size and shape for stuffing. So feel free to use any of the three in this recipe.
How Can You Clean Mushrooms Before Cooking?
Mushrooms can be very delicate and fragile and should be handled gingerly. In other words, no man-handling, please! To prepare the mushrooms, you can rinse them under cold running. While doing this, make sure you wash off any visible soil.
Another option is to wipe the mushrooms with a damp paper towel or cloth napkin. Gently wipe the mushrooms, paying special attention to the areas that have visible soil.
Easy Stuffed Mushrooms Leftover Filling Uses
If you're lucky enough to have leftover filling, you can use it up in all kinds of ways. The most obvious way would be to buy more mushrooms to stuff. But here are some other tasty ways to use up any leftover filling.
Low Carb Pinwheels
To make the pinwheels, you can either use low-carb tortillas, or Folios Cheese Wraps (which can be purchased at Costco). These wraps are made entirely of cheese! They come in the following flavors: Cheddar, Swiss, and Parmesan.
Spread the mushroom filling over the tortilla or cheese wrap. Next, roll tightly into a cigar-shape. Slice into 1/2" portions or eat the roll as is!
Easy Stuffed Mushrooms Quesadillas
Spread filling over a tortilla. Spray a skillet with cooking spray, or use butter. Add the tortilla and sprinkle with shredded cheese. Next, top with a second tortilla, or fold the tortilla in half. Cook on both sides until golden and crisp.
Cheesy Mushroom Pasta
Cook pasta according to directions and drain. Mix in the leftover mushroom filling. Stir in parmesan cheese, salt, and pepper. Top with chopped Italian parsley or fresh basil.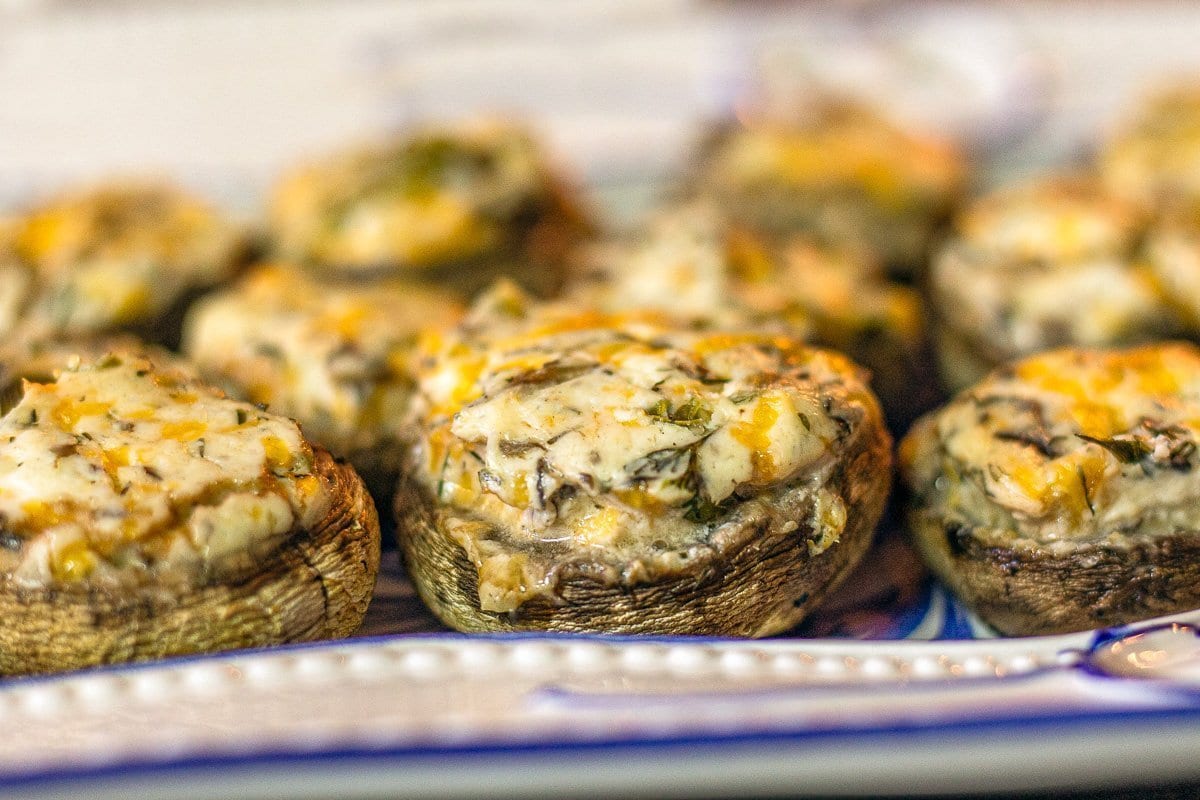 You may also like the following recipes: Hummus, Mexican Bean Dip, Foul Medames, Potato Chop recipe, Easy Scalloped Potatoes, and Roasted Eggplant Dip.
STAY IN TOUCH WITH ME THROUGH SOCIAL MEDIA!
Tried this recipe? Snap a picture and tag #hildaskitchenblog on Instagram.
Like my page on Facebook.
Do you Pinterest? Pin & share this recipe!
If you enjoyed this Stuffed Mushrooms Recipe, please take a few minutes to rate the recipe!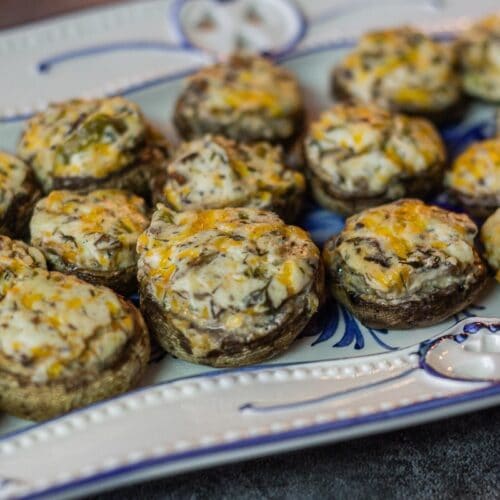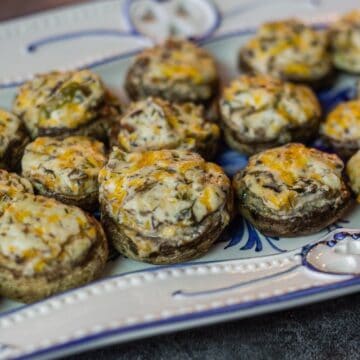 Easy Stuffed Mushrooms (Low Carb)
These Easy Stuffed Mushrooms are not only delicoius, but are also low carb.
Print
Rate
Ingredients
16

oz.

white button mushrooms

(approximately 24 mushrooms)

2

cloves

garlic

(minced)

1½

tsp.

olive oil

1

8 oz.

cream cheese

¾

cup

shredded sharp cheddar cheese

2

tsp.

ranch seasoning mix

3

T.

pickled jalapenos

(minced)

1

T.

fresh dill

(chopped)
Instructions
Preheat oven to 375-degrees F.

Remove stems from mushrooms and set aside.

Carefully scoop out some of the flesh to allow for more filling.

Mince a third of the mushroom stems and add to the mushroom flesh that was scooped out, along with the minced garlic. Heat olive oil in a pan and sauté the mushrooms and garlic for a few minutes. Allow the mixture to cool.

Meanwhile, place cream cheese in a microwave-safe bowl and cover with a napkin. This will avoid any splatter. Microwave for 30 seconds to soften.

Stir the sautéed mushroom and remaining ingredients in with the cream cheese and blend well.

Using a small spoon, divide the cream cheese mixture between the mushrooms.

Arrange filled mushrooms on rack inside a cookie sheet. This will allow the liquid to drain from the mushrooms as they cook.

Place mushrooms in the oven and bake for 20 minutes.
Nutrition
Serving:
1
mushroom
|
Calories:
49
kcal
|
Carbohydrates:
1
g
|
Protein:
1
g
|
Fat:
4
g
|
Saturated Fat:
2
g
|
Cholesterol:
12
mg
|
Sodium:
91
mg
|
Fiber:
0
g
|
Sugar:
1
g