I've always loved grape leaf dolma…Middle Eastern style, that is. I used to think that I disliked Greek Dolmathes. Our family spent three months in Greece when I was nine years old in 1976 while waiting for our papers to immigrate to the U. S. I have a vague memory of trying Dolmathes and disliking them.
Greek Dolmathes
What stands out in my memory more was mom's reaction to the Canned Dolmathes smothered in olive oil that my dad proudly bought. I guess we were trying to save money by eating in. But after one bite, my mom spit out the dolma and declared that Greeks did not know how to make dolma. Not only that, but she threw the whole can in the trash! Do you want to know what's ironic? I had a DNA test done recently, and it appears that I am 15% Greek and Italian. This would have come as a great shock to my parents. We were always told we were 100% Assyrian. So, maybe Greeks know how to make dolma after all!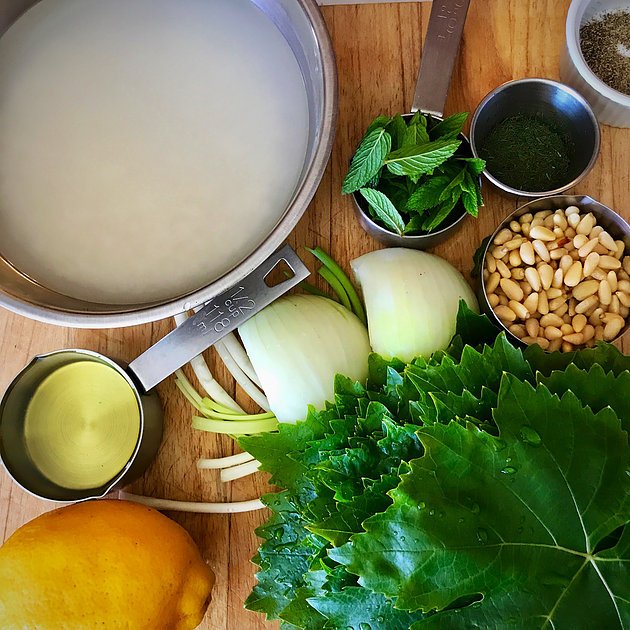 Our Napa Valley Trip
A few years ago, I went on a trip to Napa Valley with my sister, niece, and daughter. We were on a winery tour, and our Middle Eastern tour guide served us Dolmathes for lunch. They had a very distinct lemony flavor, with a hint of dill. I think even mom would have approved! My daughter, Nena, loved them. I made it a point to remember what they tasted like so that I could attempt to recreate them. I'm happy to say that I think I achieved that goal. I think that even my Greek friends would approve of this recipe.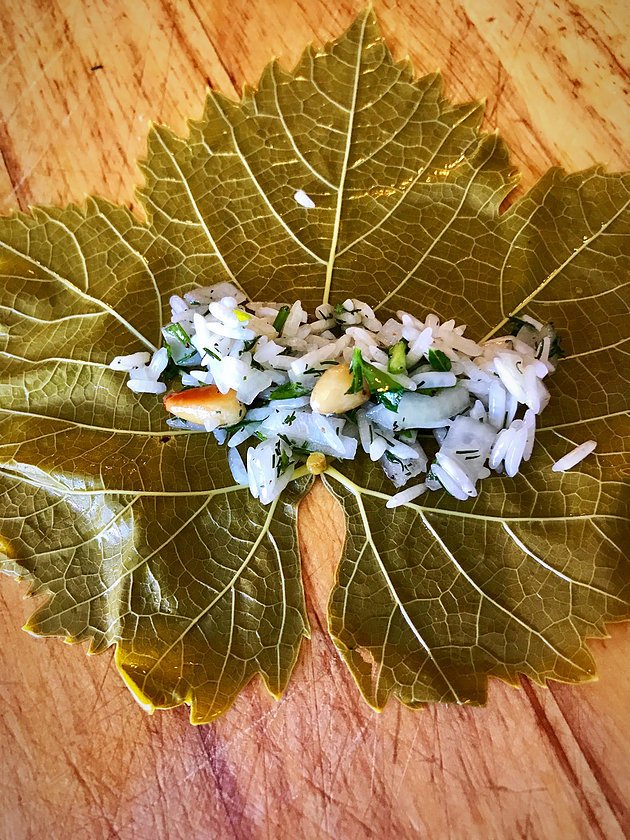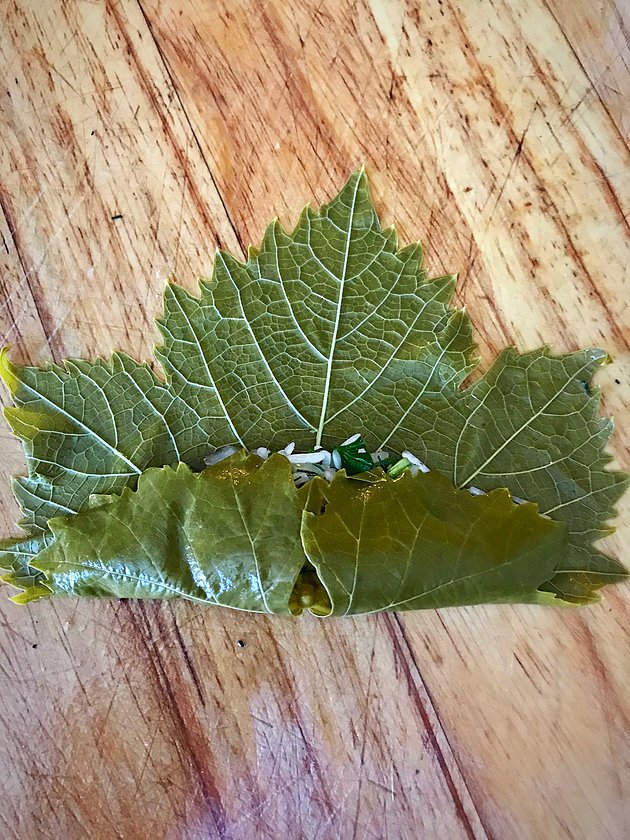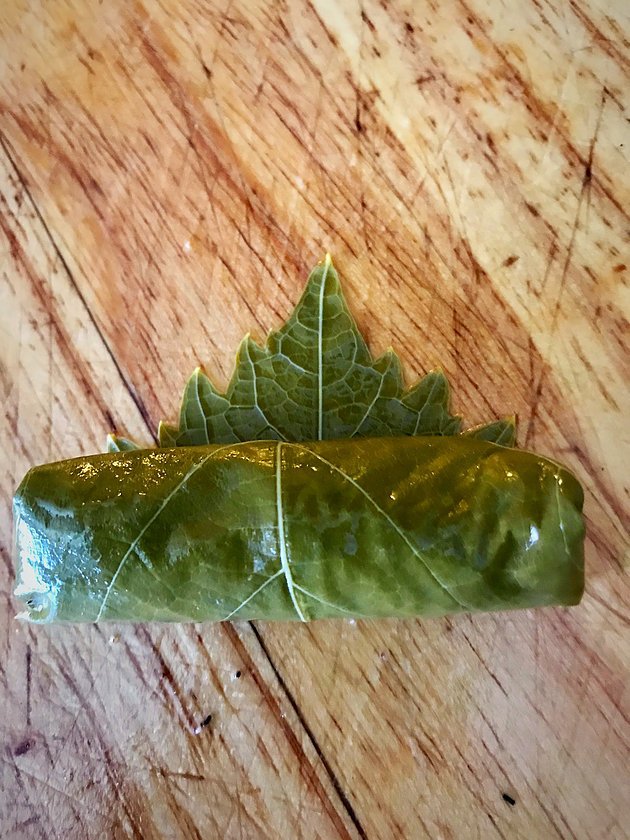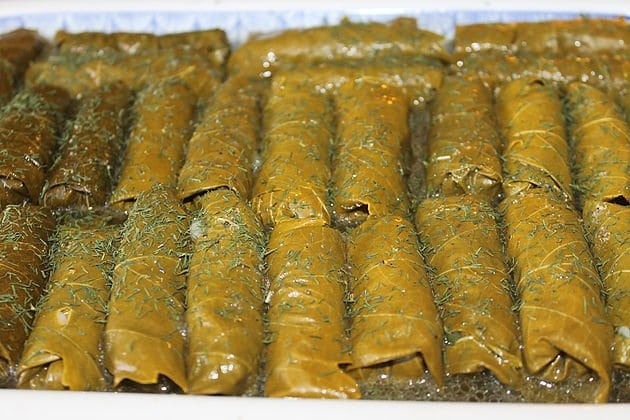 Do you Pinterest? Please pin & share!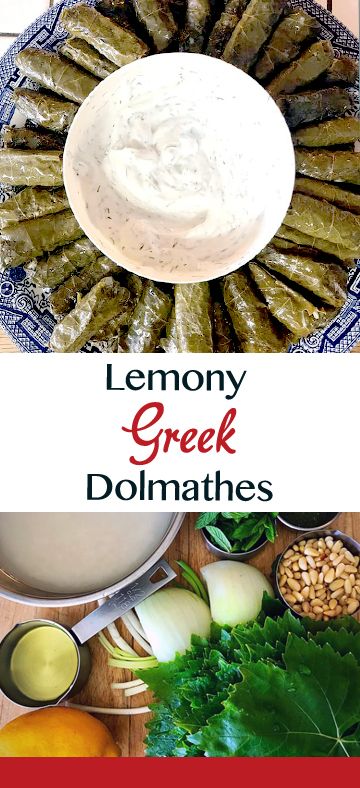 ---
Be sure to check out my other dolma recipes: Preserved Grape Leaves, Homemade Yogurt, Cabbage Dolma, and Swiss Chard Dolma.
You may also be interested in my Healthy Mediterranean Recipes post!
Lemony Greek Dolmathes with Toasted Pine Nuts
Lemony Greek dolmathes stuffed with a rice and herb mixture.
Print
Rate
Cook Time:
1
hour
30
minutes
Ingredients
1

cup

rice

60

grape leaves

1

T

dill weed

(or)

1/4

cup

fresh dill

chopped

1/3

cup

fresh mint

chopped

1

mediumm

onion

diced

4

scallions

diced

1/3

cup

Italian parsley

chopped

1/2

cup

pine nuts

(optional)

1/4

cup

fresh lemon juice

1/2

cup

olive oil

1

tsp

salt

3/4

tsp

black pepper

1

cup

hot water
Instructions
Soak the rice in cold water and set aside.

Drain the soaking rice and add to a large mixing bowl. Add the dill, mint, onion, scallions, and parsley. Toast pine nuts in a pan, if using, stirring frequently to prevent burning. Add the toasted pine nuts to the bowl with the other ingredients.​

​Mix lemon juice and olive oil and whisk in the salt and pepper.

Pour half of this mixture over the ingredients in the bowl and mix to combine. ​​

Add a few large grape leaves on the bottom of a 8.5"x12" baking dish.

Place grape leaves bumpy side up, on a plate or cutting board. I like to do five at a time. Next, add approximately 2 teaspoons of rice mixture in the center of each grape leaf. This amount is approximate, and will depend on the size of leaf being used. Larger leaves will require more mix and smaller less. Roll into a cigar shape.

Preheat oven to 350 degrees F. Place rolled dolmathes in tight rows in the prepared baking dish until you fill the entire dish.

Sprinkle some additional dill on the dolmathes. Use up the remaining mixture to add a second layer over the first, and sprinkle with dill. Mix one cup of hot water into the remaining oil and lemon juice, being thorough, because the salt and pepper will have settled to the bottom. Pour this mixture over the dolmathes, making sure you distribute the liquid evenly over the entire pan.

Cover tightly with foil and place in a pre-heated oven. Bake for one hour and thirty minutes. Allow to cool slightly before serving, or they will fall apart when you handle them. Serve with a side of yogurt, mixed with dill and a few cloves of garlic.​
Nutrition
Calories:
475
kcal
|
Carbohydrates:
44
g
|
Protein:
7
g
|
Fat:
32
g
|
Saturated Fat:
4
g
|
Cholesterol:
0
mg
|
Sodium:
478
mg
|
Fiber:
7
g
|
Sugar:
4
g