My husband, Scott, and I created this game jerky recipe years ago, after he returned from one of his hunting trips, with an abundance of venison. We have been using this marinade on all kinds of game meat ever since! Our family and friends all love this game jerky recipe. Even my daughter, Nena, who isn't generally a meat-eater. So if you're looking for a delicious way to use up some of the game meat in your freezer, look no further!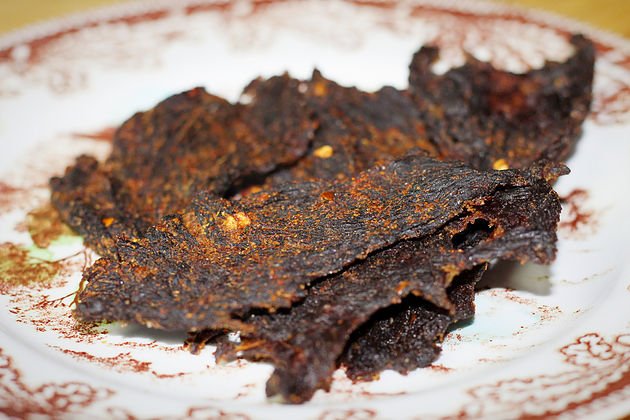 My Secret Game Jerky Recipe
I was not planning on sharing this recipe. As a matter of fact, I used to refer to this as my "Secret Game Jerky Recipe." But then an Instagram follower asked me to share the recipe, after seeing my elk jerky post. Because I aim to please my followers, I've decided to give up my secret recipe. Have I mentioned how much I love and appreciate my followers? Without you, I wouldn't be doing this at all!
What meat can be used to make jerky?
I realize that not everyone is lucky enough to either be a hunter or be married to one. Luckily you can use the same marinade on beef and still have excellent results. However, if you do hunt, or have access to game meat, I'm pleased to tell you that this recipe is very versatile! So far we've made the following types of jerky: elk, venison, bison, antelope, and beef. My personal favorite is elk jerky, with bison/buffalo being a close second. I'm looking forward to our Montana move because our freezer will always be stocked with game meat. See ya later, California!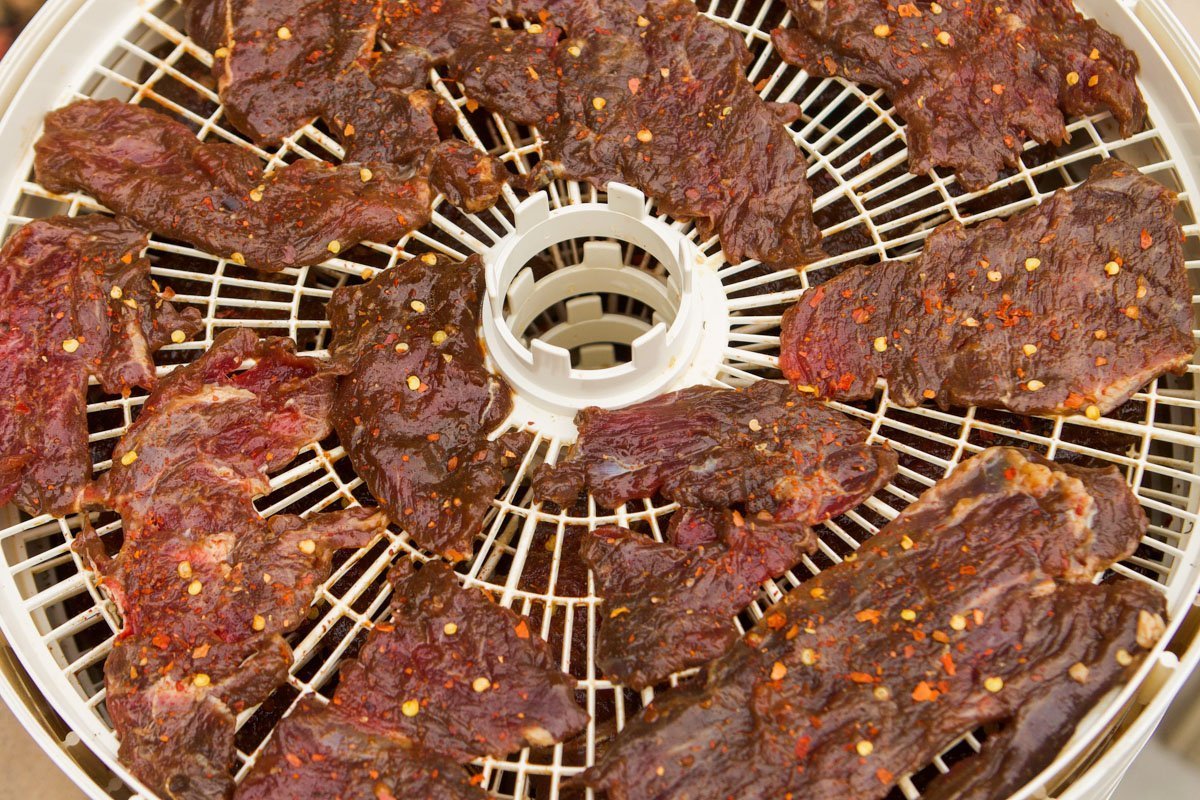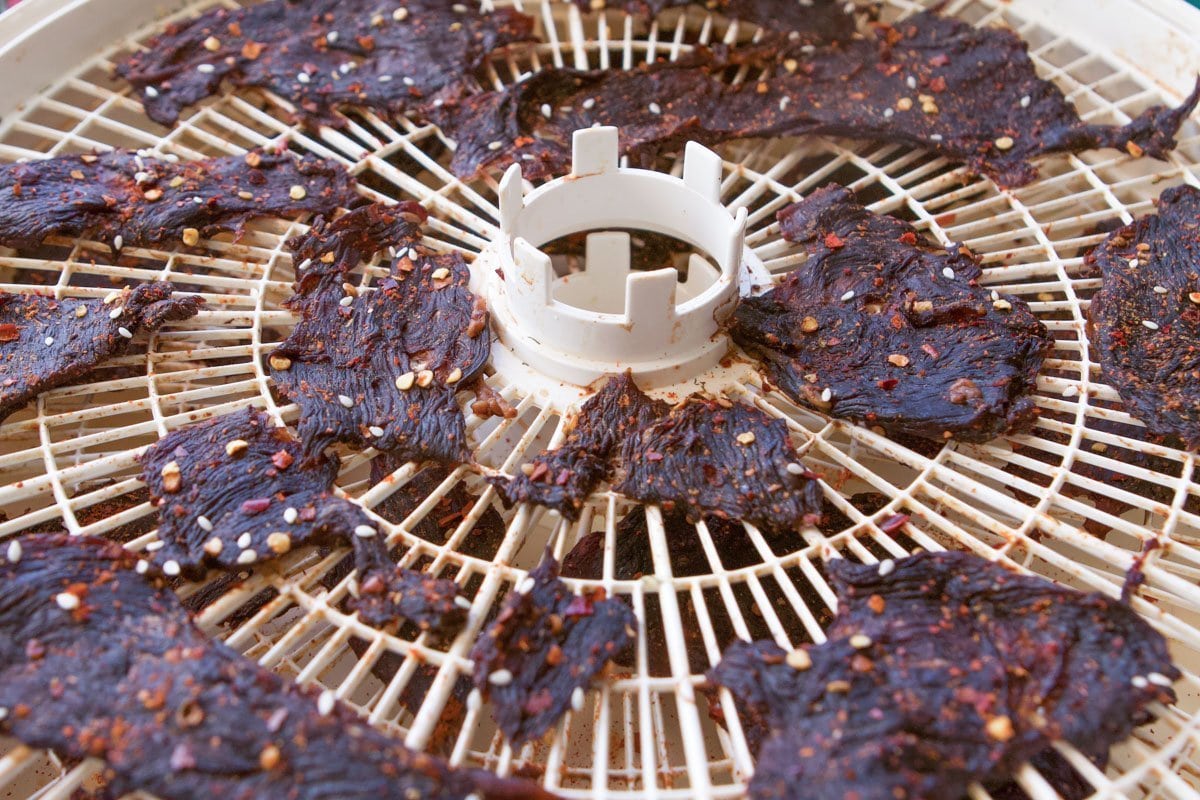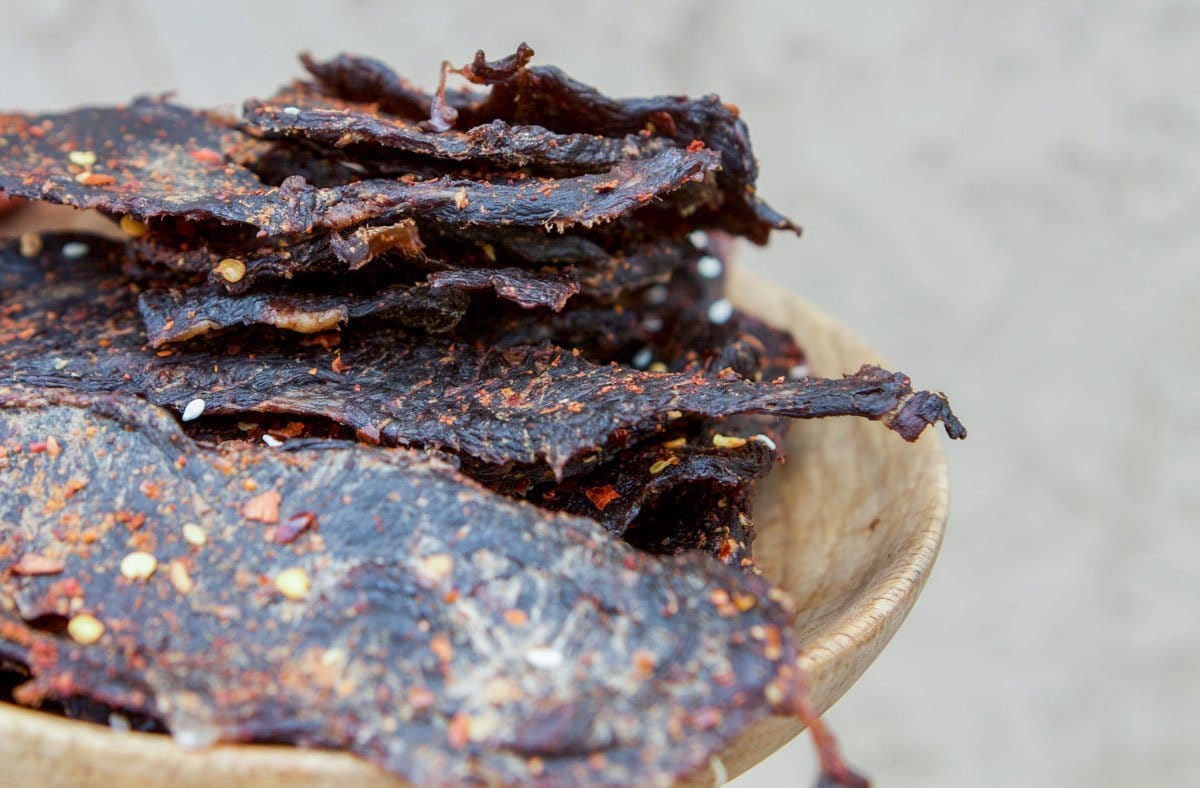 Tools Needed to Make Game Jerky
The only thing you need for this recipe is a dehydrator. I have recommended a dehydrator in a few of my recipes, including Pineapple Chips, and Sun-Dried Tomatoes. Besides using it in those recipes, I also dry other fruit with it, including citrus slices that I add to tea, or stews. Also, when I have grapes that don't get eaten, I make raisins! I can easily say that my dehydrator gets used a few times a week. If you don't have one, consider making that investment.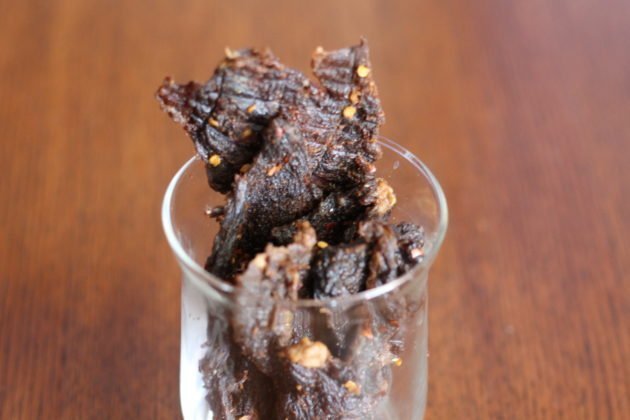 Do you Pinterest? Please pin and share!
---
If you love this game jerky recipe, please give it a 5-star rating!
Spicy Game Jerky
Spicy game jerky recipe; the marinade can be used on beef, venison, elk etc.
Ingredients
3

lbs

roast

(elk, venison, buffalo etc.)

1/2

cup

soy sauce

1/4

cup

sesame seed oil

2

T

Worcestershire sauce

1

tsp.

hot sauce

1

tsp.

liquid smoke

1

tsp.

garlic powder

1

tsp.

onion powder

2

tsp.

coriander powder

1

tsp.

cayenne pepper

1

tsp.

crushed red pepper
Instructions
Slice semi-frozen meat, against the grain, anywhere between 1/8" to 1/4" in thickness. Place in a ziplock bag.

Add the remaining ingredients in a bowl, and whisk until completely combined.

Carefully pour the marinade over the meat. Seal the bag and marinate overnight, or at least eight hours.

Place jerky on the dehydrator trays, leaving some space in-between to allow for circulation. Sometimes I sprinkle sesame seeds or crushed red pepper over the meat before dehydrating it.

Use your dehydrator's settings to determine the length of time to dehydrate the meat. My dehydrator has a jerky setting and usually takes approximately eight hours until the jerky is ready. The thinner pieces will be ready sooner than the thicker ones. Start checking the jerky after approximately six-hours and pull off any pieces that are ready.

Once all the pieces are ready, turn off the dehydrator and allow to cool completely before storing.
Nutrition Facts
Spicy Game Jerky
Amount Per Serving
Calories 368
Calories from Fat 171
% Daily Value*
Total Fat 19g 29%
Cholesterol 1100mg 367%
Sodium 1897mg 79%
Total Carbohydrates 3g 1%
Protein 42g 84%
* Percent Daily Values are based on a 2000 calorie diet.