Are you looking for some easy and delicious camping meal ideas for your next camping trip? We've put together a round up of 25 Easy Camping Meals from burgers to Banana Boat S'mores! Whether you're looking for camping breakfast ideas, lunches, dinners, sides, or snacks, we've got you covered!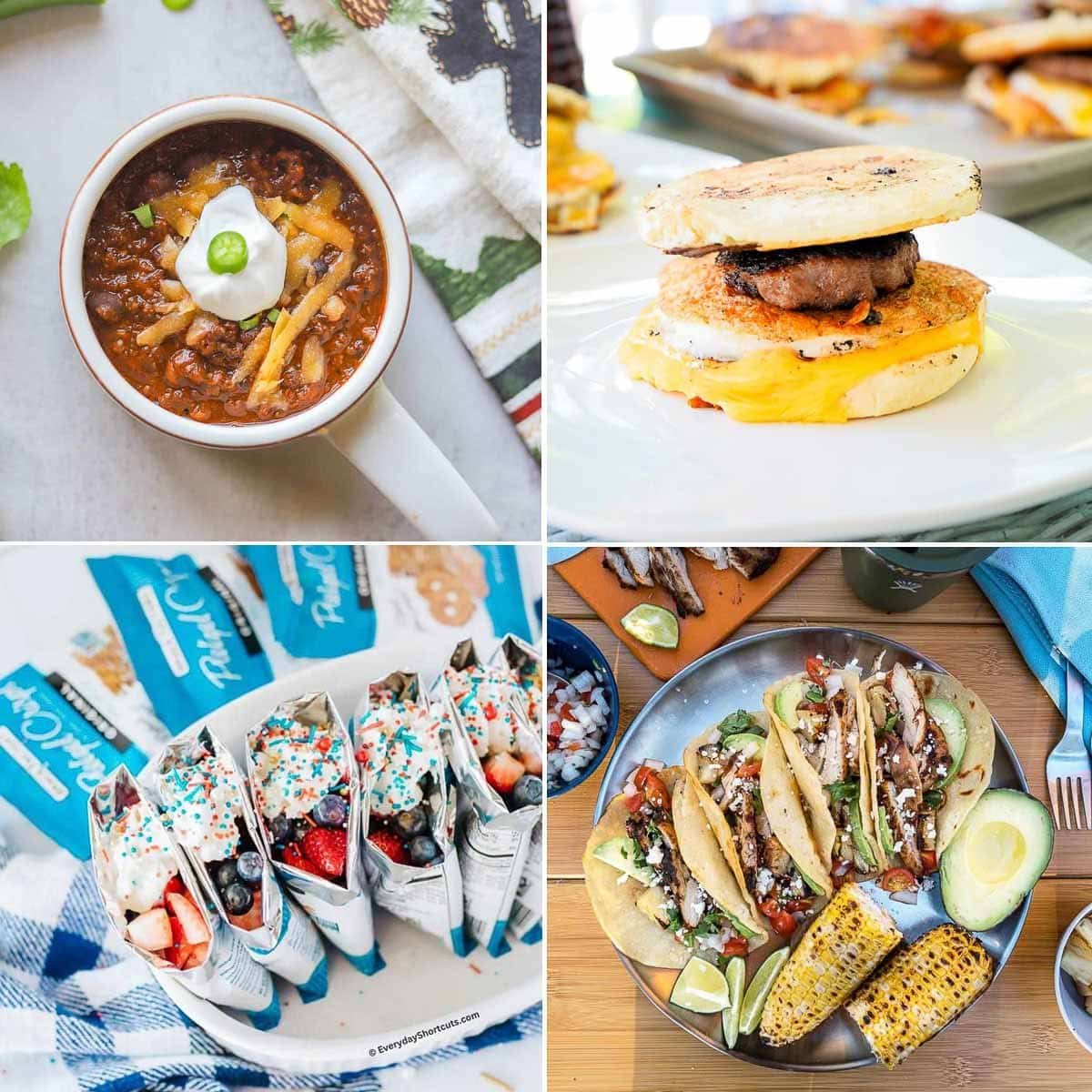 While camping is such a fun way to get out and enjoy nature with the family and friends, eating nothing but roasted marshmallows, hot dogs, and canned beans gets old really quickly!
Luckily, there are many other easy camping recipes that can be enjoyed in the great outdoors. Some of these recipes can be quickly and easily made at the campsite, while others can be meal prepped ahead of time!
Jump to:
🔥Recommended Camping Equipment
Before we get to the easy camping meals, here are some items you may want to consider packing to make your meals even easier to prepare!
Dutch oven or pot
Cast-iron skillet or pan
Skewers for hot dogs & S'mores
Aluminum foil & ziplock bags
Paper plates, cups, napkins, utensils & paper towels
Lighter or matches
Dish soap & sponge
🍳Camping Breakfast Ideas
Homemade McGriddles on the Blackstone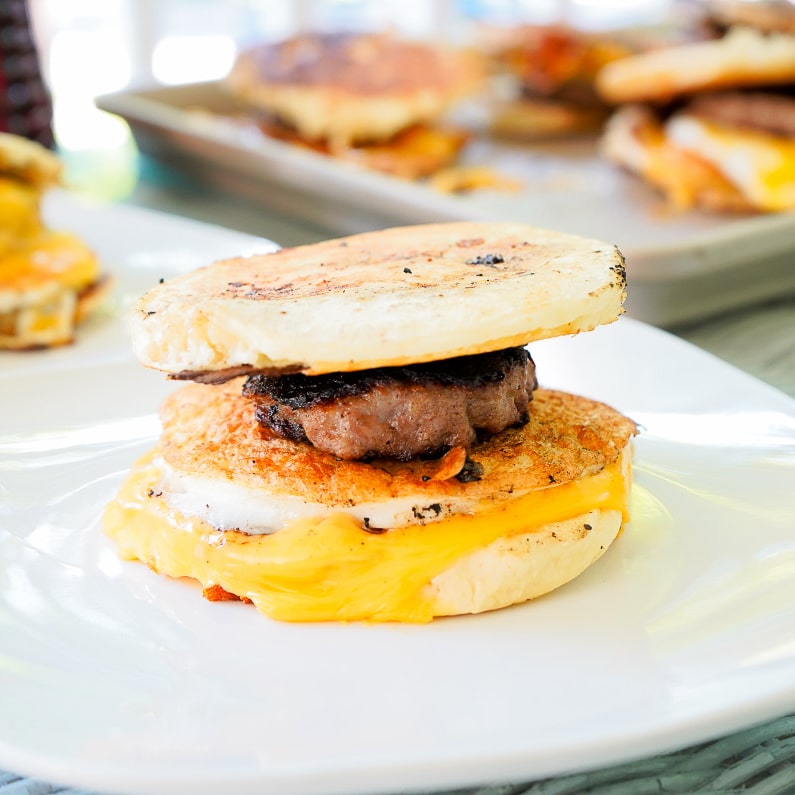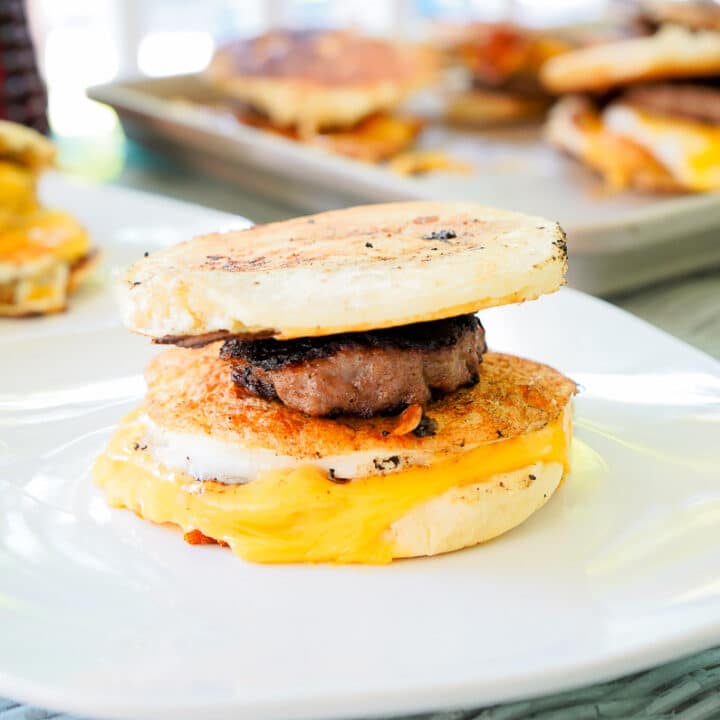 These Homemade McGriddles on the Blackstone are a really easy camping breakfast sandwich. They are loaded with sausage, egg, and cheese, all between two fluffy pancakes.
Low Carb Spinach & Eggs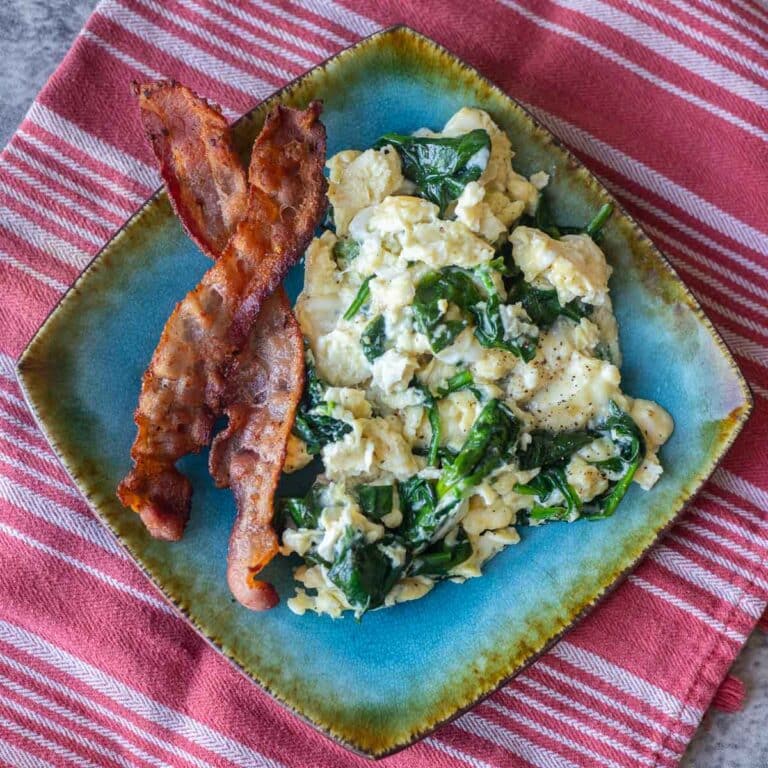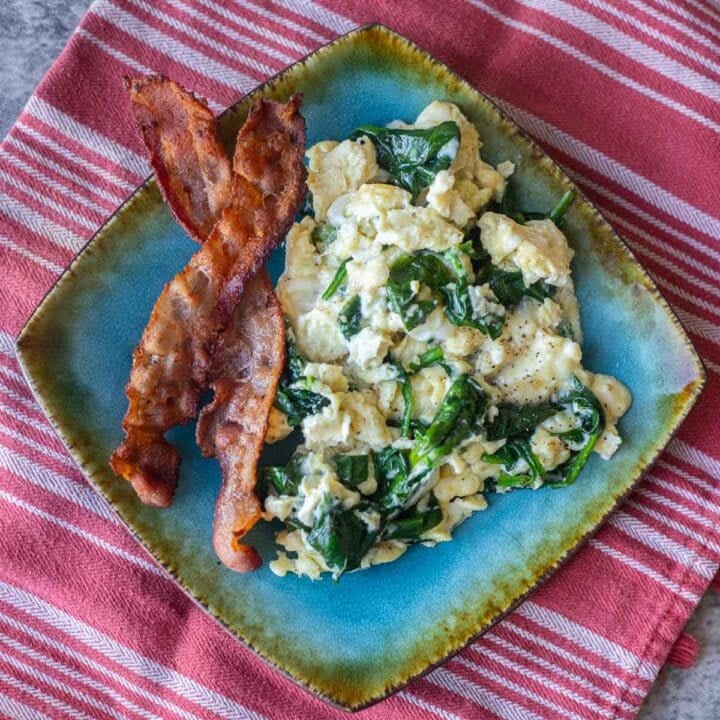 This is one of my favorite go-to low-carb breakfast dishes. Low Carb Spinach & Eggs are easy to prepare and amazingly delicious! Serve them with bacon or wrap in a low-carb tortilla to make a spinach feta wrap!
Camp Cooker French Toast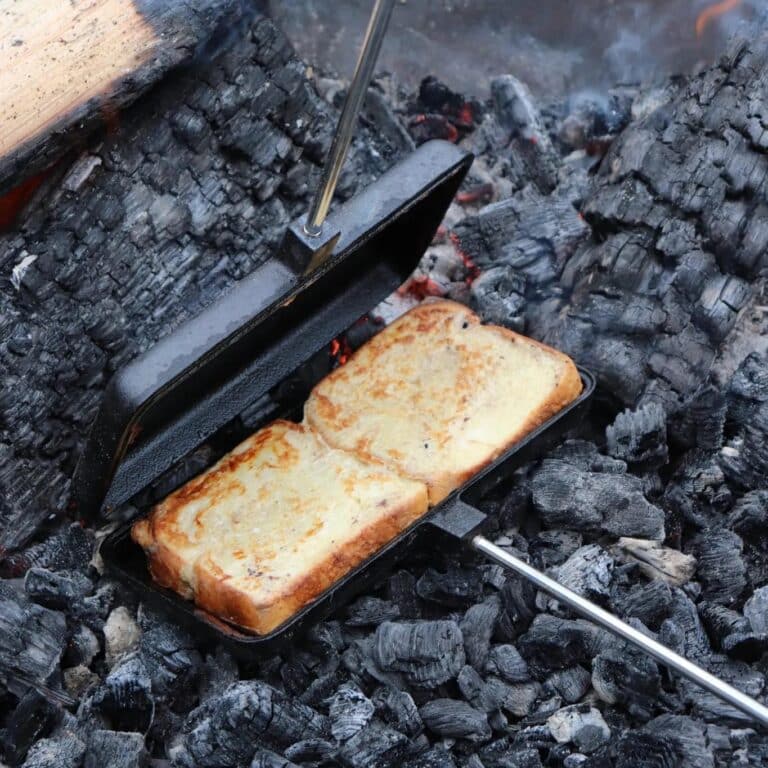 You don't need a kitchen to enjoy this Camp Cooker French Toast! This is a quick and easy recipe that you can make right over the campfire for that true camping experience.
High Protein Overnight Oats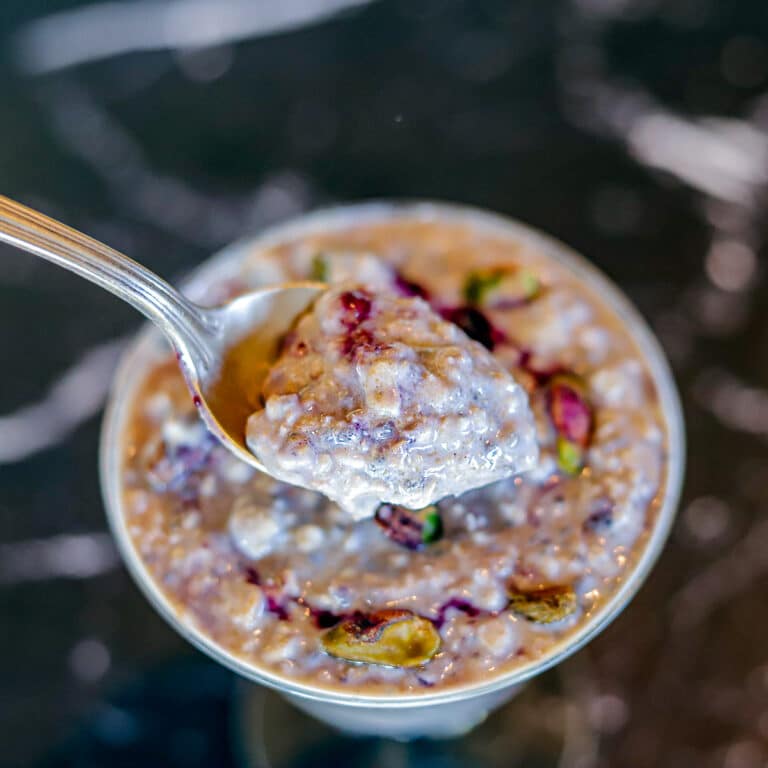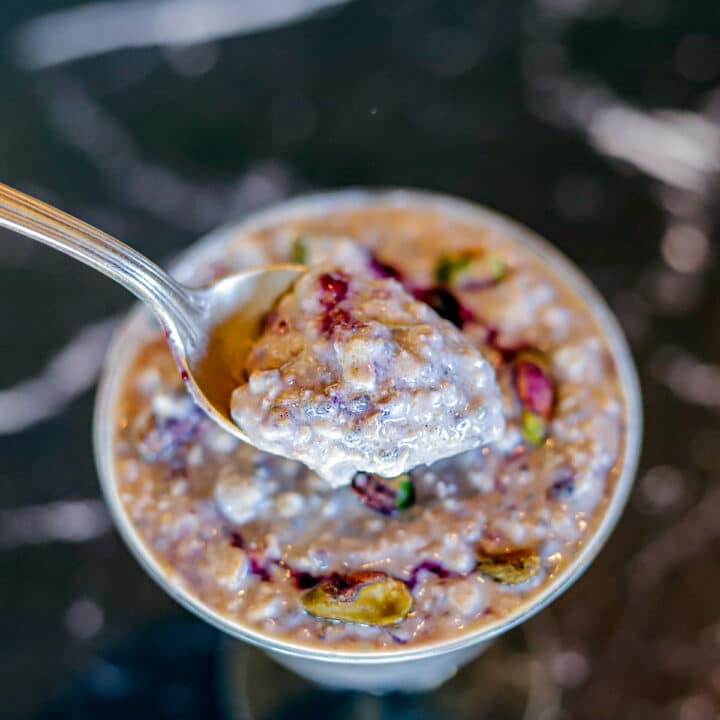 This High Protein Overnight Oats recipe can be prepared the night before! They'll not only give you something to look forward to in the morning but will provide all the energy you need to face a new day of adventures!
Campfire Donuts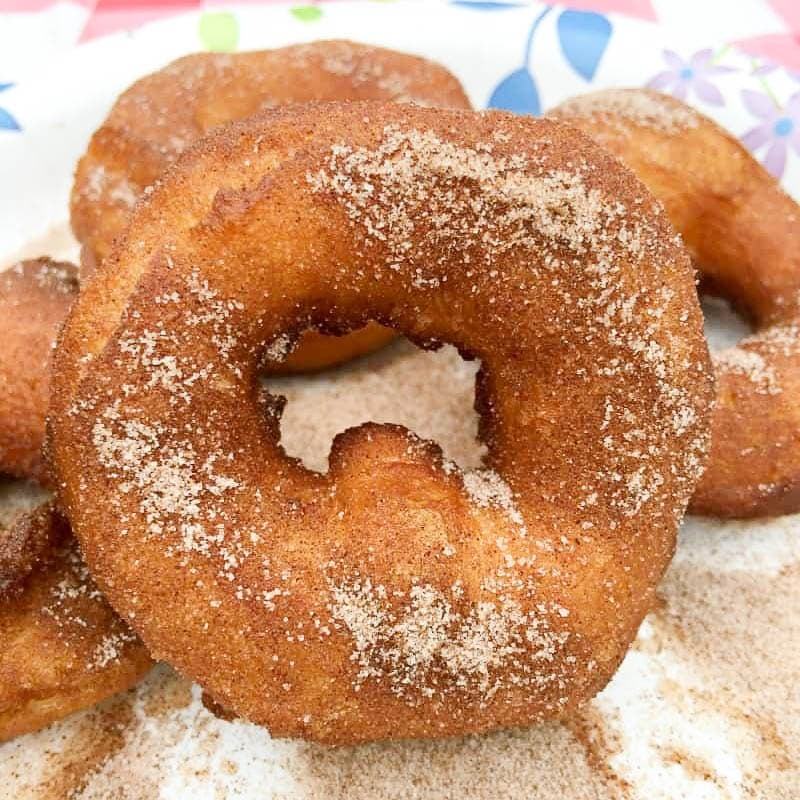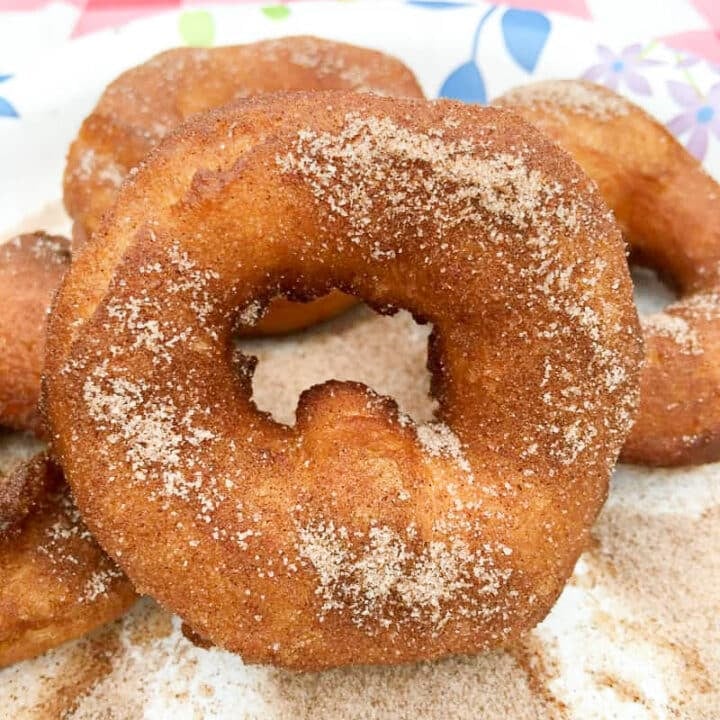 This Campfire Donuts recipe is one of my favorite easy camping breakfast ideas that's great for kids (of all ages)! They only require 3 ingredients and can be made in a cast iron skillet in under 10 minutes!
🌭Camping Lunch Ideas
Chipotle Grilled Chicken Tacos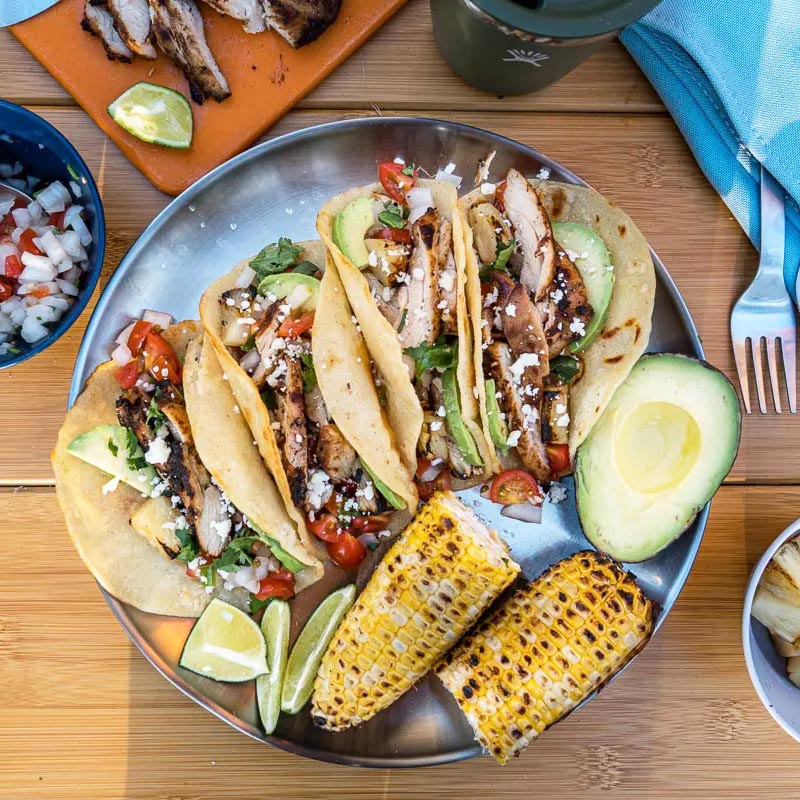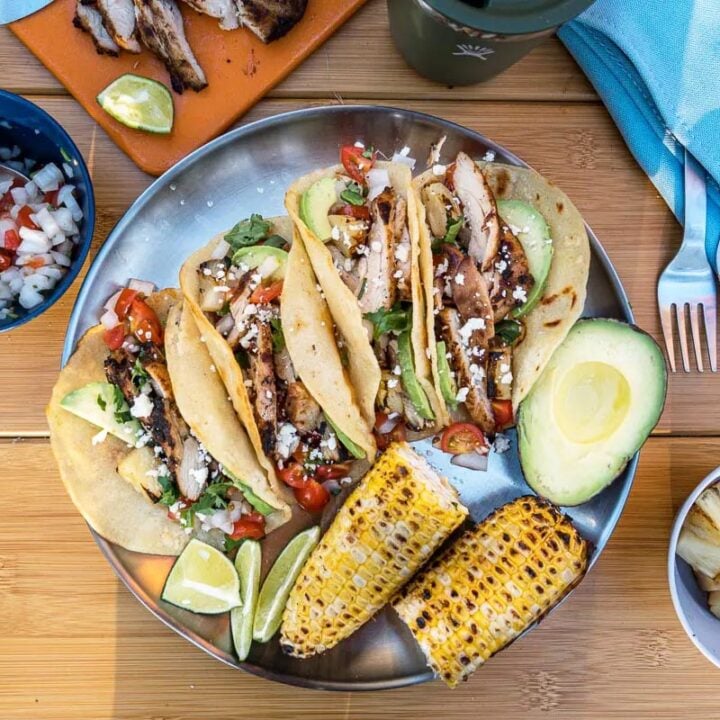 Chipotle Grilled Chicken Tacos are one of the best camping lunch ideas that can easily be made over the campfire, or over a skillet or grill. Pair them with grilled or smoked corn on the cob, fresh pico de gallo, or your favorite camp-friendly side dish!
Ground Elk Chili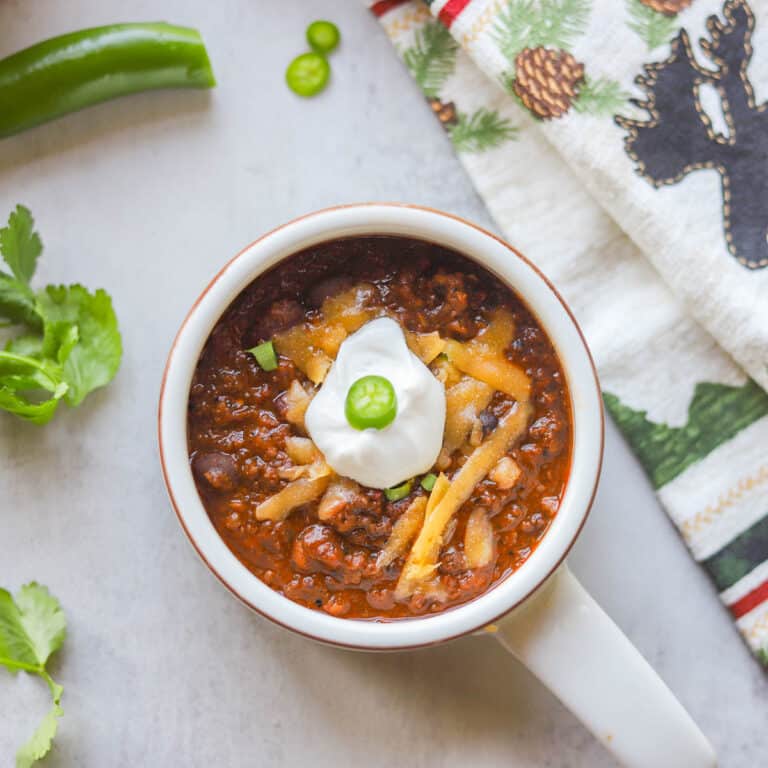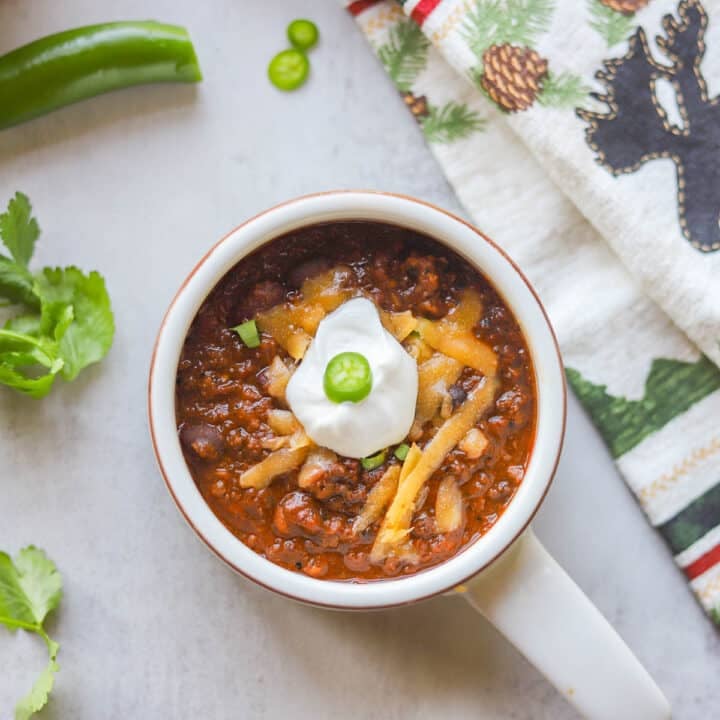 This thick and hearty Elk Chili covers all the basic food groups. We're talking ground elk, chorizo, bacon, and beer! You can substitute ground beef or turkey if needed.
Salmon Foil Packets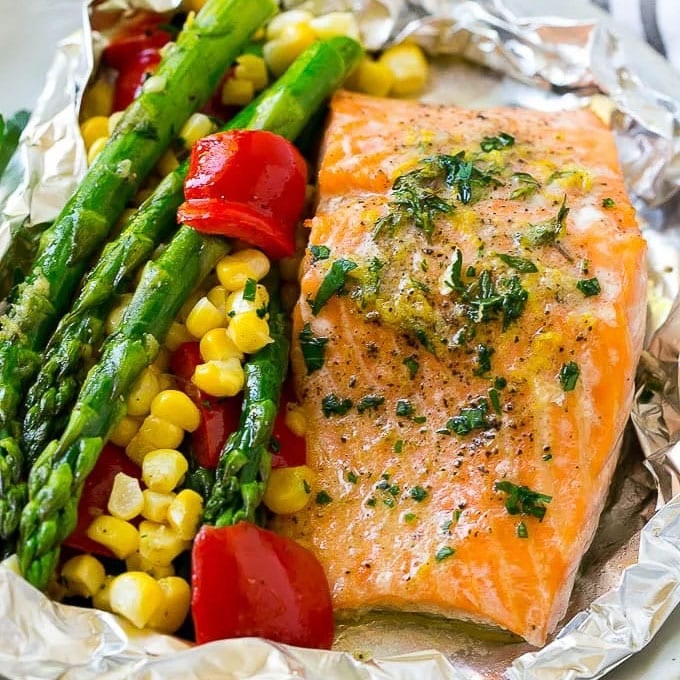 These delicious Salmon Foil Packets feature tender salmon, basted in butter, nestled with perfectly roasted veggies. Yes, it tastes as good as it looks!
15 Minute Smoked Pizza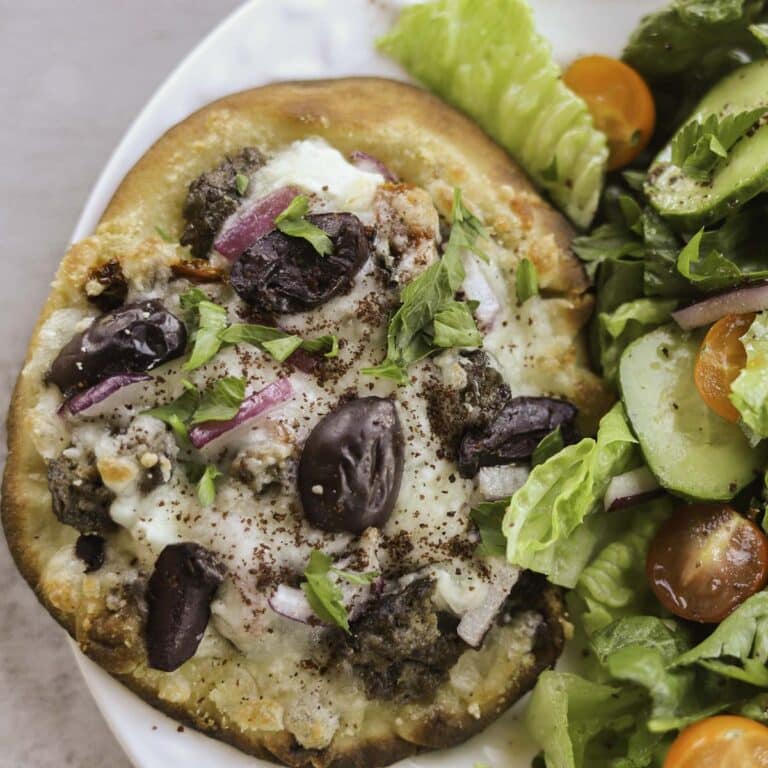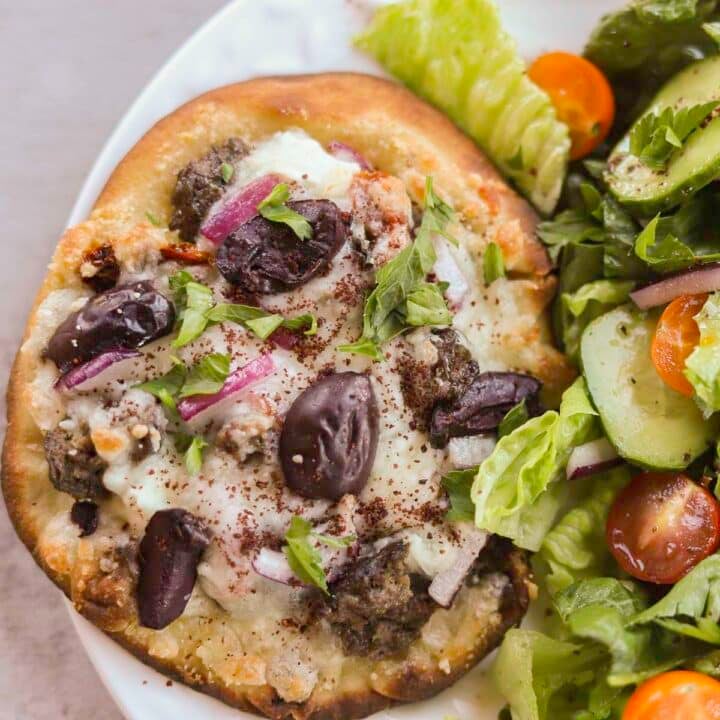 Here's a quick camping lunch idea! These 15 Minute Smoked Pizzas can be prepared with naan or flatbread and are totally customizable! If you don't own a smoker, you can prepare them on a grill!
Creamy Potato Bacon Soup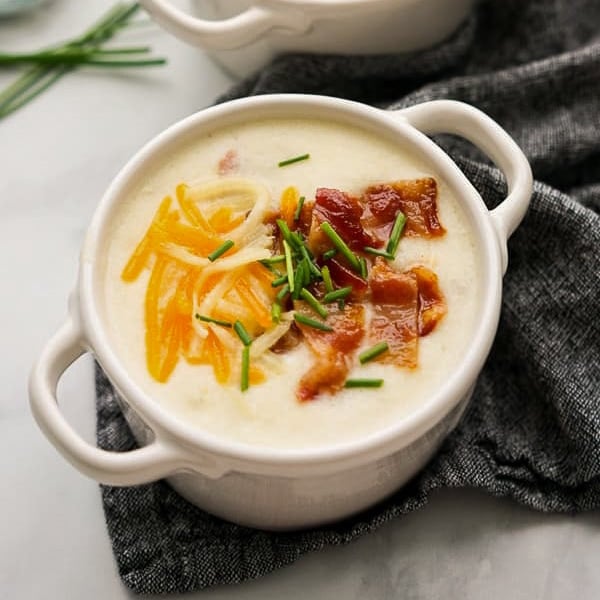 The ultimate in comfort food, this Creamy Potato Bacon Soup is loaded with flavorful ingredients like cheese, bacon, and chives. It's simple to prepare and only requires 35 minutes of cook time!
🍔Easy Camping Dinners
Grilled Boneless Skinless Chicken Thighs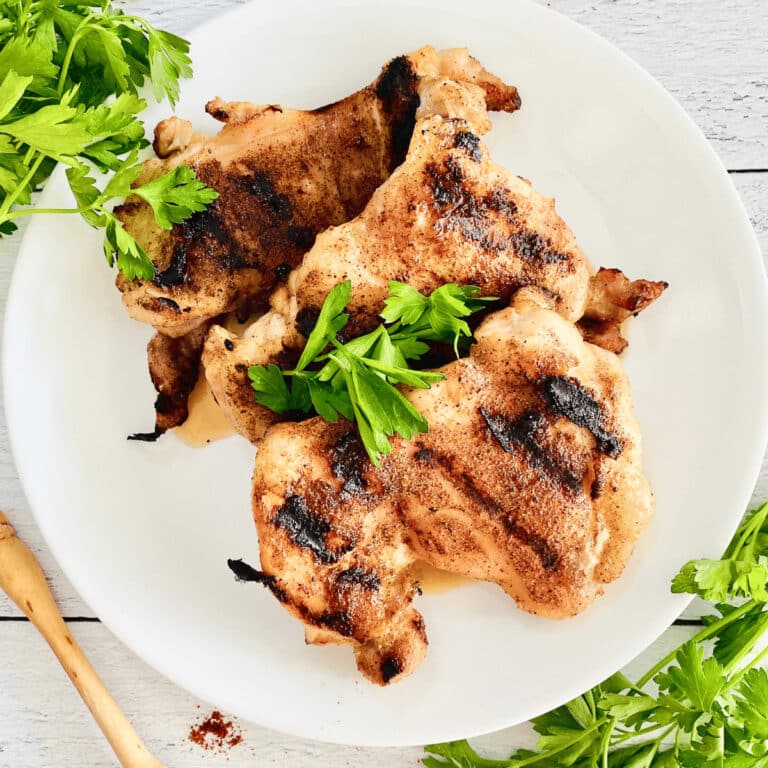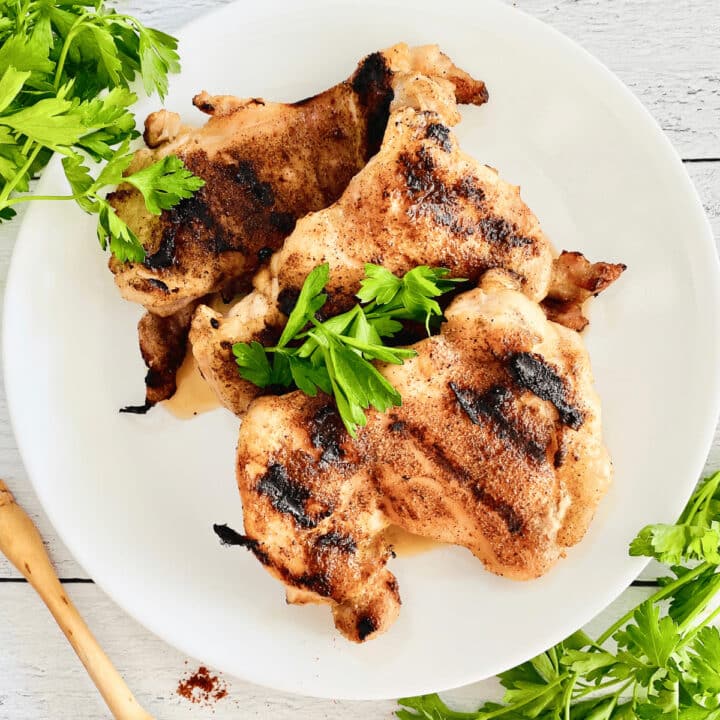 Grilled Boneless Skinless Chicken Thighs are so flavorful and easy to make! You can prep the dry rub ahead of time, then just season & grill at the campsite!
Cast-Iron Venison Burgers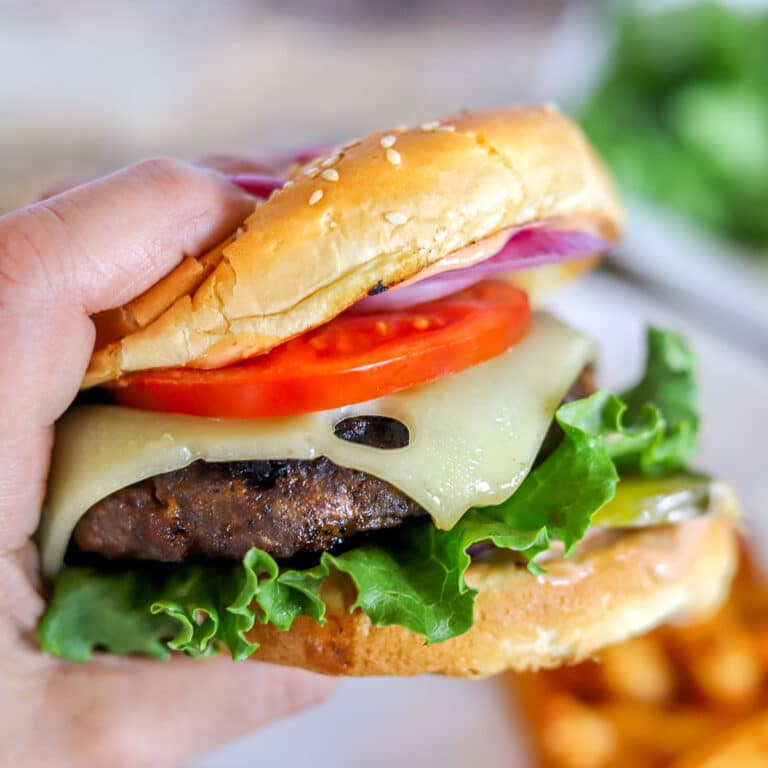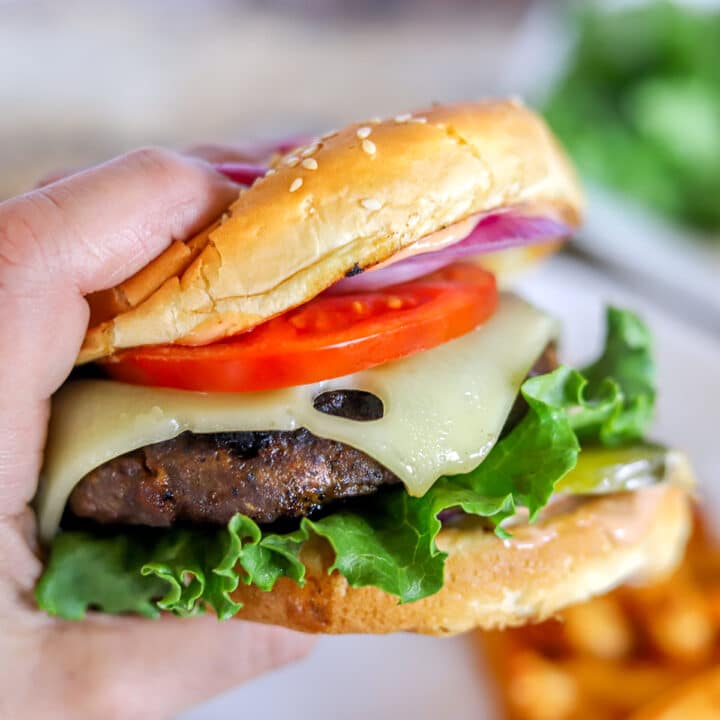 These Cast-Iron Venison Burgers are loaded with flavor, and some unexpected ingredients like dried cherries, smoked paprika, and sage. This is one of my favorite easy camping dinners!
Cajun Shrimp Foil Packets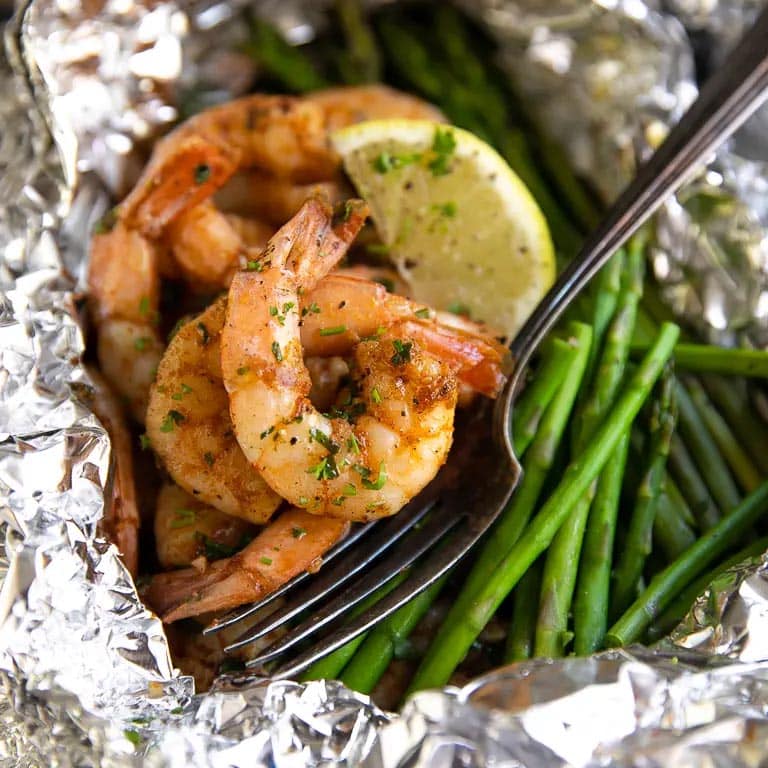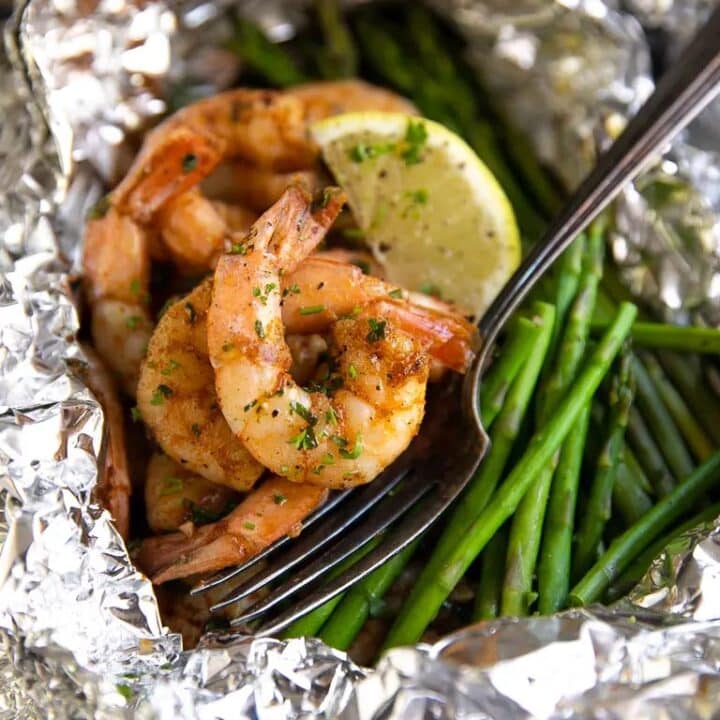 Cajun Shrimp Foil Packets with Asparagus is a flavorful and healthy shrimp recipe that can be cooked on the camping grill for a fun and delicious 20-minute meal.
Chicken Campfire Stew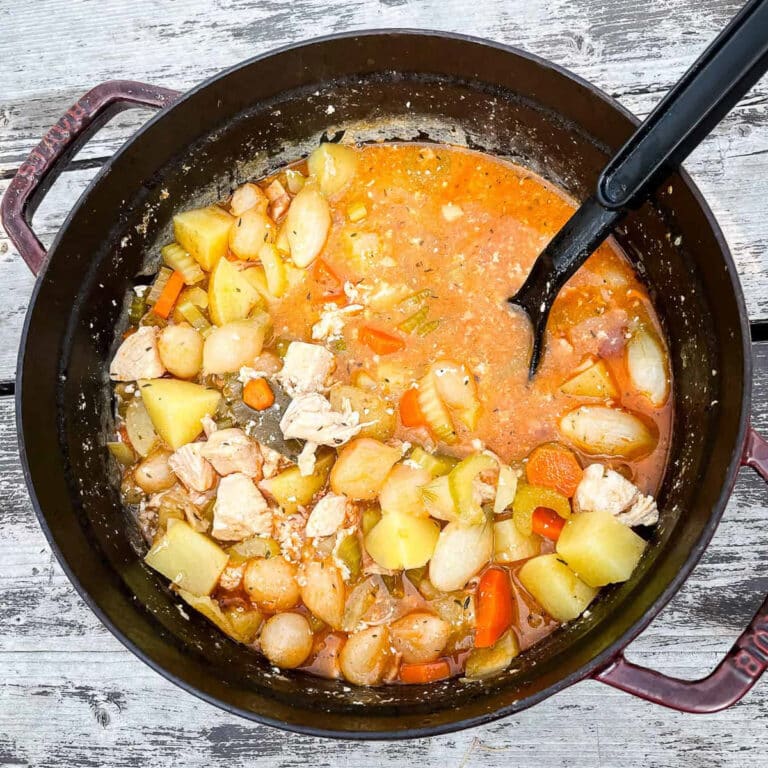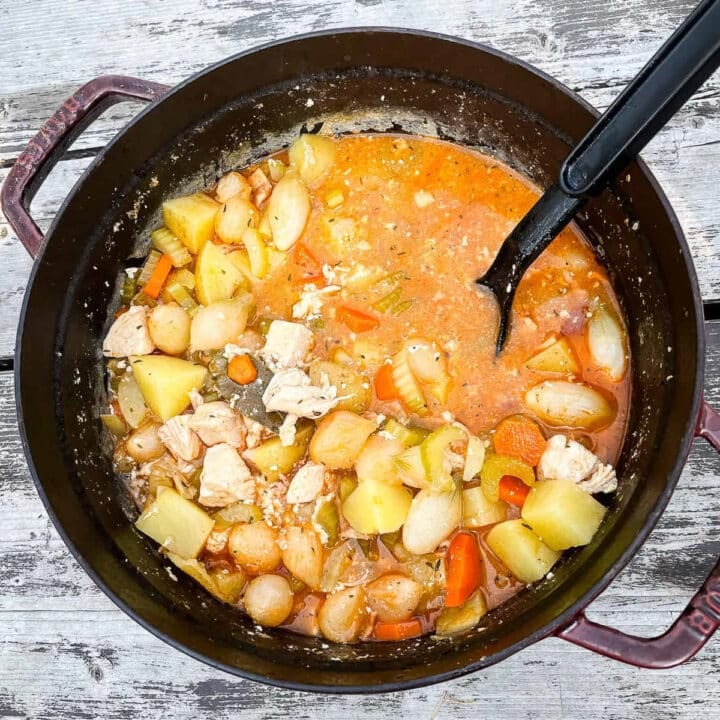 This hearty Chicken Campfire Stew is healthy, delicious, and filling! This is one of those easy camping dinners that can be prepared ahead of time and cooked over the campfire!
Grilled Hawaiian Steak Skewers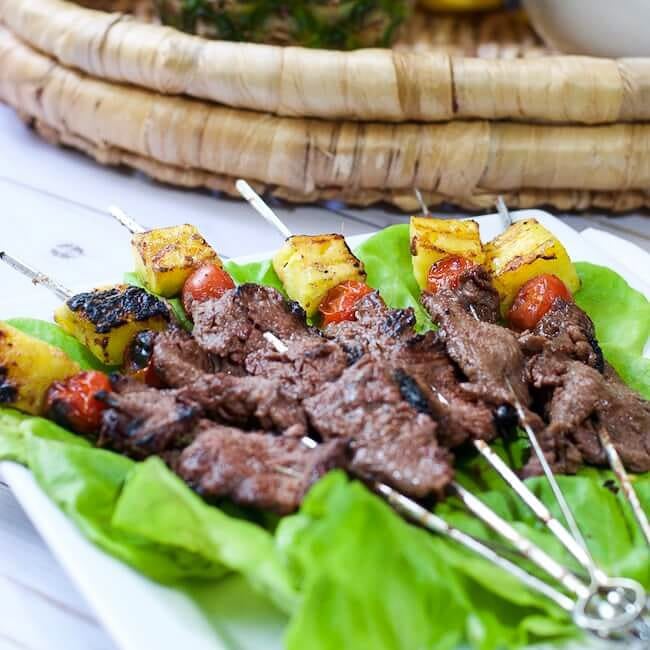 This Easy Grilled Hawaiian Steak Skewers recipe is perfect for enjoying bbq in the great outdoors! The great thing about this easy camping dinner is that you can eat it right off the skewer, no utensils required!
🥦Camping Side Dishes
Broccoli Crunch Salad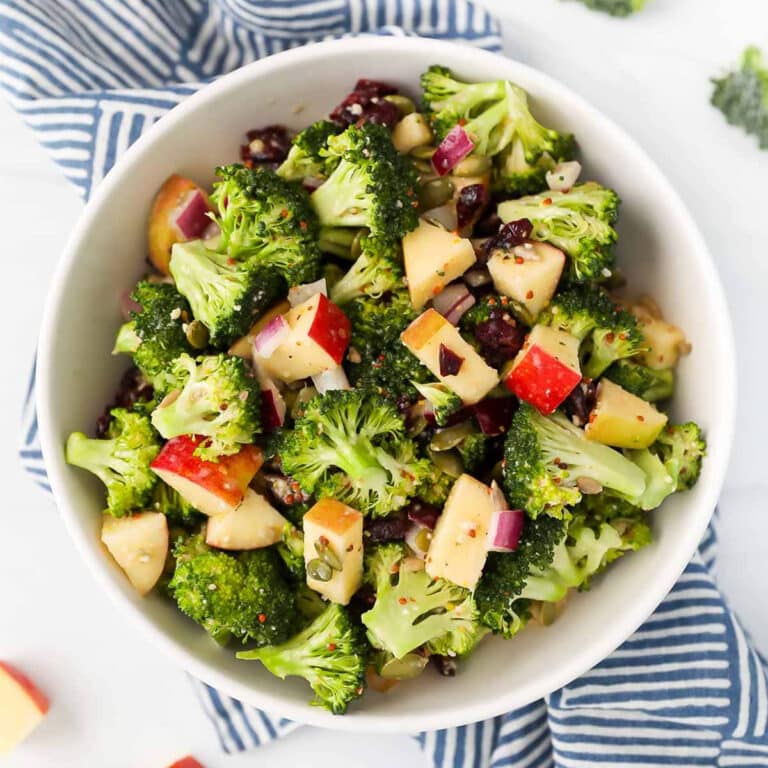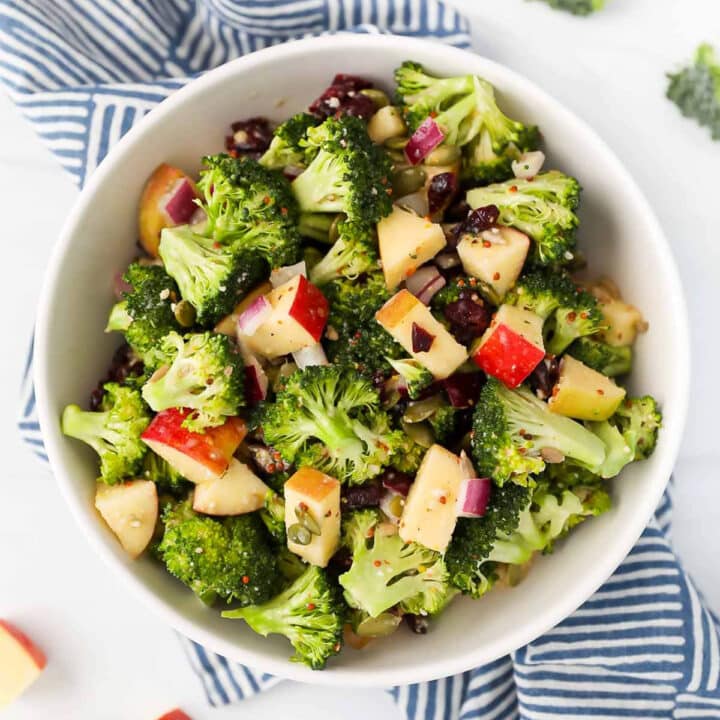 This Broccoli Crunch Salad is an incredibly simple no-cook side dish or lunch perfect for camping! This salad is flavor-packed, vegan-friendly, and gluten-free, so everyone can enjoy it!
Dutch Oven Mac and Cheese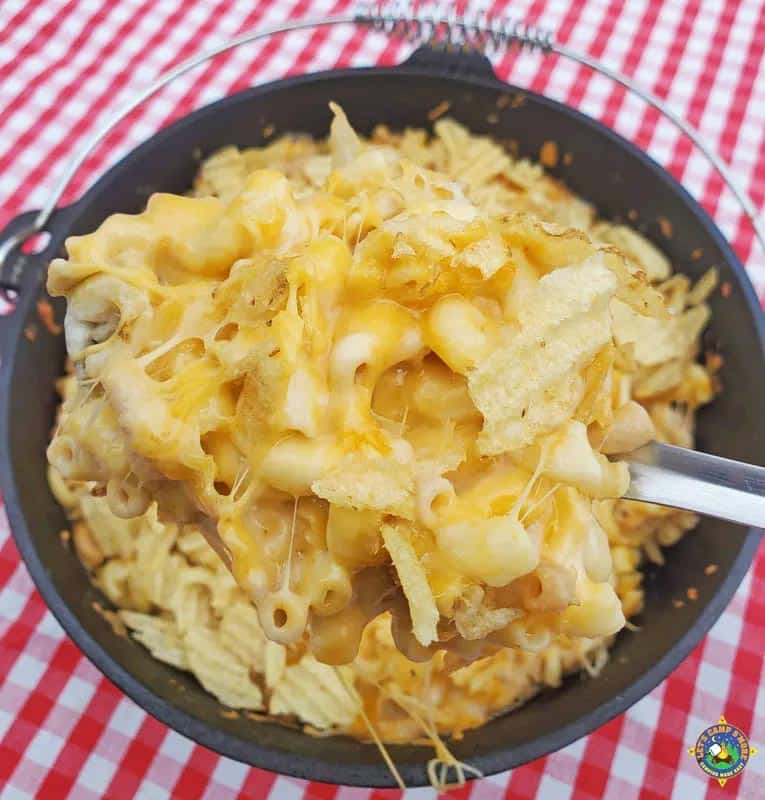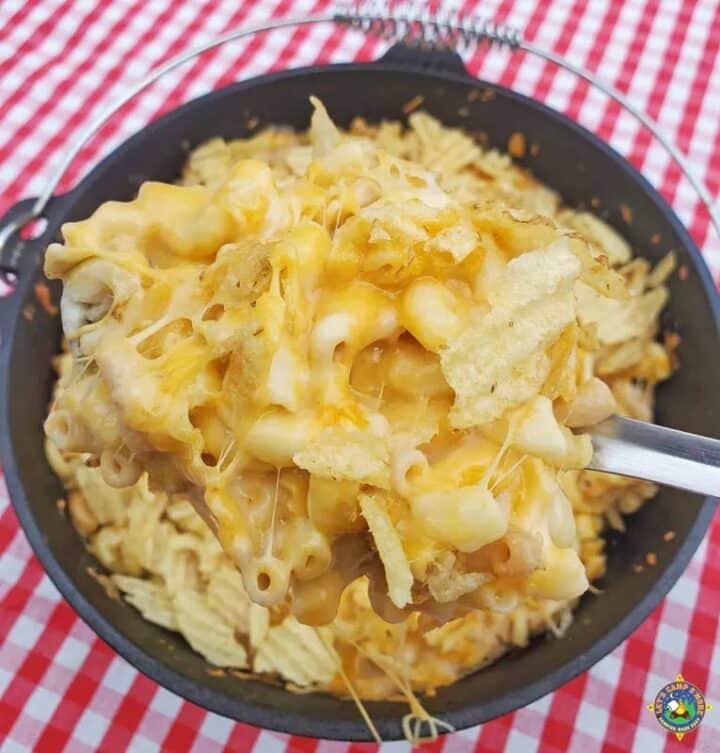 This gooey, creamy Dutch Oven Mac and Cheese is the perfect comfort food for those chilly days out in nature. Warm days too! This easy camping meal only requires a few ingredients and doesn't require a roux, so it's the perfect easy recipe!
Oil and Vinegar Coleslaw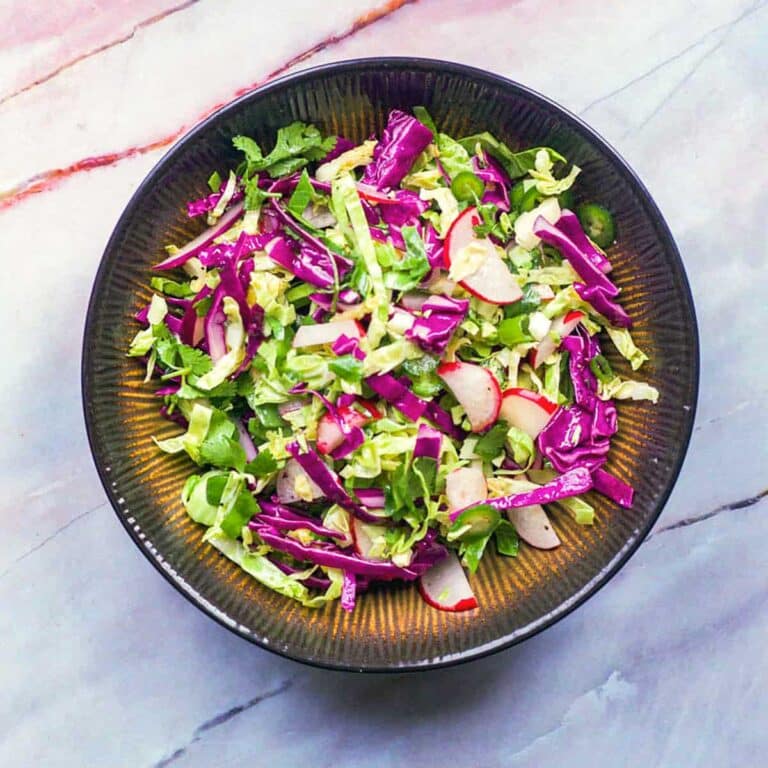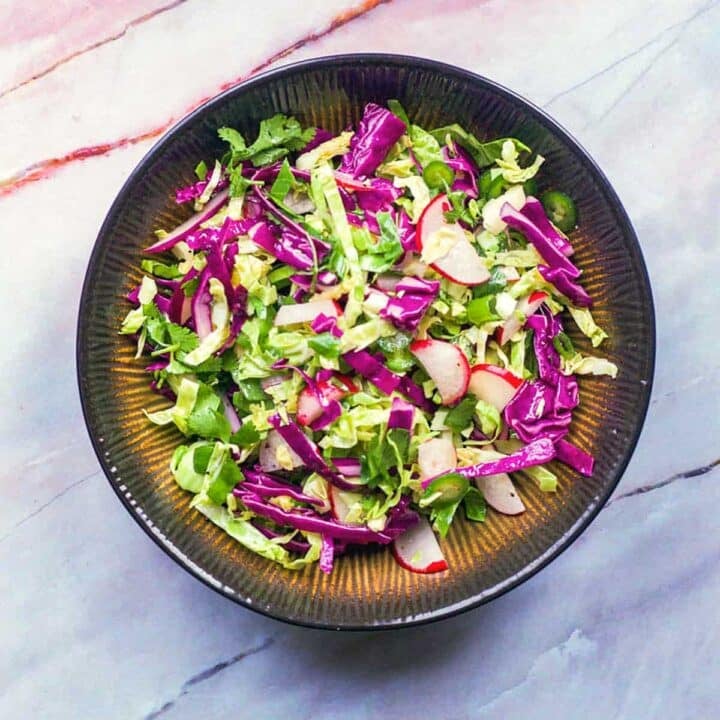 Unlike regular coleslaw, which is loaded with fat and sugar, this Oil and Vinegar Coleslaw is not only light and delicious, but it'll give you all the energy you need for those long hikes while camping!
Easy Pizza Pasta Salad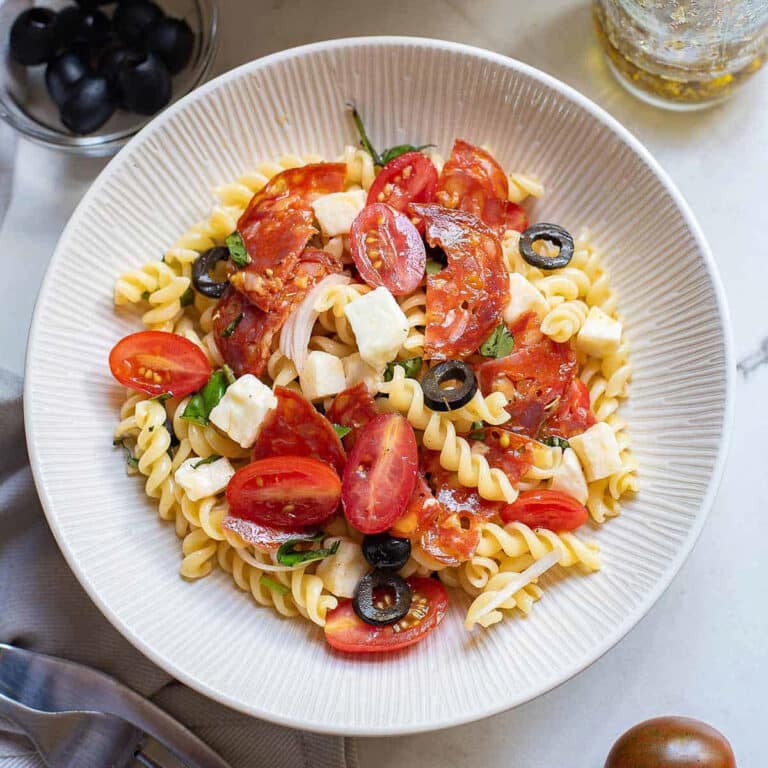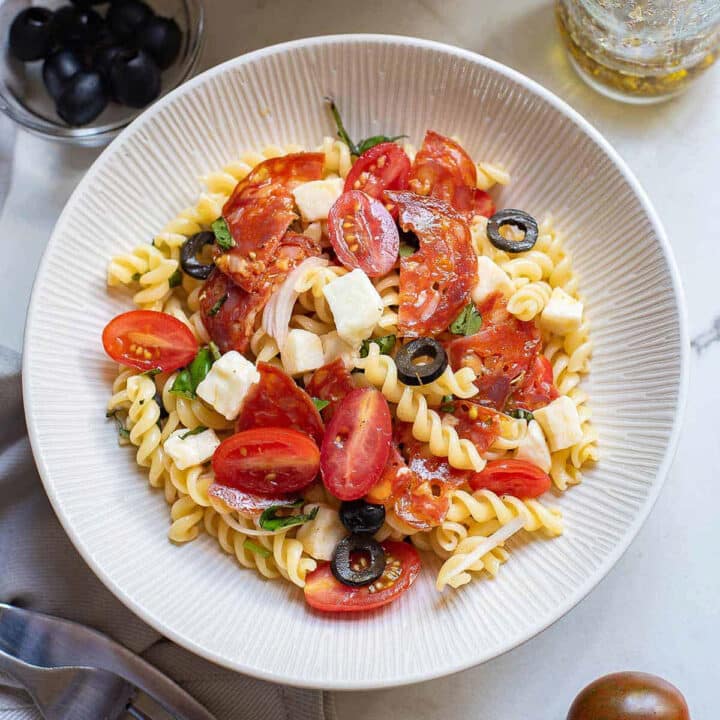 Make this Easy Pizza Pasta Salad before your trip for a ready-to-eat side dish that you can enjoy at the campsite! This fun spin on pasta salad is flavorful and hits the spot when you want a fresh, light side dish, or easy camping lunch idea!
Cheesy Chipotle Chorizo Beans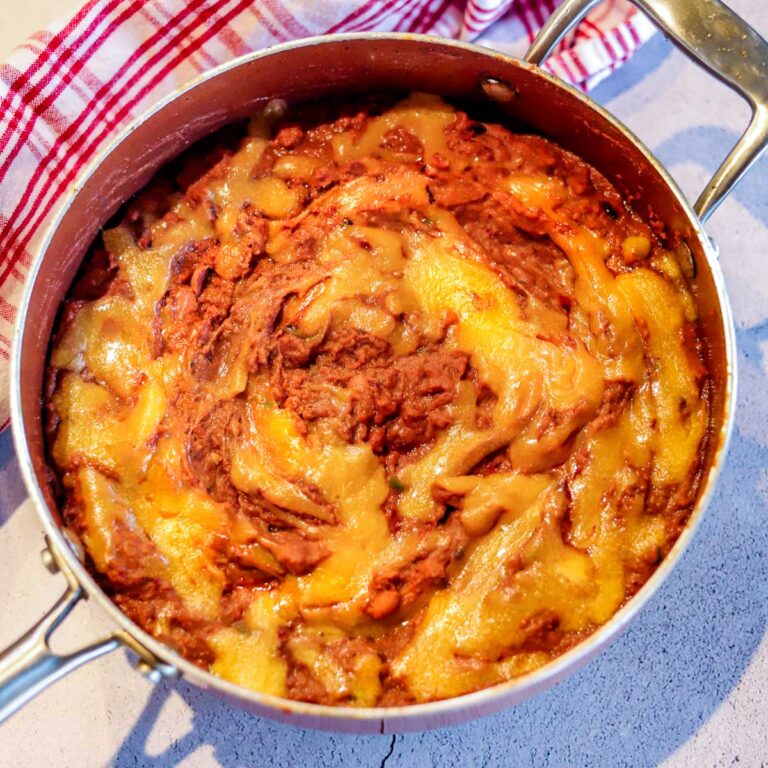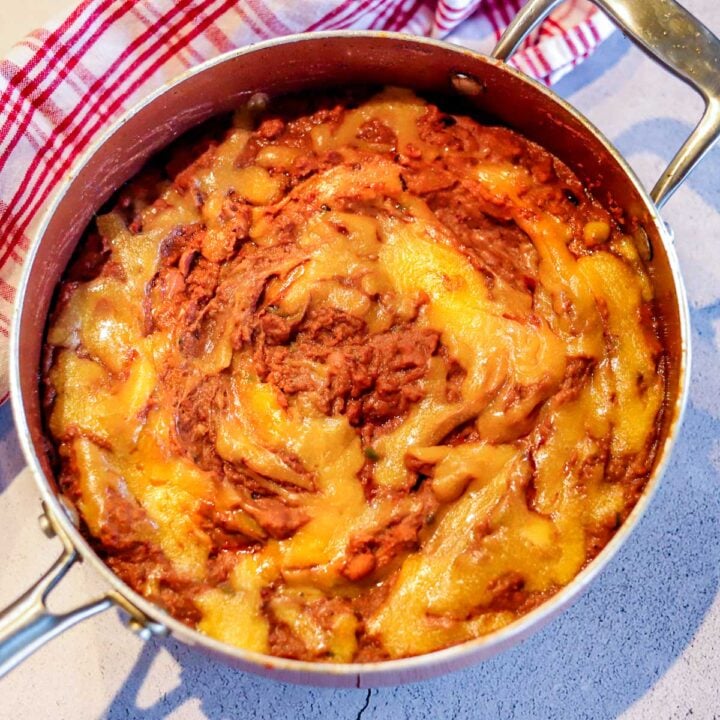 This creamy, 3-step Chorizo Beans recipe only takes 15 minutes to prepare and is a family favorite, and in our family, the cheesier and spicier the better! The heat can be tamed down if needed.
🥜Camping Snacks
Easy Date Protein Balls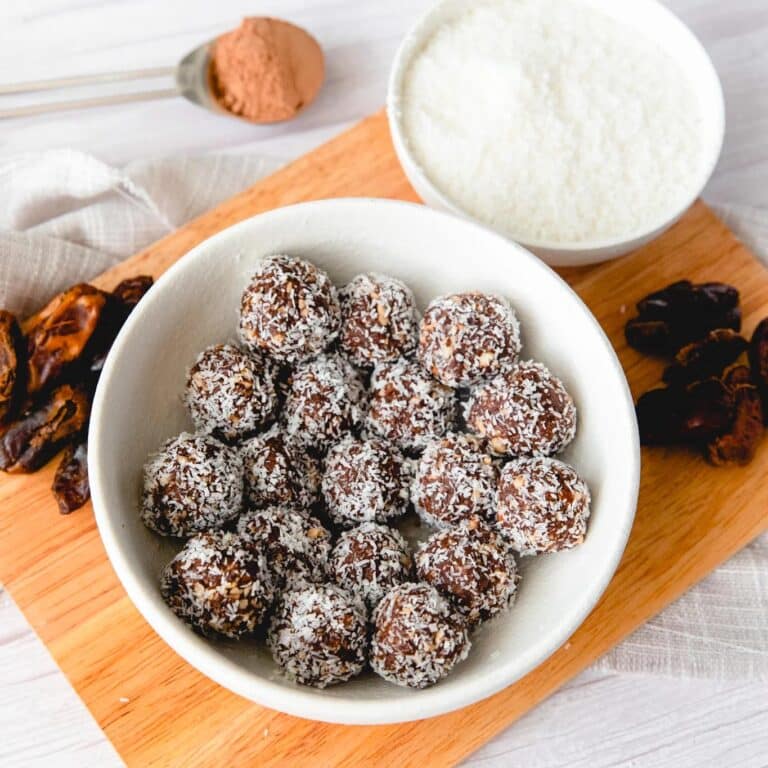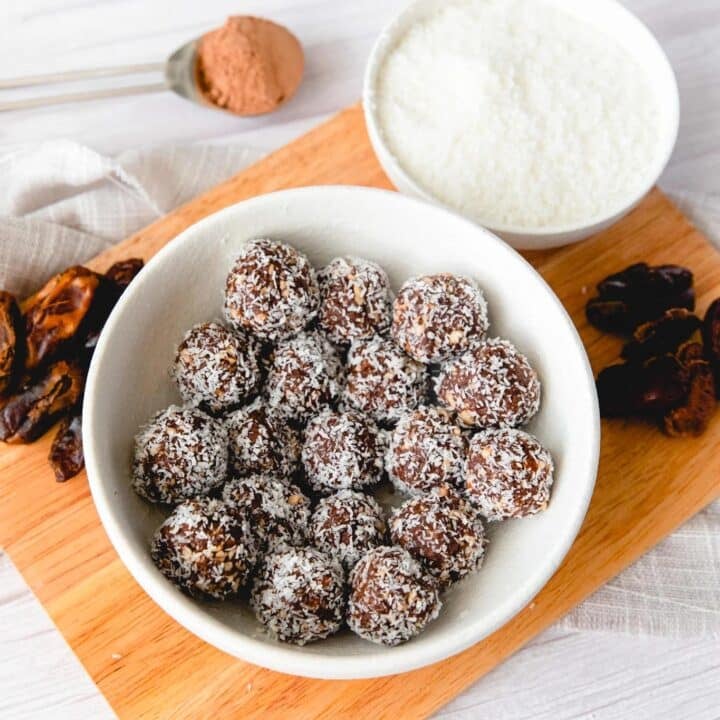 Easy Date Protein Balls are an easy and nutritious snack, perfect for camping. They can be prepared ahead of time and are a great treat to give you an extra energy boost on hikes or other outdoor adventures!
Walking Berry Pretzel Salad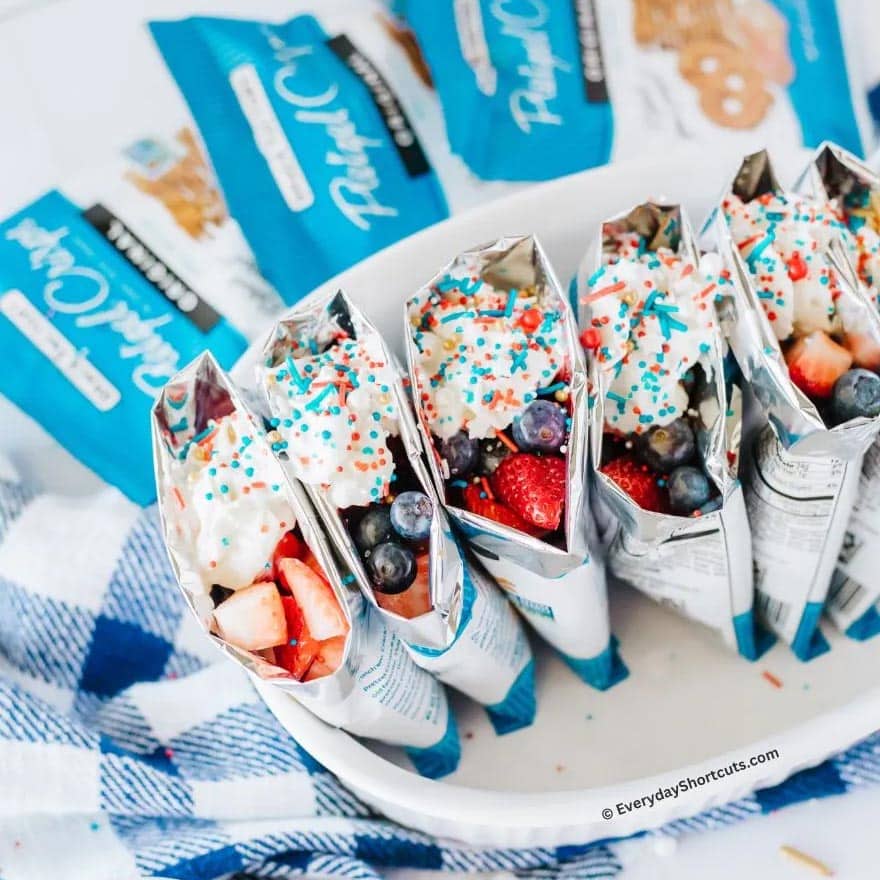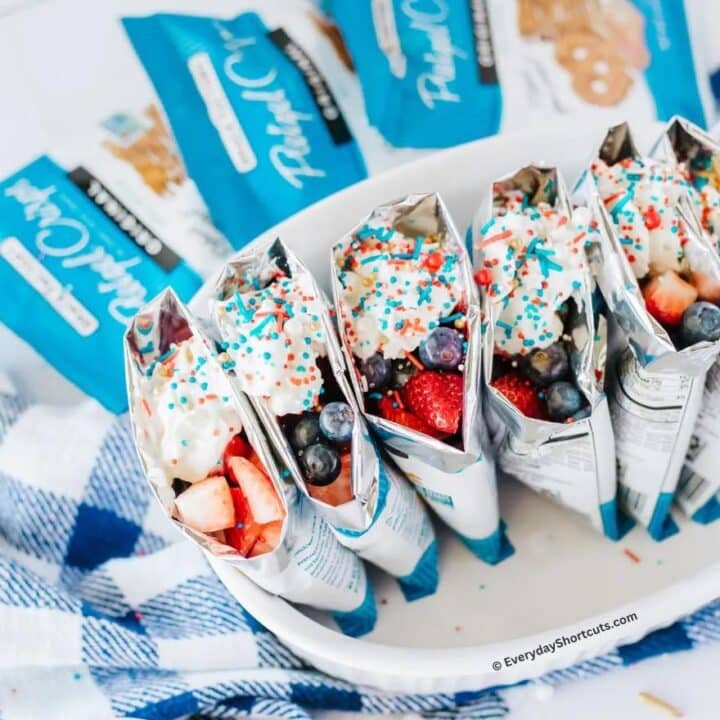 Walking Berry Pretzel Salad is a deliciously sweet and salty no-mess snack that couldn't be easier to make! It only requires a few ingredients and can be easily assembled and enjoyed on the go!
Spicy Elk Jerky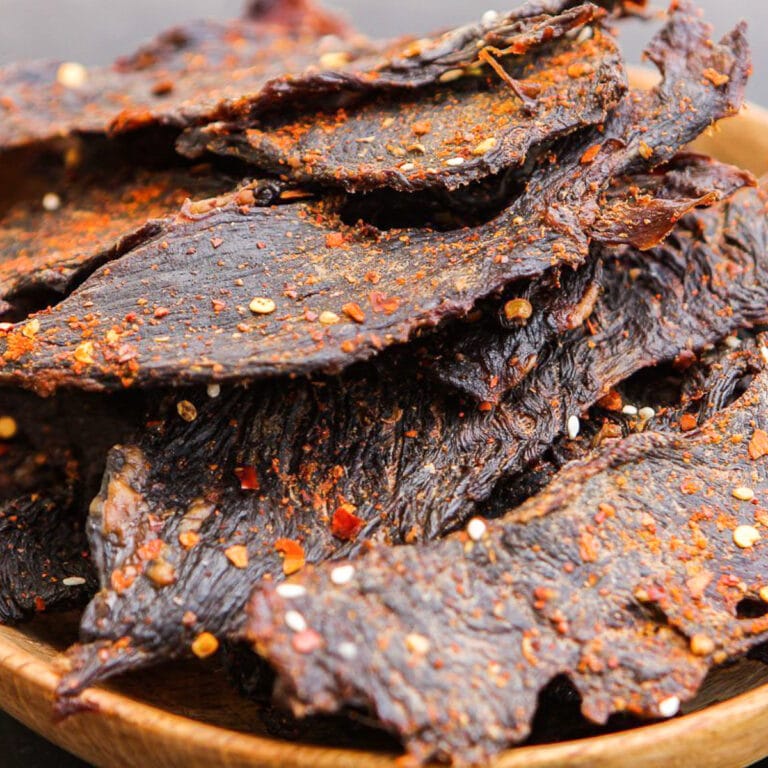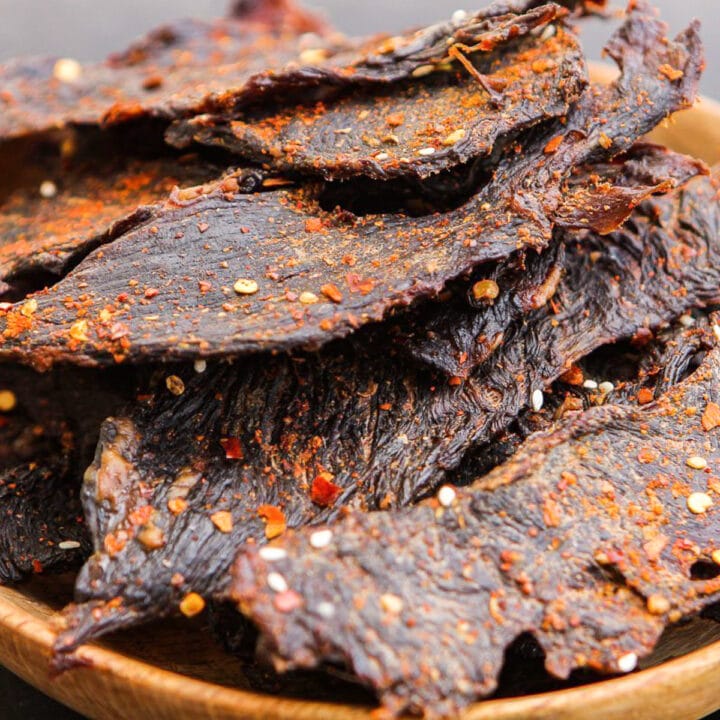 Spicy and flavorful Elk Jerky that you can make at home using my amazing marinade and a dehydrator. Even if you don't have a dehydrator, you can still make this tasty Elk Jerky!
S'Mores Campfire Banana Boats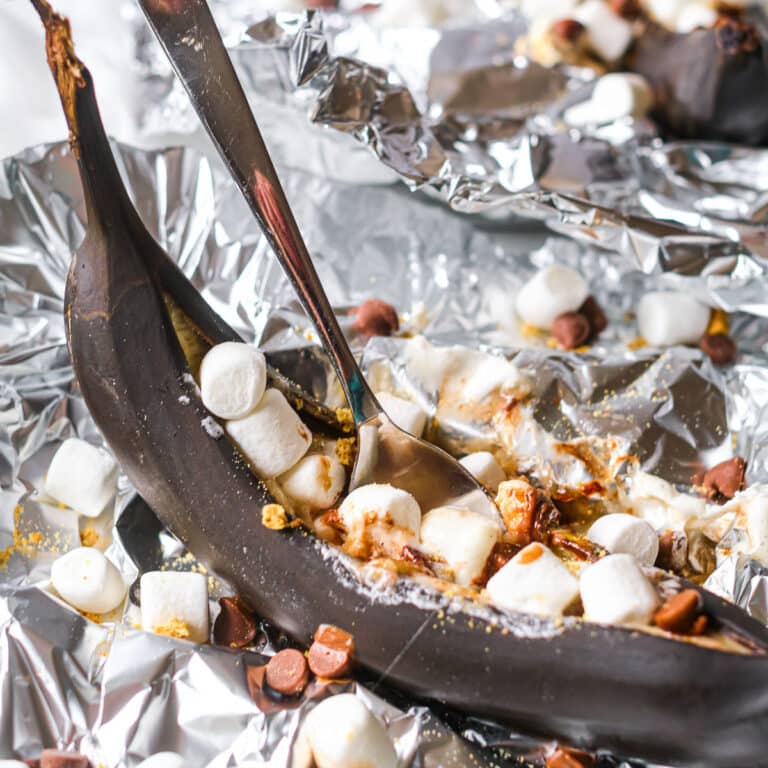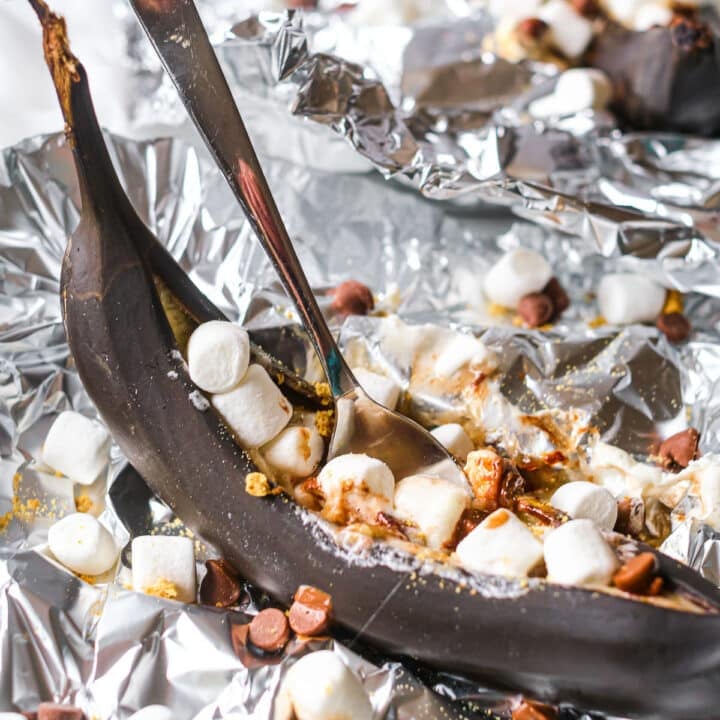 These S'Mores Campfire Banana Boats are creamy, gooey, crunchy, and so, so sweet! This is the perfect easy dessert to take your s'more game to the next level!
Spicy Roasted Almonds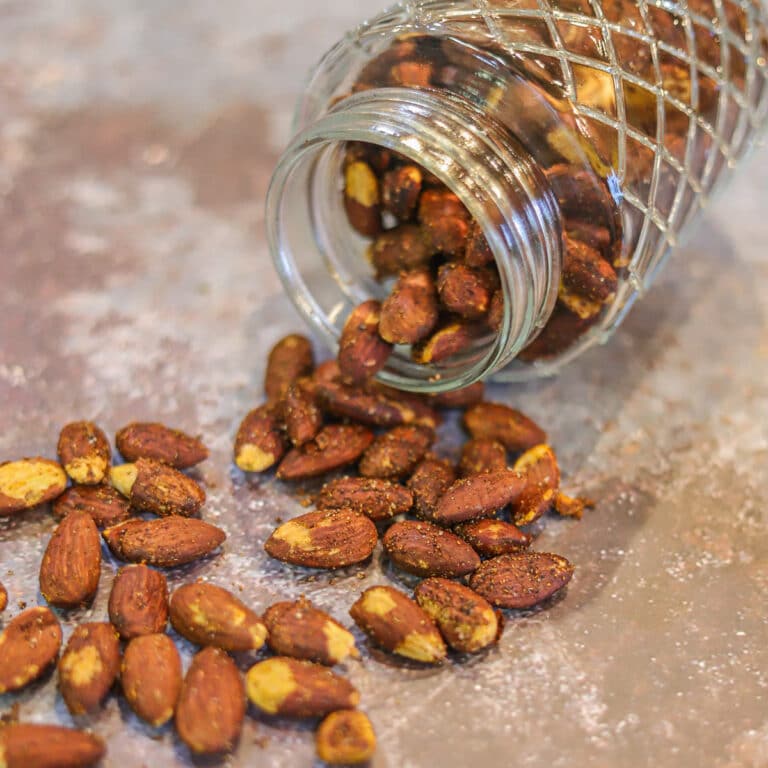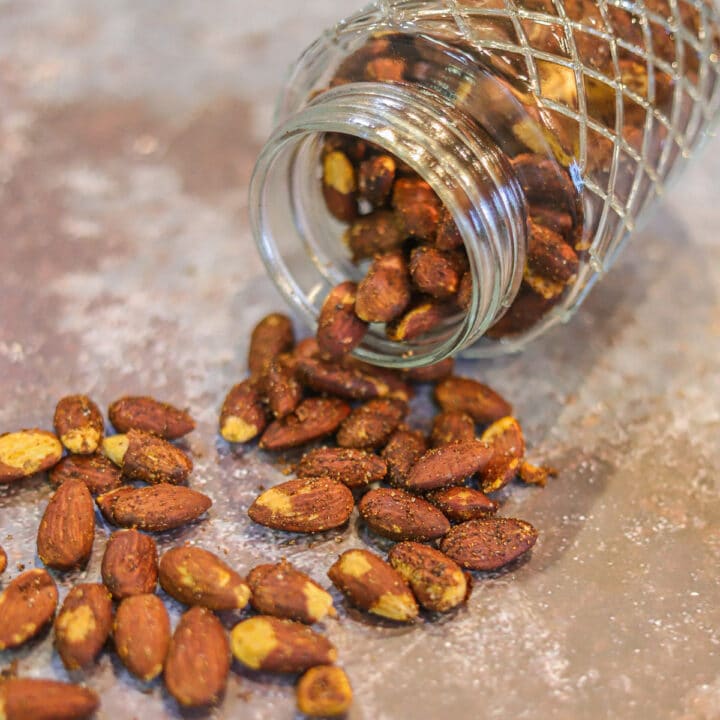 Warning, this Spicy Roasted Almonds Recipe is healthy, delicious, and highly addicting! Roasted almonds only take around 20 minutes to prepare and are the perfect on-the-go snack!
🍌More Essentials For Easy Camping Meals
Consider packing some of these essentials for snacking between meals!
Chocolate, marshmallows, and graham crackers
Avocados, salt & pepper, garlic, lime, tortilla chips (guacamole, anyone?)
Peanut butter, jelly, and bread
Potatoes, fresh veggies, and fresh fruit
Ketchup, mustard, mayo, bbq sauce, and hot sauce
Cheddar cheese, sour cream, jalapenos, anything you might want to add to campfire nachos.
Peanuts, trail mix, cheese and crackers
Lots and lots of water bottles!
Pin this post for later!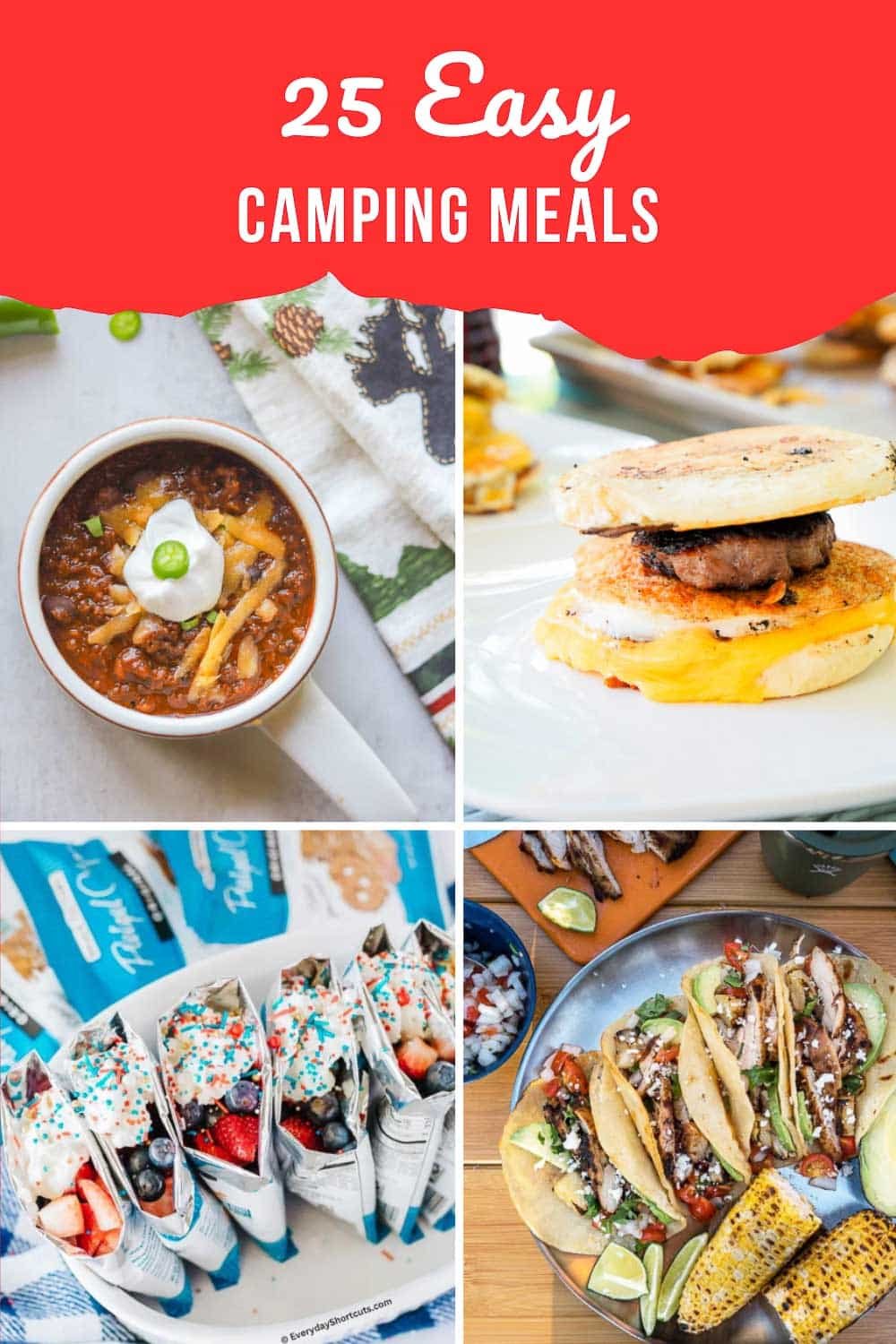 If you're looking for more dessert ideas, check out my 35 Red White and Blue desserts round up!
🍗Related Recipes
Looking for more easy camping lunch ideas? Give these recipes a try!
Love this recipe? Please leave a 5-star 🌟🌟🌟🌟🌟rating in the recipe card below & a review in the comments section further down the page.

Stay in touch with me through social media @ Instagram, Pinterest, TikTok, and Facebook. Don't forget to tag me when you try one of my recipes!