If you love ordering jalapeño poppers at your favorite restaurant, I'm going to show you how easy it is to prepare delicious Low Carb Jalapeno Poppers at home! And guess what? They don't need to be breaded or deep fried either. If you've ever been on a low carb diet, you know how easy it is to get bored eating the same things over and over. Vegetables and salads can get old when served as a side dish. Boredom turns into frustration. As a result, you throw in the towel on your diet. Trust me, I know, the struggle is definitely real. That's why I'm excited to share this recipe with you!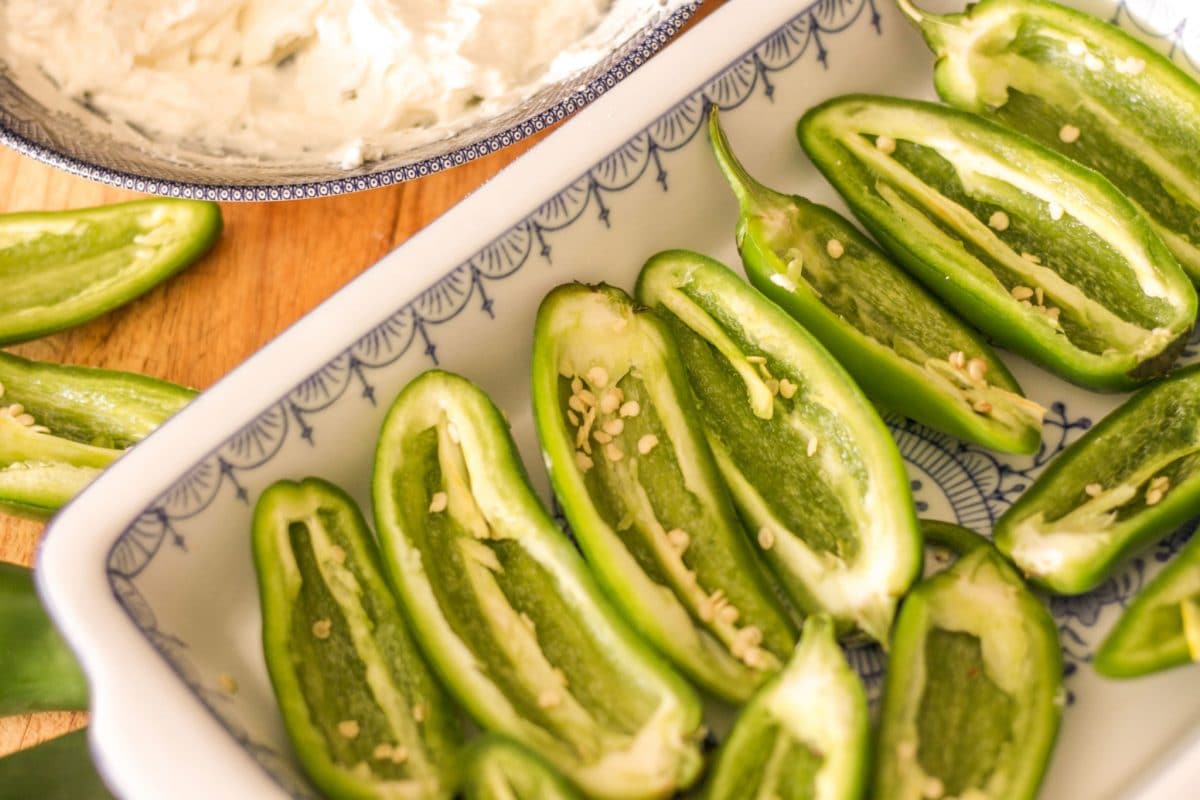 Killer Low Carb Jalapeño Poppers
Smoked baby-back ribs are on tonight's menu. I wanted to serve something different on the side, instead of the same old thing… a salad. A quick search of the fridge yielded the following: jalapeño peppers, cream cheese, and bacon. It quickly occurred to me that I had the necessary ingredients to make some killer low carb jalapeño poppers. I find it so satisfying when I can clear out the fridge and develop a new recipe all in one swoop!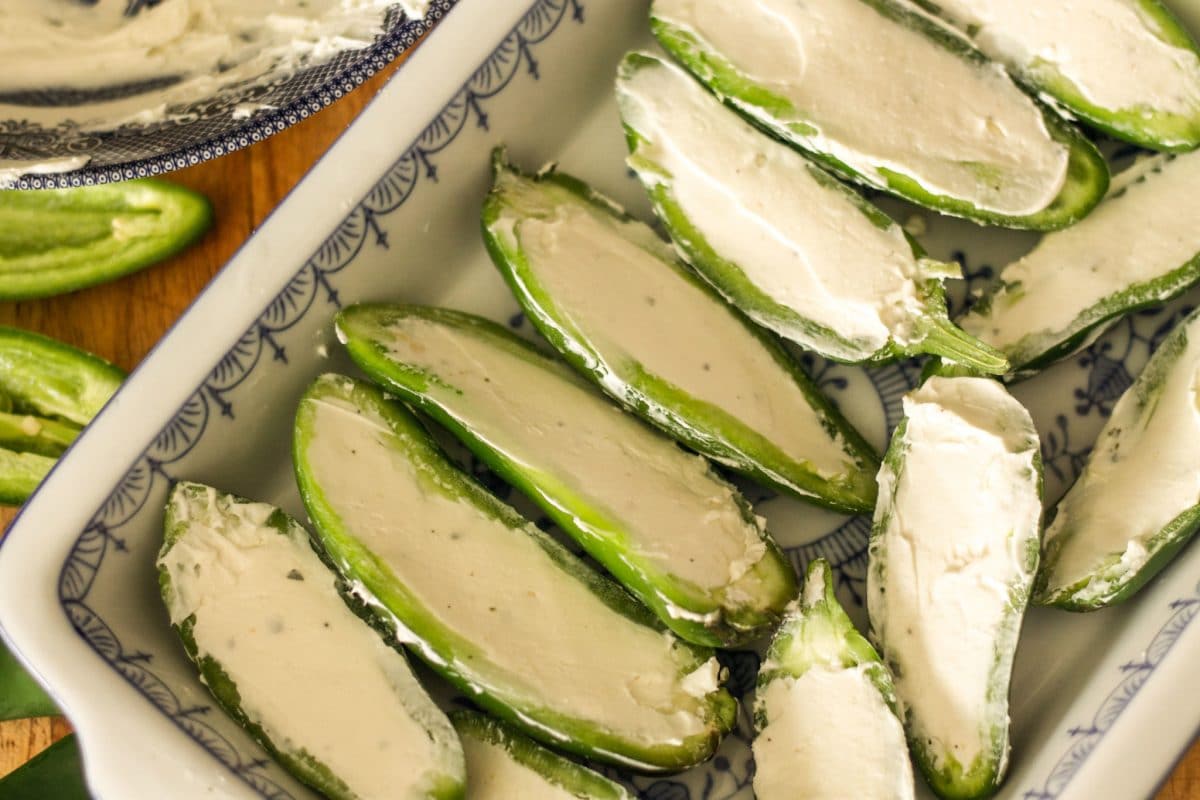 Bacon-Free Low Carb Jalapeño Poppers?
You can also enjoy these Low Carb Jalapeño Poppers if you are vegetarian. Yes, that means leaving off the bacon; Sad, but true. Since my daughter, Nena, (The Seaside Calls) doesn't eat pork. I always make some without bacon for her to enjoy. You see, pigs are Nena's favorite animal. I blame Wilbur, her childhood friend. But that's ok, that just means there's more bacon for the rest of us! She likes to wrap the jalapeno poppers in corn tortillas and enjoys them as her main meal. Nena might just be the inventor of Jalapeno Popper Tacos. Perhaps a future blog post?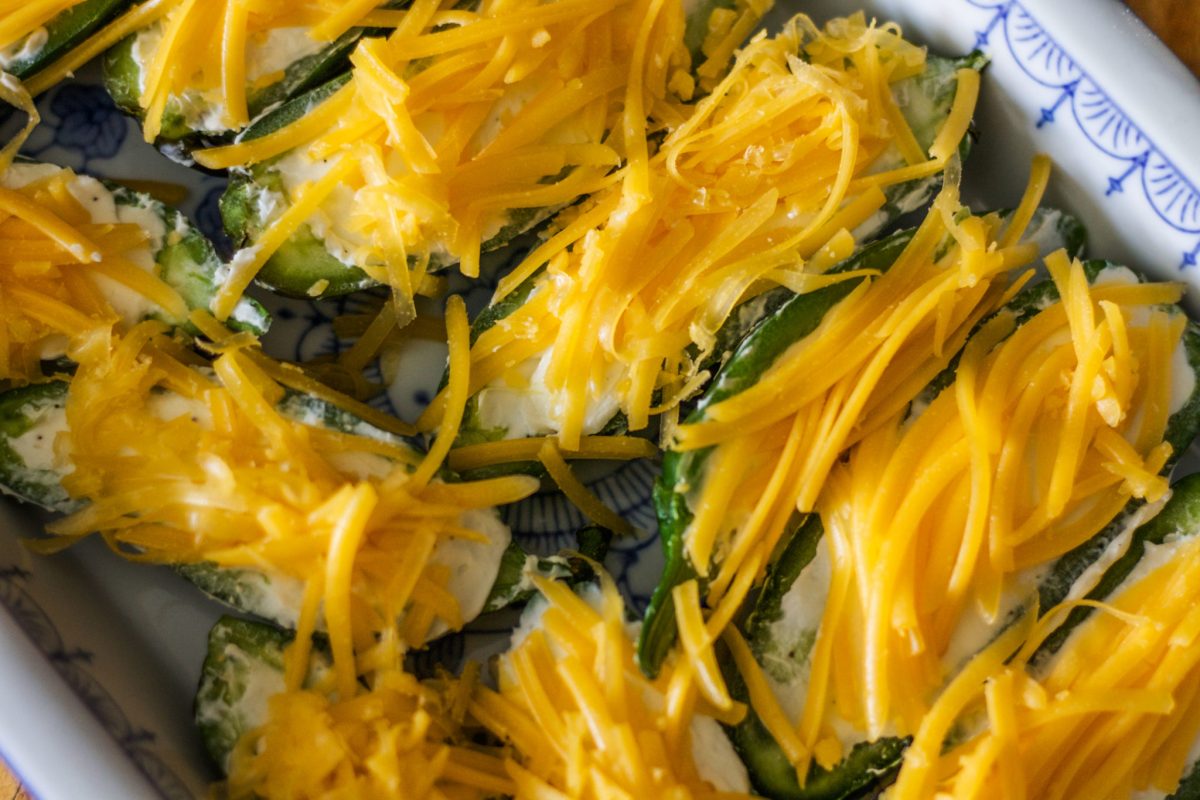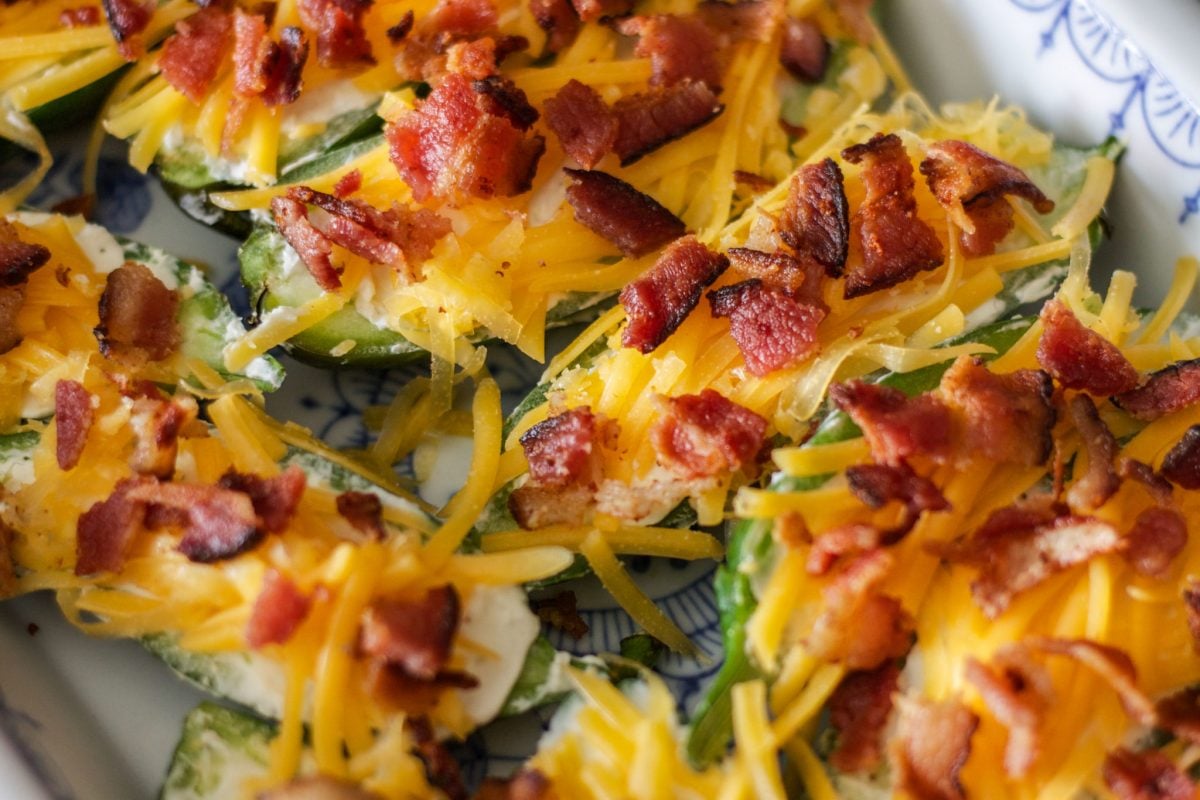 Low Carb Jalapeno Poppers For Whimps
Sorry, I don't mean any disrespect, just having a little fun. But seriously, if you love the idea of a cheesy snack, but can't tolerate spicy food, I have the perfect solution for you. Sweet mini peppers are the perfect alternative. You know the ones that come in red, orange and yellow? They're just the right size and quite tasty too! Just slice them in half, remove the seeds, and follow the steps in the recipe card below.
Other Low Carb Recipes to Try
If you're currently following a low-carb diet, consider checking out these other great low carb recipes: Sugar-Free Peanut Butter Cookies, Low Carb Seed Crackers, Spicy Game Jerky, Low Carb Lasagna, Low Carb Brussel Sprouts, Low Carb Grilled Chicken, and Spinach and Eggs. I could list more, but you can also look under the recipes link above and choose the "low carb" category. Good luck with your low carb journey! It may be difficult at times, but the results are definitely worth it!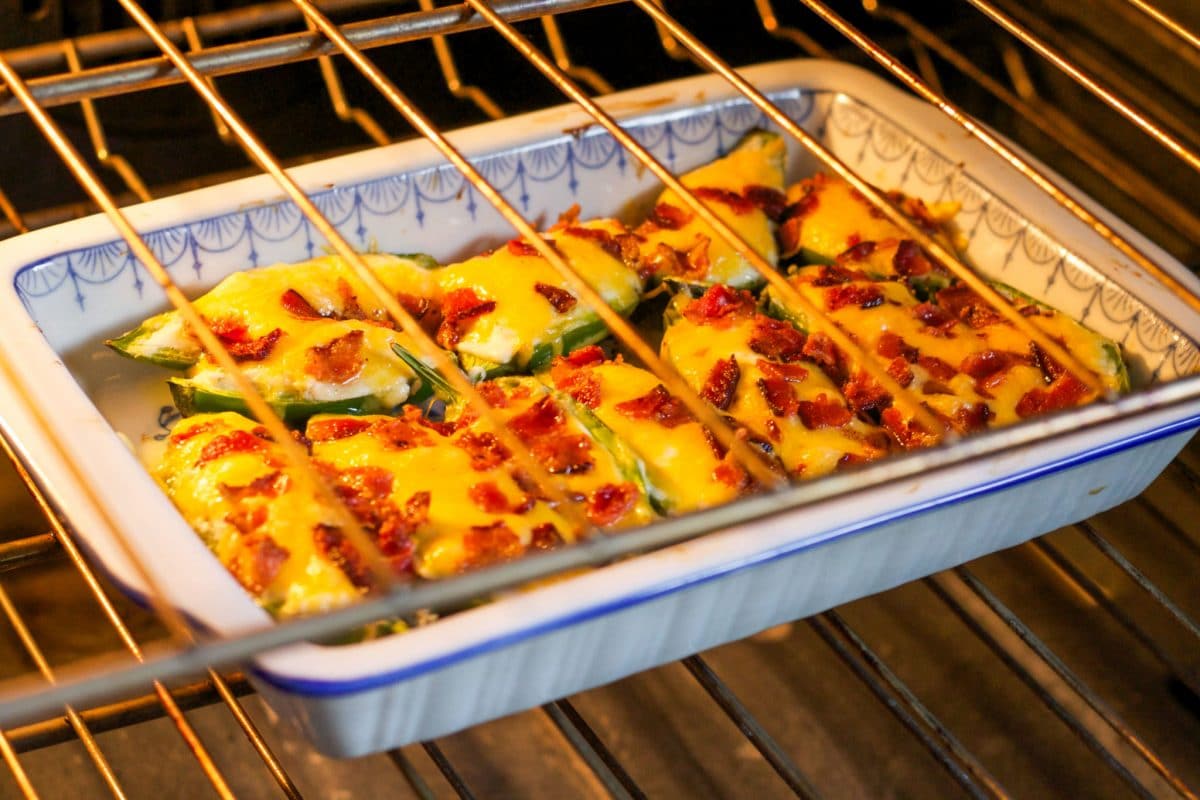 You may also enjoy the following appetizers: Potato Chop (Meat-Filled Potato Patties), Bourak (Assyrian Eggrolls), Instant Pot Chili Verde, and Gourmet Mini-Pizzas.
Do you Pinterest? Please pin and share!
---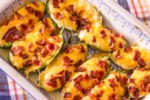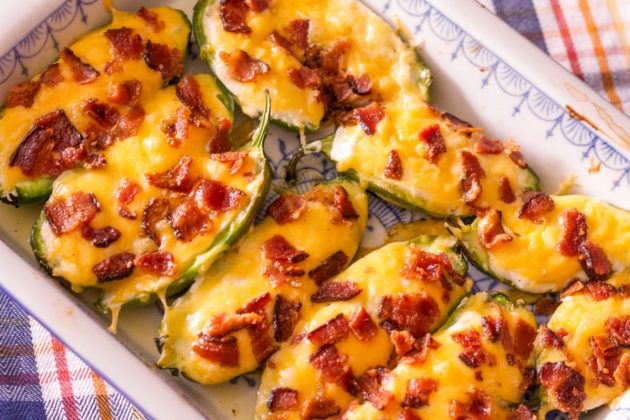 LOW CARB JALAPEÑO POPPERS
Low carb jalapeño poppers; so good, you'll never miss the breading!
Course:
Appetizers, Side Dish, Snacks
Ingredients
8

jalapeños

large

1

8 oz

cream cheese

1

tsp

powdered ranch seasoning and salad dressing mix

1/2

tsp

garlic powder

1/2

cup

shredded cheddar cheese

(or jack cheese)

4

slices

bacon
Instructions
Wash and slice the jalapeño peppers in half. Remove the seeds, while trying to keep some of the spines intact so that the peppers retain some of their heat. You might want to use gloves while handling the peppers. I don't, but then again, I run with scissors!​

Place cream cheese in a microwavable bowl, cover with a paper towel, and microwave for 45 seconds to soften. Mix in the ranch seasoning and garlic powder. Since my family LOVES spicy food, I added some of the seeds back into the cream cheese mix to add more heat, but this step is optional!​

Spoon the cream cheese mixture into the peppers.

Top each pepper with approximately one tablespoon of jack cheese.

Pack the peppers tightly into a toaster oven tray. Fry the bacon until almost crispy. You want some fat left on the bacon since it will continue to cook for another 20 minutes. Once the bacon cools off enough to handle, break up into pieces and add to the peppers.

Set toaster oven to 400 degrees F and bake the stuffed peppers for 20 minutes. Allow to cool for a few minutes before serving.
Nutrition Facts
LOW CARB JALAPEÑO POPPERS
Amount Per Serving (16 g)
Calories 74
Calories from Fat 63
% Daily Value*
Total Fat 7g 11%
Cholesterol 0mg 0%
Sodium 0mg 0%
Potassium 0mg 0%
Total Carbohydrates 1g 0%
Protein 2g 4%
* Percent Daily Values are based on a 2000 calorie diet.