I have been making these low carb seed crackers every couple of days, ever since an Instagram friend introduced me to a similar recipe. As you might already know, I can't seem to leave a recipe alone. It's in my DNA, I think. I have a tendency to play with recipes until I am finally pleased with the results. This recipe was no exception! Although it was a good recipe from the start, I adjusted the ingredients to my liking.

Please Play With Your Food!
Did I already mention how much I love these crackers? They are very easy to make, healthy, delicious, and low carb. What's not to love? This recipe is also very forgiving. You don't have to use the exact amount of each ingredient. You can change things up based on what you like. As I always say, please play with your food! Have fun creating your own version of this recipe. By the way, using a pizza wheel makes cutting the crackers a breeze!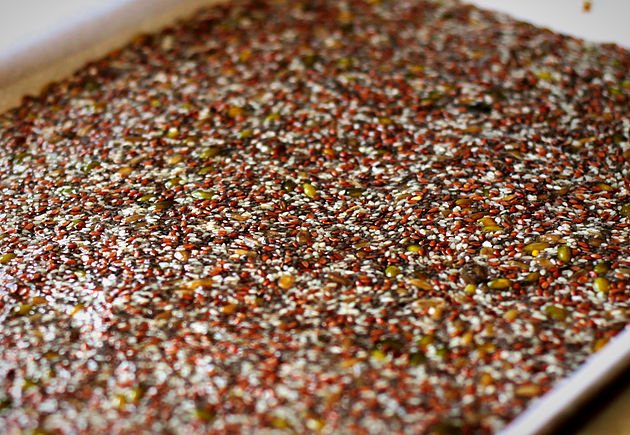 Our Little Secret
I've been contemplating whether or not to share this little tidbit with you, or keep it to myself. I've decided to go ahead and share. The last few times I made these crackers, I sprinkled them with some za'atar mix before placing them in the oven. Talk about kicking it up another notch! A little flavor goes a long way and makes these low carb seed crackers extra special. As a matter of fact, a friend who recently tried these wanted to know why her seed crackers didn't taste as good as these. I just shrugged my shoulders. She'll have to read this blog post to get the answer to that question!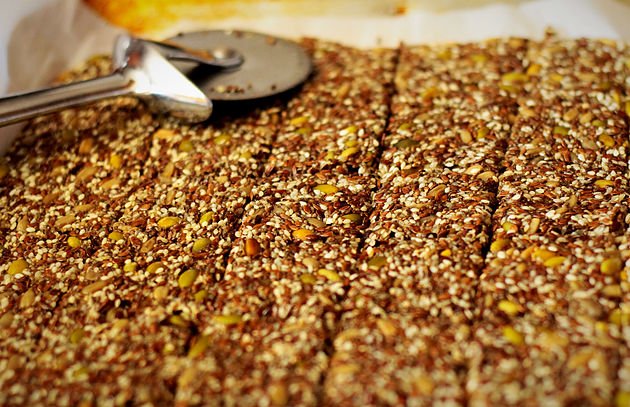 Low Carb Seed Crackers Serving Suggestions
I like to serve these crackers with buried cheese. The two really compliment each other. They are also great with Chicago cheese (found in most Middle Eastern stores). If you don't want to go out of your way, sharp cheese and a glass of wine are always a good choice!
Do you Pinterest? Please pin and share!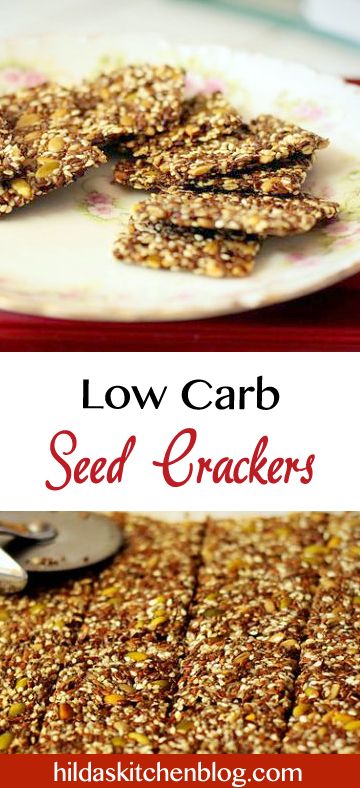 ---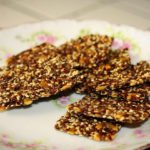 Healthy, Low-Carb Seed Crackers
Delicious, healthy, low-carb seed crackers.
Course:
Appetizers, Snacks
Ingredients
1/3

cup

sunflower seeds

1/3

cup

flax seeds

1/3

cup

sesame seeds

1/4

cup

pumpkin seeds

1/4

cup

chia seeds

1/2

tsp.

salt

2

T.

Bulletproof Collagen Protein

2

T.

coconut oil

1

cup

boiling water
Instructions
Preheat oven to 350 degrees F Mix the first seven ingredients together in a medium-sized bowl.

Add coconut oil, and boiling water. Stir, and allow to rest for 30 minutes. This resting period will allow the mixture to thicken, and become gel-like.

Line a large cookie sheet with parchment paper (not wax paper). Pour the seed mixture into the pan.

Smooth into an even layer, using a rubber spatula.

Bake in the oven, on the lower rack, for 30 minutes. If the mixture still feels wet, continue to bake, checking at five-minute intervals. You want the mixture to be firm but not crispy so that it does not crack when you cut it. Remove from the oven, and cut into small squares, using a pizza wheel.

Bake for an additional 20 minutes, or until crispy. Remove from oven and allow to cool before storing.
Nutrition Facts
Healthy, Low-Carb Seed Crackers
Amount Per Serving (4 crackers)
Calories 118
Calories from Fat 81
% Daily Value*
Fat 9g14%
Cholesterol 0mg0%
Sodium 75mg3%
Carbohydrates 4g1%
Protein 6g12%
* Percent Daily Values are based on a 2000 calorie diet.