Recently, I was lucky enough to go huckleberry picking. This Huckleberry Pie recipe was the first recipe I created with the huckleberries we picked. This gorgeous pie is not overly sweet, and bursting with huckleberry flavor!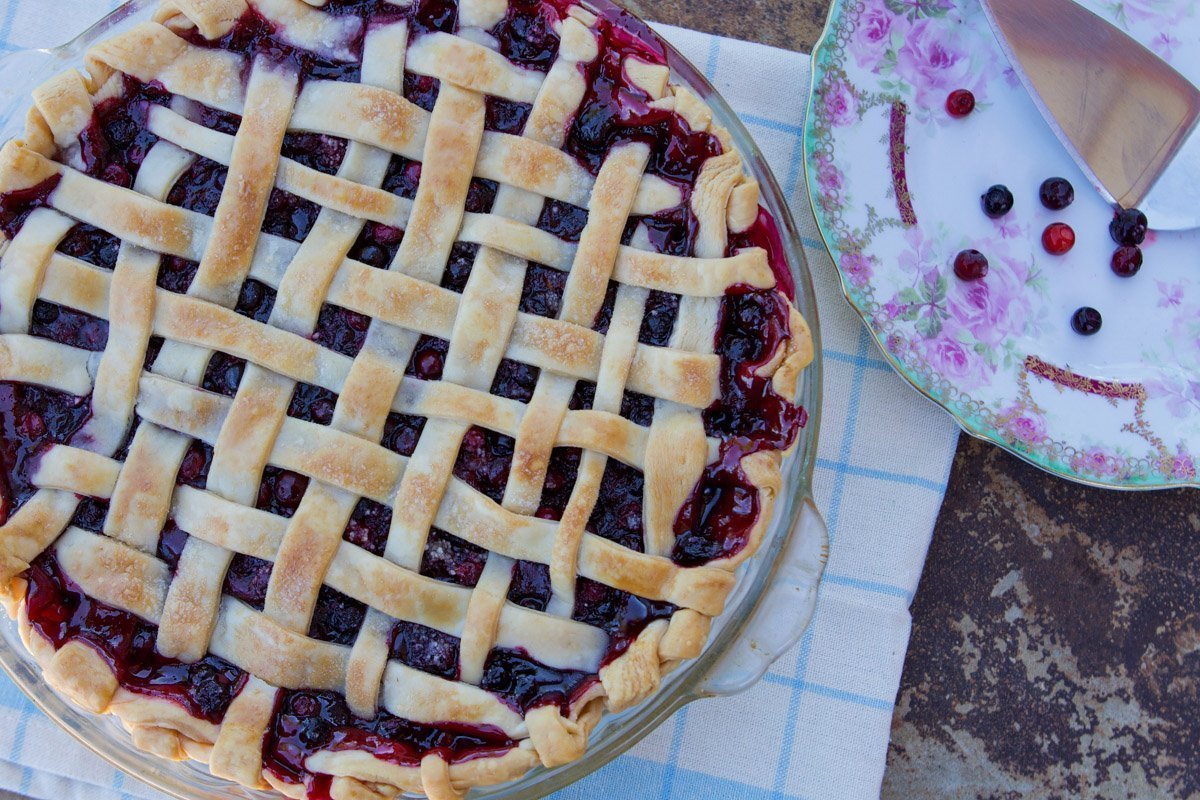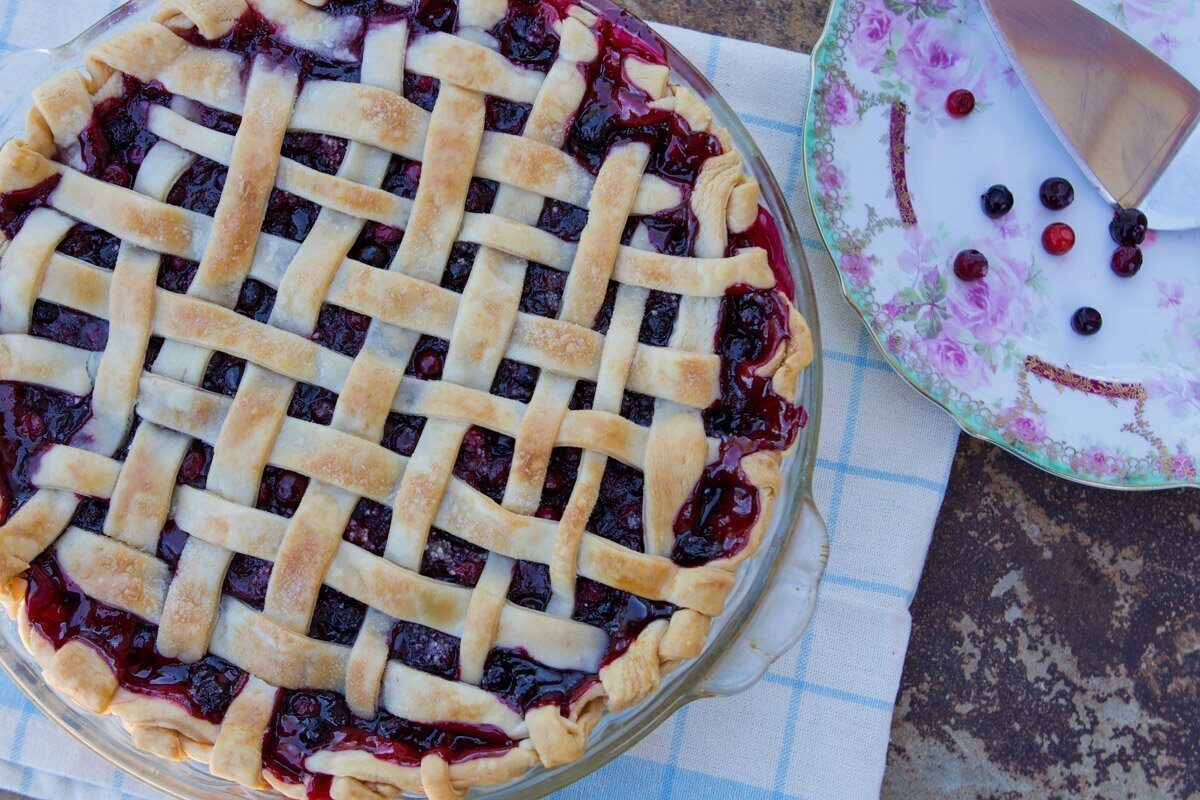 Although huckleberries are sweet, some can be a little tart, especially the red ones. The flavor of huckleberries is reminiscent of blueberries mixed with cranberries.
I decided to keep this recipe simple by using huckleberries, sugar, orange zest, and tapioca as a thickening agent. Because let's be honest, don't we all hate runny pies that ruin an otherwise perfectly tasty crust?
I left the cinnamon out on purpose because I did not want anything to compete with the huckleberry flavor, feel free to add 1/2 teaspoon if you wish.
Be sure to serve this delicious pie with a big scoop of French vanilla ice cream and a piping hot cup of coffee.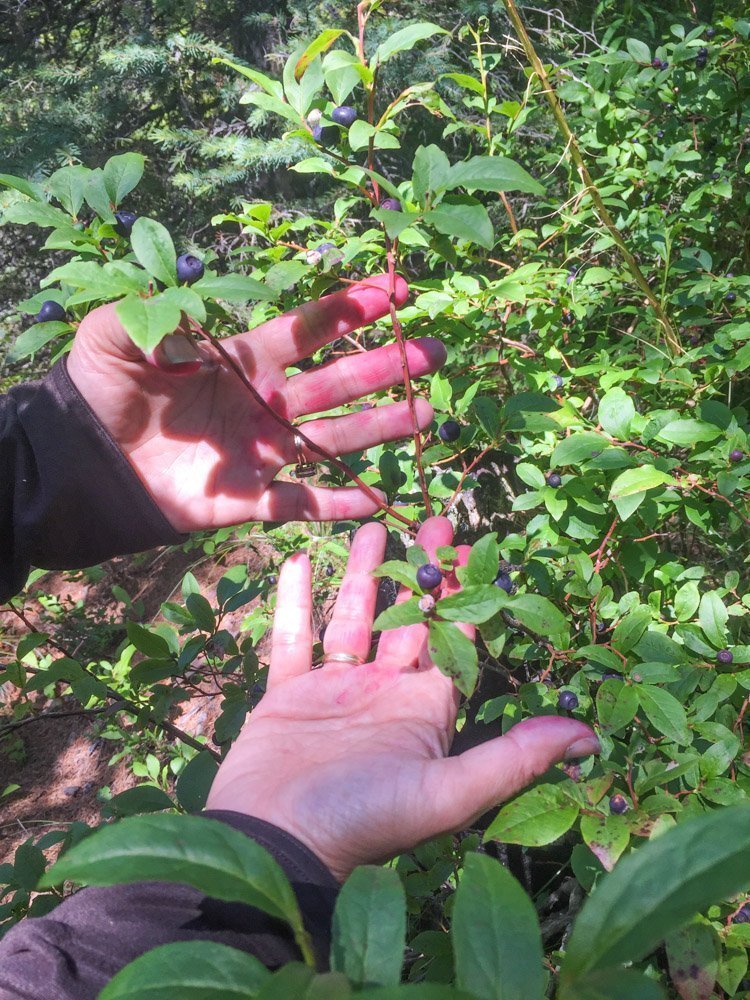 Huckleberry-stained hands
What are Huckleberries?
I realize that not too many people know what a huckleberry is, let alone tasted these delicious berries.
"Huckleberries" (also known as 'Hurtleberry' or 'Whortleberry") are glorious red and purple berries that resemble blueberries in taste and appearance (although smaller).
The berries go from green to light pink, dark pink, and a deep purple when fully ripened.
Some varieties have larger berries that are deep red when fully ripe and tart compared to the purple variety.
Huckleberry bushes grow in acidic mountain soil, and range in size from 1′ to 5′ in height. They are delicious when eaten raw and just as tasty when used to make huckleberry pie, jam, syrup, cheesecake, and wine.
The berries can be used to make huckleberry muffins, scones, ice cream, fudge, and more!
Where Do You Get Huckleberries?
Huckleberries are native to the Northwestern United States. They grow in the wild in elevations from 3000′ to 6,000′.
States, where huckleberries grow, include Montana, Idaho, Wyoming, Oregon, Washington, and Alaska.
Since huckleberries are not commercially grown, they're usually handpicked by individuals and sold for as much as $50 to $70 a gallon!
Here in Montana, they are ready to harvest from late June through late August, depending on the elevation.
However, if you're looking for an exact location, good luck! Most people have their own "secret spot" that they won't even share with their own mother.
Luckily, I have an angel for a neighbor, who not only shared his spot with us but took us on our first huckleberry picking adventure!
Remember, if you don't have access to huckleberries, substitute blueberries for this recipe instead!
My Huckleberry Pie Recipe
I don't have a lot of experience working with huckleberries since they don't grow in San Diego. However, I decided to use approximately the same berry to sugar ratio that I use in most berry pies.
In this case, I used 4 1/2 cups of berries to one cup of sugar. I chose to use orange zest and juice, instead of using lemons because I did not want the pie to be overly tart.
To thicken the filling, I decided to try something I hadn't before, tapioca instead of flour. The end results were better than I expected.
The only thing I would have done differently is to use a regular-sized pie tin instead of a larger pie dish.
Using a deep-dish pie pan caused the pie to be shallower than I would have liked. However, the flavor was wonderful!
Crumb Topping Huckleberry Pie
If you prefer your pie with crumb topping, you're in luck! I actually prefer it that way too! You can easily alter this recipe to make a pie with crumb topping. Just follow these simple steps.
Follow steps 1 through 8 on the recipe card below, except do not dot with butter.
Bake at 375-degrees F for 30 minutes.
Meanwhile, mix 1/2 cup of brown sugar, 3/4 cup of flour, 1/4 teaspoon cardamom, 1/4 teaspoon cinnamon, and a pinch of salt. Make sure there are no clumps in the brown sugar, and that the ingredients are thoroughly mixed.
Using your hands or a fork, cut in 4 tablespoons of cold cubed butter until the mixture is crumbly.
After 30 minutes have elapsed, remove the pie from the oven and turn up the oven temperature to 400-degrees F.
Carefully distribute the crumb topping evenly over the berries, so that the berries are no longer visible.
Cover pie edges with foil or pie crust protector. Bake for an additional 15 minutes, or until the pie is bubbly and begins to ooze out from under the topping.
The pie will firm up when completely cool/refrigerated.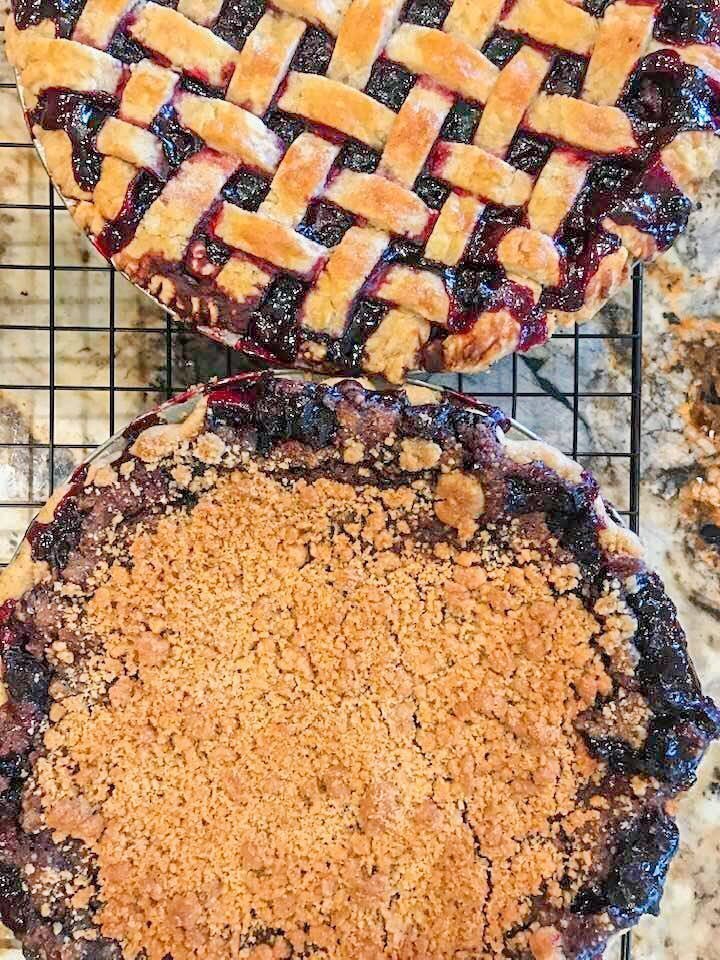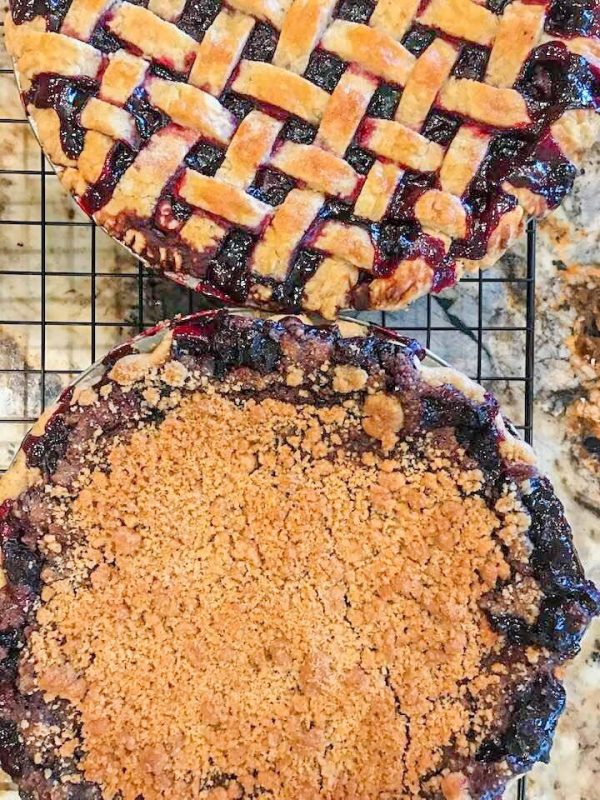 Frequently Asked Questions
How to Pick Huckleberries
So, let's say you got someone to divulge their secret huckleberry picking spot with you … congratulations!
What should you know before you go on your first huckleberry picking adventure?
Well, I'm no expert, but here are some great tips that I picked up from my neighbor, Neil.
Neil has been picking huckleberries for many years. As a matter of fact, he and his wife, Gail, went huckleberry picking for five hours on the day they were getting married!
Let's take a look at Neil's suggestions…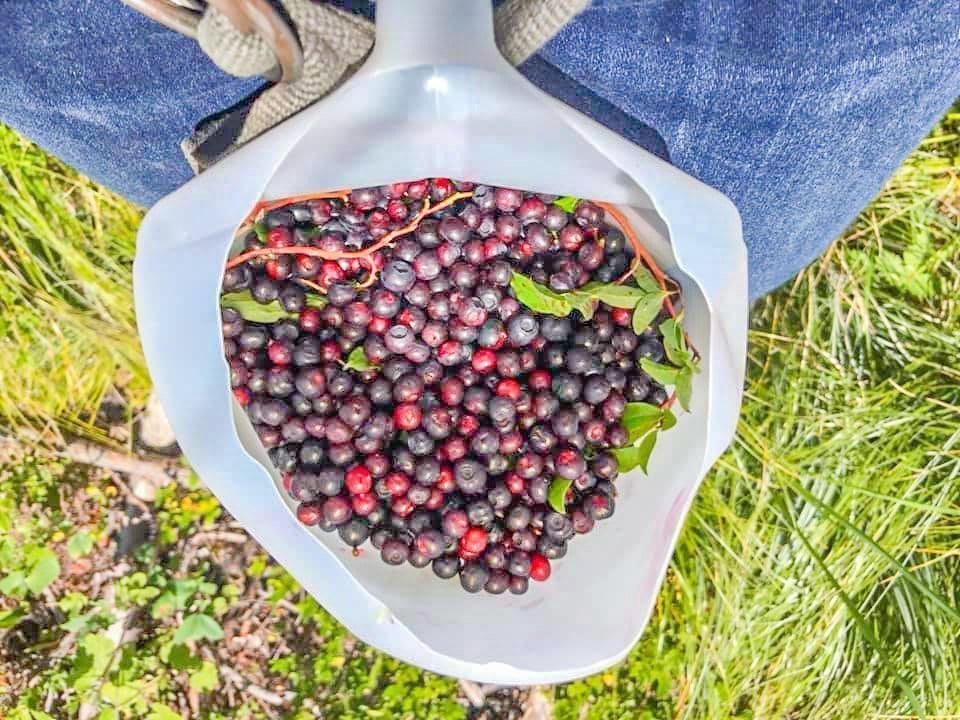 Huckleberry Picking Checklist
Wear long pants, good shoes or boots, and a hat to keep the sun out of your eyes while you pick.
Take a gun (if you have one) and bear spray, we all know that bears like huckleberries too!
Take plenty of water, pack a lunch, and wear sunscreen (this is going to take a while). Huckleberry picking is not for the weak!
Take an empty one-gallon jug, and cut the top off, leaving the handle intact. Loop the jug handle through your belt so that both hands are free to pick these precious berries, and drop into the jug hanging from your waist. You'll also need a 2-5 gallon bucket to dump your berries into when you're dong picking.
Be aware of your surroundings, listen for rustling in the trees and bushes around you. In other words, leave the earbuds at home, kids.
Berry Pickers are preferred by some people. I didn't use the picker to pick the berries off the bushes. However, we did use it when a certain someone, who shall remain anonymous, spilled a bunch of the berries on the ground when we were transferring the huckleberries into a 2-gallon bucket. The picker worked beautifully to scoop the berries off the ground. 😉
When picking the huckleberries, be sure to lift the branches to look underneath them. Many huckleberries are hidden underneath the leaves and are only visible when the branches are lifted.
Above all, go with someone you love spending time with. Enjoy the conversation and the natural beauty that surrounds you!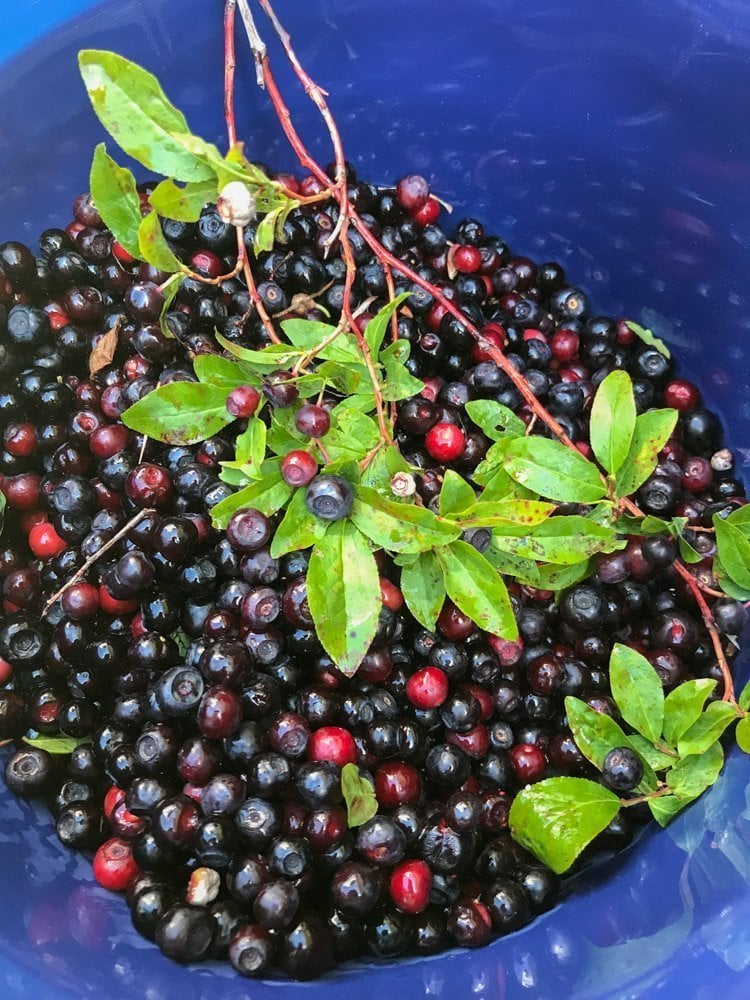 How to Clean and Freeze Huckleberries
I'm sure there are many ways to clean and store huckleberries, but these steps worked well for me.
I had originally considered washing and freezing the berries on a cookie sheet before storing them. I thought that if I froze them in a bag all together they might create a solid block.
My huckleberry picking guide, Neil, ensured me that was not the case, and he was right. I chose two-cup portions, but feel free to freeze in any quantity you prefer.
Add two cups of berries to a bowl of clean water.
Agitate the berries in the water, and remove any obvious debris that floats to the surface.
Scoop a handful of berries from the water and add in a sealable Ziplock sandwich bag.
Continue until the two cups of berries are in the bag, then seal. Repeat the process, using fresh water each time, until all the huckleberries are processed.
Freeze the berry-filled bags until ready to use.
Now that I've told you everything I know about huckleberries, I hope you'll give this recipe a try, or make plans to go huckleberry picking as soon as possible!
For further information on the Huckleberry plant, check out Britannica.com.
You may also enjoy the following recipes:
Stay in touch with me through social media!
Tried this recipe? Snap a picture and tag #hildaskitchenblog on Instagram. 
Like my page on Facebook.
Do you Pinterest? Pin & share this recipe!
If you love this huckleberry pie recipe, please leave a review/rate the recipe!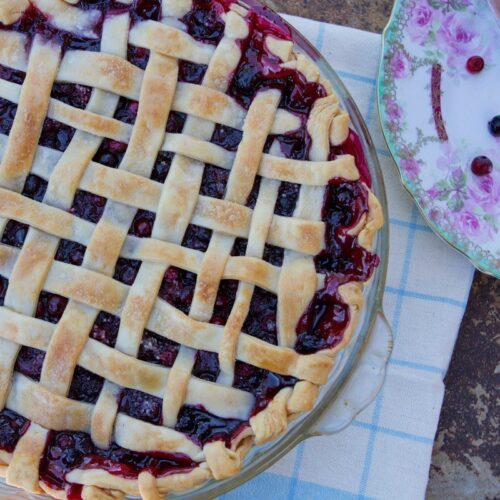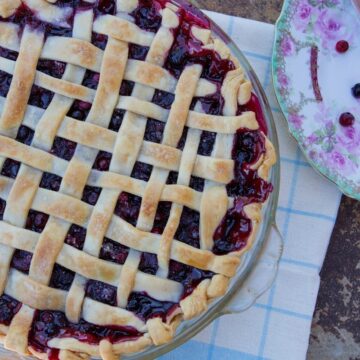 Huckleberry Pie Recipe
Lattice-top wild huckleberry pie recipe.
Print
Rate
Total Time:
1
hour
25
minutes
Ingredients
1

Pillsbury pie crust

4½

cups

huckleberries

1½

tsp.

orange zest

1

T.

orange juice

½

cup

white sugar

½

cup

brown sugar

¼

cup

tapioca

1/8

tsp.

salt

1½

T.

butter

1

T.

milk

2

tsp.

sugar
Instructions
Preheat oven to 375-degrees F

Line the bottom of a 9″ pie plate with one of the two pie crusts.

If using frozen fruit, rinse under cold water and drain first.

Mix huckleberries with orange zest, and orange juice.

In another bowl, mix both sugars, tapioca, and salt.

Gently mix tapioca mixture with the into the huckleberries.

Meanwhile, cut the remaining pie crust into 1/4" strips using a pizza slicer or similar tool.

Pour the pie filling into the prepared pie crust and dot with butter.

Place the strips of dough in lattice fashion over the pie and either tuck the ends of the stips under the bottom crust, or fold the bottom crust over the strips and crimp.

Brush with 1 tablespoon of milk and sprinkle with 2 teaspoons sugar.

Cover pie edges with foil or pie crust protectors. Bake for an hour, or until the mixture is bubbly and begins to ooze out of the lattice crust.

Cool before slicing. Enjoy with some vanilla ice cream.
Nutrition
Calories:
275
kcal
|
Carbohydrates:
53
g
|
Protein:
1
g
|
Fat:
8
g
|
Saturated Fat:
4
g
|
Cholesterol:
11
mg
|
Sodium:
182
mg
|
Sugar:
27
g