When you hear the term "All American" what comes to mind? For me, it's the American flag, our troops, baseball, hot dogs, and this Caramel Apple Pie Recipe! Once you try it, you'll most likely get rid of all your other apple pie recipes!
Caramel Apple Pie Recipe
My family loves pie, especially my husband, Scott. A few times a year, we make the one hour drive up to the town of Julian in search of cooler weather, and delicious pies. If you are ever in the area, be sure to check out this adorable town, dotted with cute shops, cafes, and restaurants. So, what do I do when I crave pie the rest of the year? I make my own, of course! I've tried many recipes over the years, but have settled on this one as my go-to recipe. This recipe was adapted from Chef John's Carmel Apple Pie.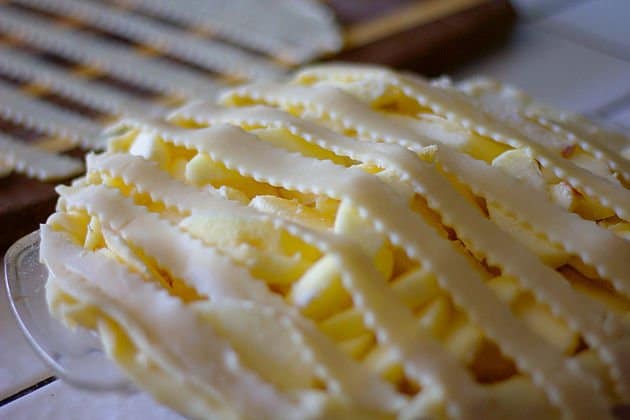 Caramel Apple Pie Recipe Ingredients
As I usually do, I tweaked Chef John's caramel apple pie recipe. I replaced the white sugar with brown sugar because I prefer the latter. I also prefer my apple pie more flavorful. To achieve this, I doubled the cinnamon and added vanilla, nutmeg, and cardamom. Finally, I tossed some lemon juice and flour with the apples. The flour helps to keep the pie from being too runny. So give my Caramel Apple Pie Recipe a try, and see what you think. Are you feeling extra ambitious? Why not try both recipes, and see which you prefer. If you like my recipe more, I'd love to hear about it. If you prefer the original recipe, keep the information to yourself!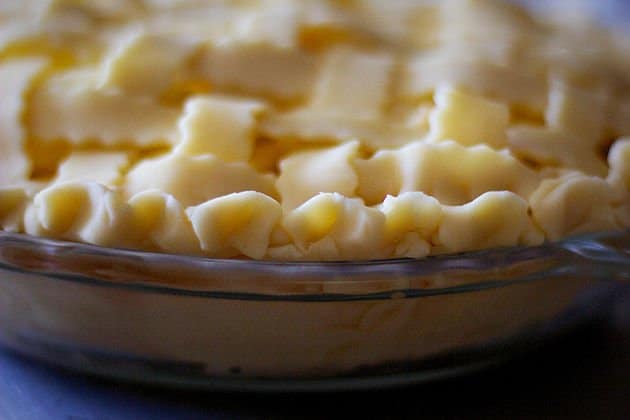 What Are the Best Apples For Baking Pie? 
I think most bakers would agree that Granny Smith apples are the go-to apples for making an apple pie. Other suitable apples include:
Honeycrisp
Jonathan
Jonagold
Fuji
And my personal favorites, Pink Lady
Ideally, you want an apple with a good balance of sweetness and tartness. You also want to avoid apples that release a lot of liquid during the cooking process. Instead, you want apples that retain their shape, even after baking. Speaking of great apples, I recently received some "Anna apples" from one of my husband's work buddies. Scott asked if I could make his friend a pie as a way of thanking him. I wasn't sure if they were good for baking, but I'm happy to report they baked beautifully! I also made some cardamom Apple Pie Preserves. A great way to use Anna apples, if you have them!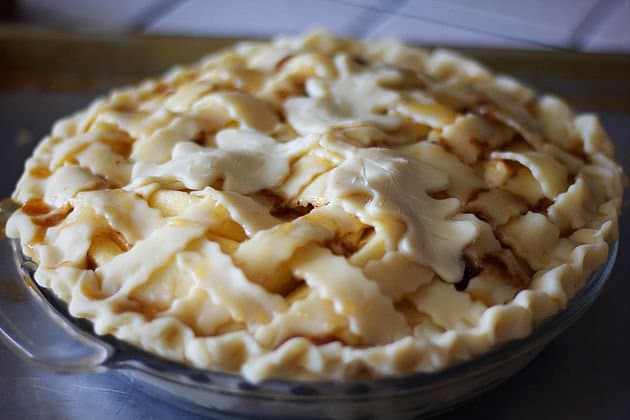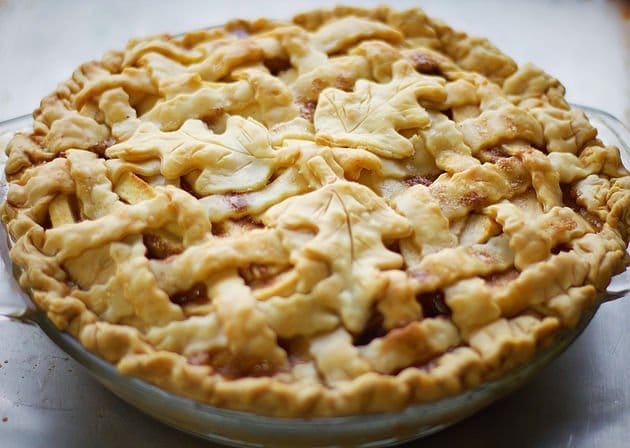 What Do You Need to Make A Great Apple Pie?
Well, besides the apple pie ingredients, you don't need much, but a Pie Dish is a must. If you have little ones that will be assisting you in the kitchen, I highly recommend an Apple/Potato Peeler and Corer. I first got to use one of these cool gadgets when I was volunteering in my daughter's 2nd-grade class (she's now 24). The second graders were celebrating "Apple Days," so we helped them make apple pies. The Apple Peeler/Corer was definitely a hit with the kids, so of course, I had to buy one. I still use it to this day and looking forward to using it with my future grandkids someday (God willing).
If you enjoy this pie, be sure to check out my equally delicious Wild Huckleberry Pie, Fresh Pear Pie, and Mulberry Pie recipe.
.
Do you Pinterest? Please pin & share!
If you love this Caramel Apple Pie, please give it a 5-star rating!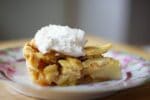 Caramel Apple Pie
Easy and delicious apple pie, cooked with a caramel sauce.
Ingredients
Caramel Sauce
6

T.

unsalted butter

1

cup

brown sugar

1

tsp.

vanilla

1/2

tsp.

cinnamon

1/4

tsp.

cardamom

1/4

tsp.

salt

1/2

tsp.

nutmeg

freshly ground

1/4

cup

water
Remaining Ingredients
5

Pink Lady apples

peeled, cored, and sliced

1

T.

lemon juice

1/4

cup

flour

1

pastry for double-crust pie
Instructions
Preheat oven to 425 F degrees

Melt butter in a small saucepan over medium heat. Stir in sugar, vanilla, cinnamon, cardamom, salt, nutmeg, and water. Stir until the mixture comes to a rolling boil, then remove from heat.

Peel, core, and slice apples, and add to a medium-sized bowl. Sprinkle with lemon juice and toss with flour, making sure the flour is equally distributed. Roll out half of the pastry, fit in a 9" pie plate. Trim the excess pastry, leaving 1/2" of pastry hanging past the rim of the pie plate. Save the trimmed pastry for later. Arrange the apples in the pie plate.

Roll out the remaining crust over a cutting board. Using a pastry wheel, cut dough into 1/2" strips. ​Don't have one of those fancy tools? No problem, just use a knife, or "treat yo' self" and purchase one.

Lay one of the center (longest) pieces of pastry dough over the middle of the pie. Continue working towards the edge, using every other piece of dough. Weave the remaining pieces (over and under) in the opposite direction until all the pieces are used up.

If there are extra pieces, combine them with the excess dough that was trimmed earlier. Roll out the extra dough on a cutting board. Use cookie cutters to cut out decorative leaves, or other shapes to add to the top of the lattice (optional). Fold the ends of the lattice strips under the bottom crust and crimp the edges.

Carefully pour the caramel mixture through the holes in the lattice, making sure you distribute the caramel over the entire pie.

Place pie on a cookie sheet, in case it boils over, and bake for 15 minutes. Reduce the oven temperature to 350F, and bake for an additional 50 minutes, or until the caramel beings to ooze out of the lattice, and the pie is nicely browned. Cool completely before serving. If you are ready to throw all caution to the wind, serve with vanilla ice-cream. I dare you!
Nutrition Facts
Caramel Apple Pie
Amount Per Serving
Calories 430
Calories from Fat 189
% Daily Value*
Fat 21g32%
Cholesterol 33mg11%
Sodium 343mg15%
Carbohydrates 64g21%
Protein 2g4%
* Percent Daily Values are based on a 2000 calorie diet.