Buried cheese? Yes, buried cheese! You see, that is a direct translation for this recipe's Assyrian title "Joopta (cheese) Doomirtah (buried)." But don't worry, I won't ask you to bury anything, I promise! The name buried cheese simply describes how this recipe used to be prepared in Iraq in the old days. My mom explained that a large clay jar would be filled with cheese and spices and topped with sheep's wool. After which, the opening of the clay jar would then be covered with muslin and tied in place with rope. Finally, mud was smeared over the muslin to seal the jar.
"Buried Cheese?" Was It Really Buried?
So where does the "buried" part come in? Well, that's what came next; the jar would be buried upside down. Over time, the wool would absorb the excess oil and liquid that drained from the cheese. During the summer months, the jar was watered regularly. Why you ask? Who knows! But come winter, the jar would finally be unearthed, revealing the cheese that had aged to perfection! At that point, the jar would be turned right side up and returned to the ground to keep cool. They didn't have refrigerators back then, you know. The jar would be accessed every morning. Only enough cheese would be removed to have with their pita bread and tea for breakfast. How cool is that?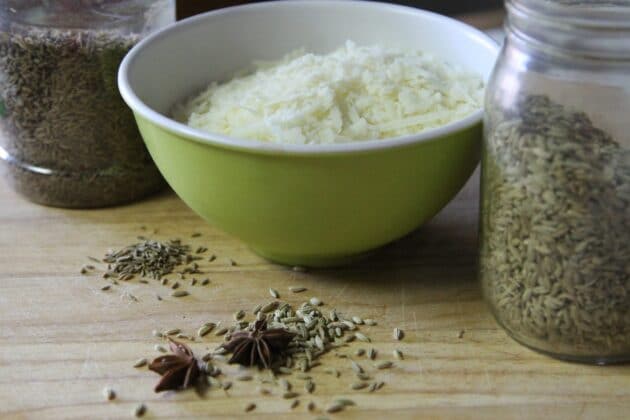 Authentic Buried Cheese
Obviously, this recipe isn't 100% authentic, since we're not burying, or aging the cheese. However, it is a good substitute for the original recipe, and way more convenient! After all, who wants to be caught by their neighbors, burying things in their backyards?  I know I don't! 😉 Don't want to make your own buried cheese? No worries, you can now purchase buried cheese. Don't believe me? Just head to my friend, Atorina's, website to purchase some today: https://www.buriedcheese.com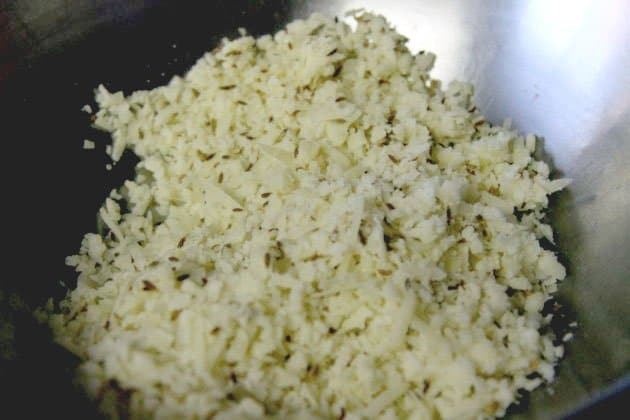 For other breakfast, recipes check out the following recipes: Clotted Cream (Gemar), Breakfast Burrito, Low Carb Spinach, and Eggs.
Do you Pinterest? Please Pin & share!
---
Buried Cheese (Joopta Doomirtah)
An old Assyrian recipe for Buried cheese, and a great story to go with it!
Cuisine:
Assyrian, Middle Eastern
Ingredients
1/2

T.

anise seeds

1/2

T.

caraway seeds

1/2

T.

cumin seeds

1

lb.

Asiago or kasseri cheese

(or a combination of both)

8

oz.

blue cheese

(optional)
Instructions
Grate the cheese using a medium grater.

Soak the anise, caraway, and cumin seeds in water for 10 minutes, to soften.

Drain the seeds onto paper towels and pat dry.

Stir the seeds into the cheese. Add crumbled blue cheese if using. Blue cheese will make the cheese mixture creamier. (I have it as optional because not everyone likes blue cheese, but I personally love it)! Grab handfuls of the cheese and seeds and rub between your hands, and drop back into the bowl.

Continue doing this until the cheese no longer resembles grated cheese and begins to clump together. This process helps the flavors of the seeds to infuse into the cheese.

Pour the cheese into a glass jar or container. Press down with your hands to compact the cheese. Why? Because that's what mom did, don't question mom!

To serve, simply spoon a few tablespoons of cheese into toasted pita bread pockets. Serve with Kalamata olives and hot tea.

This cheese can be refrigerated for up to a month.
Nutrition Facts
Buried Cheese (Joopta Doomirtah)
Amount Per Serving (2 oz)
Calories 204
Calories from Fat 144
% Daily Value*
Fat 16g25%
Cholesterol 50mg17%
Sodium 681mg30%
Carbohydrates 1g0%
Protein 14g28%
* Percent Daily Values are based on a 2000 calorie diet.