Shawarma Pizza? Is there even such a thing? The answer is a resounding YES! Individual-sized pizza with all the Mediterranean flavors you love: Tahini Sauce, Goat Cheese or Feta, and your favorite toppings. Topped off with a sprinkling of Zaatar and a drizzle of Pomegranate Molasses. Is your mouth watering yet? I sure hope so!
The Idea for this recipe
What was supposed to be an artichoke foraging post, somehow evolved into a Shawarma Pizza recipe. I thought, surely no one has come up with this innovative combination. However, after doing a quick search online, I discovered that not only had someone else thought of this, but you can even order Shawarma Pizz at local restaurants! But considering that I had already envisioned the ingredients I intended to use, I chose not to investigate any further. Instead I marched right into the kitchen to create my masterpiece.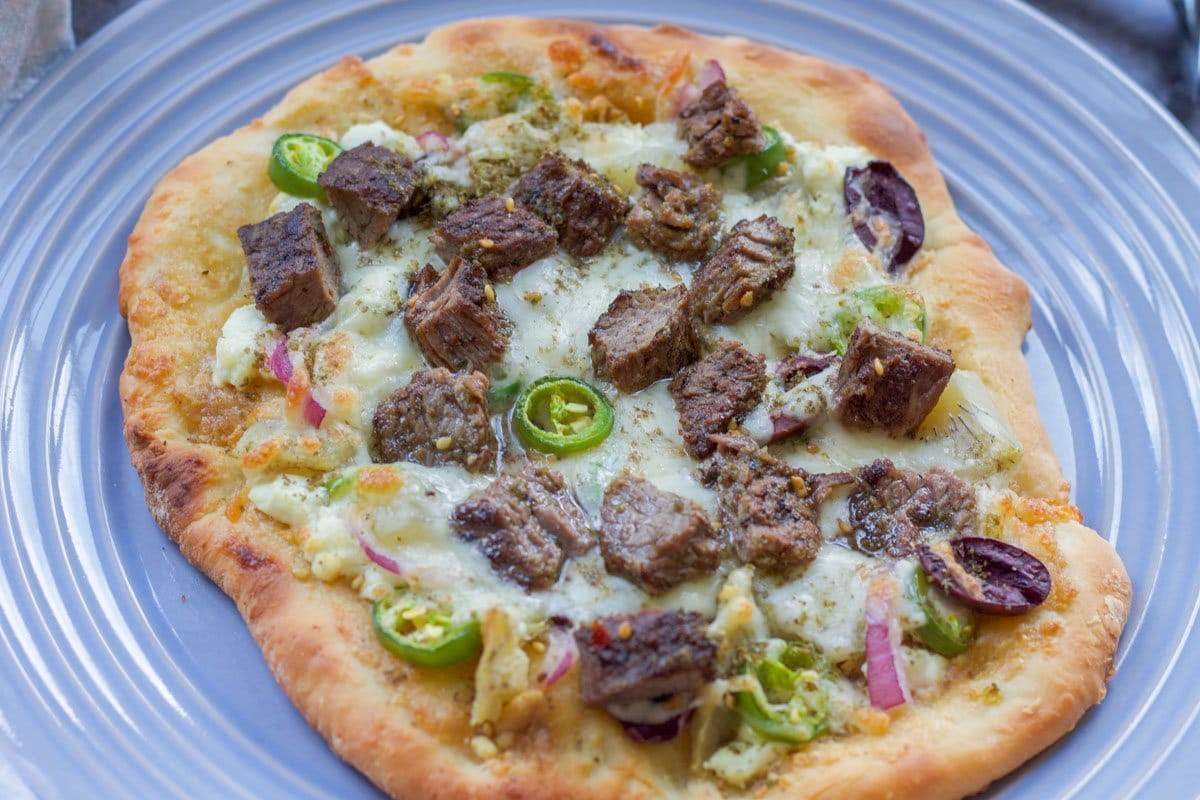 What does shawarma taste like?
First, let's cover what Shawarma is. Think of Shawarma as Middle Eastern Gyros. Seasoned meat (beef, lamb, or chicken) is stacked vertically on a spit. The meat is then slowly roasted to mouth-watering perfection. When ready, the delectable meat is shaved off into thin slices. Shawarma is served in Pita Pockets, drizzled with tangy Tahini Sauce. Sliced tomatoes, onions, and lettuce are usually tucked into the pocket as well. Sometimes Shawarma is served with Middle Eastern Salad, Hummus, and Vermicelli Rice. Unlike Gyros, shawarma is highly seasoned with bold flavors like allspice, cinnamon, cardamom, and nutmeg. If you've never had Shawarma before, you may want to try my easy Shawarma recipe first. Once you fall in love with this flavorful meat, you'll be ready to tackle this Shawarma Pizza Recipe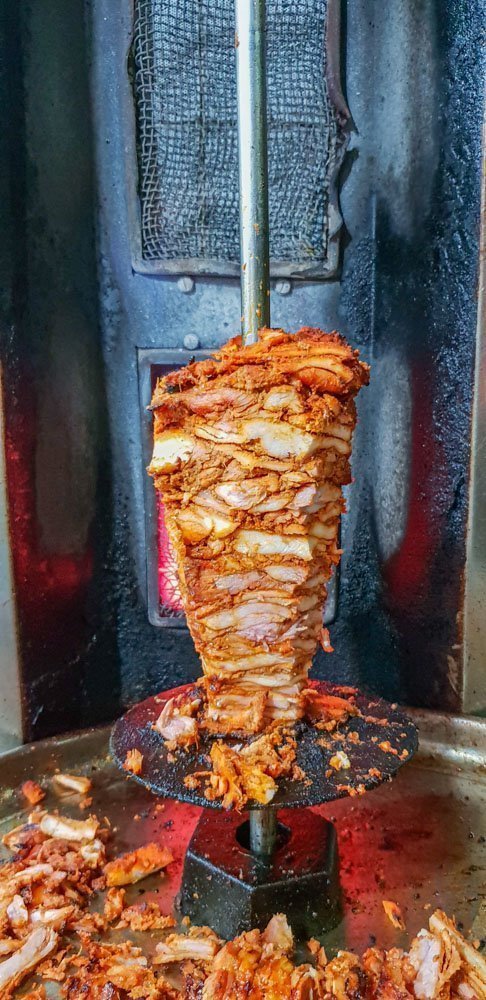 WHAT TO SERVE WITH SHAWARMA PIZZA
Although this Shawarma Pizza recipe is bursting with complex flavors that complement each other, there are always ways to kick up the flavor a tiny bit more. For example, a little drizzle of Pomegranate Molasses adds a deliciously tangy-sweet flavor that I'm currently obsessed with! Another great idea is to serve the Pizza with either Sumac or Zaatar on the side. Sumac is a Middle Eastern spice that adds a sour flavor to food. It's used in many recipes including Fattoush Salad, sprinkled over Kabobs, and in marinades, such as Sumac Chicken. Zaatar, on the other hand, is a spice-blend made of toasted sesame seeds, sumac, salt, and herbs (thyme, marjoram, and oregano, to name a few).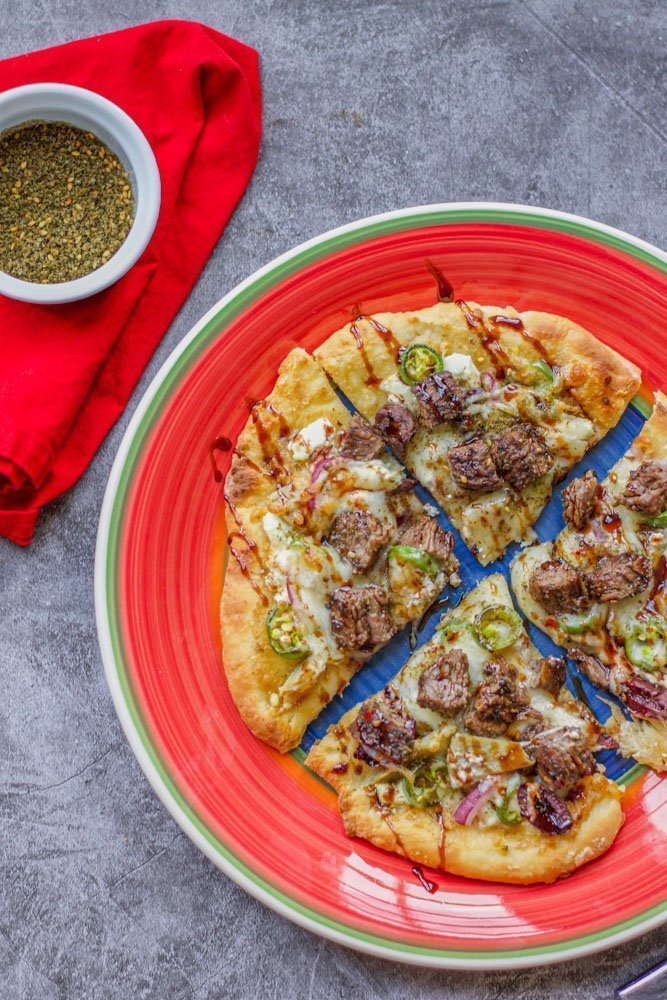 Building The Perfect Shawarma Pizza!
The Pizza Crust
Although you can make your own pizza crust, I recommend using Naan Bread, Flat Bread, or even Mini Pizza Crusts for this recipe. I've always preferred making individual-sized pizzas. It all started with my son, Scott, who did not like sauce on his pizza. I would make a sauceless pizza for him, a vegetarian pizza for my daughter, Nena, and the works for Scott and I. Making individual sized pizza is a great way to allow your guests or family members to build their own pizzas, adding only the ingredients or toppings they like. You can actually make a fun night out of it and get everyone into the kitchen. Unless you prefer not sharing your kitchen space with others. I get that too!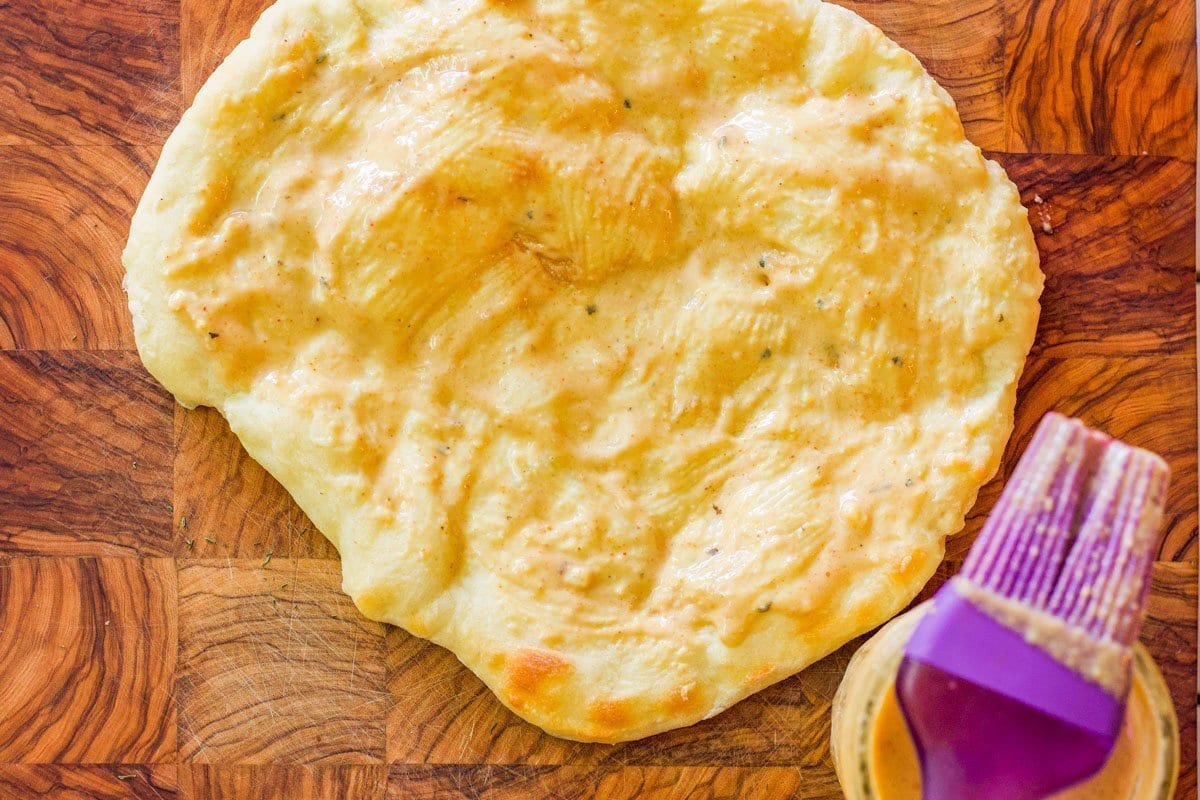 The Sauce
Instead of using a tomato-based sauce, I decided to keep the flavors in the Middle Eastern/Mediterranean spectrum. The most obvious choice to me was using Tahini Sauce. I recommend making your own sauce ahead of time. It's super simple to make and can be drizzled over grilled meats and even used as a salad dressing. You can even make your own two-ingredient Tahini Paste; Or buy it at your local grocery store.
Cheese Options
I think most of you will agree that the best part of pizza is the cheese. In my opinion, the cheesier the better! When I think of Middle Eastern cheese a few come to mind: Feta, Goat Cheese, Buried Cheese, and "Chicago Cheese," which is similar to Feta in appearance and flavor. But for this recipe, I decided on a layer of crumbled goat cheese, followed by toppings, and more mozzarella cheese. Trust me, it's a winning combination! However, if you don't like Goat Cheese, feel free to use Feta.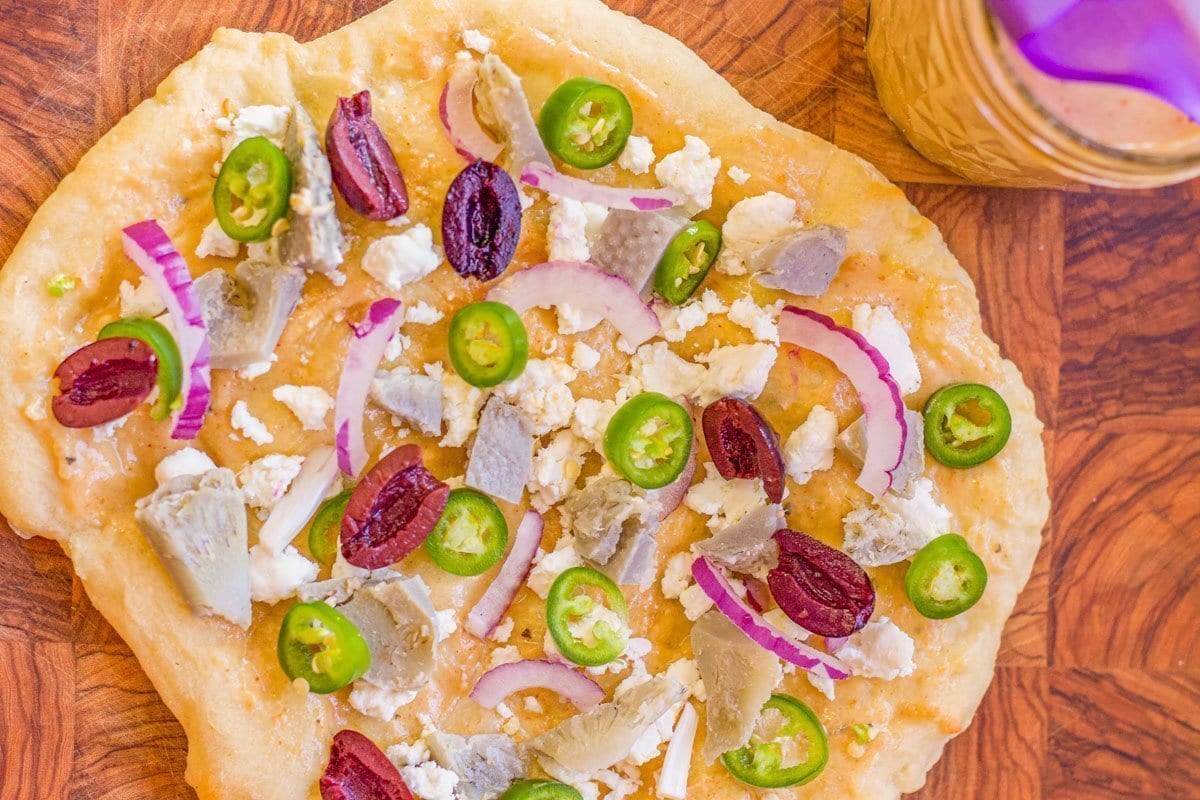 Shawarma Pizza Topping Options
Toppings are really all about personal preference. This is where I encourage you to experiment with toppings that you like! When I make this pizza for myself, I add Kalamata olives, sun-dried tomatoes, artichoke hearts, onions, spicy chilis, and of course, Shawarma! Other suggestions include mushrooms, capers (or Pickled Nasturtium Seeds), and green peppers.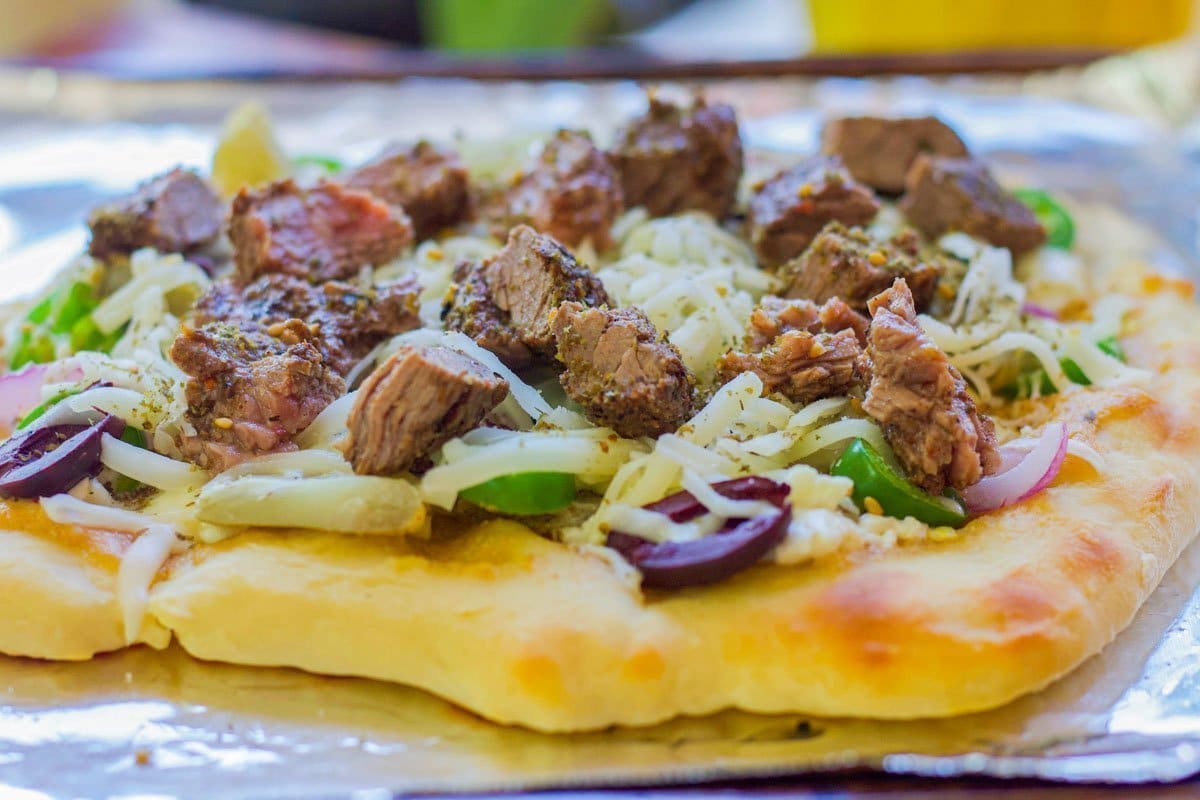 Putting It All Together
After you've lathered your flatbread with Tahini Sauce, added goat cheese and your favorite toppings, all that's left is adding mozzarella and semi-cooked diced Shawarma. Next, bake in a 425-degree-F oven (or toaster oven) for 10 to 15 minutes, or until the cheese is melted and the crust is golden brown.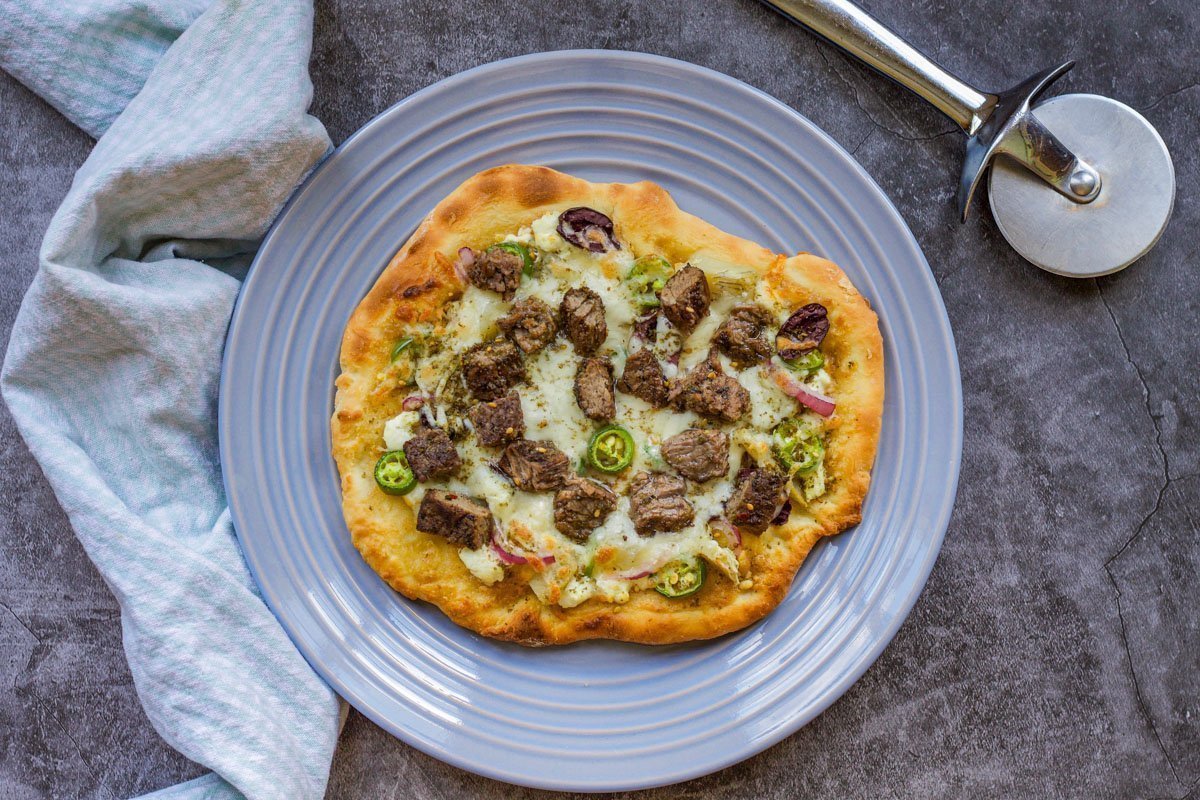 Do you Pinterest? Please Pin and share this recipe!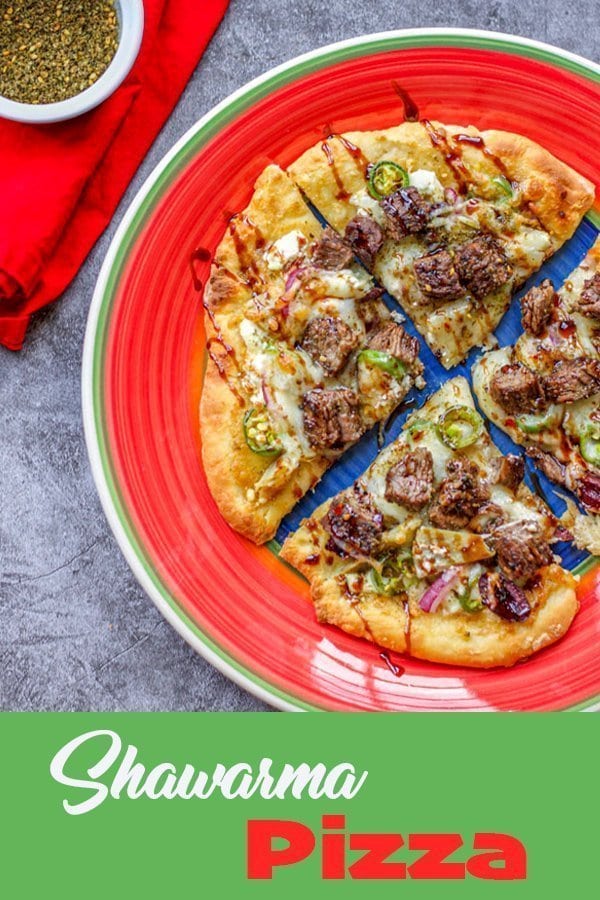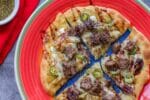 Shawarma Pizza Recipe
Individual-Sized Shawarma and Goat Cheese Pizza.
Course:
Appetizers, Main Course
Cuisine:
Mediterranean, Middle Eastern
Ingredients
1

mini pizza crust

(Flatbread, or Naan)

1-½

T.

tahini sauce

2

T.

goat cheese or feta

(crumbled)

1

T.

sliced red onion

4

Kalamata olives

(sliced in half)

1

sliced spicy pepper

(optional)

1

T.

artichoke hearts

(chopped)

⅓

cup

mozzarella

(shredded)

2

oz

shawarma

1

tsp.

za'atar
Instructions
Spread tahini sauce over pizza crust/ Naan or flat bread.

Distribute goat cheese over the crust.

Next, slice your favorite toppings and spread evenly over the goat cheese-covered crust.

Sprinkle with shredded mozzarella cheese and top with partially cooked Shawarma meat. It will finish cooking in the oven.

Place pizza on a pizza pan and bake in a 425-degree F oven (or toaster oven) for 10 to 15 minutes, or until the cheese is melted and the crust is golden brown and crispy.

Sprinkle with Za'atar and/or drizzle with Pomegranate Molasses.
Nutrition Facts
Shawarma Pizza Recipe
Amount Per Serving (1 pizza)
Calories 650
Calories from Fat 288
% Daily Value*
Total Fat 32g 49%
Cholesterol 78mg 26%
Sodium 1174mg 49%
Total Carbohydrates 55g 18%
Protein 33g 66%
* Percent Daily Values are based on a 2000 calorie diet.