If you like hummus, you are in luck; today I'm sharing my authentic hummus recipe with you! Although everyone is familiar with hummus these days, I remember a time when I would take some to a potluck and no one knew what it was. At times, I had to practically beg my co-workers to just taste it. In fact, I even had to bribe my husband to try it by making a spicy version (I'll tell you about it later in this post). Not to brag, but my home-made authentic hummus recipe is a million times better than anything you can find in a store. Once you learn how easy it is to make, you'll never buy already-made hummus again!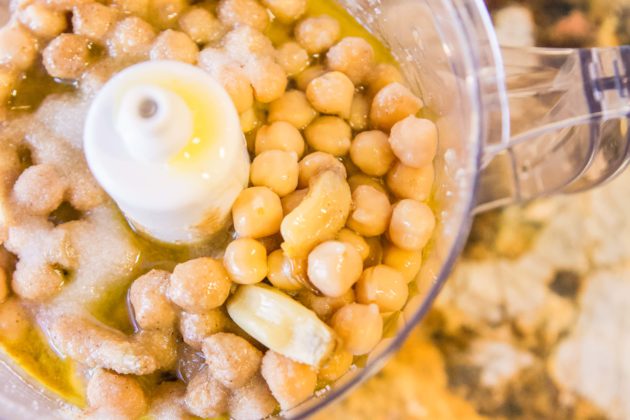 The Origin of Hummus
Hummus has been a staple in the Middle East for hundreds of years. In fact, the earliest recorded recipe dates back to the 13th century. "Hummus" is the Arabic word for "chickpeas." In the Middle East, this dish is actually called "Hummus bi Tahina" which means "chickpeas with tahini." Besides being served with pita bread as "Mezza" or "appetizer," it is also served as an accompaniment to stews, falafels, chicken, kabobs, and shawarma.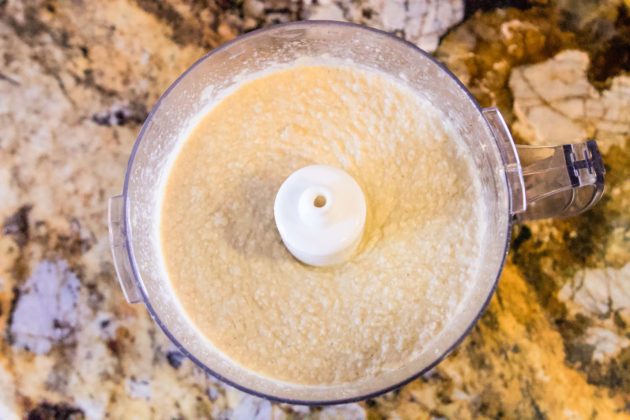 What Are the Ingredients in my Authentic Hummus Recipe?
This is a fairly simple recipe; probably one of the simplest I'll ever share. In fact, the only tools you will need a food processor. Most of the ingredients can be found at your local supermarket, except maybe tahini paste. If you don't want to purchase tahini online, you can make it yourself using my simple two-ingredient recipe. The other ingredients include canned chickpeas, lemon juice, fresh garlic, olive oil, and salt.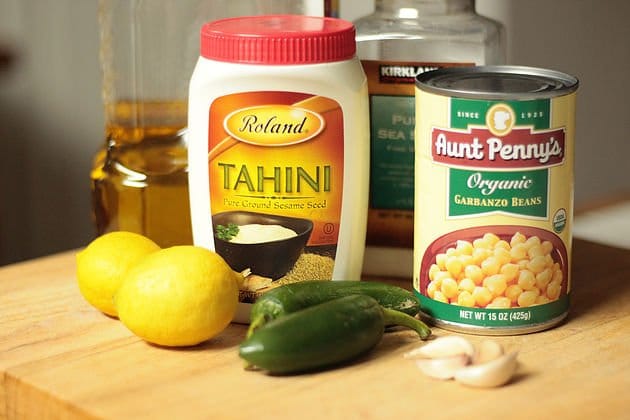 Spicy Hummus Recipe
Did you know that by simply adding jalapeños, you can take traditional hummus to a whole new level? Just ask my husband, Scott, who loves his hummus extra spicy. He thought he didn't like hummus, until the day I added a few jalapeños. He's loved it ever since. Besides jalapeños, consider adding other favorite ingredients to get a variety of flavors. Not sure what to add? How about some roasted sweet peppers, avocados, olives, or roasted garlic? Take it a step further by adding other spices to get even more varieties. I'd love to hear about the add-ins you prefer!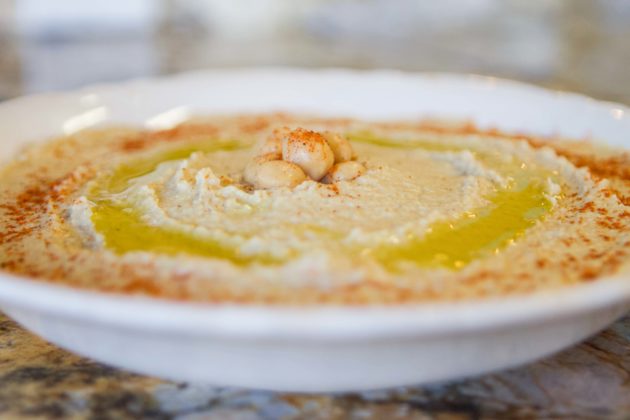 For other great dips try the following recipes: Creamy Yogurt and Purselane Dip, Vegetarian Pasty Recipe (Julleh), and Layered Mexican Bean Dip. Be sure to check out my Healthy Mediterranean Recipes post!
Do you Pinterest? Please Pin and share!
To see a video of my making hummus, follow this link!
---
Authentic Hummus Recipe
Course:
Appetizers, Side Dish, Snacks
Cuisine:
Assyrian, Middle Eastern
Ingredients
1

15 oz

canned garbanzo beans

1/4

cup

olive oil

divided

1/4

cup

lemon juice

fresh

3

T

tahini

3

cloves

roasted garlic

(or fresh garlic)

1

tsp.

salt

1/2

tsp.

paprika

(or cayenne pepper)
Instructions
Drain garbanzo bean, reserving a few tablespoons of the liquid for later use. Add garbanzo beans to a food processor, along with 3 tablespoons of olive oil. Reserve the remaining tablespoon of olive oil.

Add the remaining ingredients and pulse until smooth. Add the reserved garbanzo beans liquid to achieve the right consistency. ​

To serve, transfer to a plate and smooth with the back of a spoon. Pour the remaining olive oil over the hummus. Sprinkle with paprika, or cayenne.
Nutrition Facts
Authentic Hummus Recipe
Amount Per Serving
Calories 195
Calories from Fat 135
% Daily Value*
Fat 15g23%
Cholesterol 0mg0%
Sodium 595mg26%
Carbohydrates 14g5%
Protein 5g10%
* Percent Daily Values are based on a 2000 calorie diet.