If you've been looking for the perfect Tabouli Salad Recipe, look no further! Unlike many tabouli recipes that are heavy on the parsley, this Tabouli Salad recipe replaces some of the parsley with mint and lettuce. Although most Middle Eastern cultures enjoy this light and refreshing salad, the credit goes to the Lebanese, who were the first to come up with it. Assyrians do pronounce the name differently, however. We call it "taboula" instead of "tabouli."
Tabouli Salad Recip Variations
These days you'll find many Tabouli Salad Recipe variations. All you have to do is a quick search on Pinterest (some with bulgur and some with other grains, like quinoa). However, the traditional method includes bulgur, parsley, tomatoes, cucumbers, and scallions, with a simple lemon juice and olive oil dressing. My version has equal parts of parsley and lettuce, along with some fresh mint. In my opinion, too much parsley can be overpowering.
The World's Best Tabouli Recipe
In our family, my sister, Beni, has always been known for making the best taboula. Some of my fondest memories are of my yearly visits with her in Chicago. On those warm Chicago nights, we sit in her backyard, sipping her equally delicious margaritas, while lightening bugs light up the night. Beni always serves her Taboula as Mezza (appetizer) to go along with the margaritas. Tabouli is usually served as "mezza," along with other dishes like Assyrian Eggrolls, Foul Medames (dilled fava beans), and Arayes (meat-stuffed Pita Pockets). I can't think of a better way of wrapping up a perfect Chicago Summer night!
Serving Suggestions
Tabouli is filling enough to eat by itself, or maybe with a side of Hummus and Pita Bread (for the vegetarians out there). It also goes great as a side to meat dishes such as Juicy Shish Kabob, Goat Kabobs, and Sumac Chicken.
Do you Pinterest? Please do this girl a favor by pinning and sharing!
You may also enjoy the following salad recipes: Healthy Broccoli Salad, Pomegranate Quinoa Salad, and Middle Eastern Chickpea Salad.
If you love this Tabouli  Salad  Recipe, please give it a 5-star rating!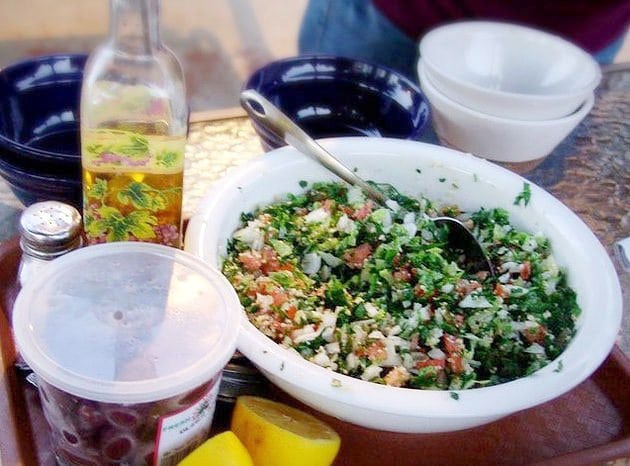 Taboula (Tabouli) Salad
A very healthy and tasty Lebanese salad made with bulgur, plenty of yummy veggies, and a delicious, tangy dressing.
Course:
Appetizers, Side Dish
Cuisine:
Assyrian, Middle Eastern
Ingredients
3/4

cups

fine bulgur

1

cup

warm water

3

medium

tomatoes

diced

4

scallions

diced

1

medium

cucumber

diced

2

cups

Romaine lettuce

chopped

1

cup

Italian parsley

chopped

1/4

cup

fresh mint

chopped

1

jalapeno

minced (optional)
Dressing:
1/4

cup

olive oil

1/4

cup

lemon juice

1

tsp.

salt

1/2

tsp.

black pepper

1/4

tsp.

cayenne pepper

(optional)
Instructions
Add bulgur to a medium-sized bowl. Pour warm water over the bulgur and soak for 20 minutes. Most of the water will be absorbed, but squeeze handfuls of bulgur over a strainer, to remove any additional moisture. Place in the fridge until completely cooled.

Meanwhile, chop/mince the vegetables and herbs, and add to a medium-sized bowl. Once the bulgur has cooled off, mix in with the vegetables and herbs. Whisk the dressing ingredients, and pour over the vegetable mixtures. Gently mix the salad ingredients, and refrigerate for at least an hour before serving.
Nutrition Facts
Taboula (Tabouli) Salad
Amount Per Serving
Calories 248
Calories from Fat 126
% Daily Value*
Fat 14g22%
Cholesterol 0mg0%
Sodium 592mg26%
Carbohydrates 21g7%
Protein 5g10%
* Percent Daily Values are based on a 2000 calorie diet.