Is it just me, or are you equally annoyed with the tiny corned beef spice packet that's included in the corned beef packaging? I mean, really! Would it kill them to triple the amount?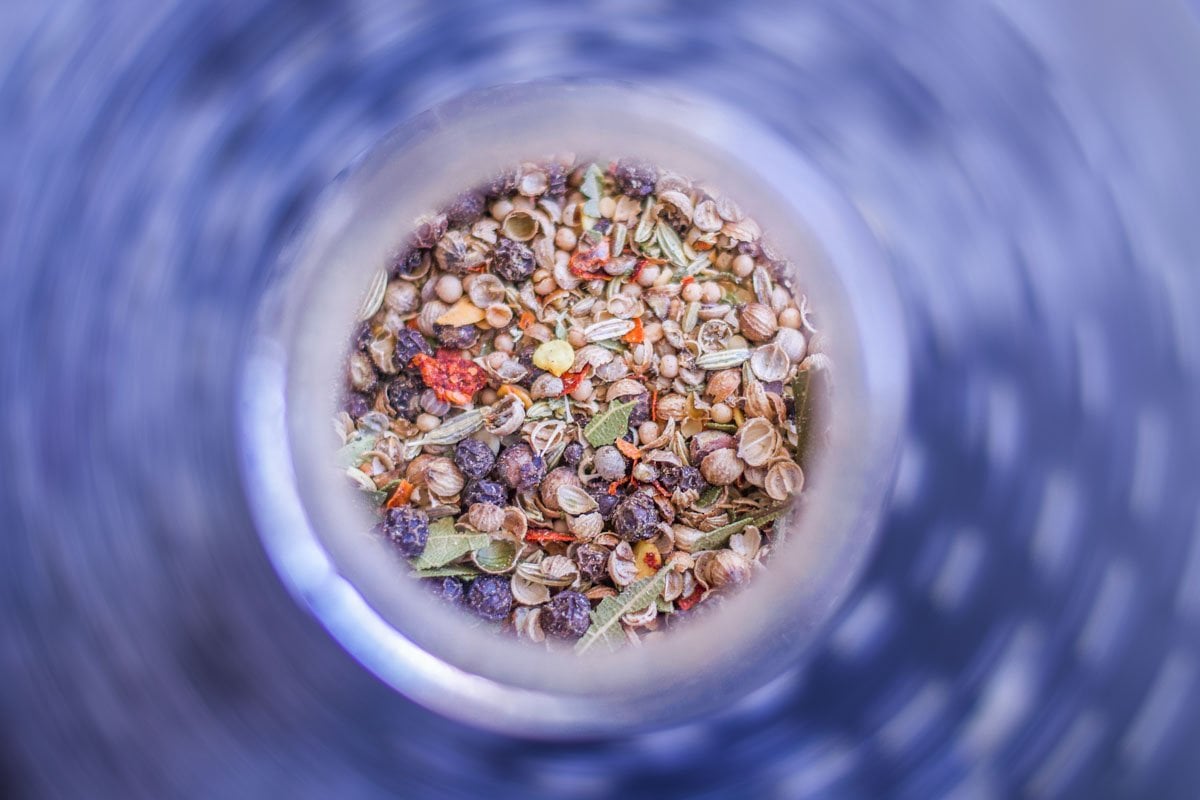 Or do they really expect us to take that teaspoon-worth of spices and somehow cover the entire roast with it? I'm good, but I'm not THAT good! So I finally decided to take things into my own hands and make my own Corned Beef Spice Packet Blend. Follow along to learn how you can do the same!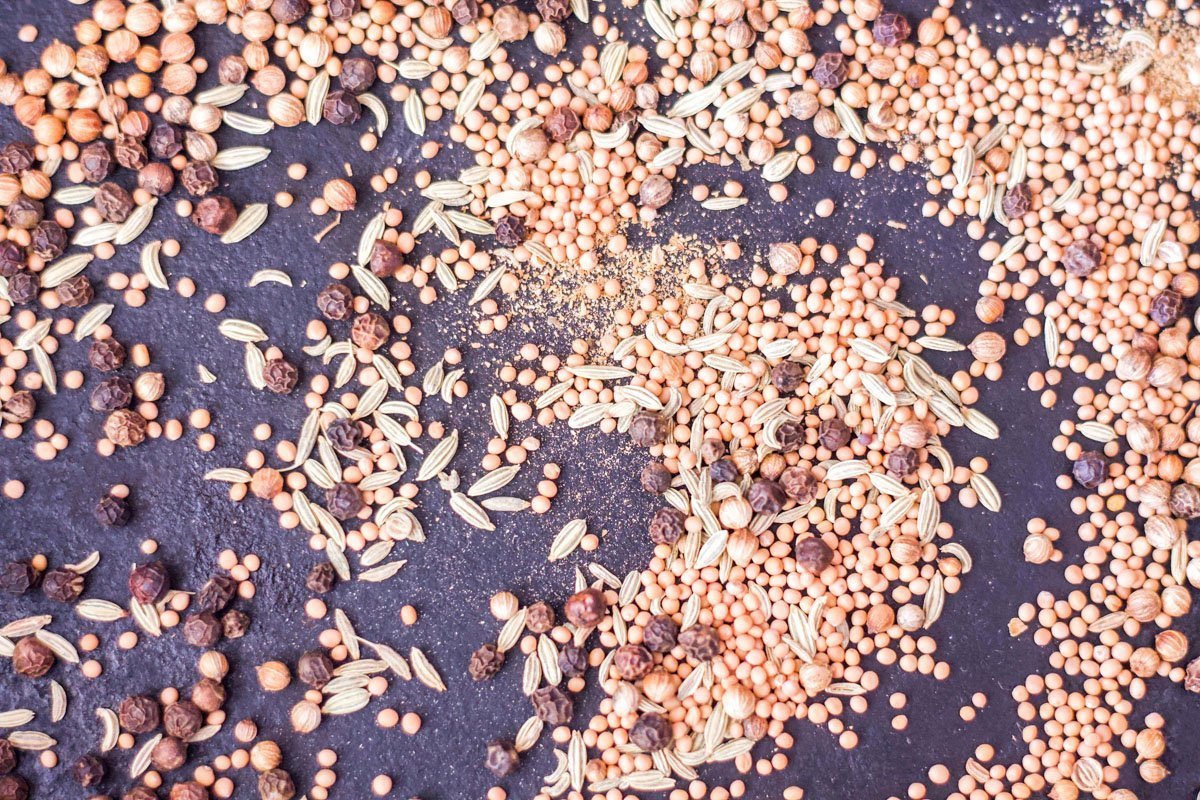 How Do You Make A Corned Beef Spice Packet?
So what spices are included in those elusive corned beef spice packets, and why are they so stingy with them? It depends on who you ask; I decided to do my own investigating.
Upon a quick examination of the spices in the packet, I identified the following spices: crushed bay leaves, coriander, crushed red pepper, peppercorns, anise seeds, and mustard seeds. Now doesn't that sound simple enough? Now just to get those proportions right…
Steps to Making Your Own Homemade Corned Been Spice Blend
Measure out your spices using the recipe card below.
Toast coriander, peppercorns, anise, and mustard seeds in a hot cast iron skillet for two to three minutes, until fragrant.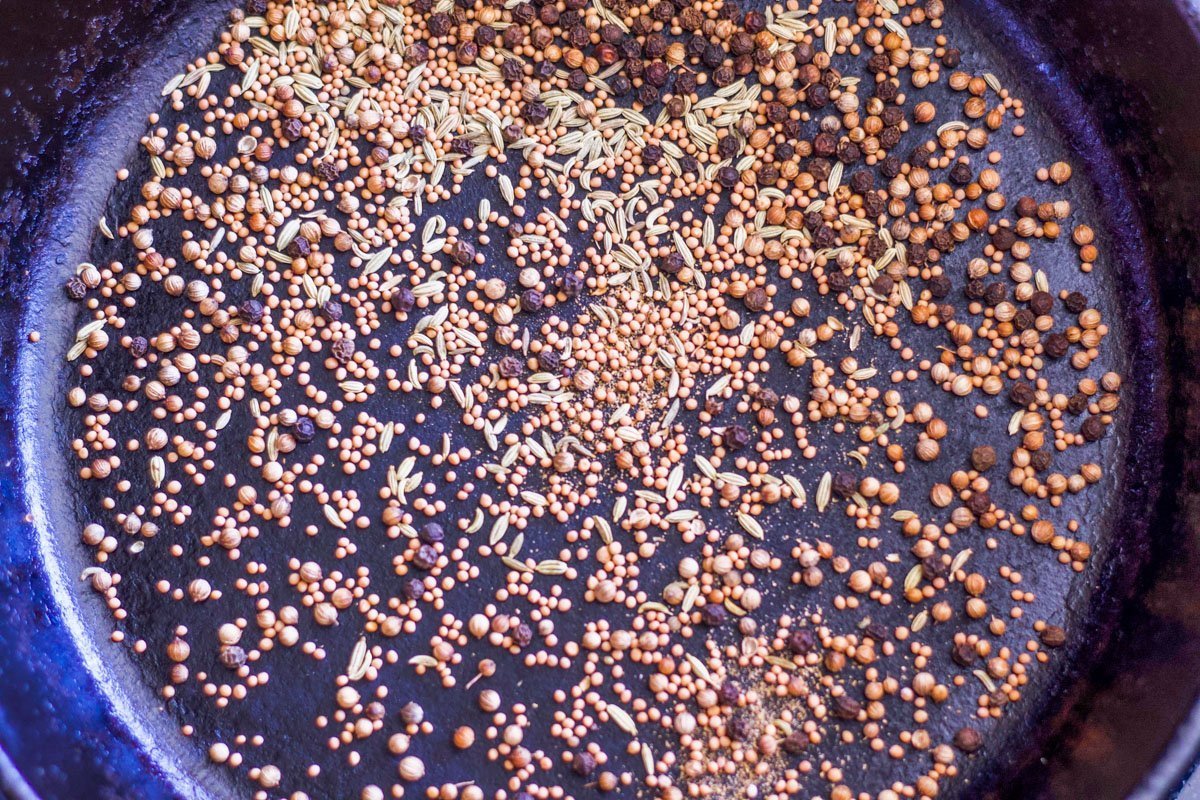 Add crushed bay leaves, and red pepper flakes the last 30 seconds (just enough to wake up the flavors without burning them).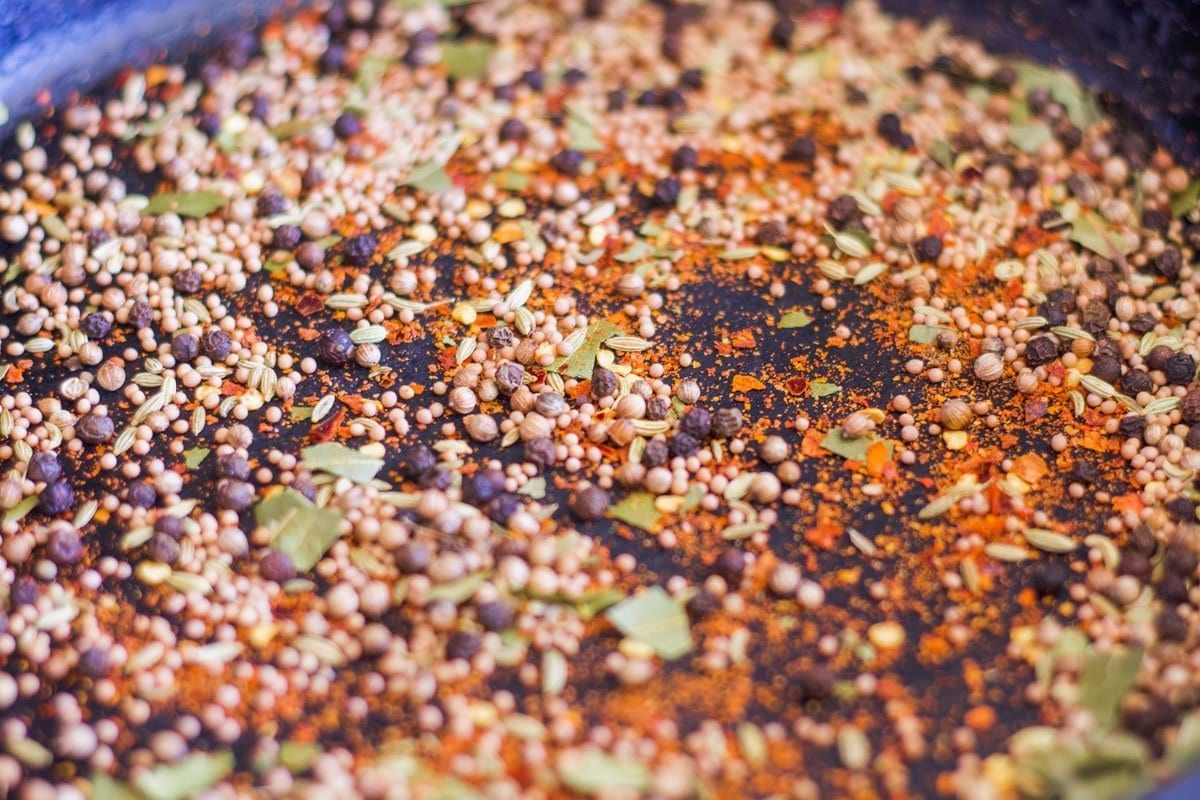 Pour contents in a Spice Mill/Grinder or a Ninja blender. Pulse a few times, just enough to release the flavors.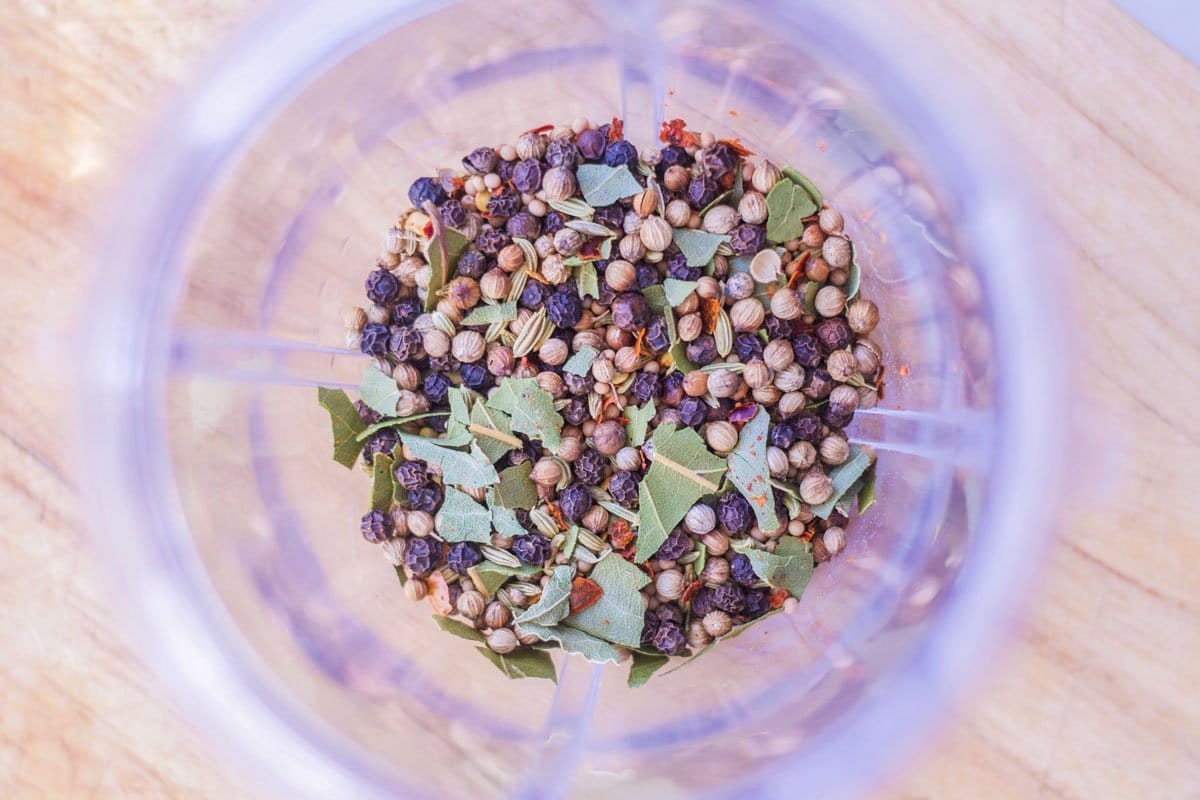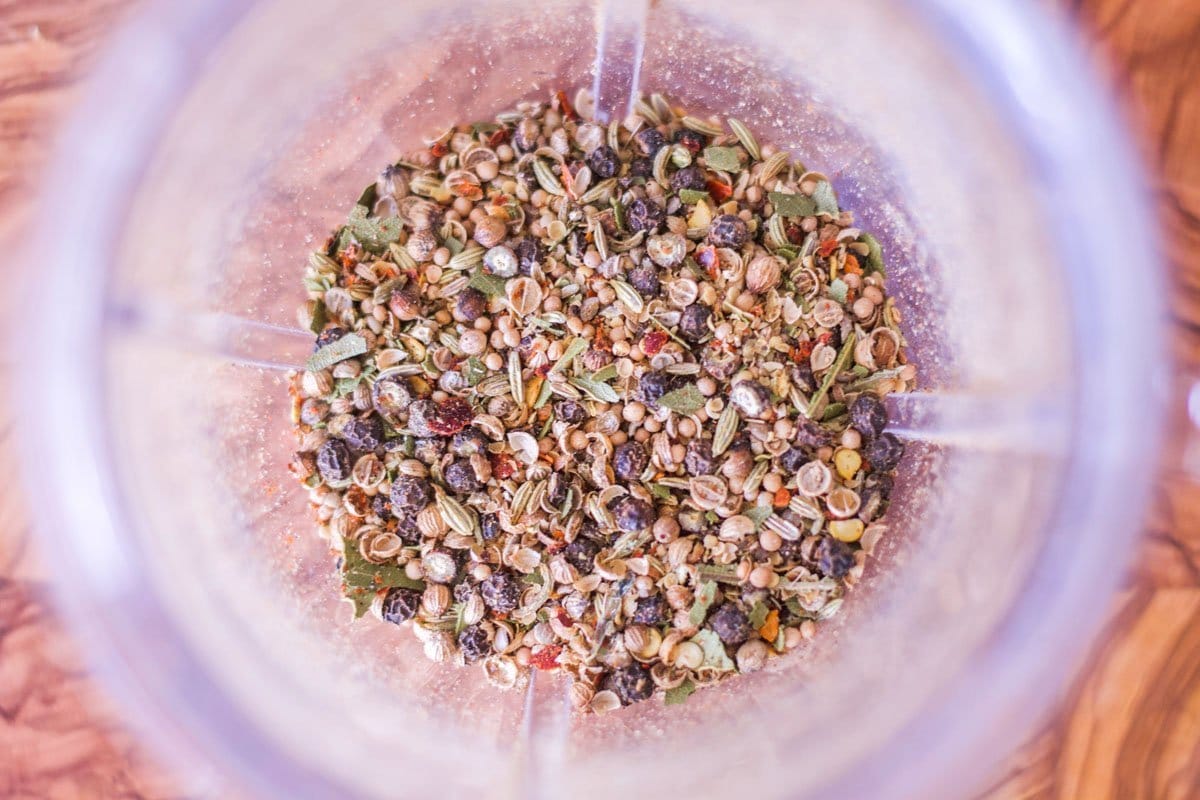 Store in an airtight bottle until needed.
Corned Beef Spice Options
Besides the spices listed in the recipe, there are other spices that you can add if you're feeling a little adventurous. These spices include cloves, allspice, cardamom, and cinnamon.
If you do decide to add them, I would caution to go easy. This is one of those cases where less is more. These spices all have intense flavors, so start off with small amounts and adjust as needed. I would start with no more than a 1/4 teaspoon of each.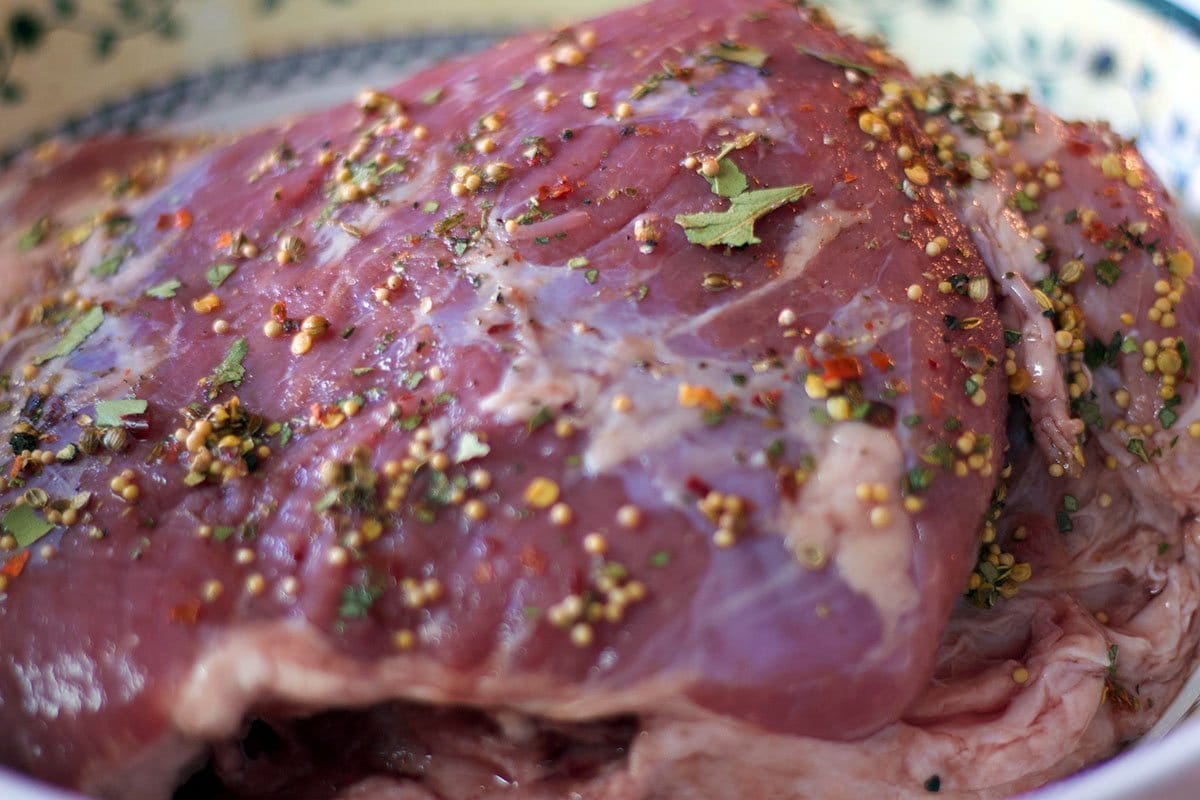 If you are interested in making your own spice blends, be sure to check out the following posts: Baharat Spice Blend, Easy Dukkah Recipe (Egyptian Spice Blend), Santa Maria Dry Rub, Spicy Dry Rub Seasoning, and Zaatar Spice Blend.
Be sure to use this spice blend on my Instant Pot Corned Beef recipe!
STAY IN TOUCH WITH ME THROUGH SOCIAL MEDIA!
Tried this recipe? Snap a picture and tag #hildaskitchenblog on Instagram. 
Like my page on Facebook.
Do you Pinterest? Pin & share this recipe!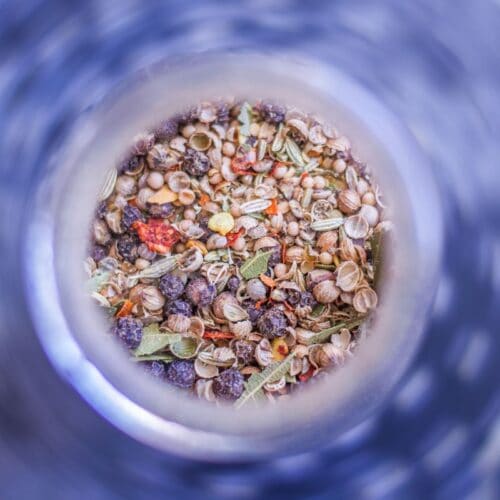 Corned Beef Spice Packet Recipe
Don't you get annoyed with that tiny "spice packet" that's included with corned beef? Me too, so let's make our own!
Print
Rate
Ingredients
2

T.

coriander

2

tsp.

peppercorns

1

T.

mustard seeds

1

tsp.

anise seeds

4

large

bay leaves

1

tsp.

crushed red pepper flakes
Instructions
Toast coriander, peppercorns, mustard seeds, and anise seeds in a cast iron skillet for two to three minutes, or until fragrant.

Add crushed bay leaves, and crushed red pepper flakes for the last 30 seconds.

Pour contents of the pan into a spice mill and pulse a few times to release the flavor of the spices.

Store in an air-tight container.

Use as much of the spice mix as you'd like to season your corned beef before cooking.
Nutrition
Serving:
1
T.
|
Calories:
20
kcal
|
Carbohydrates:
2
g
|
Protein:
1
g
|
Fat:
1
g
|
Saturated Fat:
0
g
|
Cholesterol:
0
mg
|
Sodium:
1
mg
|
Fiber:
2
g
|
Sugar:
0
g