Well, it's March, and almost time to celebrate St. Patrick's Day. What better way of celebrating this holiday than with Corned Beef and Cabbage and a glass of green beer? I'll tell you what, Corned Beef Tacos and some tangy vinegar-based slaw. Don't worry, you can still have the beer on the side. But before we discuss the tacos, let's take a look at this Insta Pot Corned Beef recipe.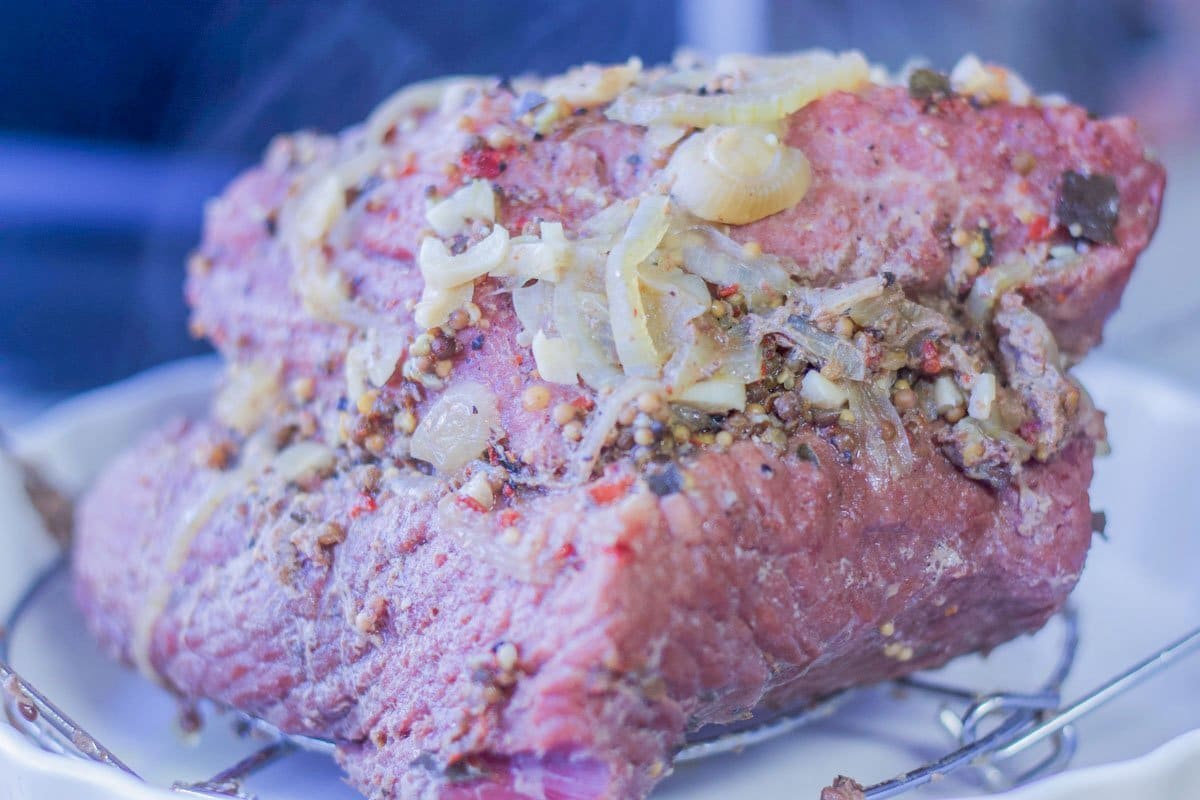 Insta Pot Corned Beef
I'm finally getting more comfortable with my Instant Pot. I find myself using it more and more. It's no surprise that I decided to cook my corned beef using my Instant Pot this year. Let me assure you that it was quite easy to prepare and resulted in a tender and delicious corned beef. So how do you make Insta Pot Corned Beef? Just follow these simple steps (you can find  more detailed instructions in the recipe card below this post):
Remove the corned beef from the packaging, retain the liquid in the packaging.
Rub spice pack contents all over the roast. I know, there's never enough, right? Use my Corned Beef Spice Packet Recipe to make more!
Add enough water to the retained liquid to equal 2-1/2 cups. Pour into the Instant Pot.
Place rack in the Instant Pot, and add corned beef. Top with sliced onions and garlic.
Pour 12 oz bottle of beer over the corned beef, and seal.
Pressure cook for 90 minutes, then do a natural release for 15 minutes, followed by a quick release.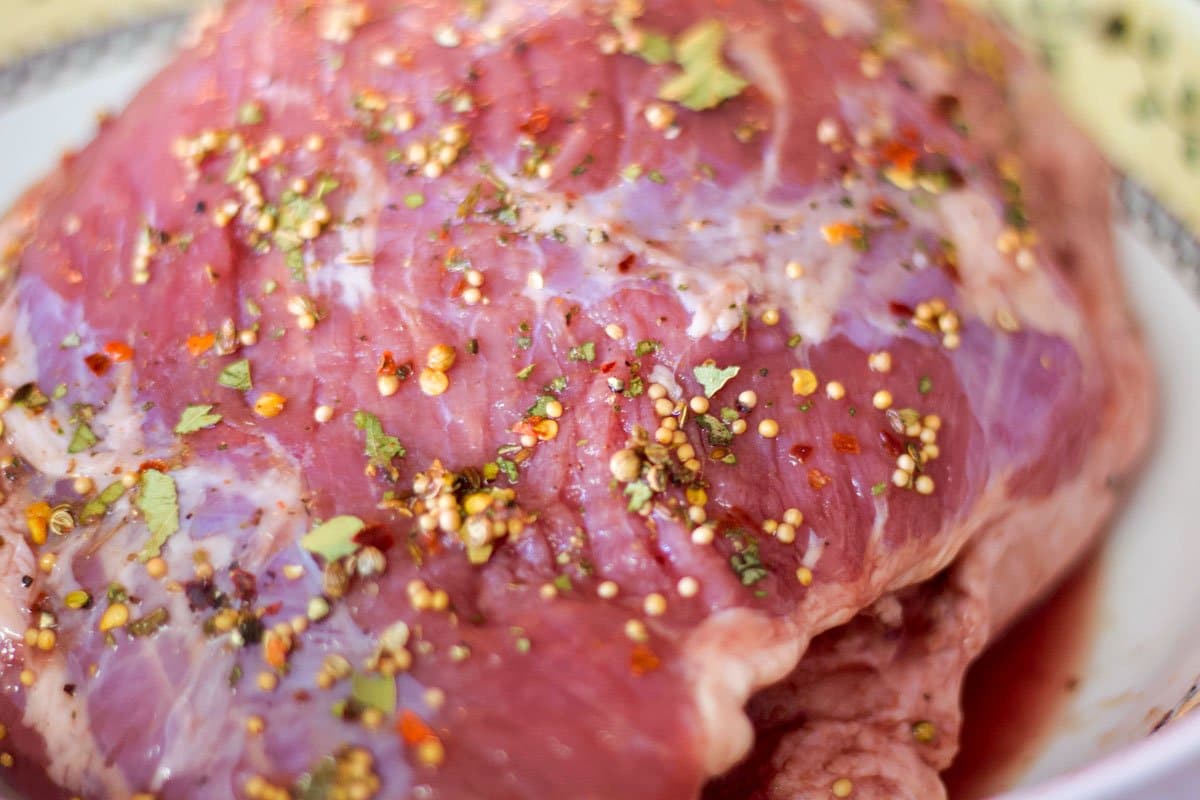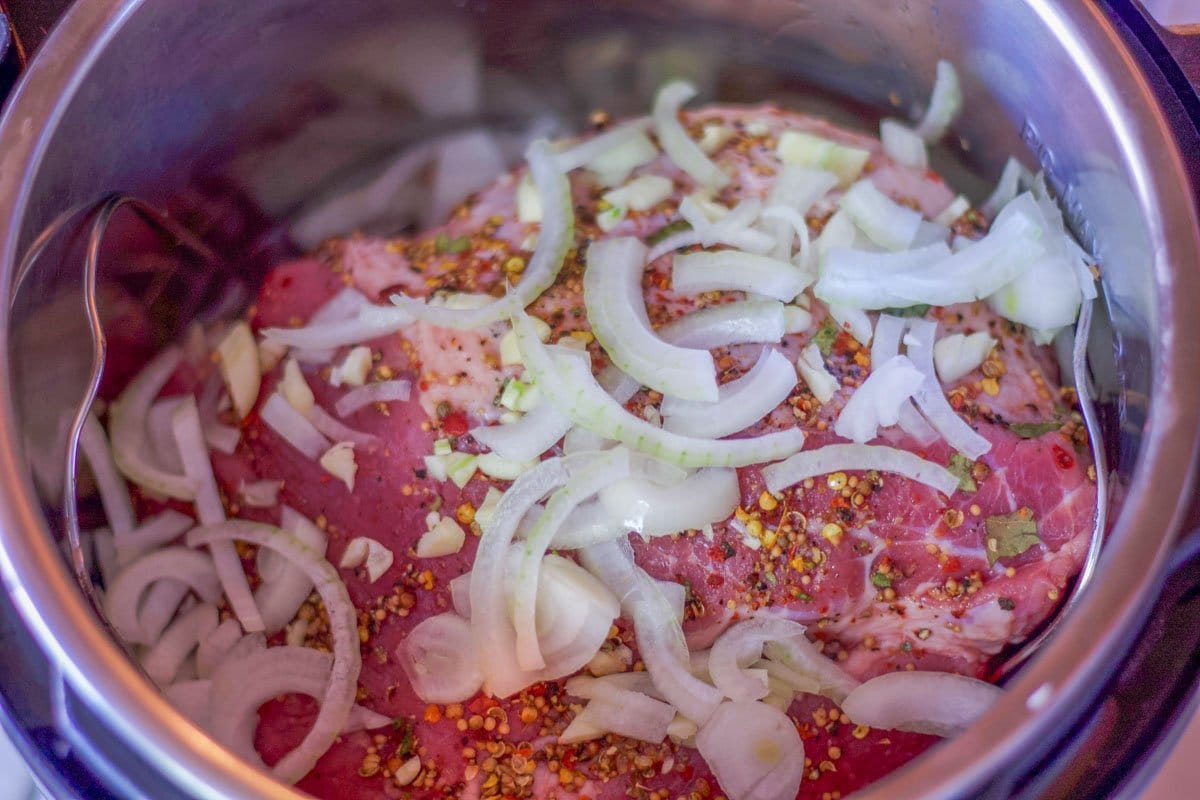 Insta Pot Corned Beef and Fixings
I know what some of you are thinking: What about the cabbage, potatoes, and carrots?  Personally, I have never liked the fixings that are usually served with corned beef. My family feels the same way. But this blog isn't about me, is it? No, it's about you, my wonderful readers! So if you would like to make the traditional fixings, that's still possible to do with an Instant Pot.  All you have to do is remove the brisket when it's cooked, strain the broth, and add the quartered potatoes, cabbage, and carrots. Cook on high pressure for an additional five minutes; It's that simple!
Boiled Corned Beef Brisket
I understand that not everyone owns an Instant Pot, if this is the case with you, let's discuss how to cook a corned beef brisket using stovetop directions.
Begin by generously seasoning the brisket using my spice recipe.
Place seasoned brisket in a Dutch oven and cover with water, or water and beer combination. The liquid should cover that brisket by approximately four inches.
Bring liquid to a boil, cover and cook until the brisket is tender (2 to 2-1/2 hours).
Add quartered potatoes, carrots, and cabbage, and cook for an additional 30 minutes, or until the vegetables are cooked to your preference.

Corned Beef  Tacos
So once you've enjoyed the Insta Pot Corned Beef, either the traditional way (with cabbage and potatoes) or my personal favorite, (with Cabbage Dolma), what do you do with the leftovers? I'd like to suggest you make some corned beef tacos, also known as Irish Tacos. Shred the corned beef and serve it in charred corn tortillas, along with sour cream, your favorite cheese, and either shredded cabbage or coleslaw. I recently purchased these great taco holders, which are not only affordable and super convenient, but fun to use!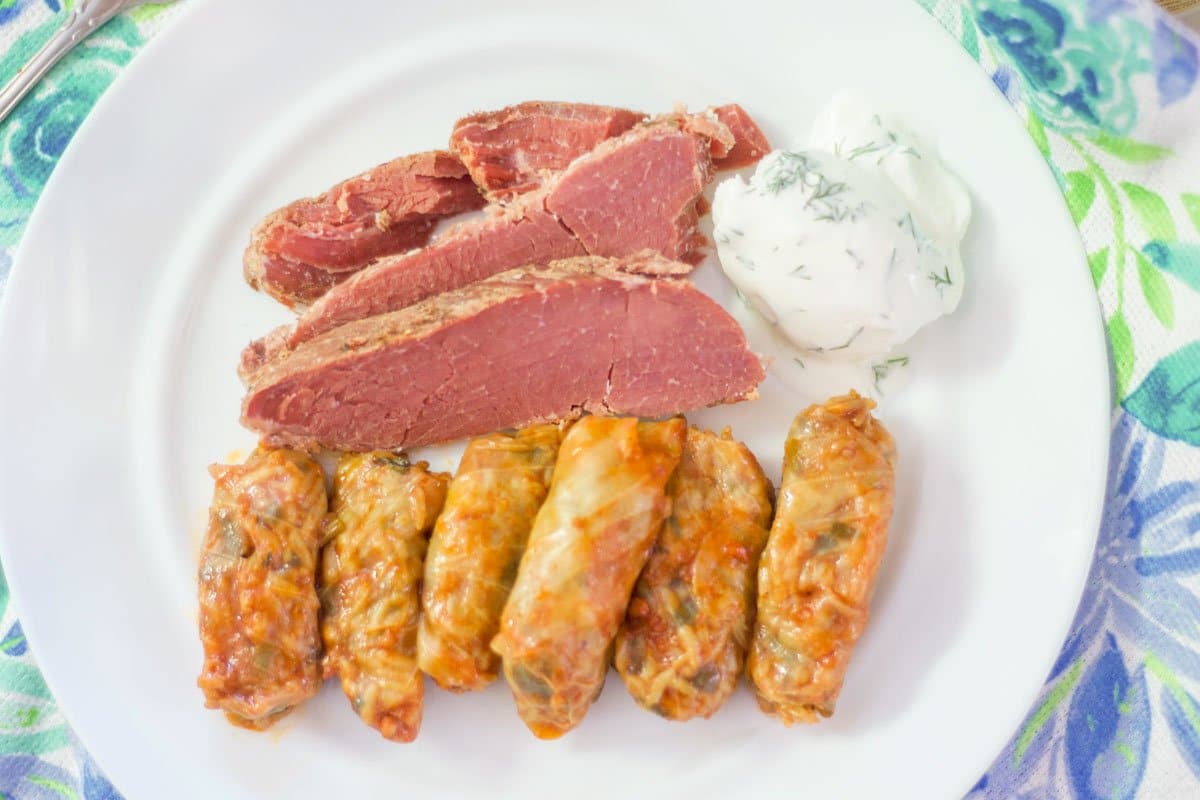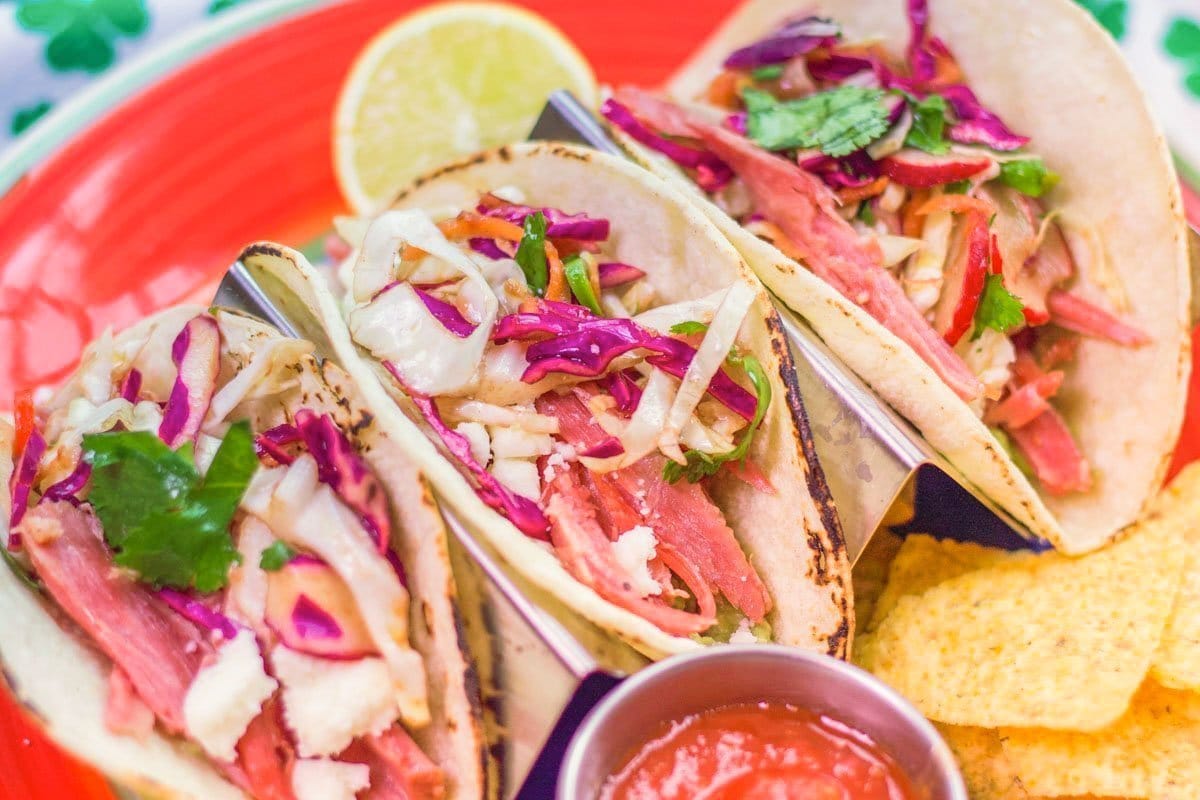 For other Instant Pot recipes, check out the following posts: Filipino Pork Adobo, Instant Pot White Chicken Chili, Instant Pot Ham, Instant Pot Chili Verde, and Instant Pot Pulled Pork.
Do you Pinterest? Please pin and share!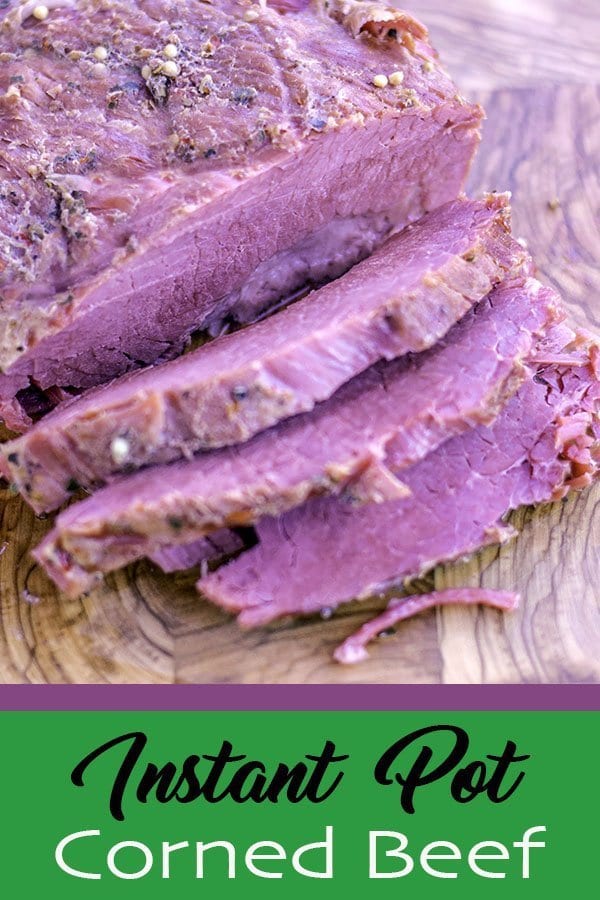 If you love this recipe, please give it a five-star rating!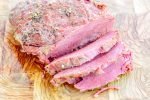 Instant Pot Corned Beef
Tender Instant Pot Corned Beef recipe that's a snap to prepare!
Course:
Main Course, Main Dish
Ingredients
4

lb

Corned Beef Brisket

(Flat Cut)

1

Medium

onion

5

cloves

garlic

1

12 oz.

beer
Instructions
Drain brisket, retain liquids.

Rub brisket with the enclosed seasoning packet.

Use my Corned Beef Seasoning packet recipe to make more in necessary.

Add enough water to retained liquid to equal 2-1/2 cups of liquid. Pour into the Instant Pot.

Place rack in the Instant Pot and add the seasoned brisket.

Top brisket with sliced garlic and onions.

Gently pour the bottle of beer over the brisket.

Cover and set the vent to "seal." Choose "Pressure Cook" option and adjust the time to 90 minutes.

The pressure cooker will take approximately 15 minutes to seal.

Let pressure release naturally for 15 minutes, then manually release the remaining pressure.
Nutrition Facts
Instant Pot Corned Beef
Amount Per Serving
Calories 569
Calories from Fat 387
% Daily Value*
Fat 43g66%
Cholesterol 222mg74%
Sodium 2205mg96%
Carbohydrates 11g4%
Protein 41g82%
* Percent Daily Values are based on a 2000 calorie diet.