Today we're taking a look at my favorite Dry Rub For Pulled Pork Seasoning. Have you ever stopped and considered the importance of spices when it comes to cooking? In my humble opinion, cooking would be pointless without them. I'm not alone on this, even God agrees with me. Don't believe me? Check Exodus 30:8; "And every evening, when he puts the lights up in their places, the spices are to be burned, a sweet-smelling smoke going up before the Lord from generation to generation forever." Sounds like dry rub to me!
Dry Rub For Pulled Pork
When I put this concoction together, I carefully considered which spices to include. Salt and pepper were the no-brainers; everyone uses them to flavor their food. The next few ingredients were pretty obvious too; onion and garlic powder. Both impart a great flavor to any meat. Smokey flavor was also required; enter chili powder and smoked paprika. To lend a bit of sweetness and encourage caramelization, I tossed in some brown sugar. But what's sweet without spicy, right? In went the cayenne pepper. To add an aromatic and savory flavor, I added sage (dried from my garden, thank you very much). Lastly, a hint of mystery, AKA cloves. I mixed it up and BOOM "Hilda's Spicy Dry Rub Seasoning" was born!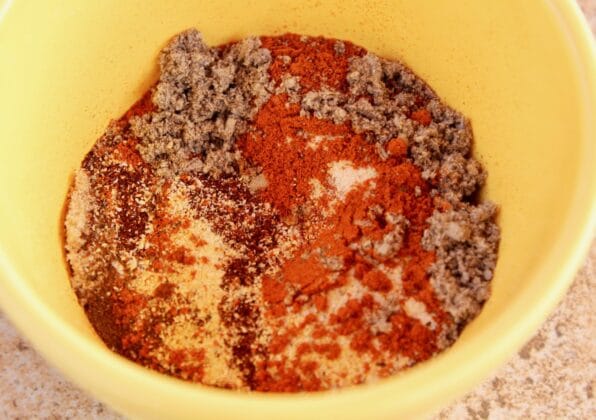 What Exactly is Dry Rub?
A Dry Rub is a mixture of spices that are used to flavor meat, chicken, and fish. Unlike wet marinades, dry rub does not require any liquid. The spices are generously rubbed into the meat to form a thick coating. The meat is then allowed to marinate so that the flavors can penetrate the surface. Once the meat is ready, it can be cooked according to the recipe you are following. Personally, I prefer dry rubs to wet marinades because of the convenience. If you make your dry rub ahead of time, it will be there waiting for you when you need it. No-fuss, no-muss, and best of all, no running to the store at the last minute! Be sure to use this rub when making my Oven Slow Cooked Pulled Pork and my Instant Pot Pulled Pork recipe.
My Dry Rub For Pulled Pork Recipe
Directions
Start with fresh spices for the best flavor.
Mix the spices listed in the recipe in a small bowl.
Break up any clumps, if necessary.
Store in a small spice jar (these are my favorite) until needed.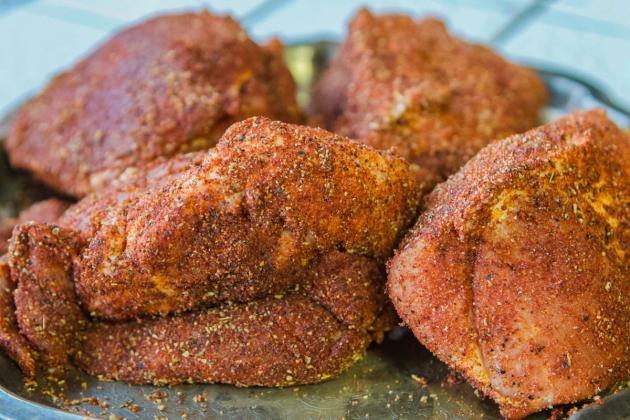 Do you Pinterest? Please help a girl out by pinning and sharing!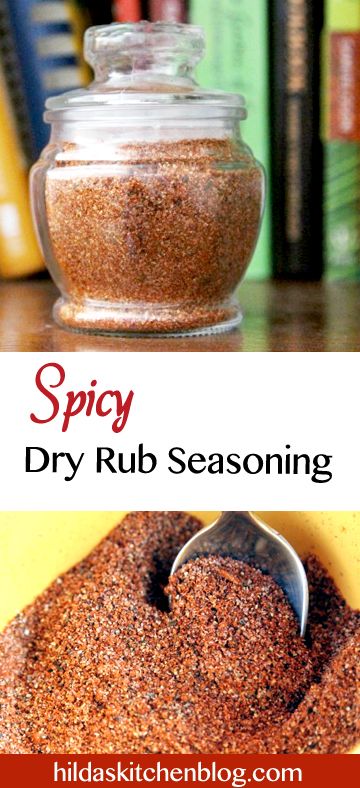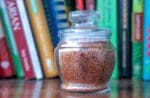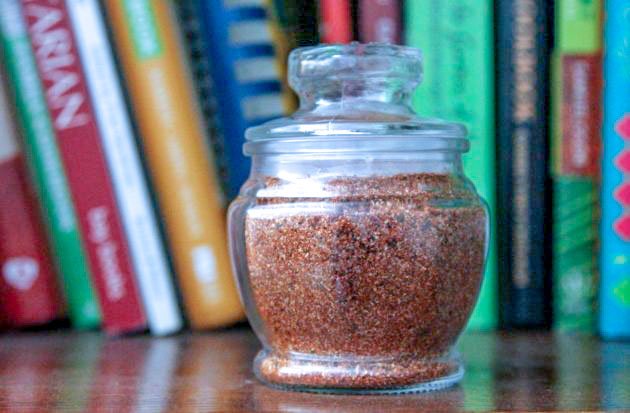 Spicy Dry Rub Seasoning
A perfect blend of spices that can be used as a dry rub on meat before grilling or smoking.
Ingredients
3

T.

brown sugar

1-1/2

T.

salt

1-1/2

tsp.

black pepper

1

T.

onion powder

1

T.

garlic powder

1

T.

chili powder

1

T.

smoked paprika

1-1/2

tsp.

cayenne pepper

1/4

tsp.

ground cloves

2

tsp.

sage
Instructions
Add all the ingredients in a small bowl and mix to combine. Break up any clumps as necessary.

Store in a small spice jar until needed. I use this seasoning mainly on pulled pork, and ribs. Although, I wouldn't be surprised if it was great on other meats as well.
Nutrition Facts
Spicy Dry Rub Seasoning
Amount Per Serving (1 jar)
Calories 262
Calories from Fat 18
% Daily Value*
Total Fat 2g 3%
Cholesterol 0mg 0%
Sodium 10705mg 446%
Total Carbohydrates 63g 21%
Protein 5g 10%
* Percent Daily Values are based on a 2000 calorie diet.