Say hello to my new favorite spice. This Egyptian Dukkah Spice recipe is perfect for adding extra flavor to various dishes, including Hummus. Also known as "Duqqa," it's sure to be a new favorite in your kitchen too!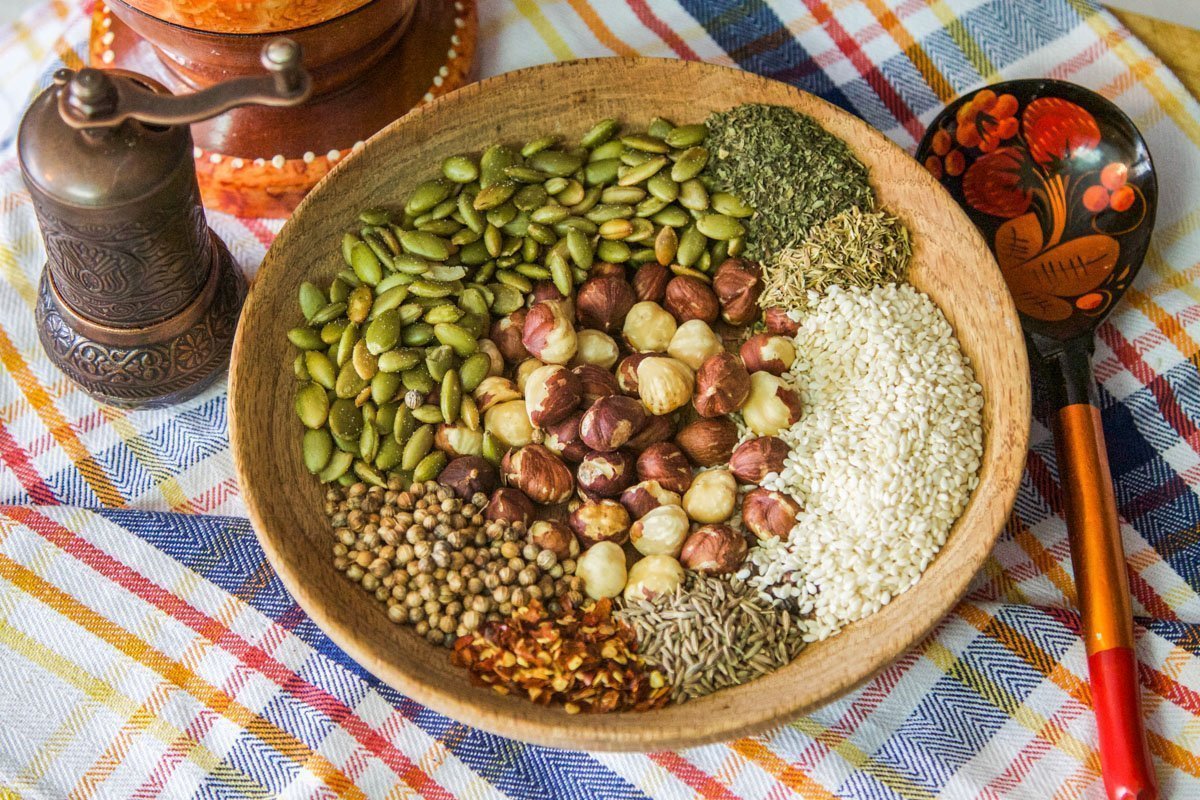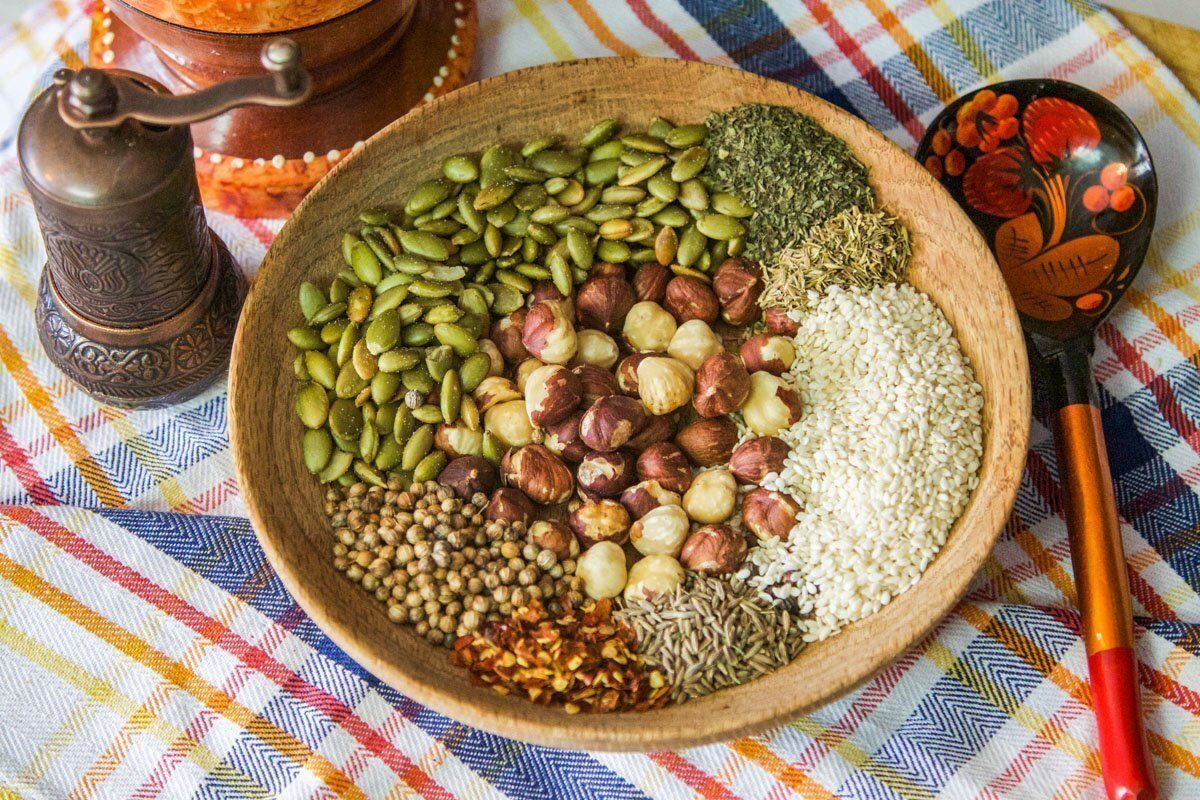 Although it's a Middle Eastern spice, it was my sister-in-law, Alison, who introduced me to it. We were brainstorming about a ravioli recipe, and Alison suggested I use Duqqa Spice as a topping.
Although I had no clue what she was referring to, I did some research to find out more.
I found many variations, and they all looked really delicious. However, when I look at a recipe, I have a tendency to try to find ways to improve it. My instinct (which just might be God-given) is usually spot on.
In the end, I came up with my own version. I recommend making this recipe now because you'll need it for the Pumpkin Ravioli recipe I'll be posting in the near future.
What is Dukkah Used For?
The word "Dukkah" is derived from the Arabic word meaning "to pound." The ingredients in the blend are usually pounded using a mortar and pestle.
Duqqa is somewhat similar to the spice blend known as Za'atar.  
Not only do they both originate in Egypt, but both are used as condiments. Like Za'atar, Duqqa may be sprinkled over food as a seasoning, or mixed with olive oil to form a paste.
This paste is then smeared over the dough and baked, kind of like mini-Middle Eastern pizzas.
Another way to enjoy this spice is by dipping warm Pita Bread in olive oil, then into the spice blend.
Not enough options for you? How about sprinkling it over some tangy, homemade yogurt or on pumpkin soup. How will you use it, I wonder?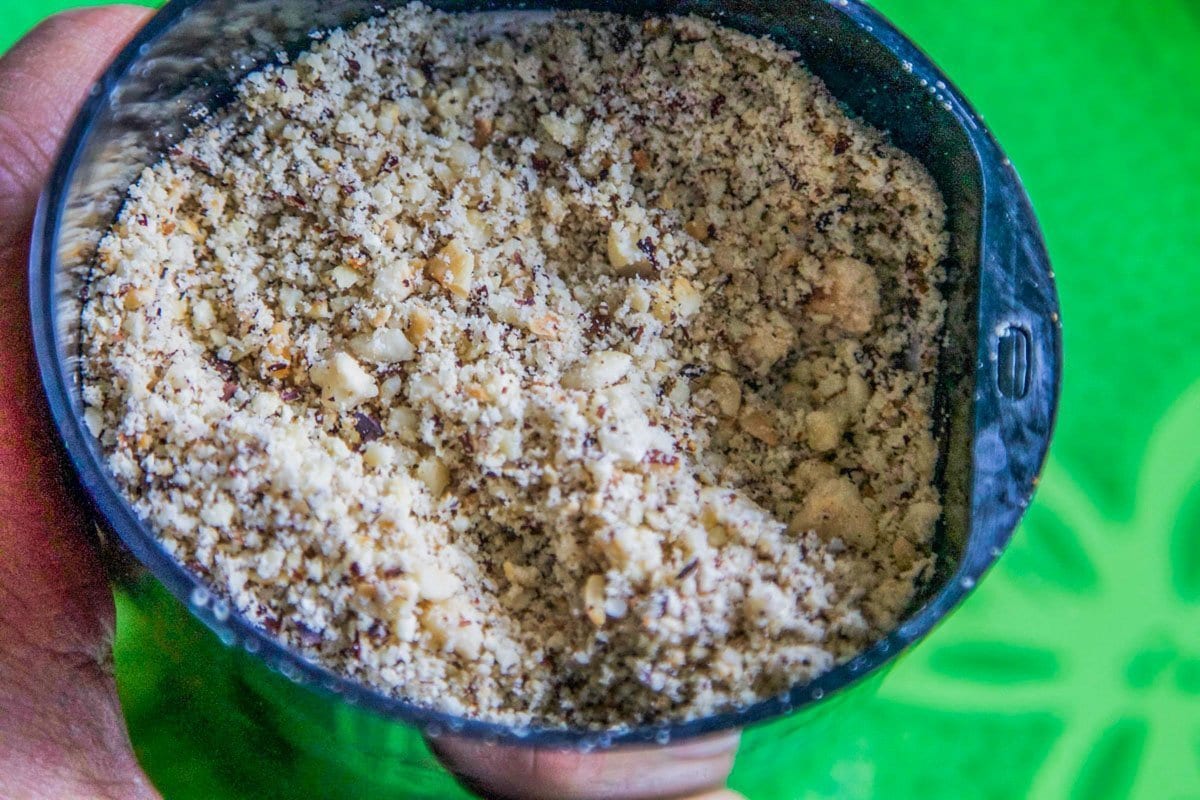 What is Dukkah Spice made out of?
If you take the time to look up different Duqqa recipes, you will soon see that some ingredients are always present, while other ingredients vary from recipe to recipe.
For example, hazelnuts, cumin, coriander, and sesame seeds are included in most recipes. While ingredients like fennel, mint, chili flakes, marjoram, and pine nuts may or may not be included.
When coming up with my own blend, I chose the ingredients that I not only like, but that compliment each other. If I've left out an ingredient that you are fond of, I encourage you to add it!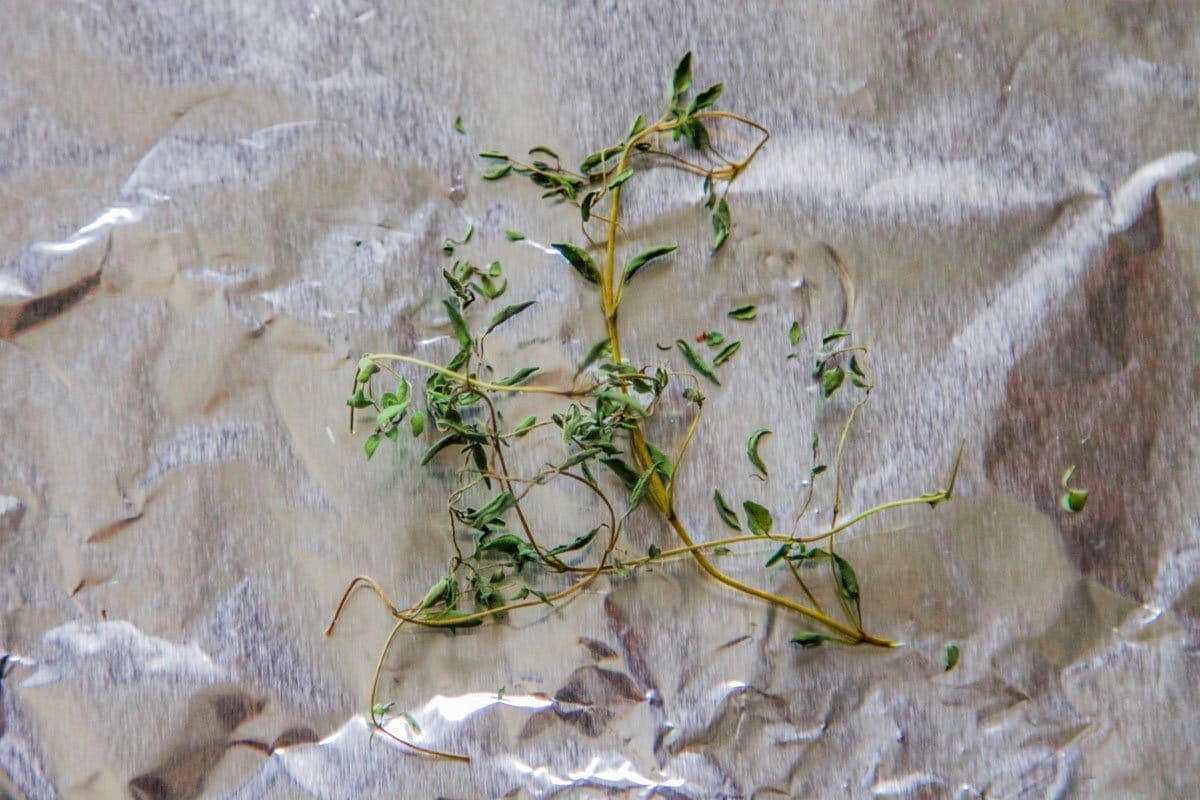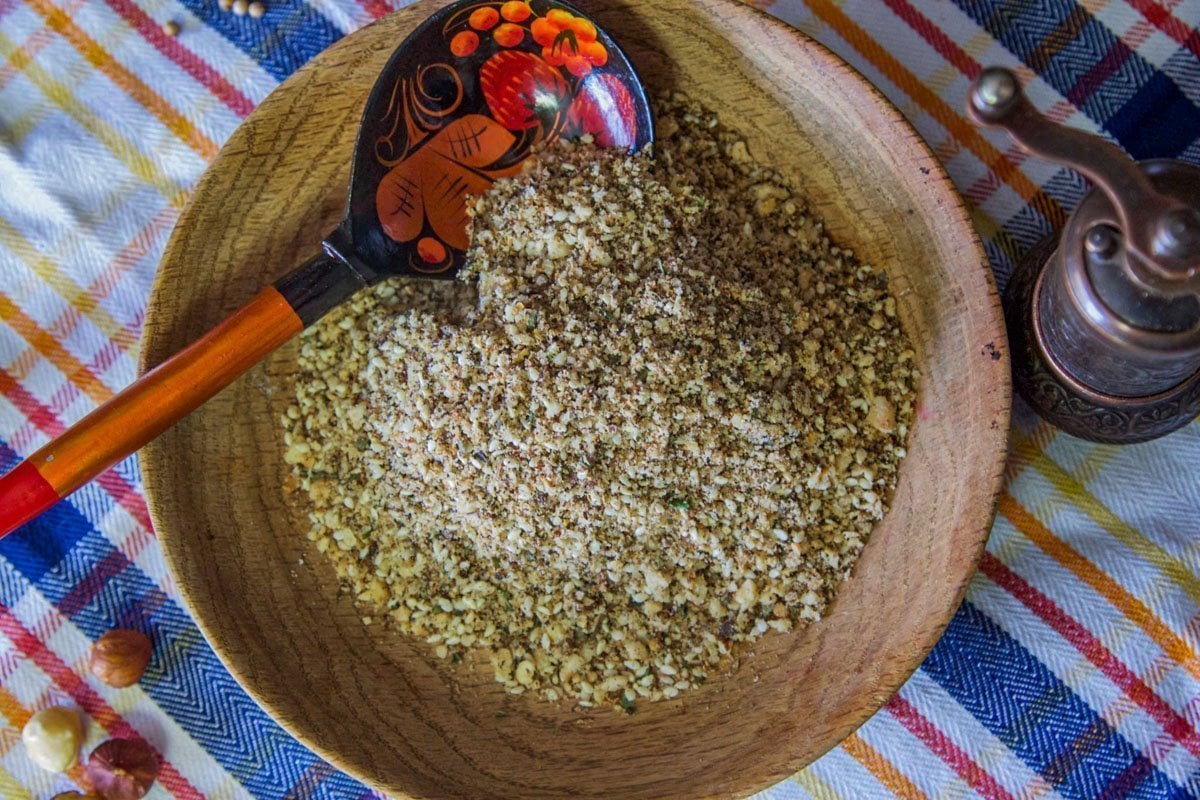 Stay in touch with me through social media!
Tried this recipe? Snap a picture and tag #hildaskitchenblog on Instagram.
Like my page on Facebook.
Do you Pinterest? Pin & share this recipe!
You may also like the following recipes: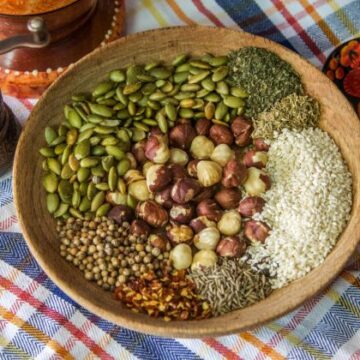 Easy Dukkah Recipe
Dukkah is a spice blend used as a condiment in the Middle East. It's similar to za'atar and can be mixed with olive oil and consumed as a dip.
Print
Rate
Ingredients
5

sprigs

fresh thyme leaves

(or dried thyme)

1/3

cup

hazelnuts

(chopped)

2

T.

unsalted pumpkin seeds

(hulled)

1

T.

coriander seeds

1

tsp.

cumin seeds

1/2

tsp.

peppercorns

1/2

tsp.

chili flakes

2

T.

sesame seeds

1

tsp.

dried mint

1/2

tsp.

sea-salt
Instructions
Heat toaster oven or regular oven to 250 degrees. Place fresh thyme on a piece of foil and dry until crumbly. Check periodically while working on the remaining steps. If you don't have fresh thyme, use 1 teaspoon dried thyme, and skip the oven.

Heat a cast-iron pan and toast the chopped hazelnuts for three minutes, or until fragrant. Remove from the pan and allow to cool.

Add pumpkin seeds and toast for a couple of minutes. Remove from pan and allow to cool off.

Add coriander, cumin, and peppercorns to the same pan. Toast for a few minutes, adding chili flakes during the last minute. Remove and allow to cool.

Lastly, add sesame seeds to the pan. Toast for two minutes, or until they begin to brown. Remove sesame seeds from the pan and turn off the heat.

Using a spice mill, pulse hazelnuts until coarsely chopped and remove. Do the same with the pumpkin seeds. Do not grind into a powder.

Add coriander, cumin, peppercorns, and chili flakes. Grind just before it turns into a powder.

Mix hazelnuts, pumpkin seeds, coriander, cumin, peppercorn, and chili flakes in a small bowl. Add sesame seeds, dried thyme leaves, mint and sea-salt. Mix to combine and store in a 8 oz jar until needed.
Nutrition
Serving:
1
jar
|
Calories:
350
kcal
|
Carbohydrates:
18
g
|
Protein:
12
g
|
Fat:
31
g
|
Saturated Fat:
3
g
|
Cholesterol:
3
mg
|
Sodium:
1180
mg
|
Fiber:
7
g
|
Sugar:
1
g