You know how certain smells or songs can magically transport you to another place and time? This pumpkin soup recipe does that for me. I actually came up with this soup recipe in an effort to recreate a special memory I share with my dear friend, Becca. Sadly, Becca moved to Idaho last year. But back when Becca still lived in San Diego, we would go up to the town of Julian every October to get our "Fall fix." Part of that experience was stopping off for lunch at this tiny cafe, where we had a similar pumpkin soup, topped with toasted coconut. Although I can't go back to relive that time, I can still enjoy this soup, while talking to Becca on my speakerphone.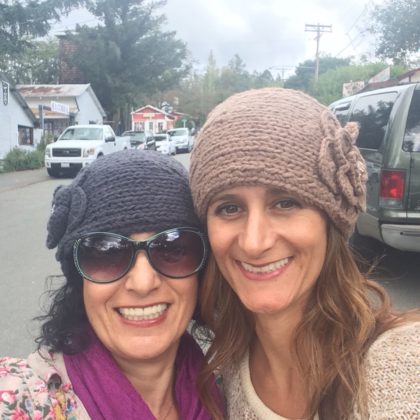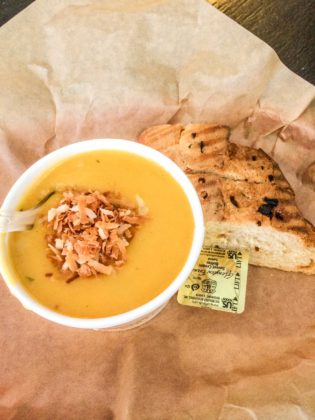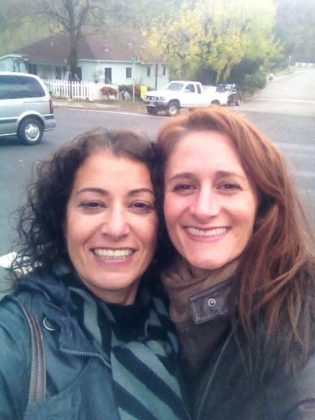 What's the Best Pumpkin to Use For Pumpkin Soup?
To make this delicious pumpkin soup recipe, you will want to use a sugar pumpkin. Also known as sugar pie pumpkins, these pumpkins are generally used for baking. Sugar pumpkins are sweeter in taste and less stringy than the larger carving pumpkins. And yes, you can use canned pumpkin if you are in a pinch, but I'm not one to rush things, especially in the kitchen. Roasted pumpkins impart a layer of flavor that's hard to duplicate with canned pumpkin. But, if you do decide to go with canned pumpkin, make sure you don't accidentally purchase canned pumpkin pie mix.

What Ingredients Are in Pumpkin Soup?
In my opinion, good pumpkin soup starts with sugar pie pumpkins, as mentioned above. The other ingredients are negotiable. For example, consider skipping the onions, and using leeks instead. Although I use roasted garlic in my pumpkin soup recipe, you can easily substitute with raw garlic. If you like a thicker soup, you can add a potato or two while you simmer the pumpkin and other ingredients. Don't have canned coconut milk on hand? Just use cream or half and half instead. For a sweeter flavor, consider adding a diced carrot. As far as the spices are concerned, cinnamon would go great in this soup, along with curry, turmeric, and cumin.
Toppings for This Pumpkin Soup Recipe
The first time I had pumpkin soup in Julian, it was served with toasted coconut, and some crusty bread on the side, so good! If you don't like coconut, you can toast some shelled pumpkin seeds and sprinkle them on the soup before serving. But fair warning, they're very easy to burn! I usually toast them in the toaster oven. Somehow they seem to burn as soon as I turn my back on them. Another great option is a sprinkling of dukkah. Or perhaps you prefer the creamy texture, without the crunch. In that case, feel free to enjoy it as is!
If you make this soup, I'd love to hear from you by either leaving a comment or rating the recipe by clicking on the stars below!
Do you Pinterest? Please consider pinning or sharing this recipe!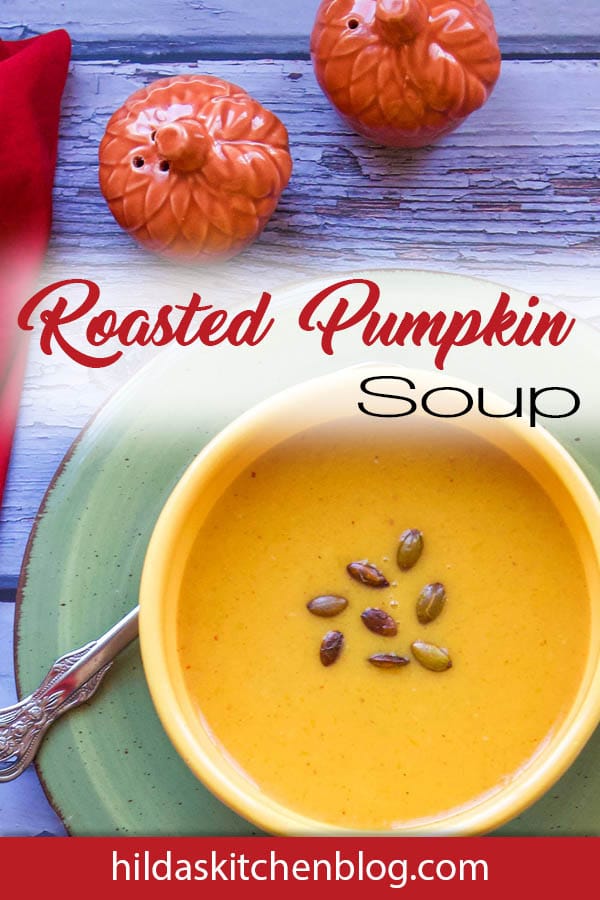 If you like pumpkin recipes, you might enjoy these recipes:
Pumpkin Ravioli, Pumpkin Bread, Persimmon-Pumpkin Bars.
---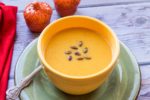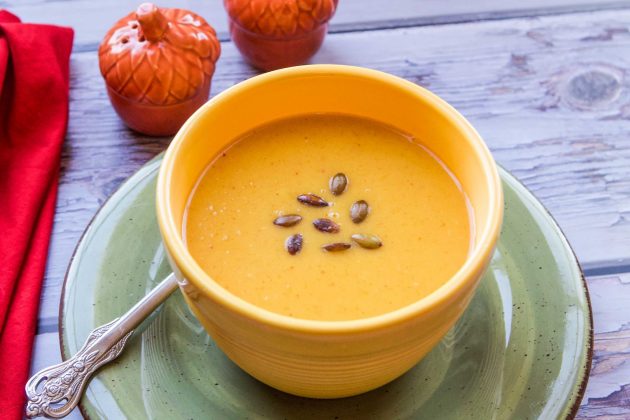 Pumpkin Soup Recipe
creamy pumpkin soup with ginger and coconut milk.
Ingredients
1

sugar pumpkin

1

T.

olive oil

(divided)

1-1/4

tsp.

salt

(divided)

1/4

tsp.

black pepper

1/4

cup

onion

(diced)

1

T.

roasted garlic

(diced)

1

T.

fresh ginger

(diced)

1-1/2

cups

chicken or Vegetable stock

1/4

tsp.

nutmeg

(freshly ground)

1/4

tsp.

cayenne pepper

(optional)

13.5

oz

canned coconut milk
Instructions
Preheat oven to 375 degrees F.

Slice off the top of the pumpkin, cut in half, and scoop out the seeds and guts.

Rub each half of the pumpkin with 1/2 tsp. olive oil, and sprinkle with 1/4 tsp. salt and 1/4 tsp. black pepper.

Place cut side down on a foil-cover pan, and bake for 30 minutes.

Flip pumpkin over and bake an additional 15 minutes.

Turn off the oven and remove the pumpkin. Allow to cool.

Meanwhile, add the remaining olive oil to a Dutch oven, and sauté the onion for a few minutes. Add diced roasted garlic and ginger and sauté for an additional minute.

Scoop out the roasted pumpkin and cut into chunks, then add to the Dutch oven.

Add chicken stock, salt, freshly grated nutmeg, and cayenne pepper (if using). Cover and simmer for 20 minutes.

Puree the soup using a hand-held blender or emulsifier. Please keep the blender head under the soup mix at all time to avoid getting splattered by the hot soup.

Stir in the coconut milk and simmer for 5 minutes over low heat. Adjust seasoning if necessary.

Ladle soup into bowls and top with shelled and roasted pumpkin seeds or toasted coconut.
Nutrition Facts
Pumpkin Soup Recipe
Amount Per Serving (1 cup)
Calories 236
Calories from Fat 180
% Daily Value*
Total Fat 20g 31%
Cholesterol 2mg 1%
Sodium 707mg 29%
Total Carbohydrates 11g 4%
Protein 3g 6%
* Percent Daily Values are based on a 2000 calorie diet.