Finally, a Basic Sourdough Bread Recipe that's easy to follow and absolutely delicious! After nearly a year of experimenting, I've finally perfected my sourdough bread recipe. With a few essential tools, you too can!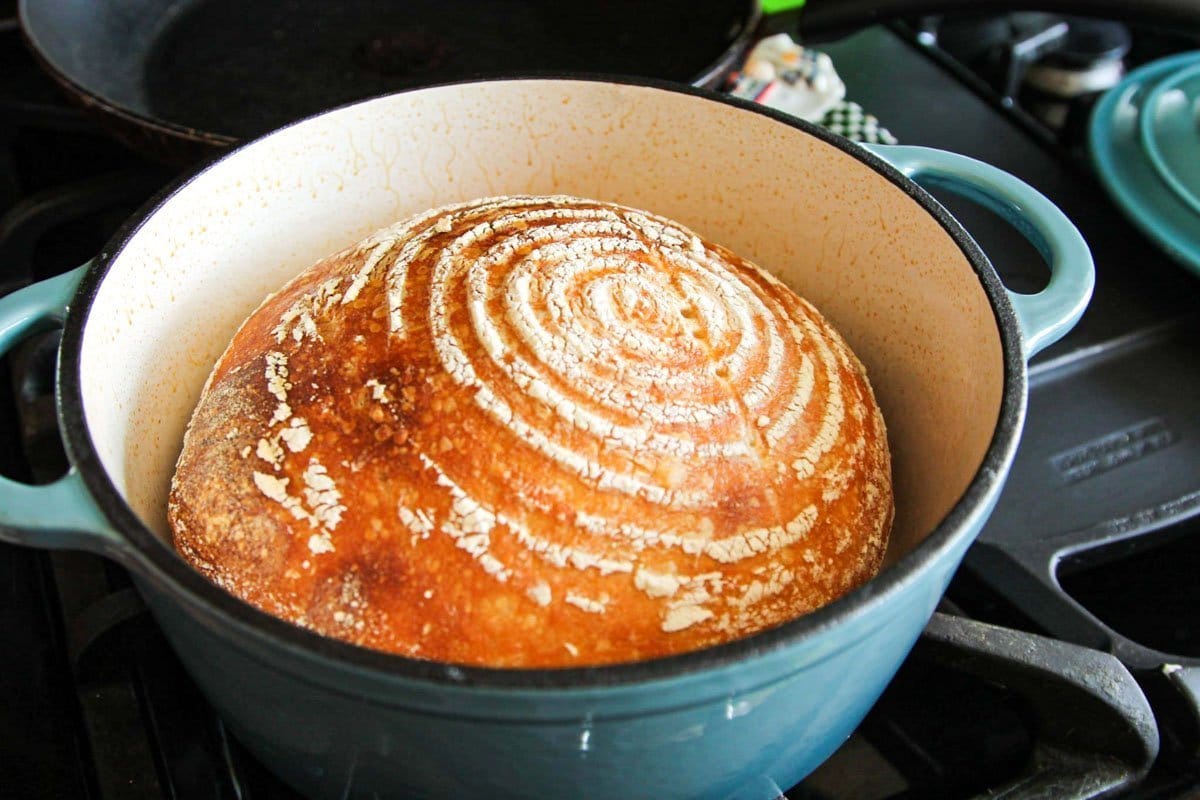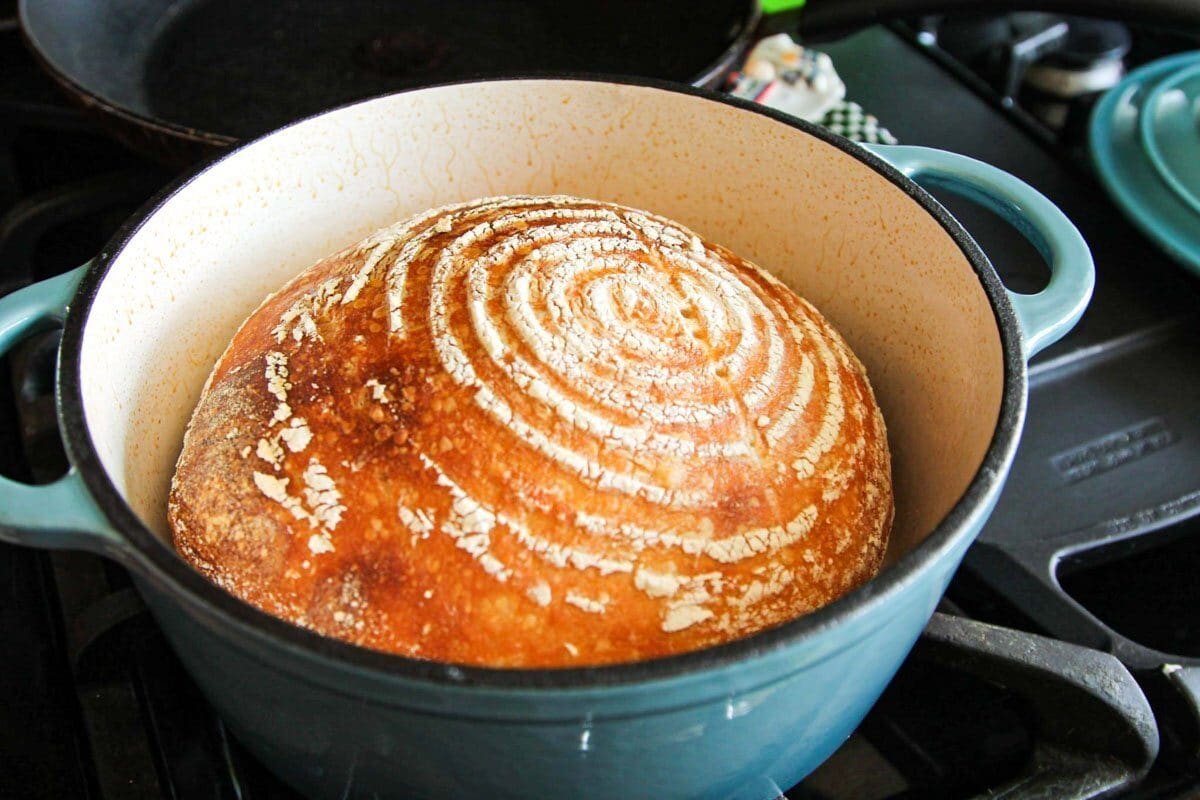 And the best thing, you don't need yeast to make sourdough bread, just a good starter that you can make with flour, water, and wild yeast that's all around us.
For the past year, I've been trying to perfect sourdough bread baking. In January, I started my own sourdough starter, using a recipe I found online.
Since then, I have baked many a loaf, trying to get it right.
My son had been my willing guinea pig/taste tester. Scotty gave me his honest feedback on every loaf that I baked.
I would take a slice smothered in butter, hand it to him, and wait with anticipation for his review.
I could always count on his honest opinion. Then he had to go to boot camp and leave me stranded to figure things out on my own.
This Basic Sourdough Bread Recipe is a result of a lot of trial and error.
Start With A Good Starter
Sourdough starters take a while to develop. At first, my sourdough tasted more like plain, white bread. Also, I could not achieve those big, airy holes, sourdough is known for.
Little by little, as the sourdough starter aged, that classic flavor began to develop. If you are not a patient person, I would highly recommend buying a sourdough starter on Amazon.
Homemade starters take more time and effort than tending to a newborn baby! Luckily, sourdough starters are pretty inexpensive and will save you a lot of trial and error and time.
Before using the starter, test it to make sure it's active. To do this, simply take a spoonful of the starter and drop it in a cup of cold water.
If it floats to the top, it's ready. If not, keep feeding it at 12-hour intervals, then repeat the test.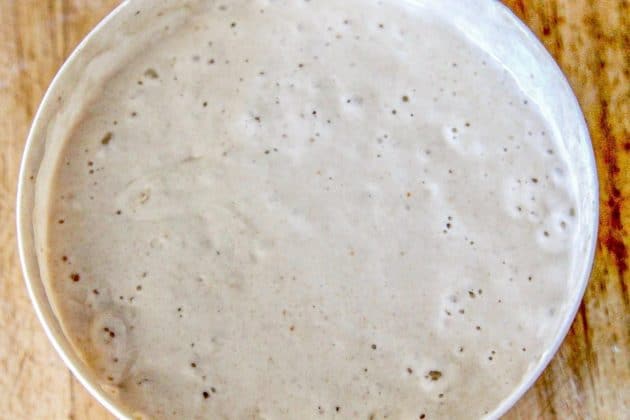 Stretchy Dough, Not Stretchy Pants
You need sticky/stretchy dough to make sourdough bread. Although it's hard to work with, it makes all the difference.
When working with the dough, you should use the "stretch and fold," or the "slap and fold" method. They both involve a specific way of working with the sticky dough.
I was going to try to explain how to do this, but I think a visual would be more helpful. Be sure to click on the links included above to see how both techniques are done.
Banneton Proofing Baskets
Another reoccurring issue I had with this Basic Sourdough Bread Recipe was the bread not rising enough.
Although the bread would rise very nicely at first, it tended to spread during the last proofing. I quickly learned that I needed a Banneton basket.
Benneton Baskets help the dough keep its shape and structure during the last proofing. When I first tried using one of these baskets, I didn't sprinkle it with enough flour, as a result, the dough got stuck in the basket.
If this happens, the dough will most likely deflate as you try to work it out of the basket. To avoid this problem, be generous with the flour.
If too much flour sticks to the dough after removing it, you can always gently brush the excess flour off.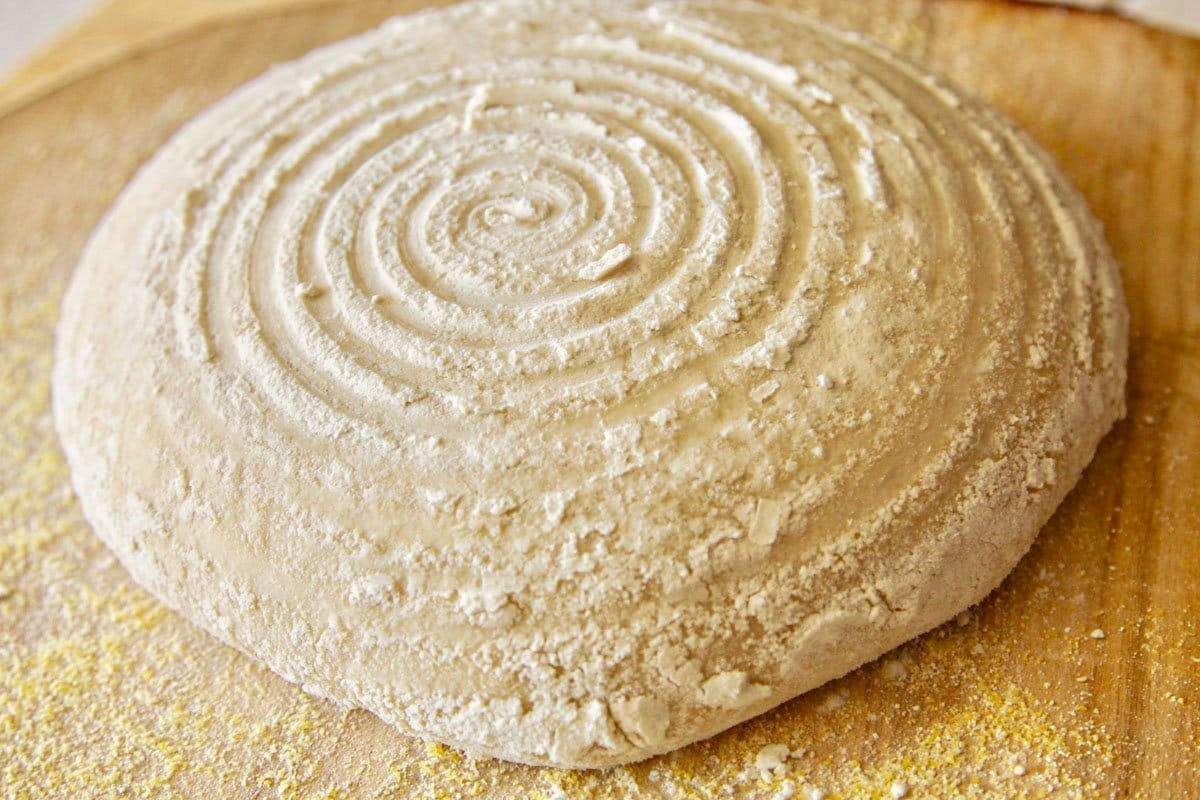 Longer Proofing Period
Another thing I've learned over the last year is you can't rush sourdough bread. Taking two days to make the bread is better than rushing it in one day.
I know, you're probably not happy reading these words; believe me, I didn't even want to write them down.
The fact of the matter is, doing an overnight proofing in the fridge helps in achieving your end goal.
You know what they say; "you can't rush a good thing"... "good things come to those who wait"...and all that jazz!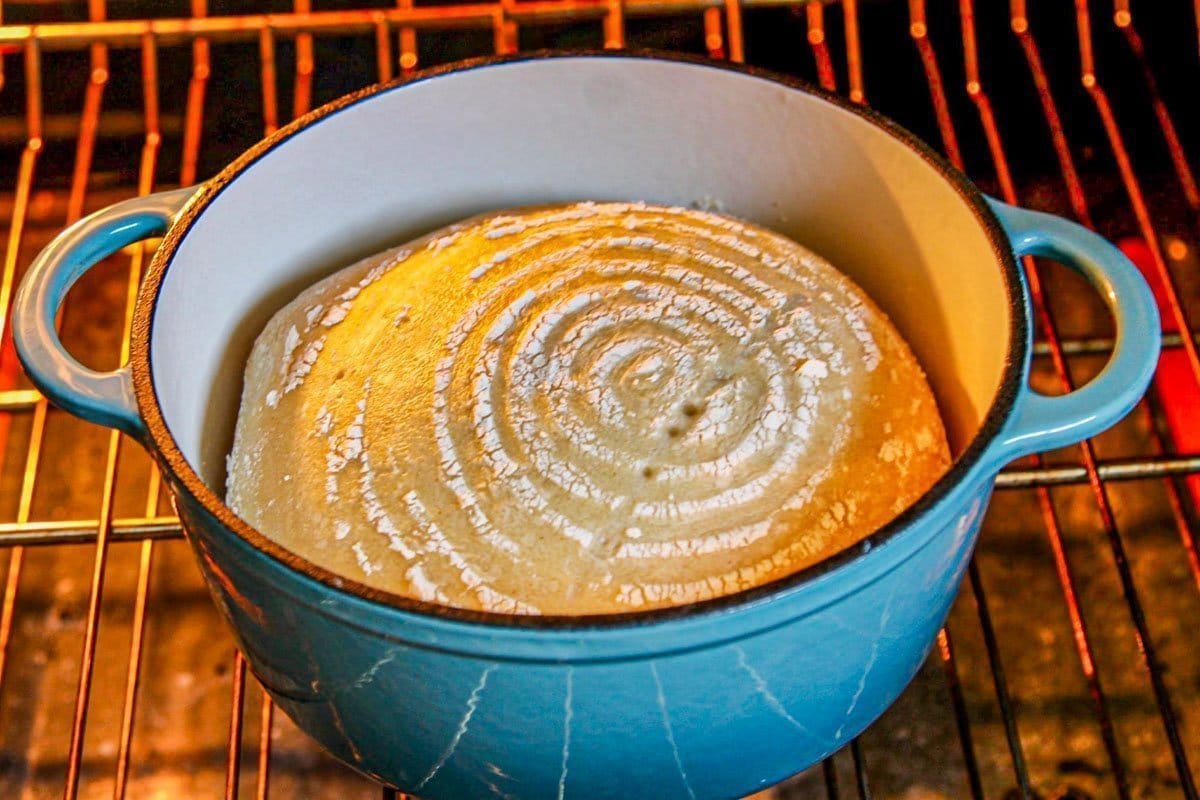 Baking Stone or Dutch Oven?
When I initially worked on this basic sourdough bread recipe, I was using a baking stone. My bread turned out mediocre at best.
Once I did some research, I found out that the bread masters used a Dutch Oven. I purchased one on Amazon, and it just happens to be the perfect size for this particular recipe.
Man, what a difference that made! Misting the dough before baking in the Dutch Oven finally helped me achieve that crispy crust I was looking for!
If you follow all these steps, I believe you will be baking perfect sourdough in no time. I can't wait until Scotty comes home from boot camp in a few days.
Not only do I get to give him a great big hug, but I also get to surprise him with a perfect slice of sourdough bread!
Until then, excuse me while I go enjoy a slice of sourdough smeared with cream cheese and topped with strawberry fig preserves.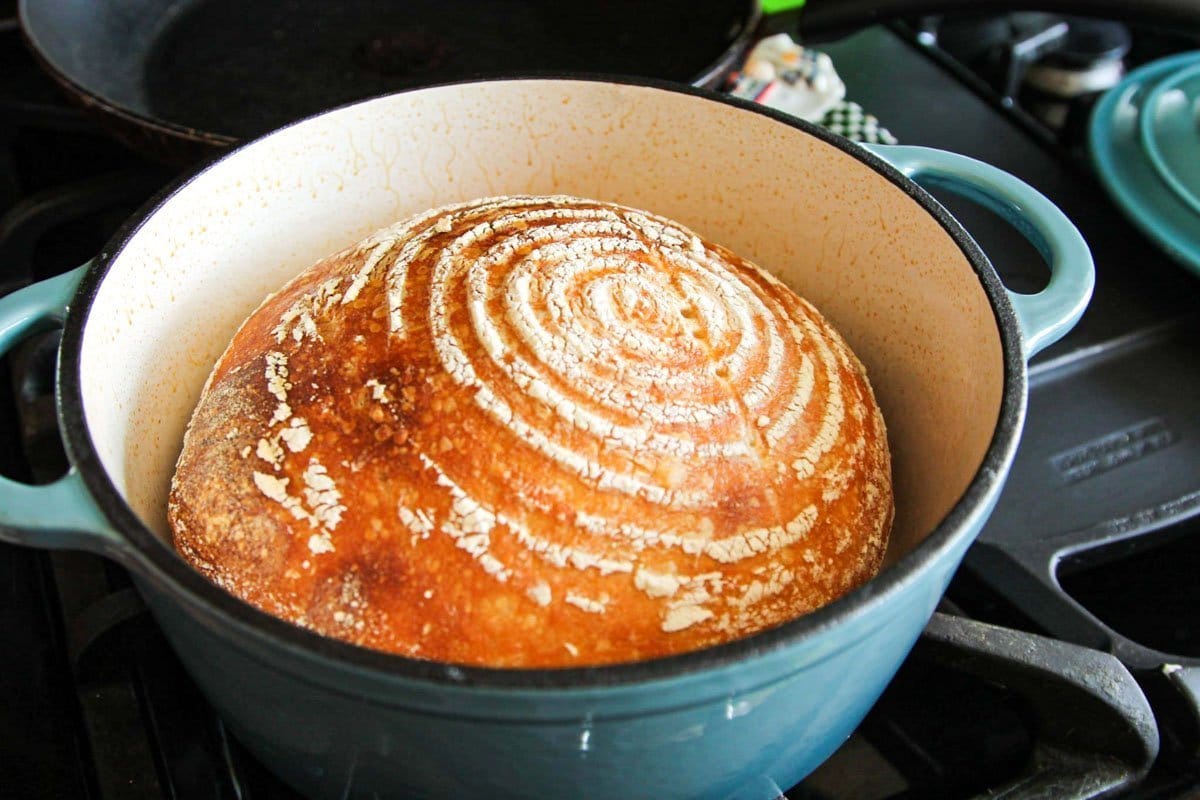 You may also like my Jalapeno Cheddar Sourdough recipe!
Stay in touch with me through social media!
Tried this recipe? Snap a picture and tag #hildaskitchenblog on Instagram.
Like my page on Facebook.
Do you Pinterest? Pin & share this recipe!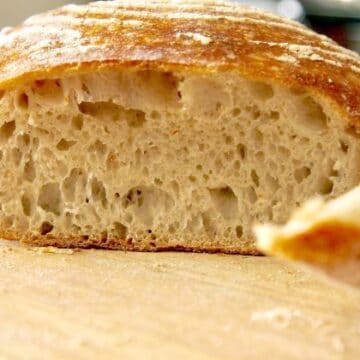 Basic Sourdough Bread Recipe
Delicious classic sourdough recipe.
Print
Rate
Ingredients
1/2

cup

sourdough starter

1

cup

warm water

2 1/4

cups

bread flour

1/2

tsp.

sea salt

1/2

cup

flour

for kneading and sprinkling on the Banneton

1

T.

rice flour

optional

1

T.

cornmeal
Instructions
Make sure you begin with a good sourdough starter. Look for plenty of active bubbles, which will help your bread to rise.

Mix the sourdough starter, warm water, and salt in a medium-sized bowl using a spatula. Add the bread flour and mix with the spatula until no lumps remain. Cover and rest for 30 minutes.

After 30 minutes, turn out the dough onto a floured surface and sprinkle with additional flour. Your dough will be very sticky, get used to it! Using the slap & fold method, knead the dough for five minutes. Using a pastry scraper can make this process easier.

Proof, covered, for 4 hours in a warm spot. A good place to leave it is in the oven with the oven light on. After four hours, remove from the oven.

Knead the dough again for five minutes using that stretch and fold method, sprinkling with flour as needed. Cover and allow to rest for 30 more minutes.

For the last time, fold the dough, as if making an envelope, onto itself, until the dough forms a nice tight ball.

Flour the Banneton basket generously using a mixture of rice flour and the regular white flour. You don't want the dough to get stuck in the basket, so don't skimp on the flour. Sprinkle some rice flour and regular flour on top of the dough as well. Carefully transfer the dough into the basket, seam-side-up. Cover and proof in a refrigerator overnight.

Remove the basket from the fridge two hours before baking.

Sprinkle cornmeal on a cutting board or pizza peel. Place a 3.5 quart Dutch Oven in a 450-degree oven for 15 min to heat. Gently remove the dough from the basket and place seam-side-down onto the cornmeal surface.

Carefully remove the heated pot from the oven and lower the dough into the pot. Make a few slashes on top using a sharp knife or a bread lame, if you have one. Using a spray bottle, spray water around the bread a few times. This will help create steam as the bread bakes and will give you an amazing crust. Cover with the lid and bake for 20 minutes.

Remove the Dutch Oven's lid and bake an additional 20 minutes, uncovered.

Carefully remove the pot from the oven and allow to cool before removing the bread.

Cool before slicing with a bread knife. Give it a taste and then stop back to let me know how it went!
Nutrition
Serving:
10
slices
|
Calories:
110
kcal
|
Carbohydrates:
22
g
|
Protein:
4
g
|
Fat:
0
g
|
Saturated Fat:
0
g
|
Cholesterol:
0
mg
|
Sodium:
88
mg
|
Fiber:
0
g
|
Sugar:
0
g