A deliciously satisfying Pumpkin Casserole, using homemade ravioli, stuffed with a goat cheese, sausage, and sage mix. It's out of this world!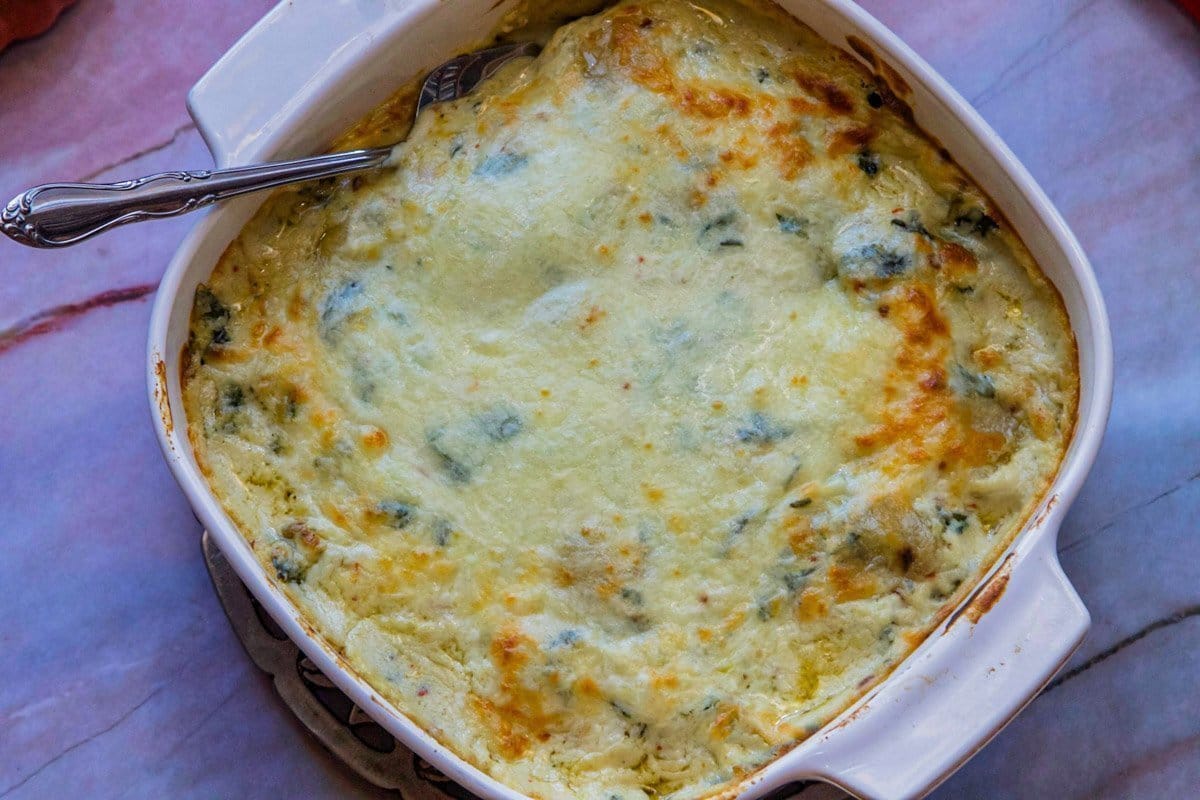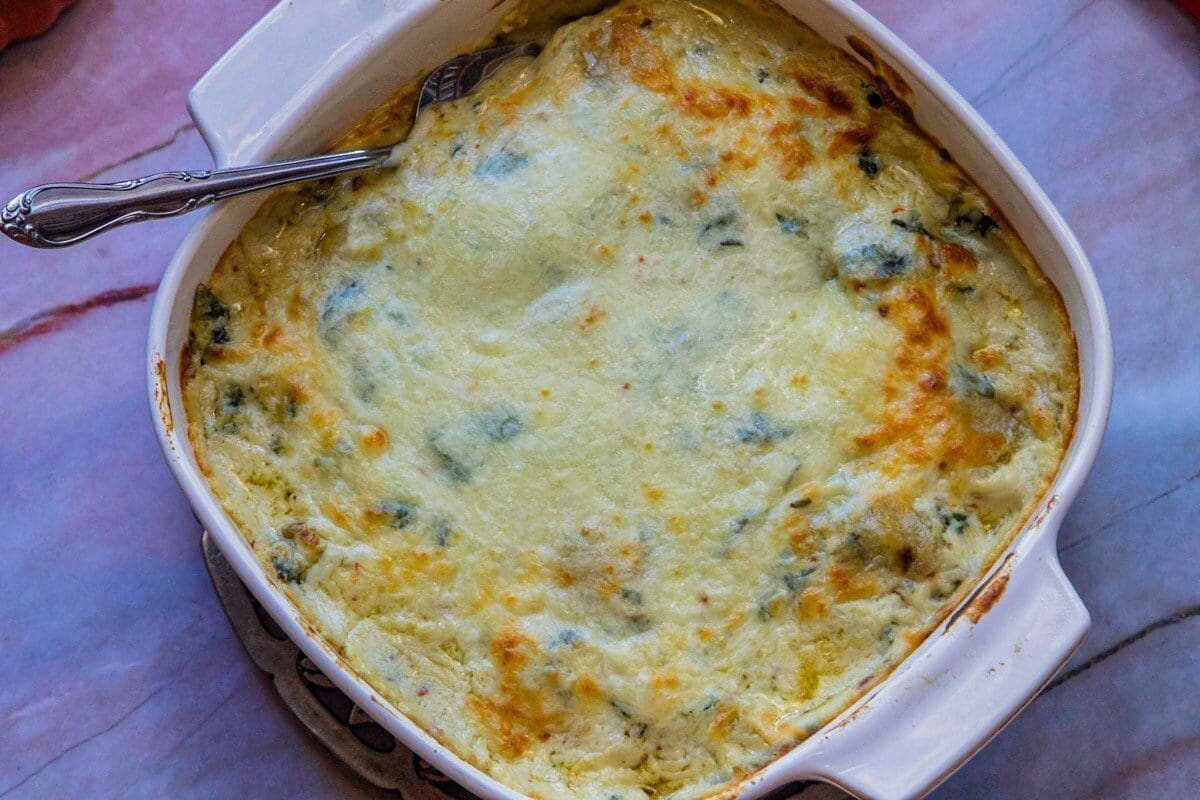 This Pumpkin Casserole recipe has been a long time in the making. I've spent at least a month discussing possible ingredients with friends, looking through magazines for inspiration, and daydreaming about the end result.
After a lot of consideration, I chose ingredients that I knew would complement each other. Ingredients like pumpkin, sage, sausage, and goat cheese.
A few days ago I finally got to taste the delicious combination of flavors for the first time. I can truly say that it exceeded all of my expectations.
This is one of my longer recipes, but don't let the extra steps scare you. This recipe is worth every step! I'll hold your hand through the whole process if I need to.
If you have questions about the recipe, please leave your comment below, and I'll be happy to answer it!
Making the Pasta For the Pumpkin Casserole
If you've never made homemade pasta, you really need to. There are only a few ingredients required and tastes a million times better than store-bought pasta.
And just think, as long as you have some flour, and eggs, you'll never run out of pasta again.
You can treat pasta dough like any other dough and roll it out, or you can be one of the cool kids and use a pasta maker. Not only is it affordable, but it's also so fun to use!
I used the dough recipe on the box of this Ravioli Maker/Press. If you use my homemade pasta recipe, you might need to make 1-1/2 times the amount.
Tools Needed for this Pumpkin Casserole Recipe
Ravioli Press
There are many ways to make ravioli, I just happen to use a Ravioli Maker/Press to make mine.
I  appreciate the fact that you can make 12 at a time, instead of one at a time, like when using a ravioli mold. If using a ravioli maker, follow the instructions on the package.
Rolling Pin
If you don't have one, there's still hope. You can roll out sheets of pasta dough using a rolling pin.
Next, place mounds of the filling (a few inches apart) on one of the pasta sheets. Moisten another sheet of pasta, cover the first sheet, and press to seal.
Ravioli Wheel
To cut the ravioli, you may use a biscuit cutter, the rim of a glass, or mason jar. Yet another option is to use a ravioli wheel.
Using A Sausage Maker
I recently came up with a homemade sausage recipe. It was intended to be used in this pumpkin ravioli recipe.
I've had a KitchenAid grinder attachment for years, and last year, I purchased the sausage making kit to go with the grinder.
I was all excited to use the sausage maker for the sausage in this recipe, but the box was missing the T-bar that's required.
Fortunately, after a quick phone call, I was told that they would ship one out to me. I ended up cooking the sausage mix in a pan.
For now, feel free to use your favorite breakfast sausage, and if it has sage, that's even better.
Pumpkin Casserole Assembly
Be sure to serve the Pumpkin Casserole with some Dukkah on the side!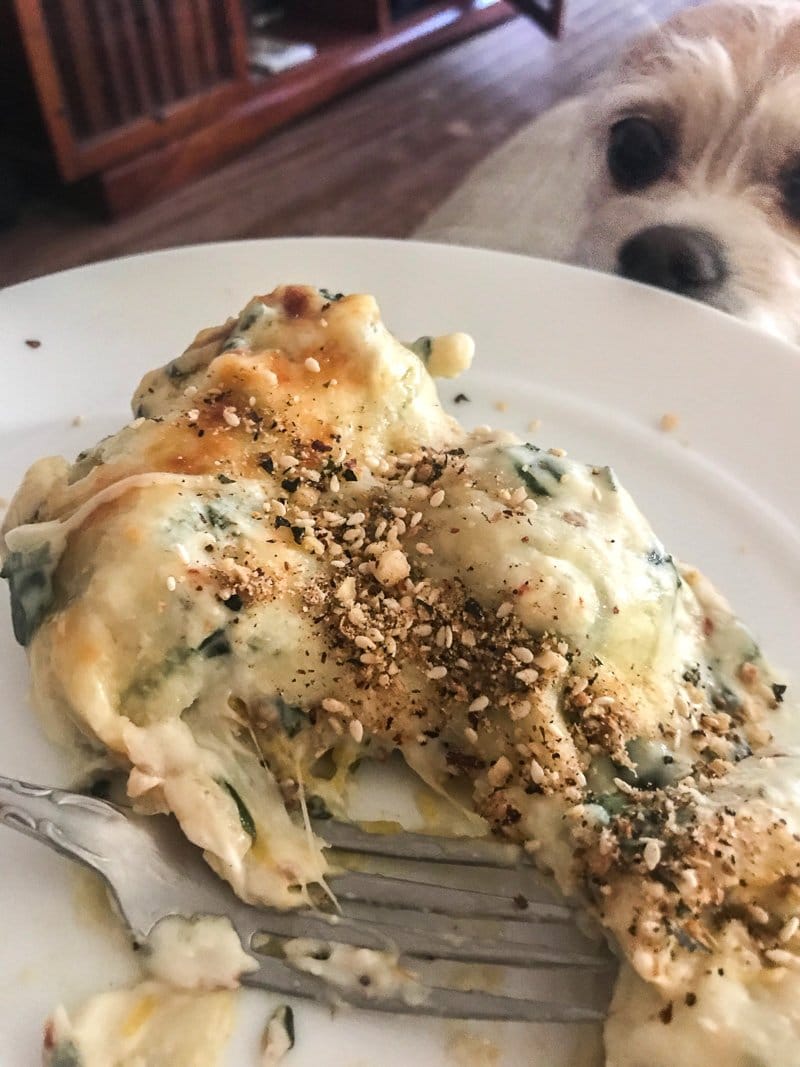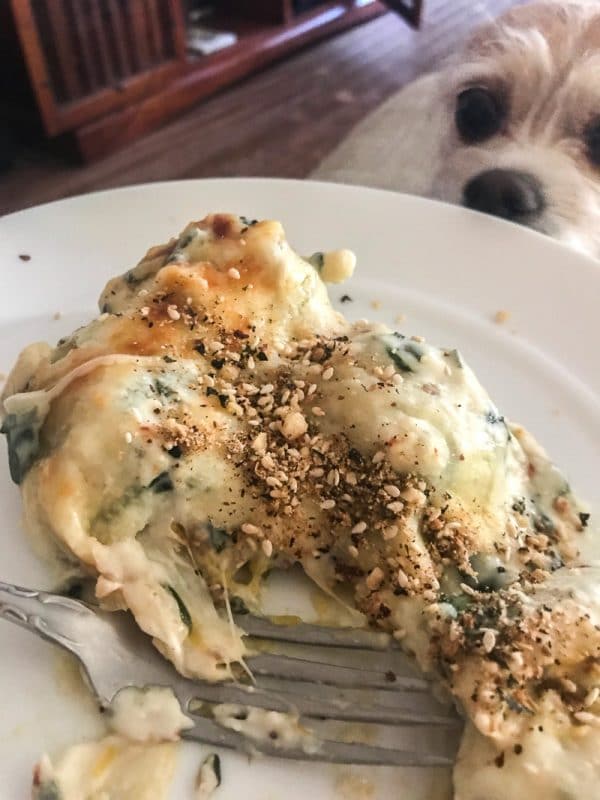 Somebody is ready for a piece, are you?
If you love this recipe, you'll also enjoy the following recipes:
Stay in touch with me through social media!
Tried this recipe? Snap a picture and tag #hildaskitchenblog on Instagram.
Like my page on Facebook.
Do you Pinterest? Pin & share this recipe!
Pumpkin Ravioli Recipe
Ravioli, stuffed with roasted pumpkin, cheese, and sausage. Layered in a casserole, smothered in a creamy white sauce.
Print
Rate
Ingredients
Pasta (use pasta recipe on this blog, link below)
Ravioli Filling
1/2

sugar pie baking pumpkin (to equal 13 oz)

1

T.

olive oil

1

pinch

salt & pepper
8

oz

sage sausage

4

oz.

cream cheese

4

oz.

goat cheese

1/4

cup

parmesan cheese

1

tsp.

sage

2

cloves

garlic

1/2

tsp.

salt

1/8

tsp.

white pepper

1/4

tsp.

freshly grated nutmeg
Sauce
3

T.

butter

3

T.

flour

3

cloves

roasted garlic

1 -1/2

cups

milk

1/2

cup

half and half

2

oz

cream cheese

2

oz

goat cheese

3/4

tsp.

salt

1/4

tsp.

white pepper

1

tsp.

red chili flakes

(optional)

2

T.

parmesan cheese

1

T.

fresh sage

(chopped)

2

cups

fresh spinach

(packed)

2

T.

white wine

1/4

tsp.

freshly grated nutmeg
Topping
1

cup

shredded mozzarella cheese

1/4

cup

dukkah (see recipe on this blog)
Instructions
Using a very sharp knife, cut off the pumpkin stem, then slice the pumpkin in half. You can either bake the entire pumpkin or half. I baked both pieces and froze one for future use. Scoop out the seeds and guts. Save the seeds to roast at a later time. Drizzle with olive oil, and a pinch of salt and pepper.

Place pumpkin sliced side down on a foil-lined pan. Roast for 45 minutes at 350 degrees F.
Pasta
To make the pasta, either use my homemade pasta recipe (found on this blog) or the recipe on the back of the Norco Ravioli Maker with Press. If you use my recipe, you'll need 1-1/2 portions (to equal 3 cups of flour). When the pasta dough is ready, wrap in plastic and allow to rest while you make the filling.
Filling
Scrape out one of the two pumpkin halves. The pulp should weigh approximately 13 oz. Add to a large bowl, along with the remaining filling ingredients, except for the sausage. Cook sausage in a pan, drain fat, and allow to cool slightly before adding to the filling ingredients. Mix thoroughly so that all the ingredients are incorporated. Make sure the filling is completely cool before assembling the ravioli.
Ravioli Assembly
Roll out the dough (either with a rolling pin, or pasta maker). Cut two rectangles large enough to cover the ravioli maker, with a minimum of 1/2" extending past the edges. Assemble according to directions of the ravioli maker. Be sure to moisten the top sheet of pasta, to help it adhere to the bottom sheet. Cover the remaining pasta dough, as you work, to keep it from drying out. You should end up with approximately 60 ravioli.

If you don't have a ravioli maker, see suggestions under "How to Make Homemade Pumpkin Ravioli" (above).

I freeze them as I go, by placing them on a plate or tray, in the freezer. Once frozen, I store them in a ziplock bag. This keeps them from sticking to together. You'll be using half of the ravioli for this recipe. When you want to cook the remaining ravioli, just add to boiling water and cook for three minutes.
Sauce
To make the sauce, melt butter in a deep pan. Whisk in flour, and continue to mix for approximately two minutes.

Run garlic through a garlic press and mix in with the flour and butter (roux) for one minute.

Add milk, and half and half, whisk over medium heat, until thickened.

Add the remaining sauce ingredients. Be sure to use freshly grated nutmeg, or don't bother!

Cook for approximately five minutes over low heat until the flavors come together. Taste sauce to see if the seasoning needs any adjustments.

Pour approximately 1/2 cup of sauce in an 8 x 8 casserole dish. Cover with half of the the ravioli, arranged in a single layer.

Pour an additional 1/2 cup of sauce over the ravioli, followed by 1/2 cup of mozzarella cheese. Repeat with the remaining ravioli, mozzarella, and the remaining sauce.

Cover casserole dish, and cook in a 350 degree F. oven for 30 minutes. Turn up the temperature to 375 degrees, remove the lid, and cook for an additional 15 minutes.

You may need to broil the top for a few minutes to get it to brown up a bit. Allow to cool for 10 minutes or so, before cutting and serving.

Sprinkle generously with dukkah, or eat as is.
Nutrition
Calories:
820
kcal
|
Carbohydrates:
22
g
|
Protein:
36
g
|
Fat:
65
g
|
Saturated Fat:
34
g
|
Cholesterol:
173
mg
|
Sodium:
1846
mg
|
Fiber:
2
g
|
Sugar:
9
g