Have you ever tasted fresh, homemade pasta? If you have, I'm sure you'll agree that it can't even be compared with store-bought pasta. So good, it practically doesn't require chewing!
I think most people are intimidated by the idea of making pasta from scratch. Perhaps they believe it's just too complicated, or beyond their talent level. Hear me now, don't you be one of those people!
Homemade pasta is not only easy to make, but its also a lot of fun! One more thing, did I mention you only need to cook it for a few minutes?
Tools Required
All you need to make homemade pasta are a few simple ingredients, and of course, a Pasta Machine. If you don't already own a pasta machine, I highly recommend them! They are very reasonably priced. However, if you can afford it, spend a little more and get a Pasta Maker that attaches to a Kitchenaid Mixer.
I know this from personal experience that kids love using them too. A few years ago, I taught a cooking class to kids at my church. Out of all the classes I taught, past making was definitely a favorite! If you don't think you'll make pasta often enough to purchase a pasta machine, you can use a rolling pin. But be assured, but don't blame me if it's not as fun!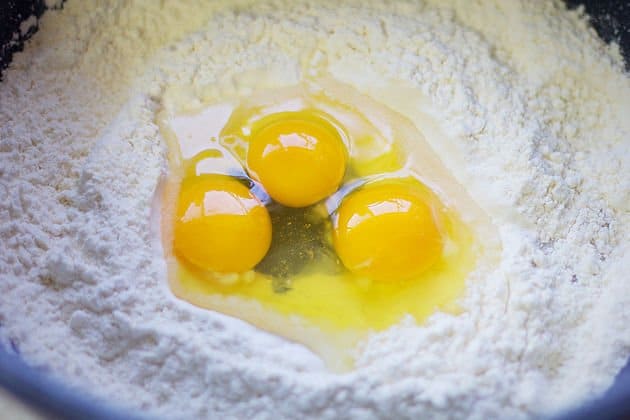 Homemade Pasta Recipes
Once you have a pasta maker, you will find every excuse to use it. I've even developed recipes just to have an excuse to use my pasta maker! Besides using it to make Mexican Lasagna, I use it to make my Easy Italian Lasagna, and my date Kileche recipe.
I don't know about you, but rolling out dough is not one of my favorite things to do. Using the past machine, I get the dough thin enough to even make fillo dough strips. Now I just need to work on a low carb pasta recipe so I can use it even more often.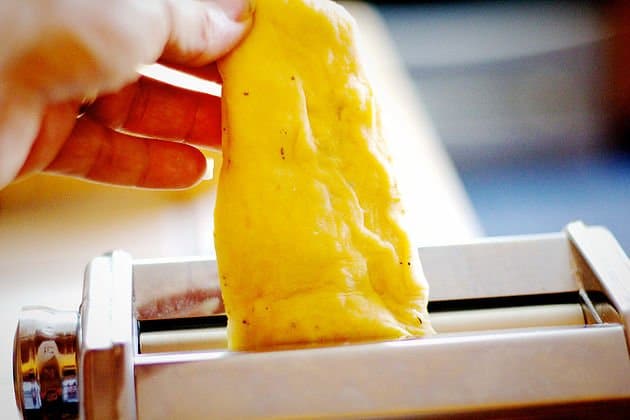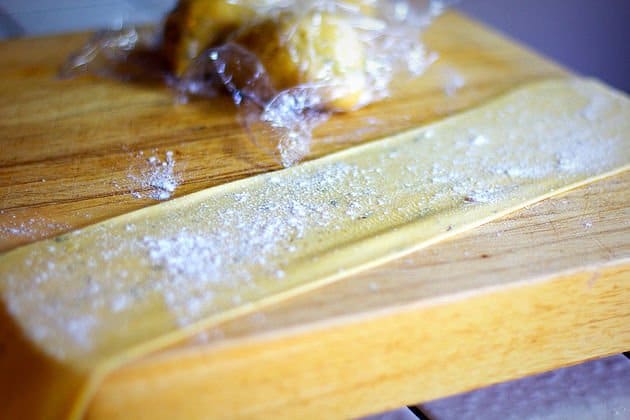 This recipe would go great with my Easy Marry Me Chicken Recipe.
Do you Pinterest? Please help a girl out by Pinning and sharing!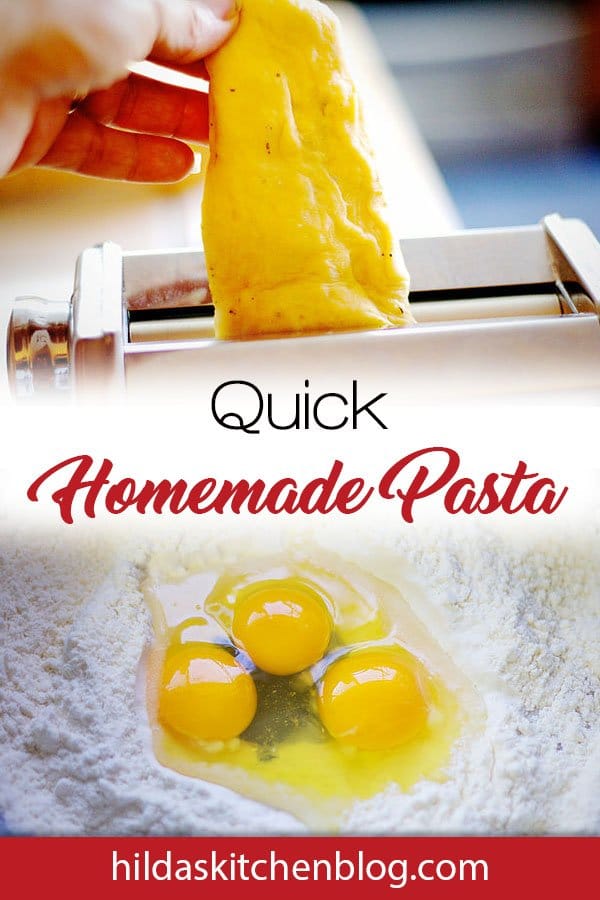 Quick Homemade Pasta
Once you try this tender, homemade pasta, you'll never buy pasta again!
Ingredients
2

cups

flour

1

tsp.

salt

3

large

eggs

1

T.

water

1

tsp.

dried herbs

(basil, organo, Italian seasoning etc.)
Instructions
Mix flour and salt, and form a well in the center. Crack eggs into the center of the well, and scramble with a fork.

Gradually mix the flour into the eggs until the dough begins to take shape. You can do this with your hand, or a fork. If adding herbs, add them at this point.

If the dough is too dry, add water, 1 teaspoon at a time, until desired consistency is achieved. If the dough is too sticky, add more flour. Knead the dough for approximately 5 minutes, until the dough is smooth in texture.

Wrap the dough in plastic, and allow to rest for at least 30 minutes. This resting period helps the dough to become more pliable, and easier to work with.

Cut the dough into fourths, using a pastry scraper, or knife. Leave one piece out to work with, rewrapping the rest, to keep them from drying out.

Set your pasta machine to the largest/widest setting. Flatten the dough with your hands, and feed through the machine. If the dough is too sticky, dust with flour.

Fold the dough into thirds, and run through the machine a few more times at the largest setting.

Lower the setting, and feed the dough through the machine. I like to run the dough two times through each setting until the dough reaches the desired thickness. If the dough becomes too long to handle, simply cut into two pieces, and continue feeding through the machine. If using the dough for lasagna, you don't need to boil the pasta first, just use as is.

If making spaghetti or fettuccine noodles, dust pasta strips with more flour, and run through the appropriate section of the machine.

To cook, simply add pasta to salted boiling water and cook for approximately two minutes, stirring a few times. Drain the noodles, and use in your favorite recipe.

If you want to dry the pasta for later use, form the pasta into coils, and dust with flour. This helps to keep the noodles from sticking together. You can also dry the pasta on a pasta drying rack.
Nutrition Facts
Quick Homemade Pasta
Amount Per Serving
Calories 564
Calories from Fat 72
% Daily Value*
Fat 8g12%
Sodium 279mg12%
Carbohydrates 96g32%
Protein 22g44%
* Percent Daily Values are based on a 2000 calorie diet.