Are you familiar with tahini paste? If you are of Middle Eastern descent, then no doubt the answer is yes. If not, you might be wondering just what is tahini, anyways? Tahini can be used to enhance recipes or can be eaten as is. It's healthier than peanut butter and is made of only two ingredients; sesame seeds and oil. My recipe technically has three ingredients because I use two different kinds of oil, sesame seed oil, and olive oil. If you don't have sesame seed oil on hand, you can just use olive oil. I just happen to love the intense flavor the sesame seed oil adds.
What Can Tahini Paste Be Used For?
Tahini paste is great to have on hand, especially if you like to cook. And by cooking I mean Middle Eastern/Mediterranean recipes. For example, tahini is needed to make hummus, and who doesn't like hummus? It's also one of the main ingredients in baba ganoush (roasted eggplant dip). Tahini is required to make tahini sauce, which is served over falafel, shawarma, and other grilled meats. Tahini is also used to make halva, a Middle Eastern fudge-like dessert, and my own creation, tahini fudge. One of my favorite ways of eating oatmeal is with a Middle Eastern twist; with tahini and date syrup swirled in. Finally, use the tahini to make my Vegetarian Pasty Recipe or Julleh in Assyrian.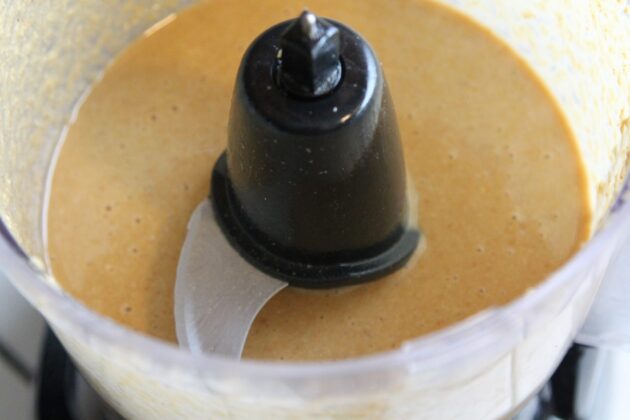 Cherish Your Mom!
There's nothing like cooking to make me miss my mom. It's been eight years since she passed away, but I still think of her daily. I've come a long way in my cooking skills in the last eight years. Every time I master another recipe, I wish mom was still around to see it. She would be so excited to see me make things like tahini, or amba (pickled mangos), or any recipe that she didn't know how to make. If you still have your mom around, spend as much time with her as you can, and give her an extra hug for me!
Do you Pinterest? Please pin & share!
---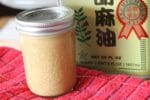 Two Ingredient Tahini
The best tahini paste, from scratch.
Cuisine:
Assyrian, Greek, Middle Eastern
Ingredients
1

cup

sesame seeds

3

T.

sesame seed oil

1/4

cup

olive oil
Instructions
Pour one cup of sesame seeds in a medium-sized pan.

Toast over medium heat until lightly brown. Be sure to stir often to avoid burning them.

Add the sesame seeds to a food processor along with sesame seed oil.

Pulse until the mixture is crumbly. Scrape down the sides of the processor bowl as necessary.

Process again, while slowly pouring the olive oil into the shute in the processor lid. Continue to process until the seeds are completely emulsified.

Carefully pour into an 8 oz mason jar. Store in the refrigerator until needed. Now congratulate yourself on all the money you're going to save making your own tahini!
Nutrition Facts
Two Ingredient Tahini
Amount Per Serving (1 Tablespoon)
Calories 53
Calories from Fat 45
% Daily Value*
Fat 5g8%
Cholesterol 0mg0%
Sodium 1mg0%
Carbohydrates 1g0%
Protein 1g2%
* Percent Daily Values are based on a 2000 calorie diet.