Are you the type of person who always skips breakfast? Or, maybe you go for the sugary cereals instead? Allow me to introduce you to my current favorite healthy breakfast, Mediterranean Overnight Oats. I remember when the overnight oats craze first appeared on the scene a few years back. It was all the rage on Pinterest. Since I struggle with high cholesterol, I was excited to give these recipes a try. I got my jars ready and even labeled them with the different flavors that I was going to make. I didn't just make one jar to see if I liked it first. No, I made a week's worth! Unfortunately, I found out that I didn't enjoy them as much as I thought I would. Since I'm not one to waste food, I forced myself to eat every one of them, and that was the end of that. But then THESE Mediterranean overnight oats happened!
Mediterranean Overnight Oats? 
Although I named this recipe "Mediterranean Overnight Oats," the truth is it's not really an authentic Mediterranean recipe. So why do I call it that? Well, with ingredients like dates, tahini, and date molasses, can you blame me? All these unique flavors blend beautifully together to give this Mediterranean over-night oats recipe a distinctly Mediterranean twist!
Possible Oatmeal Add-Ins
Although this recipe is perfect just the way it is, I don't want you to get bored with it too quickly. For this reason, I would like to throw out some suggestions for possible ingredients to swap out occasionally. Instead of dates, you can try the following: raisins, dried figs, or dried cherries. Alternate the spices with the following: cloves, nutmeg, or pumpkin spice. If you don't have date molasses and let's be honest, if you're not Middle Eastern, you won't. Simply replace the molasses with maple syrup, honey, agave syrup, or brown sugar. Vanilla would also be a great addition! Hopefully, I've given you enough suggestions to keep you from getting bored and going back to eating unhealthy breakfasts, or worse, no breakfast at all.
So, what's your favorite breakfast food? Or do you even eat breakfast? And finally, did you have date molasses or are you going to buy some?
Do you Pinterest? Do this girl a favor by pinning and sharing!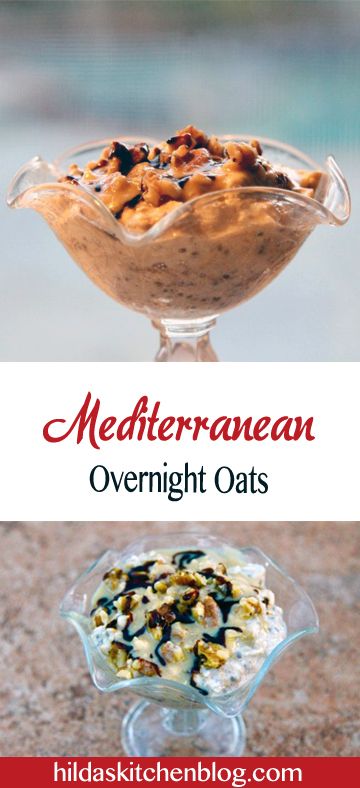 You may also be interested in the following recipes: Home-Made Granola, Low-Carb Spinach, and Eggs, and Low Carb Seed Crackers.
---
Overnight Mediterranean Oats
Yummy overnight oats, with a Middle Eastern twist.
Ingredients
1/2

cup

oats

1

packet

truvia

1/4

tsp.

cardamom

1/4

tsp.

cinnamon

1

tsp.

chia seeds

2

large

Medjool dates

chopped

1/2

cup

almond milk

1/4

cup

yogurt

2

T.

chopped walnuts

1

tsp.

tahini paste

1

tsp.

date molasses
Instructions
Mix the first six ingredients in a small bowl.

Mix in almond milk and yogurt, then place in the fridge overnight.

In the morning, mix the ingredients in the bowl one more time. Top with walnuts and drizzle with tahini and date molasses.

Sit back, and enjoy your healthy, and delicious breakfast!
Nutrition Facts
Overnight Mediterranean Oats
Amount Per Serving (1 jar)
Calories 468
Calories from Fat 135
% Daily Value*
Total Fat 15g 23%
Cholesterol 1mg 0%
Sodium 114mg 5%
Total Carbohydrates 77g 26%
Protein 11g 22%
* Percent Daily Values are based on a 2000 calorie diet.