When you hear the words homemade granola, you don't usually think of Middle Eastern food. No, you either think of health food or hippies, at least that's what goes through my warped mind. I achieve the "Middle Eastern twist" in the homemade granola recipe by sneaking in a few Middle Eastern ingredients. Ingredients like dates, dried figs, tahini paste, date molasses, and cardamom. It's not uncommon to find some of these ingredients in your typical homemade granola. However, the combination of ALL of these ingredients is the secret to this recipe!
Is Homemade Granola Good For You?
During the hippie movement in the 1960s, granola was marketed as a healthy snack option. Since then, the idea of what is considered nutritious has changed with every new diet, or fad. Granola is high in carbs and calories due to grains, dried fruits, and sweeteners. It can also be high in fat since oil is needed to achieve that delicious, crispy texture. In spite of those facts, homemade granola can still be a great snack option. Being health conscious, I start out with only healthy ingredients as a base. I continue by adding good fats, and natural sweeteners. Of course, I don't recommend eating an entire jar at one sitting. If eaten in moderation, this recipe has plenty of nutritious value, and will supply you with hours of energy!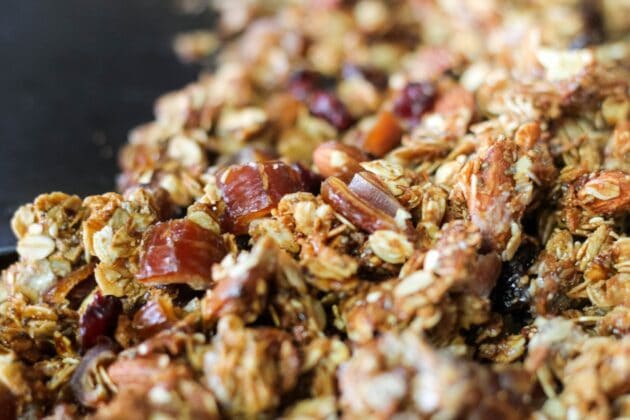 Other Granola Ingredient Suggestions
In my opinion, every good granola mix has to start with rolled oats. What you add after that is entirely up to you. I definitely recommend the addition of nuts and seeds: walnuts, flaxseeds, pecans, cashews, sunflower seeds, and pumpkin seeds. Although I use tahini and coconut oil in this recipe, other fat options include butter, grapeseed oil, and olive oil. Of course, it wouldn't be considered granola if it wasn't sweet, right? Some popular sweeteners include honey, molasses, agave, brown sugar, and even applesauce! We can't forget dried fruit, including raisins, dried berries, chopped dried mangos, and apricots. Lastly, consider some add-ins: orange zest, crystallized ginger, and coconut flakes.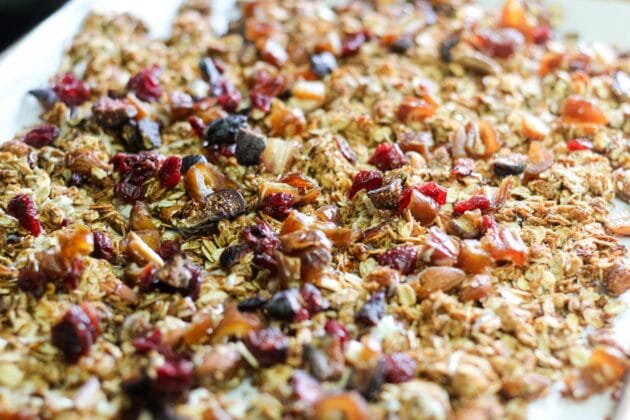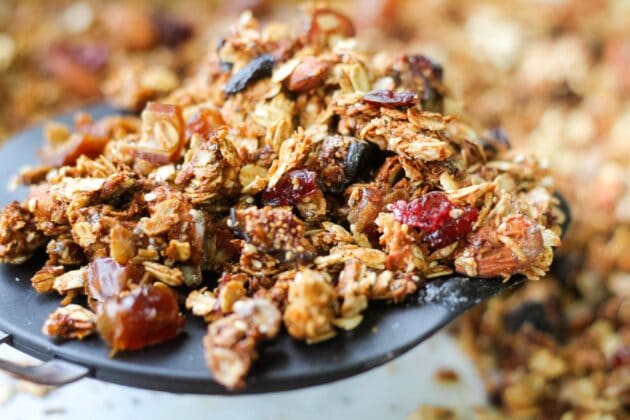 If you like this recipe, you may want to try my Overnight Oats recipe.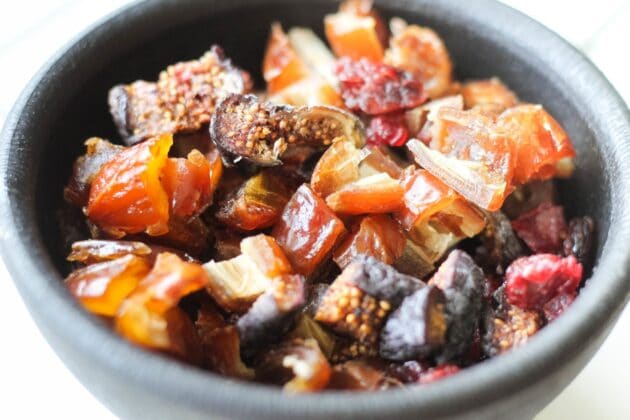 Do you Pinterest? Please pin & share!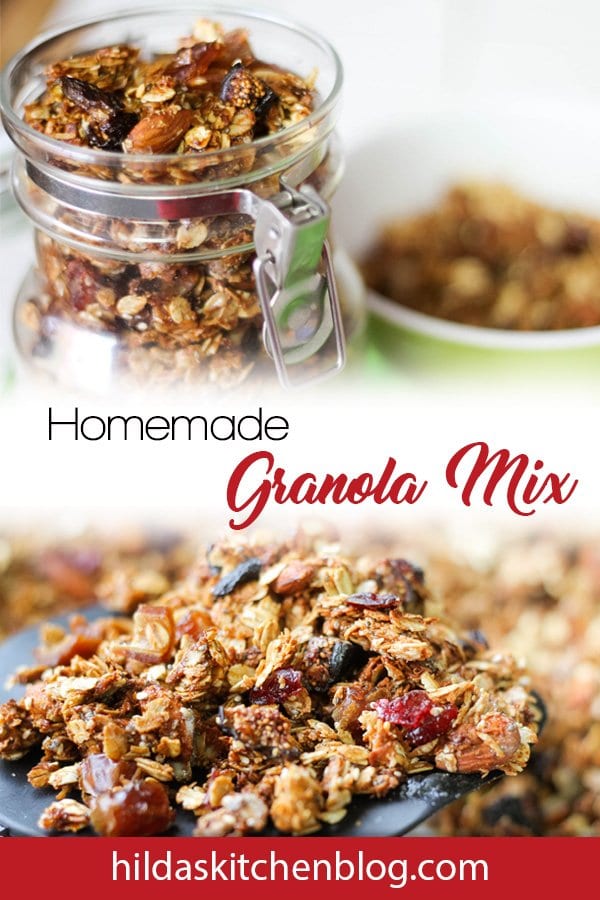 ---
Granola Mix
Homemade granola with a Middle Eastern twist!
Servings
:
8
1/2 cup servings
Ingredients
2

cups

oats

1/2

cup

almonds

1/2

cup

shredded coconut

1

T.

chia seeds

1

T.

sesame seeds

1/2

tsp.

cinnamon

1/2

tsp.

cardamom

1/4

tsp.

ground cloves

1/4

tsp.

salt

3

T.

tahini paste

(reserve 1 T. for later in the recipe)

2

T.

coconut oil

3

T.

date syrup

(reserve 1 T. for later in the recipe)

2

T.

maple syrup

1

tsp.

vanilla extract

1/4

cup

chopped dates

1/4

cup

chopped dried figs

1/4

cup

craisins or dried cherries
Instructions
Preheat oven to 350 degrees F

Mix oats, almonds, coconut, chia seeds, sesame seeds, salt, and spices.

Whisk 2 T. tahini paste, coconut oil, 2 T. date syrup, maple syrup, and vanilla. If coconut oil is solidified, microwave the entire mixture of liquids for 30 seconds before whisking together.

Pour the liquids over the dry ingredients. Stir with a spatula to combine.

Add the granola mixture over a parchment-covered cookie sheet. Spread out into a flat layer.

Bake for 20 minutes, stirring halfway through.

While the granola is baking, chop dates, and figs. Mix in with cranberries, then set aside.

Remove the tray from the oven and drizzle with 1 T. tahini and 1 T. date syrup. Add dried fruit, and stir to combine.

Reduce the oven temperature to 325, and bake for five additional minutes.

Cool completely before storing in a large jar, or divide into smaller jars and give out as gifts.

Enjoy over yogurt, in milk, or straight out of the jar! The mix will keep for two weeks. But, it doesn't last that long around here.
Nutrition Facts
Granola Mix
Amount Per Serving
Calories 317
Calories from Fat 108
% Daily Value*
Fat 12g18%
Cholesterol 0mg0%
Sodium 80mg3%
Carbohydrates 47g16%
Protein 8g16%
Vitamin A 0IU0%
* Percent Daily Values are based on a 2000 calorie diet.