Easy Four-Ingredient Stuffed Dates recipe that you can easily make at home. Prepare these dates as a healthy snack option, or to snack on when you're in the mood for something sweet that's actually good for you!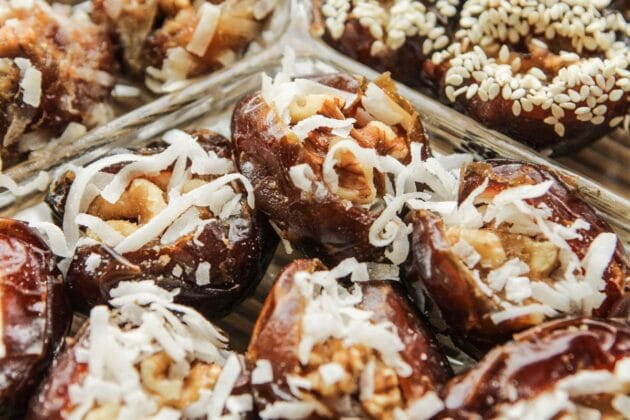 Can you think of any fruit that is more Middle Eastern in origin than dates? Dates have been cultivated in the Middle East for thousands of years. This delicious fruit is also regularly referred to in the Bible.
Before cupcakes, candy, and desserts were a thing, dates were being enjoyed in the Middle East as a healthy, and naturally sweet snack.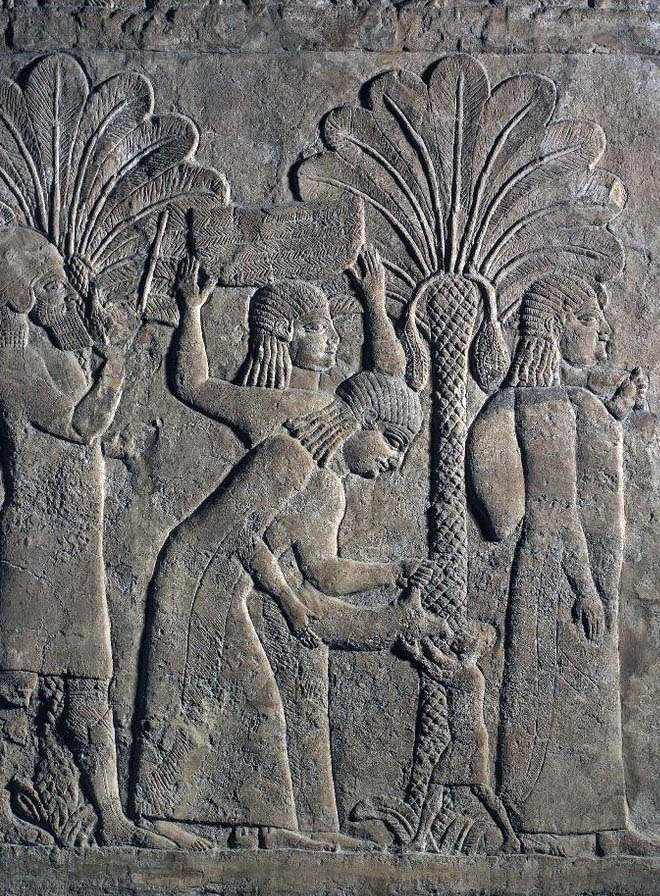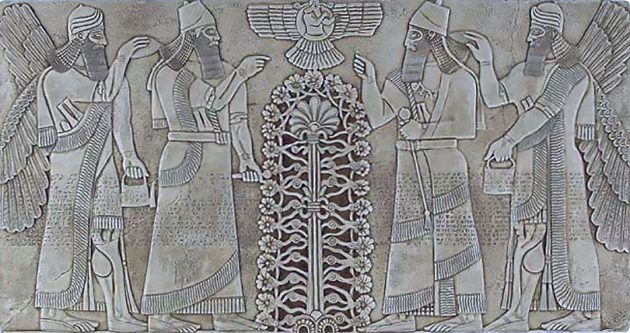 The Health Benefits of Dates
If you want a sinfully-sweet snack to satisfy your sweet tooth, look no further. Dates are loaded with Polyphenols (antioxidants, that protect your body from inflammation).
They are high in fiber, potassium, and B-6. Dates are also loaded with minerals like copper, magnesium, calcium, and iron. So in comparison to other empty-calories snacks, dates win hands down.
There is one downside to consuming too many dates, as they are high in carbohydrates. Keeping this in mind, you'll have to eat them in moderation, and pay attention to those macros. If you're not sure what macros are, you can learn all about them in this post.
Date Shakes
I love dates so much! In fact, whenever our family would make the drive from San Diego to Flagstaff, Arizona (to visit Scott's mom), I would insist on making a stop in Dateland Arizona to get my date shake fix.
Sadly, Scott's mom passed away in 2015, so we haven't made that trip since then. However, if you're ever in the area, do yourself a favor and make the stop.
I hate long road trips, but the date shakes make the long drive almost worth it. While you're at it, get one of their cactus shakes too, they are almost as good as the date shakes.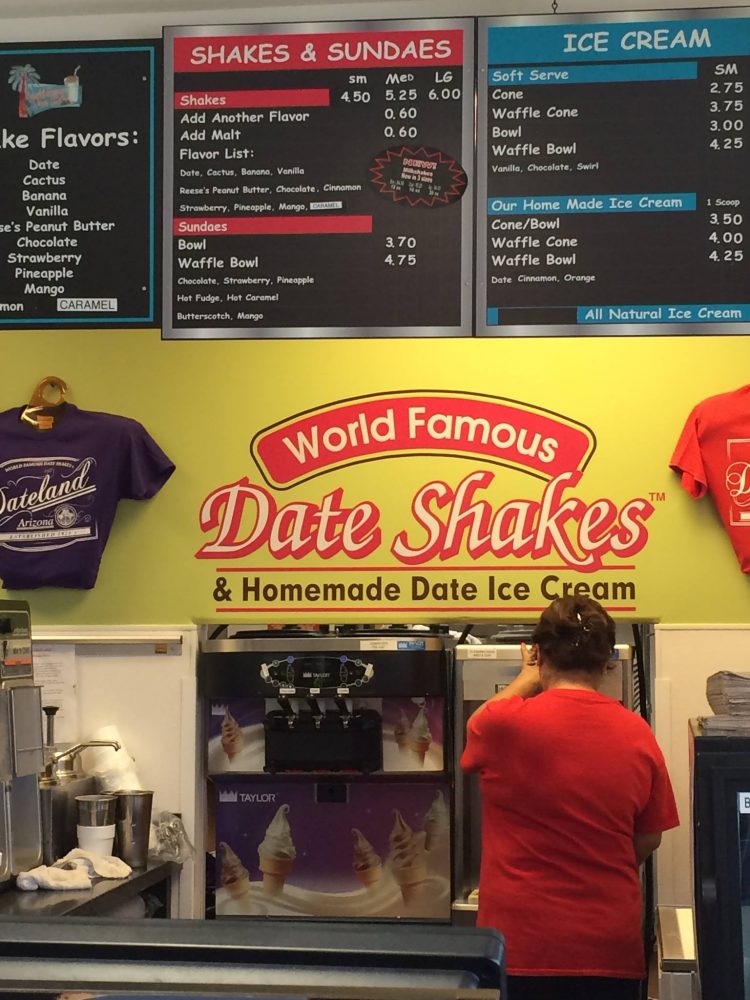 Middle Eastern Stuffed Dates Recipe
If you don't want to completely blow your diet by enjoying a date shake, I get it. Have a healthier alternative, this stuffed dates recipe! It's true that dates are amazing on their own, but you can easily dress them up to impress your family and friends.
Although you can find recipes for mascarpone, blue cheese, and bacon stuffed/wrapped dates, I like to keep it simple. All you need to do is replace the date pit with a walnut, or almond, and sprinkle or dip the date in shredded coconut.
As an alternative, brush the inside of the date with tahini, stuff with almonds or walnuts, and sprinkle with sesame seeds.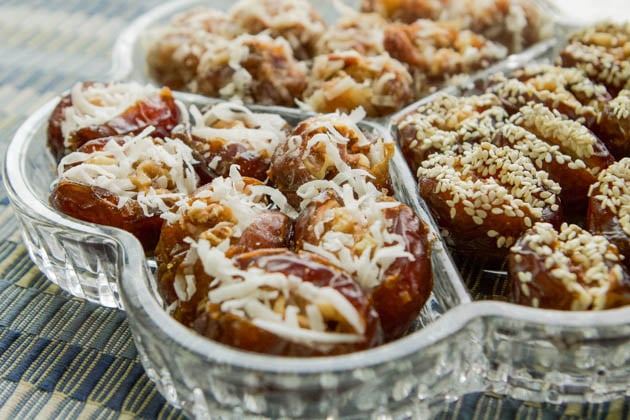 What Are the Best Dates for Stuffing?
All dates are not created equal. My favorite dates to stuff are Medjool dates. I usually find them at Costco, but they can be purchased elsewhere, including on Amazon.
What makes Medjool dates my favorite? They are plump, moist, and larger than other dates. This also makes them perfect for using to make Date Paste. To see what I mean, just look at the pictures below to see a comparison between Deglet Noor dates, and Medjool dates.
Medjools are very easy to stuff, whereas you can barely fit the walnuts inside the Deglet Noor dates.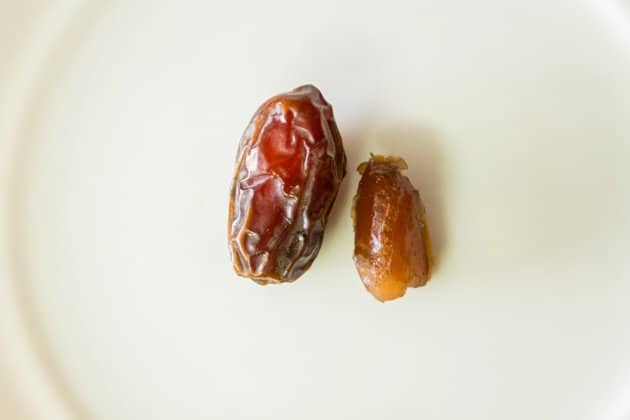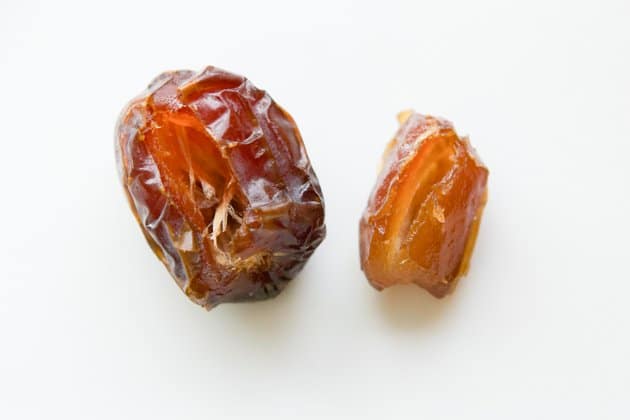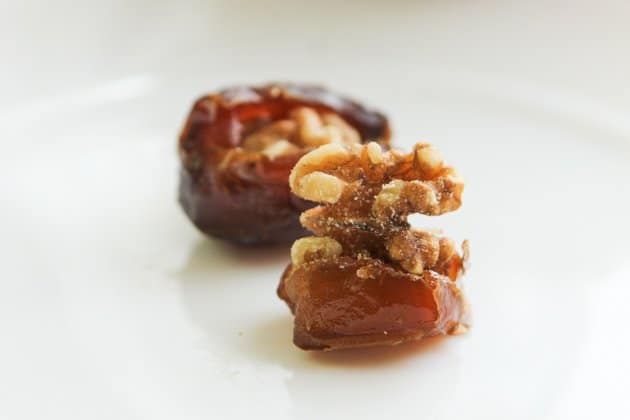 Cardamom-Laced Dates
You might be wondering, hey, where's the fourth ingredient in this "Easy Four-Ingredient Stuffed Dates Recipe?" That missing ingredient, my friend, is cardamom!
Have I mentioned it's my favorite spice? Yes, probably in at least ten other posts. I can't help it, have you smelled this stuff? It's amazing! So do yourself a favor, take the extra step and mix in a little cardamom with your coconut before adding the coconut to the stuffed dates.
Alternatively, you can puree the softened dates in a food processor, along with the cardamom. Or make it easier on yourself and buy pureed baking dates instead. Then you can simply shape the date paste over the walnut or almond, and roll them in the shredded coconut.
If you enjoy this stuffed dates recipe, you might also be interested in the following desserts: Mann Al Sema (Nougat Bars), Vegan Shortbreads Cookies, Tahini Fudge, Candied Figs, and Membrillo (Quince Paste).
STAY IN TOUCH WITH ME THROUGH SOCIAL MEDIA!
Tried this recipe? Snap a picture and tag #hildaskitchenblog on Instagram.
Like my page on Facebook.
Do you Pinterest? Pin & share this recipe!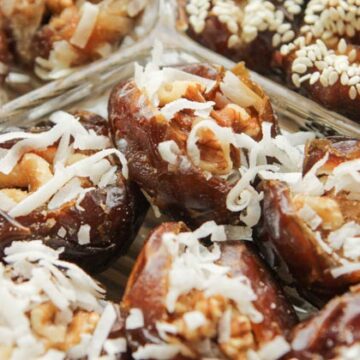 Stuffed Dates (Easy Four-Ingredient Recipe)
Walnut-stuffed dated, rolled in cardamom-flavored coconut.
Print
Rate
Ingredients
20

Medjool dates

20

walnut halves

1/4

tsp.

cardamom powder

1/3

cup

shredded coconut
Instructions
Split dates and remove the pit.

Fill each date with walnut-half.

Mix cardamom with the shredded coconut.

Sprinkle coconut over the dates, one at a time. Press the coconut into the dates, if necessary.
Nutrition
Calories:
97
kcal
|
Carbohydrates:
19
g
|
Protein:
1
g
|
Fat:
3
g
|
Saturated Fat:
1
g
|
Cholesterol:
0
mg
|
Sodium:
1
mg
|
Fiber:
2
g
|
Sugar:
16
g