Kileche are traditional Assyrian cookies that are baked for the holidays. They go perfectly with a hot cup of tea and come in the following varieties: date, walnut, and coconut.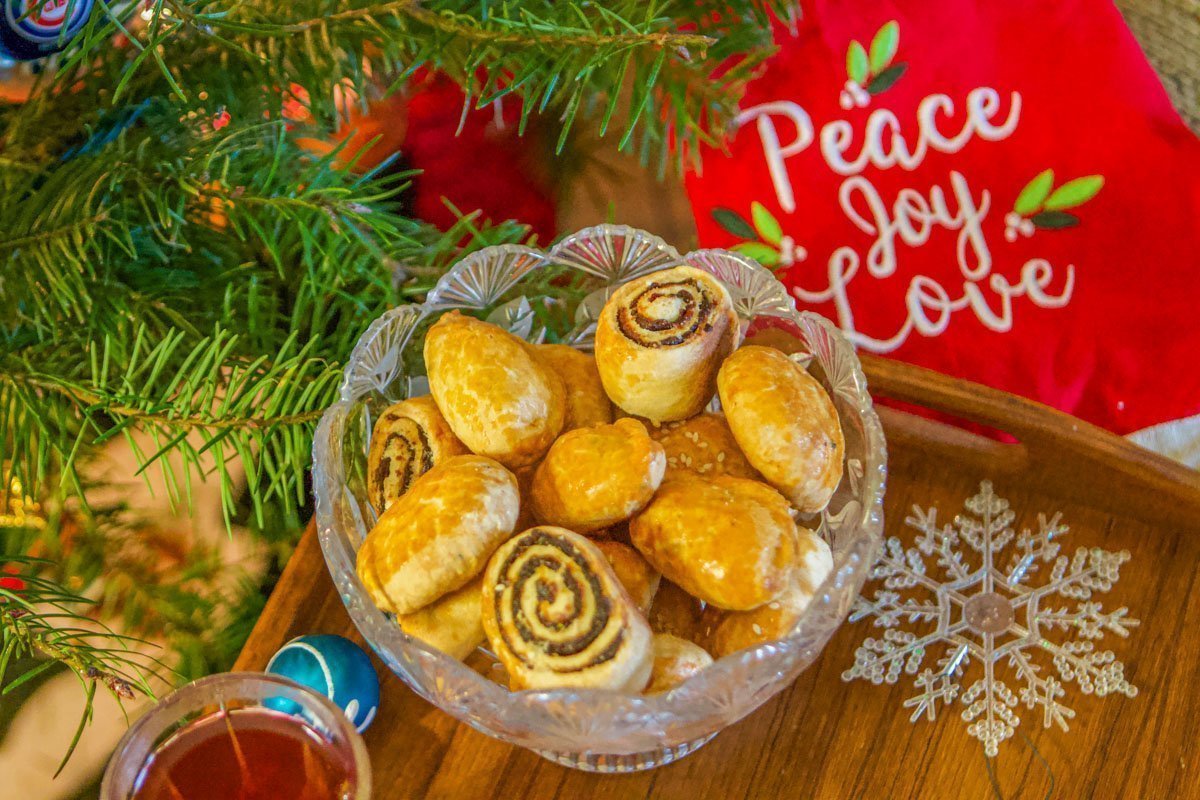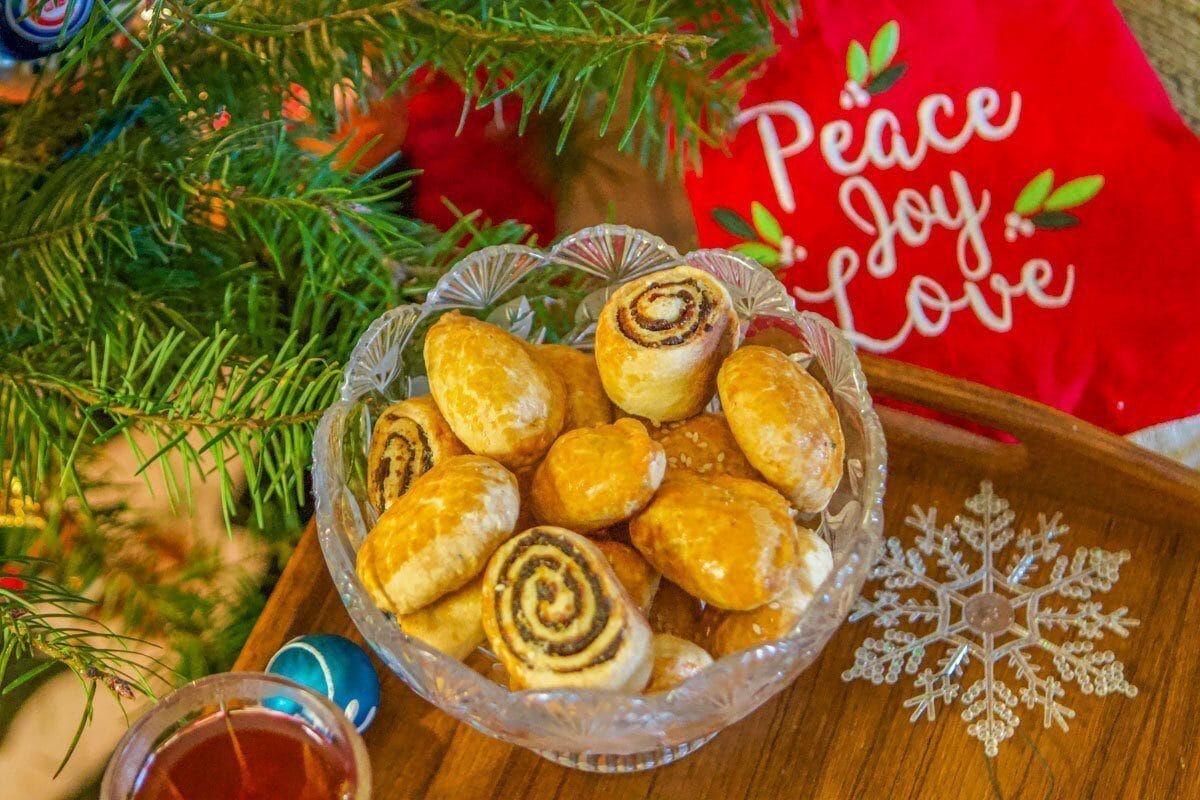 Although I call these "Assyrian Holiday cookies," the truth is they are not exclusively an Assyrian cookie. In fact, they are Iraq's national cookie; specifically, the date filled variety.
They are called "kileche" in Assyrian, while they are known as "kleicha" in Arabic. I was originally going to name this recipe Assyrian "Christmas" Cookies, but I decided to call them "holiday" cookies instead.
No, I wasn't trying to be politically correct, it's because we usually make them twice a year; Christmas and Easter. But the fact that we don't make them very often only makes them more special!
Kileche Cookie Variations
Kileche usually have three different fillings: date, walnut, and coconut. Date kileche are easy to identify because the filling is visible.
The other two (walnut and coconut) not so much. The filling is enclosed in the dough. For this reason, we make them in different shapes.
There are also plain kileche, made by rolling the dough into various shapes.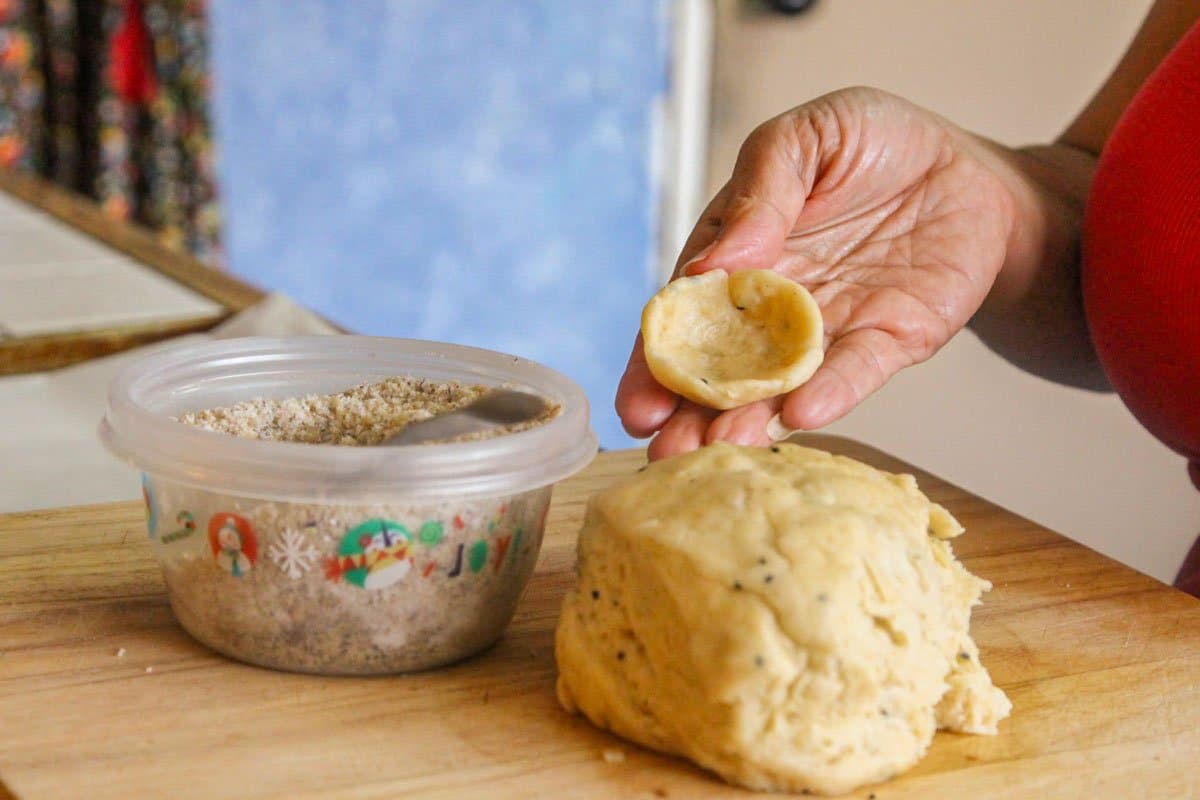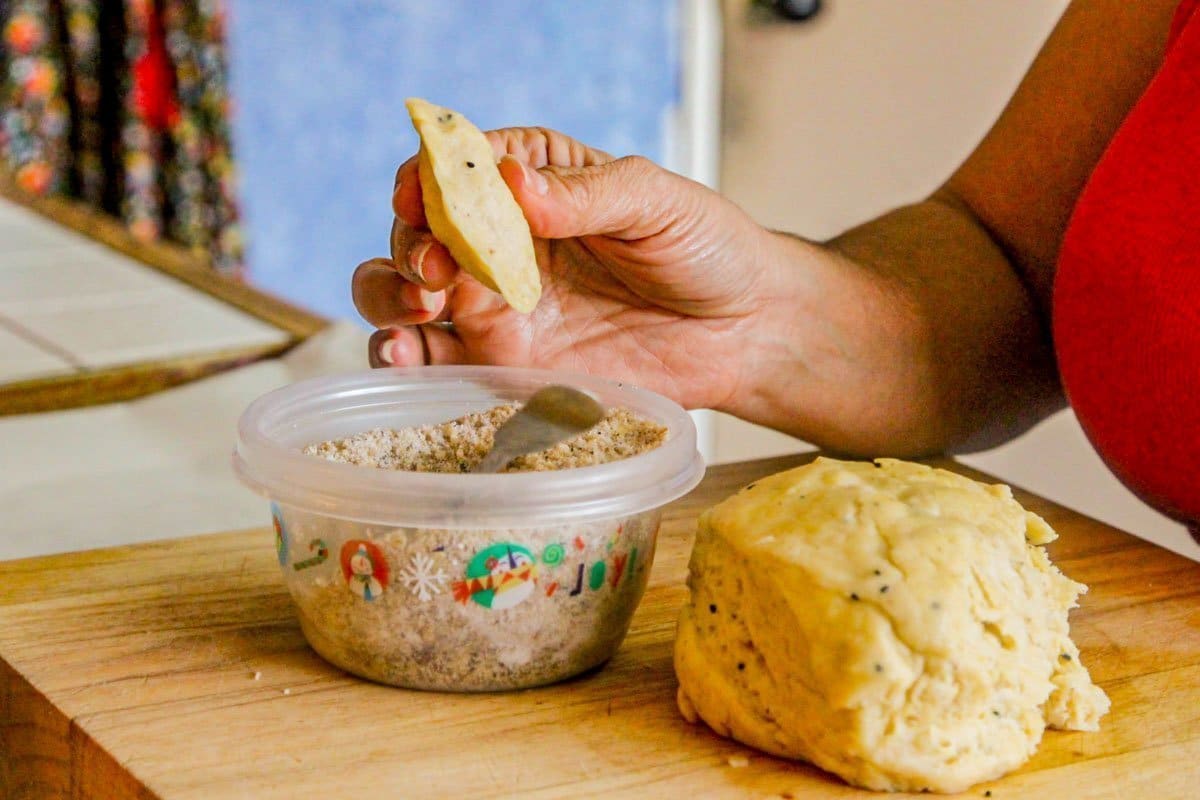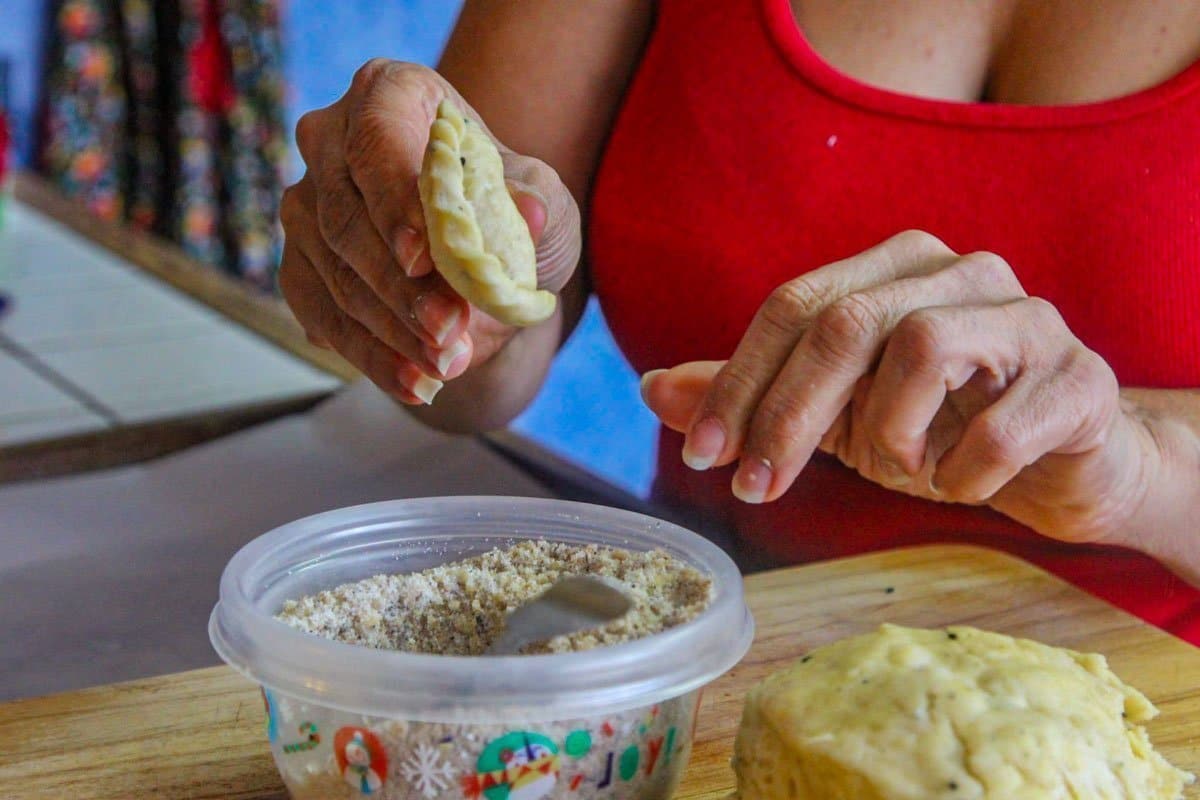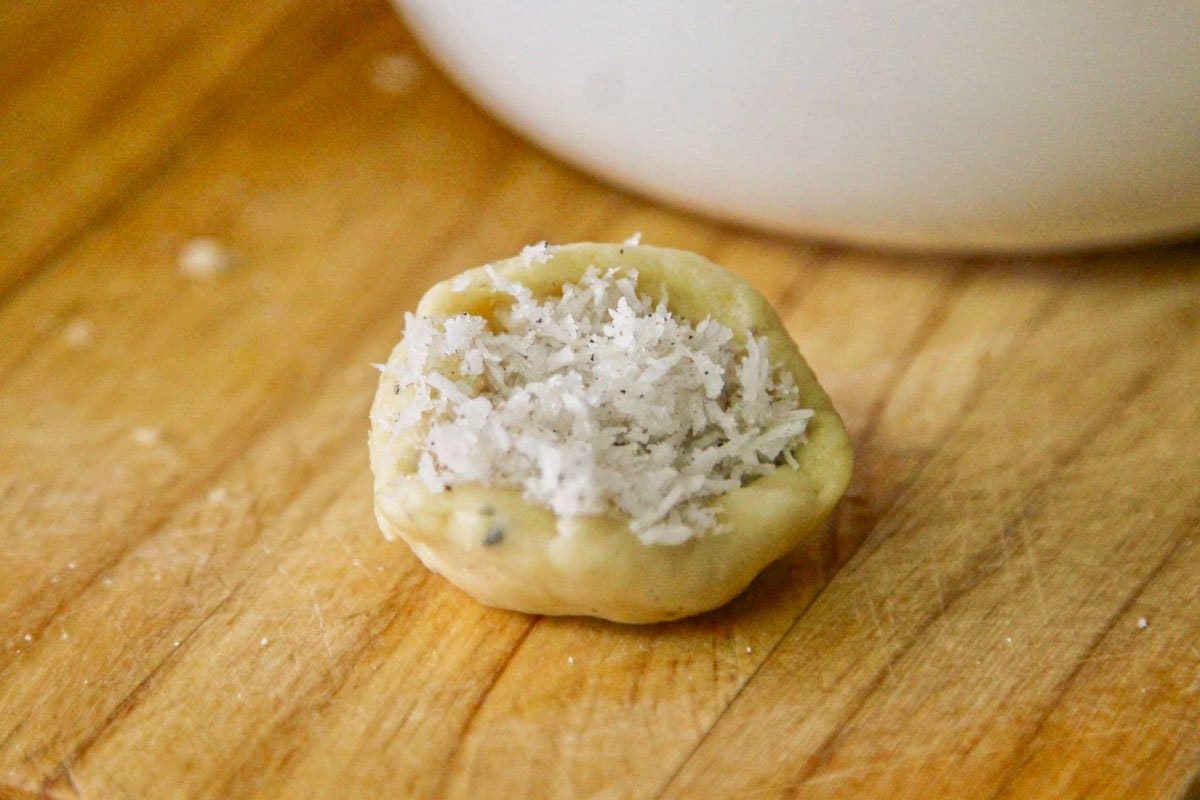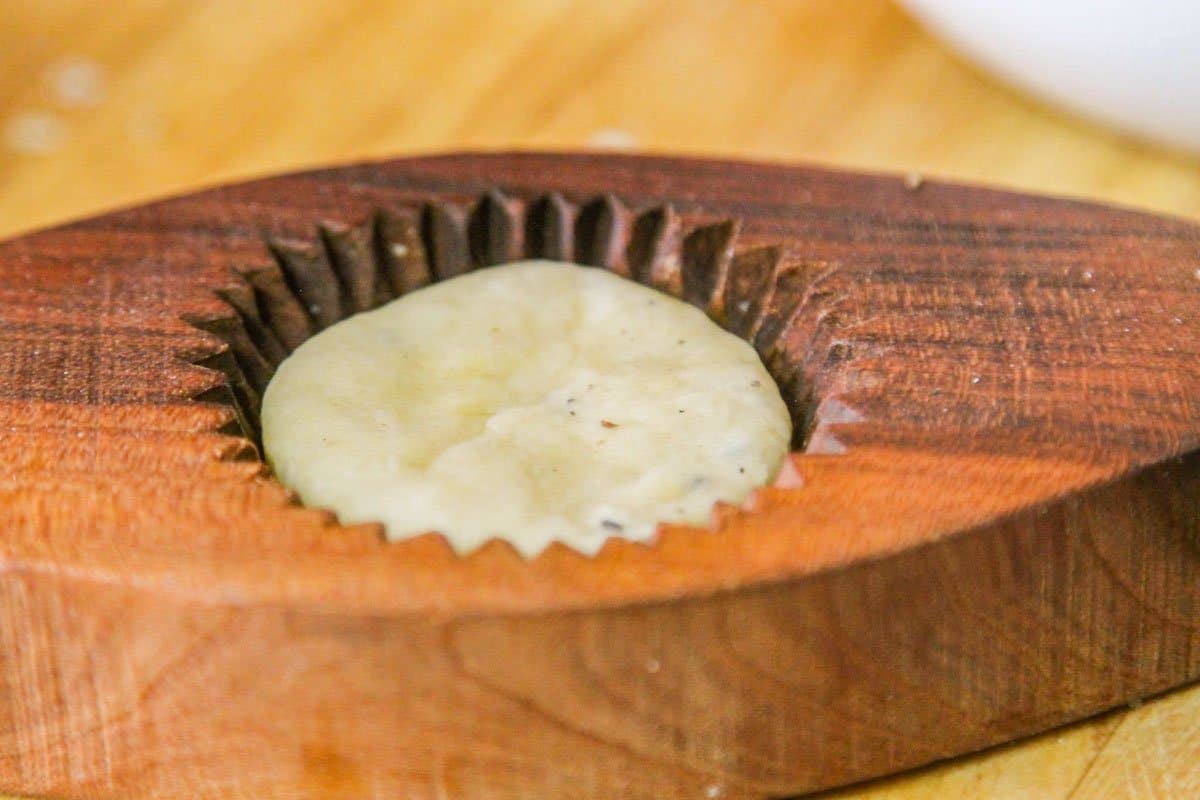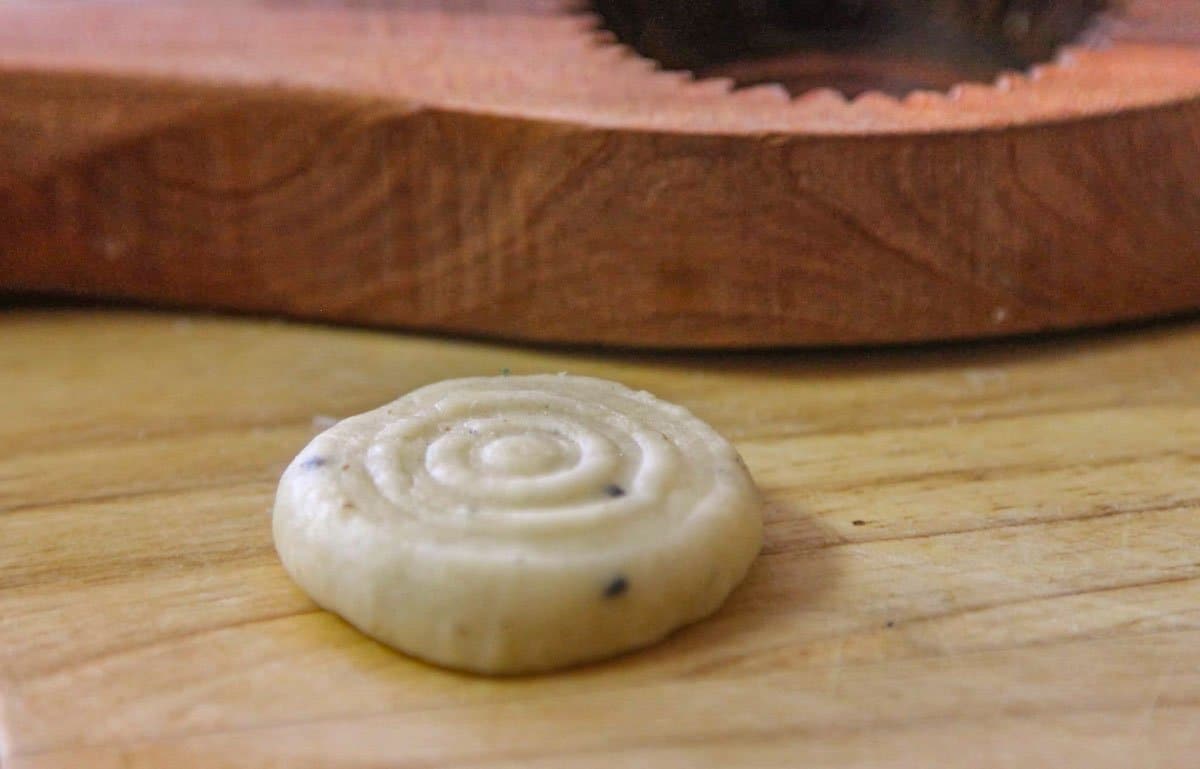 What to Do with Leftover Dough
If there is extra dough remaining, it's usually rolled into braids or wreaths. My sister, Beni, loves the ones without filling, but I prefer filled.
If I'm going to blow my diet, filling definitely needs to be involved.
You'll find that most people have their favorite filling; I prefer walnut. But truth be told, I wouldn't kick any of them off my plate!
What about you? Do you have a favorite? Beni's kileche pictures are pictured below.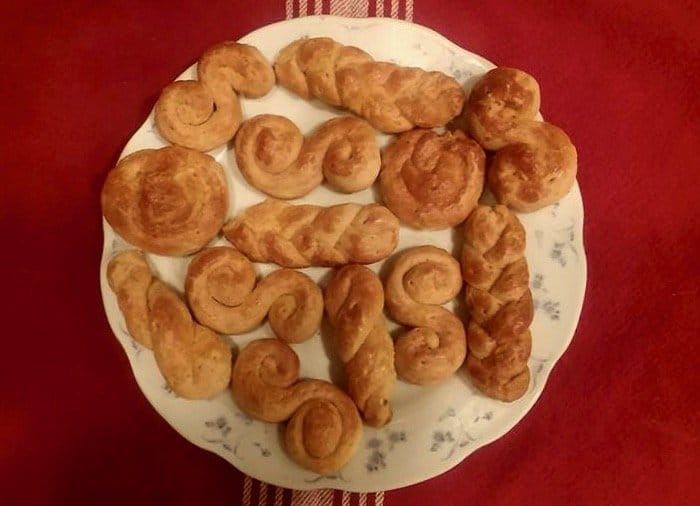 Helpful Tools and Gadgets
I'm happy to report that you don't need any special tools or ingredients to make kileche.
All you really need is a rolling pin, a work surface, and ingredients easily purchased at your local supermarket.
Having said that, there are a few tools that can make your job a little easier. One such tool is called a Maamoul Mold.
This mold is used to make another Middle Eastern cookie, known as "maamoul." This awesome mold can also be used to form the coconut kileche.
Another fun tool, a Crinkle Cutter or a pastry wheel can be used to add a decorative edge to the date kileche.
As far as the ingredients are concerned, you can find sativa seeds and rose water on Amazon.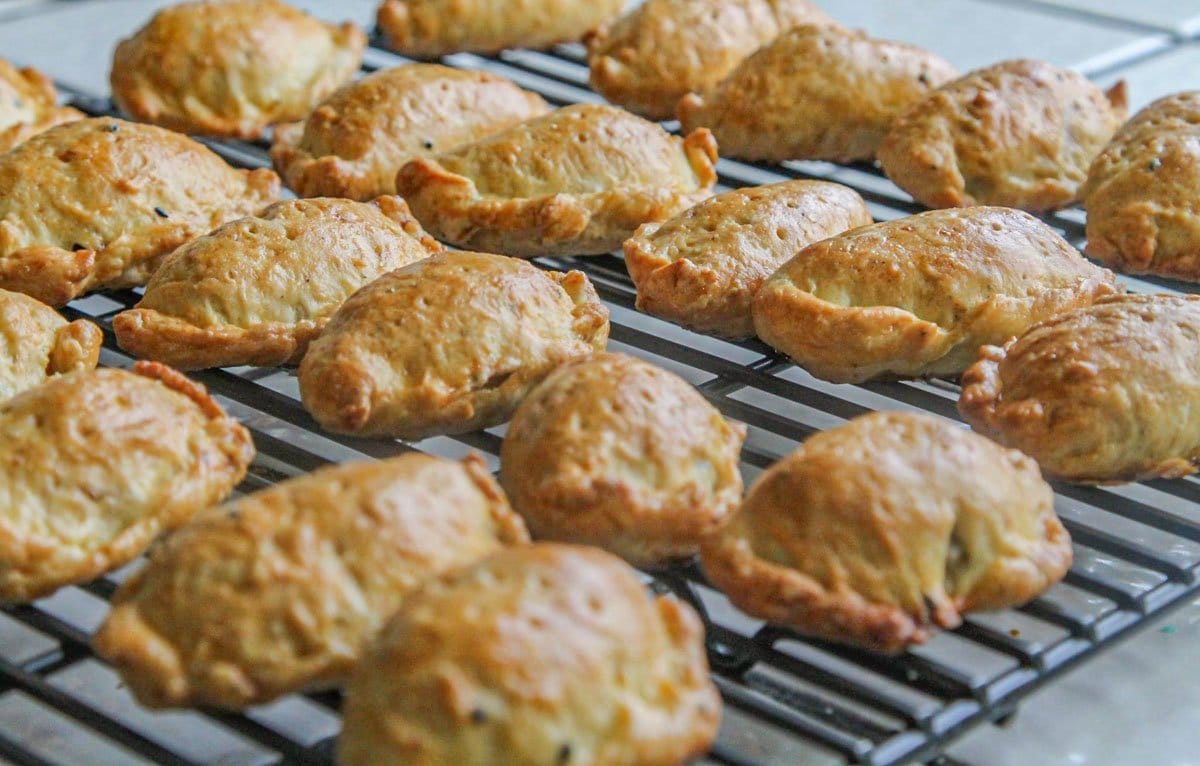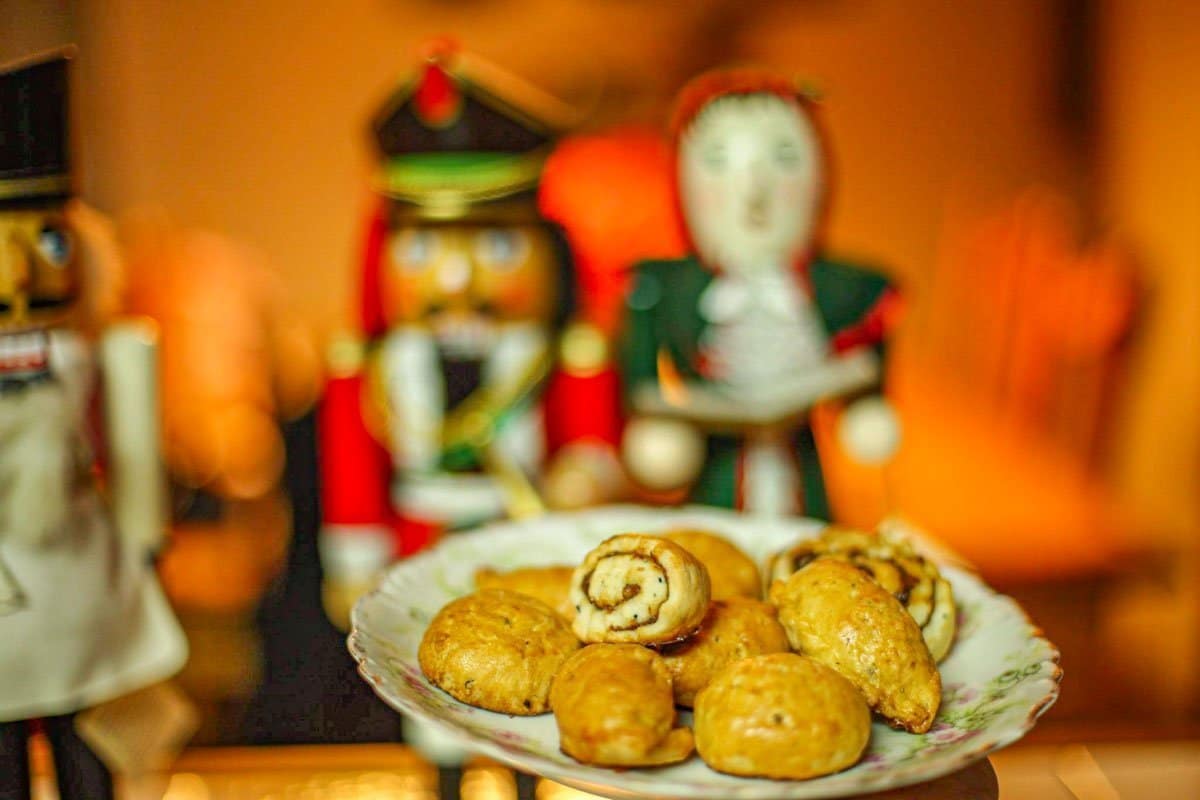 While you're in a baking mood, be sure to check out the following recipes!
Stay in touch with me through social media!
Tried this recipe? Snap a picture and tag #hildaskitchenblog on Instagram.
Like my page on Facebook.
Do you Pinterest? Pin & share this recipe!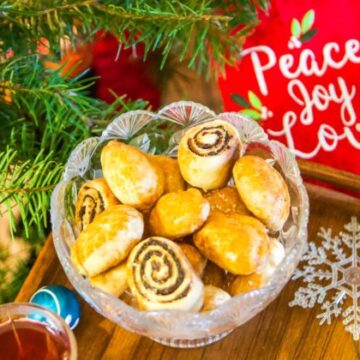 Assyrian Holiday Cookies (Kileche/Kleicha)
The most popular Middle Eastern cookie, made with various fillings.
Print
Rate
Servings:
150
pieces (approximate)
Ingredients
Kileche Dough
1

cup

warm milk

1

T.

yeast

1/3

cup

sugar, plus 1 Tablespoon

10

cups

all-purpose flour

1-1/2

tsp.

salt

1

T.

cardamom

1-1/2

tsp.

nigella sativa seeds

2

cups

unsalted butter

melted

1/3

cup

plain yogurt

room temperature

3

medium

eggs

beaten
Walnut Filling
1-1/2

cup

ground walnuts

2/3

cup

sugar

1

tsp.

cardamom
Coconut Filling
1-1/2

cup

unsweetened shredded coconut

2/3

cup

sugar

1

tsp.

cardamom

1

T.

rose water

(optional)
Date Filling
16

oz.

date paste

(packaged, or make your own)

1

T.

vegetable oil

1

tsp.

cardamom
Instructions
Dough
Mix yeast into warm milk and sprinkle with one tablespoon sugar, set aside.

Add 10 cups of flour to a large bowl. Mix in the remaining dry dough ingredients.

Add melted butter and mix in with your hands, until crumbly.

Work in milk, followed by the yogurt.

Add the beaten eggs and knead by hand, until the dough is soft and smooth (approximately 10 minutes).

Score with a Cross, cover, and allow to rest for one hour.
Fillings
While the dough is resting, prepare the fillings. Mix the ground walnuts with the sugar and cardamom and set aside. Do the same with the coconut filling ingredients. The rose water helps the dry coconut to bind together, making it easier to work with. It also adds that classic rose flavor.

For the date filling, heat vegetable oil in a small pan. Add the date paste and sprinkle with cardamom. Stir and mix, over medium heat, until the dates, oil, and cardamom are thoroughly mixed. Frying the dates really brings out their flavor!
Preheat oven to 350 degrees F
Divide the dough into 4 pieces. I use one section for each filing, and I use the last portion of dough as needed to use up whatever filling is remaining. Any extra dough can be rolled into braids, and wreaths, and baked as is.
Walnut Kileche Assembly
Take a small portion of dough and roll it into a ball.

Flatten using your thumbs and pointer fingers. Mold the dough into a bowl shape.

Fill the bowl with the walnut filling.

Fold the dough in half and press the edges together.

Make small folds all around the edges. Continue until all the filling is used up.

Place the kileche on a cookie sheet as you make them.

When you have a full pan of kileche, pierce them with a fork. Beat the glaze ingredients together and brush generously over the kileche. Bake for 30 minutes.

Remove kileche when nicely browned, then get back to work!
Coconut Kileche
Using about a tablespoon of dough, flatten into a circle. Fill with coconut and pinch the dough together into a ball.

With the pinched portion facing up, press into the maamoul mold.

Tap mold onto your work surface to dislodge the kileche. If you don't have a mold, shape by hand into a circle.

Continue until you have used up the coconut filling, glazing and baking as you go.
Date Kileche
Place half of the date paste on a long section of the wax paper.

Cover with another sheet of wax paper and roll out, using a rolling pin, into an approximately 9" x 14" layer.

Divide the dough reserved for the date kileche into two sections. Roll one piece into the same size as the date layer.

Line up the date layer over the dough and peel back on one section of wax paper. Turn the exposed dates towards the dough and press to adhere the dates to the dough. Peel back the remaining sheet of wax paper.

If some of the date paste sticks to the waxed paper, scrape off using a spatula, and fill in the dates where needed on the dough.

Roll the dough into a long tube.

Flatten either by pressing down gently with your hands, or use a rolling pin. Make sure the sealed side is facing down.

Cut into 1" sections with a crinkle cutter. Or cut with a sharp knife.

Pierce, glaze, and bake. Follow the same steps using the remaining date paste, and the other half of the dough.
Remaining Dough
As mentioned earlier, the 4th section of dough can be rolled into different shapes and baked as is.

Remove the date kileche from the oven, and take a moment to appreciate your mad baking skills!

Now take a well-deserved rest, as you enjoy the fruits of your labor, with a hot cup of chai, of course! Merry Christmas!
Nutrition
Serving:
1
cookie
|
Calories:
377
kcal
|
Carbohydrates:
31
g
|
Protein:
4
g
|
Fat:
27
g
|
Saturated Fat:
16
g
|
Cholesterol:
78
mg
|
Sodium:
83
mg
|
Fiber:
2
g
|
Sugar:
12
g