This is one of those posts where if you're Assyrian you're probably thinking "yes, finally!" But if you're not, you are asking yourself, "what is this "kadeh recipe" you speak of?  Well, let's just say that this is an Assyrian savory pastry that's traditionally baked for Easter and Christmas. They're a bit unique because they are filled with a roux. Although I can't be certain, I imagine this recipe was invented out of necessity, when other filling ingredients were not available. But however the idea for this recipe came about, I'm just thankful someone came up with a kadeh recipe.
Kadeh Recipe 
(Chada)
When I think back to the "good old days" I'm usually referring to the 1970s. We moved to Chicago in 1976, when I was just ten. My family lived in my paternal grandmother's house, along with my Uncle Simon's family, for a few years. We each occupied a different level. I remember the huge family gatherings, where food, chai, and alcohol flowed. Although I didn't appreciate those days back then, I sure miss them now. Kadeh brings back fond memories of the older generation (mostly gone now) enjoying some with their chai. Back then I didn't like chadeh. I always preferred kileche, because they were sweeter. Perhaps I had to mature into liking them. Wait, does the fact that I like them mean I'm getting old?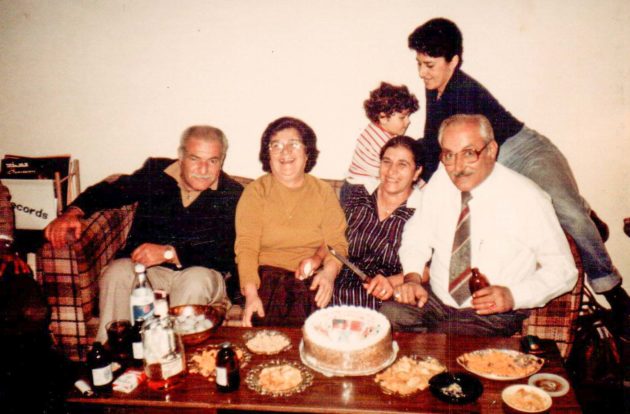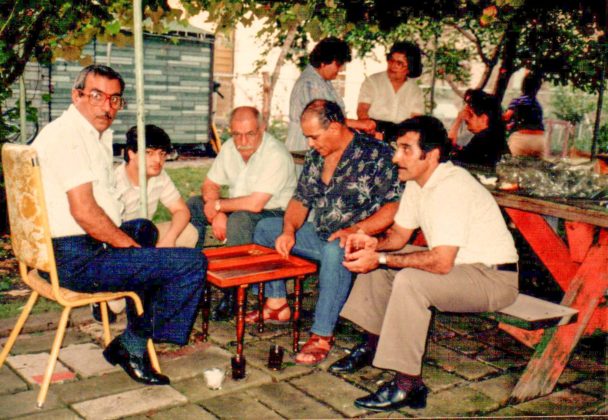 Kadeh Recipe Variations
Before I go any further, I want to explain the variations in spelling. This is due to the various dialects that Assyrian tribes have. For example, my family pronounced the name of this recipe with a "ch" sound, which is why I say "chada" or "chadeh" (plural). Many Assyrians, on the other hand, pronounces it with the "k" sound instead, "kadah" or "Kadeh" (plural). Chadeh can be either savory (how my family made them), or they can be sweetened by adding sugar to the roux. There are shape variations too. Chadeh can be shaped into a circle, or a half circle (as in this recipe). They are cut into serving-sized portions after cooling off. Although not traditional, some also make individual-sized chadeh. All I can say about that is, mom wouldn't approve. ?
Do you Pinterest? Please pin and share this post!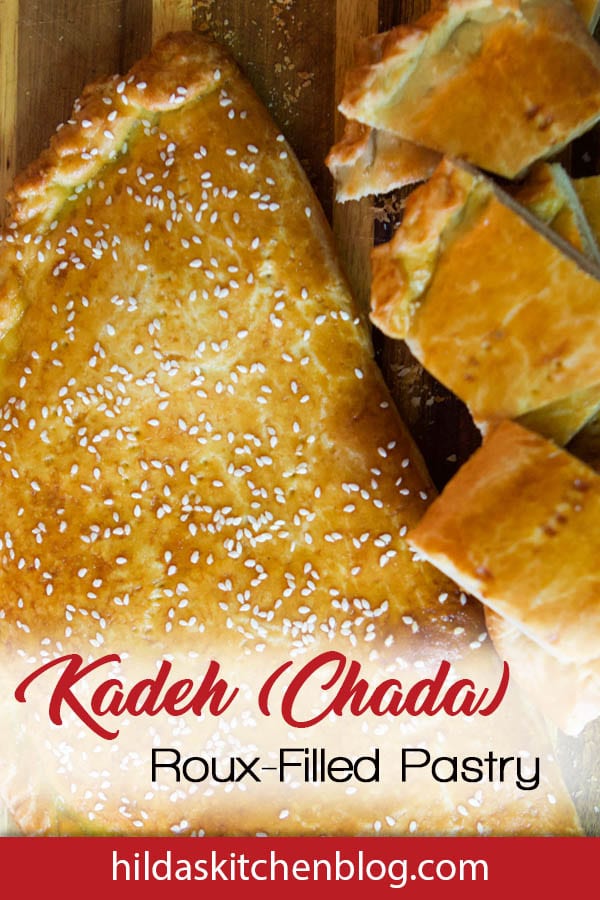 ---
Don't forget to check out my  Classic Middle Eastern Food Combinations.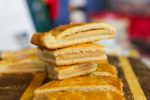 Kadeh Recipe
Roux-filled Assyrian pastry known as "kadeh" or "chada."
Ingredients
Dough
1-1/4

tsp.

yeast

1

tsp.

sugar

1/4

cup

warm water

3

cups

flour

3

T.

sugar

1/2

tsp.

salt

4

T.

butter

(melted)

1/4

cup

vegetable oil

1/3

cup

yogurt

1

large

egg
Roux Filling
10

T.

unsalted butter

2

T.

vegetable oil

1-1/2

cup

all-purpose flour

1/4

tsp.

salt

2

T.

sugar

(optional)
Glaze
1

medium

egg

1

tsp.

sugar
Topping
2

tsp.

sesame seeds

(optional)
Instructions
Add yeast and 1 tsp. sugar to warm water. Mix and set aside for ten minutes.

Add the remaining dough ingredients in a large bowl. Add the yeast mixture, and knead until the dough comes together. You can use a mixer if you prefer.

Mark a cross in the center of the dough, cover, and place in a warm spot for one hour.
Roux
Meanwhile, melt butter in a large saucepan. Add oil, flour, salt, and sugar (if using). Stir over medium heat for approximately 30 minutes, or until the roux is light brown in color. It should resemble peanut butter. Set aside to cool.
Assembly
Preheat oven to 375 degrees F.


When the dough is ready, and the roux is cooled off, flour your work surface.

Divide the dough in half.

Roll out half of the dough into a large circle.

Cover half of the circle with half of the roux. Leave 1/2" border around the edges.

Fold the dough in half, and braid the edges together, or use a fork to crimp the edges.

Carefully transfer the chada onto a cookie sheet. Prick the top with a fork, then brush with the glaze. Sprinkle with sesame seeds, if using.

Bake for 30 minutes, or until nicely browned, while you work on the second one.
Nutrition Facts
Kadeh Recipe
Amount Per Serving (1 piece)
Calories 188
Calories from Fat 99
% Daily Value*
Fat 11g17%
Cholesterol 33mg11%
Sodium 81mg4%
Carbohydrates 20g7%
Protein 3g6%
* Percent Daily Values are based on a 2000 calorie diet.