"Nougat Bars" might not sound very Middle Eastern, but the origin of nougat, in fact, is. You see, the earliest nougat recipe was found in a Middle Eastern book in Baghdad, dating back to the 10th century. It was referred to as "natif" which translates to "dribble."
The name I'm more familiar with is "Mann Al Sama," which is also an Arabic term. When translated, "Mann Al Sama" means "Manna From Heaven."  
The book of Exodus, in the Holy Bible, tells us that God rained down "Manna" from heaven, as a response to the Nation of Isreal's grumblings about being hungry. This happened while they were in the Sinai Desert. Interestingly, the word "manna" also means "plate" in Assyrian.
How These Nougat Bars Became known as "Manna From Heaven"
So why are these Iraqi Nougat Bars called "Manna From Heaven?" Well, traditionally, they were made from a sticky sap found on leaves lying on the ground, under tamarisk trees.
It was thought that the sap rained down from heaven, much like manna. This "dew" tasted as sweet as honey! Leave it to the ingenuity of Iraqi women, who removed the dirt and debris from the sap, then boiled and strained it.
The sap was then mixed with nuts, and spices, including cardamom, and enjoyed as a sweet treat. Cardamom makes everything better, am I right? These days we can make these similar-tasting nougat bars with ingredients more readily available, like the ones found in this recipe.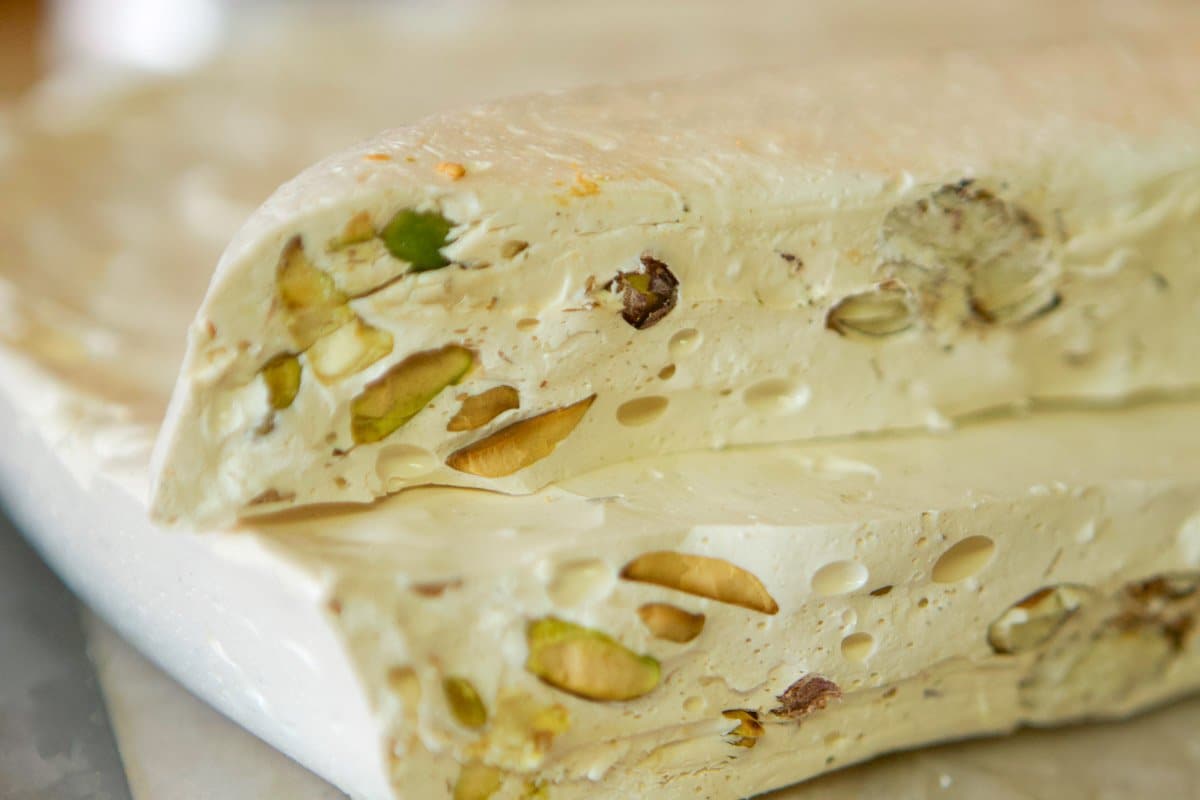 The Prophet Jonah's Nineveh Fast
What do Mann Al Sama and Jonah have in common? Well, Jonah was a prophet, who was told by God to go to the great city of Nineveh and tell its people to repent from their wicked ways or be destroyed.
Jonah hated the Ninevites, so he did not obey. Instead, Jonah got on a boat headed to Tarshish, which was in the opposite direction. As a result, Jonah found himself in the belly of a large fish for three days.
After being spat out, he obeyed the Lord and headed to Nineveh. As a result: "…the Ninevites believed God. A fast was proclaimed, and all of them, from the greatest to the least, put on sackcloth"—Jonah 3:4-5.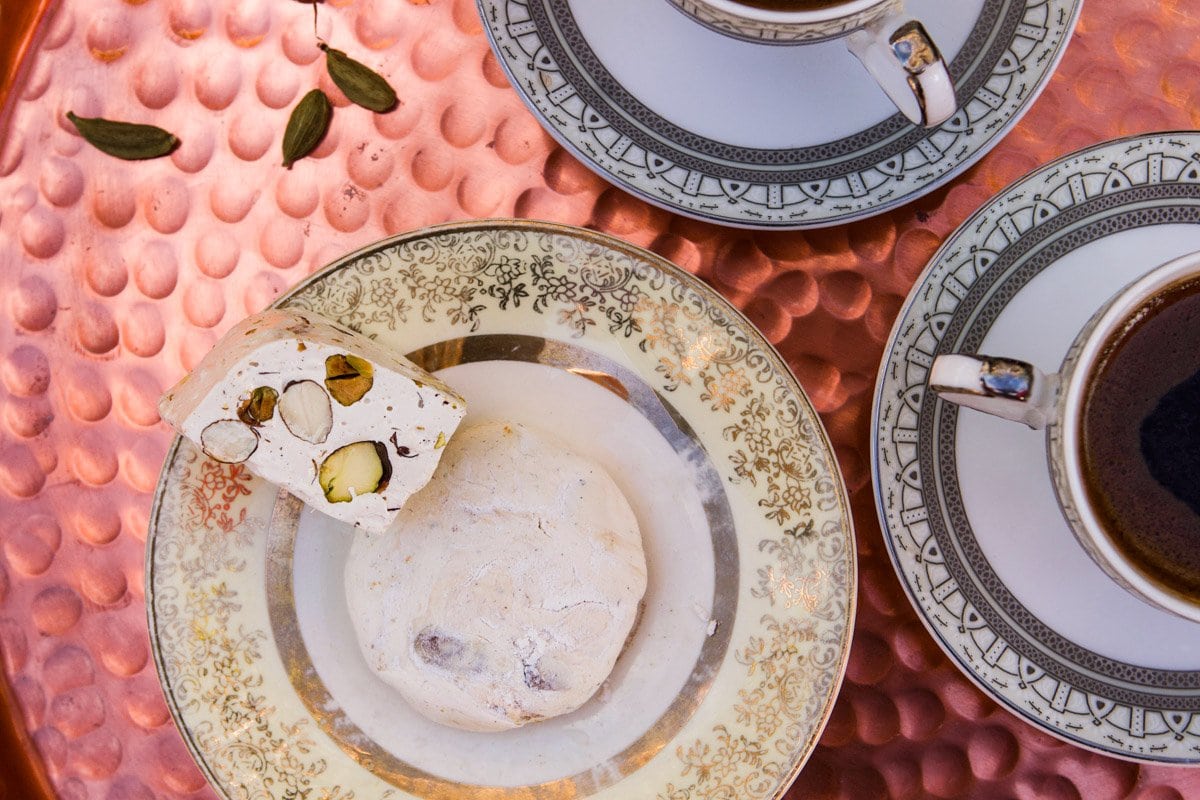 Rogation of the Ninevites
Assyrians still hold this fast, which falls on the third Monday in February. The fast is known as "Bauta it Ninweh" or "Rogation of the Ninevites." To break this three day fast, everyone is served Mann Al Sama.
Why that tradition started, I can't tell you. However, growing up as a child in Iraq, I remember looking forward to this mysterious treat that only showed up once a year.
A large tray, loaded with Mann Al Sama, coated in flour (to keep them from sticking together) would be passed around. As it made its way around the crowd, everyone would take and eat a piece, to break their fast. It's one of my favorite childhood memories!
Another Assyrian Tradition: Consuming "Pookhin"
Recently I had a talk with my aunt, regarding another interesting tradition having to do with the Nineveh Fast. I remembered mom talking about this tradition, but had to have Aunt Alice clarify some of the facts.
On the last night of the three-day fast, a powder referred to as "Pookhin" was made with a mixture of seven grains (including chickpeas, corn, and seeds). Women consumed this thirst-inducing concoction, followed by a pinch of salt. This was done by dipping their thumb into the powder and straight into their mouth.
Once "pookhin" was consumed, they would have to go straight to bed. It was hoped that going to bed in extreme thirst, would result in dreaming of a man who would off them water to quench their thirst. But not just any man, this man would be their future husband!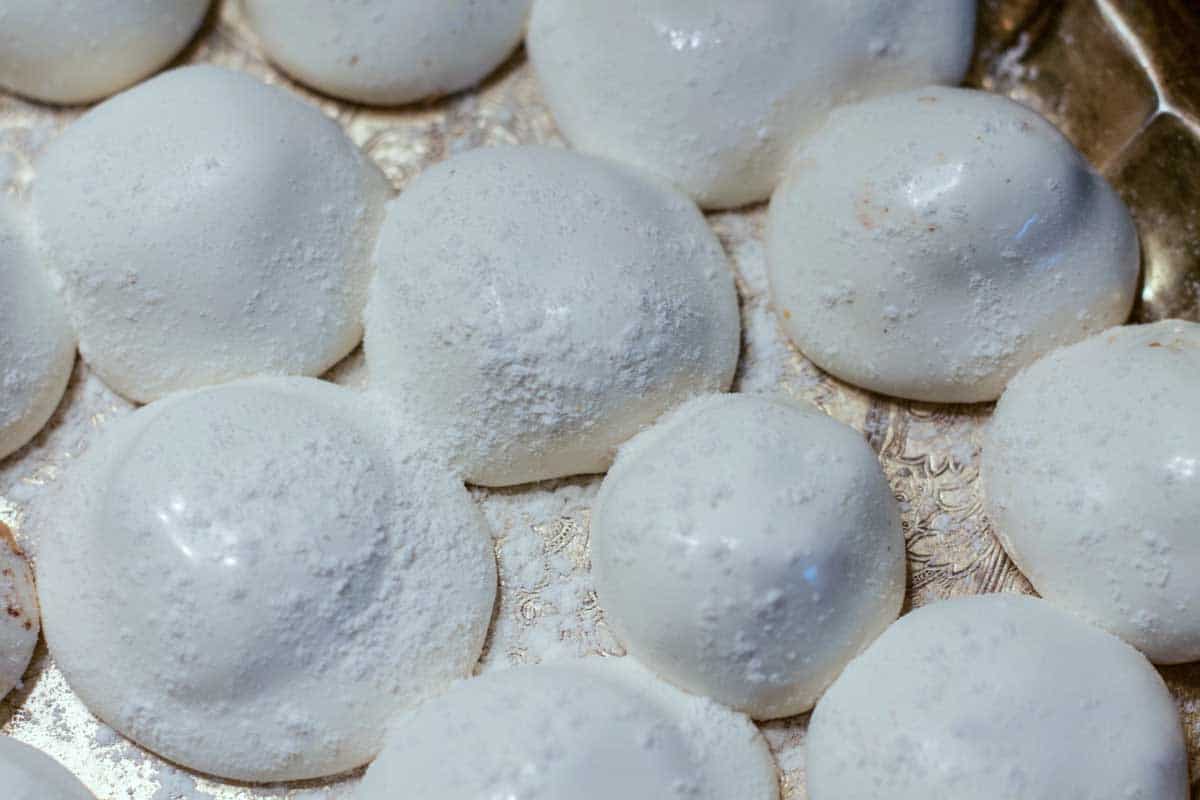 The Differences Between Mann Al Sama and Traditional Nougat Bars
The Mann Al Sama I remember eating as a child were shaped into small balls or patties. Also, the nut-filling was in the center, like a surprise waiting to be discovered. Nougat has the nuts mixed throughout.
Unlike plain nougat, Iraqi nougat has either cardamom, rose water, or both added. Another difference is the texture. Whereas nougat is usually soft and chewy, Iraqi nougat is crunchier.
In this recipe, the texture is achieved by cooking the syrup to 290 degrees F, or "hard crack" stage. If you prefer softer nougat, don't allow the syrup to cook past 270 degrees F. If, in spite of following the directions, the nougat still turns out harder than you prefer, microwave individual portions for approximately 15 seconds before eating.
Nougat Bars Preparation
This is one of those recipes that requires you to move fast. For that reason, plan on making this recipe when you can work without any interruptions. This means put the dogs outside, bribe your husband to take the kids to the park, and get ready to dash from one side of the kitchen to the other.
Also, have all your ingredients measured and ready. This includes the required tools: a prepared dish, an egg separator, oiled spatulas, a bowl scraper, mixer, and a candy thermometer. It's a lot of work, but the end result is so worth it!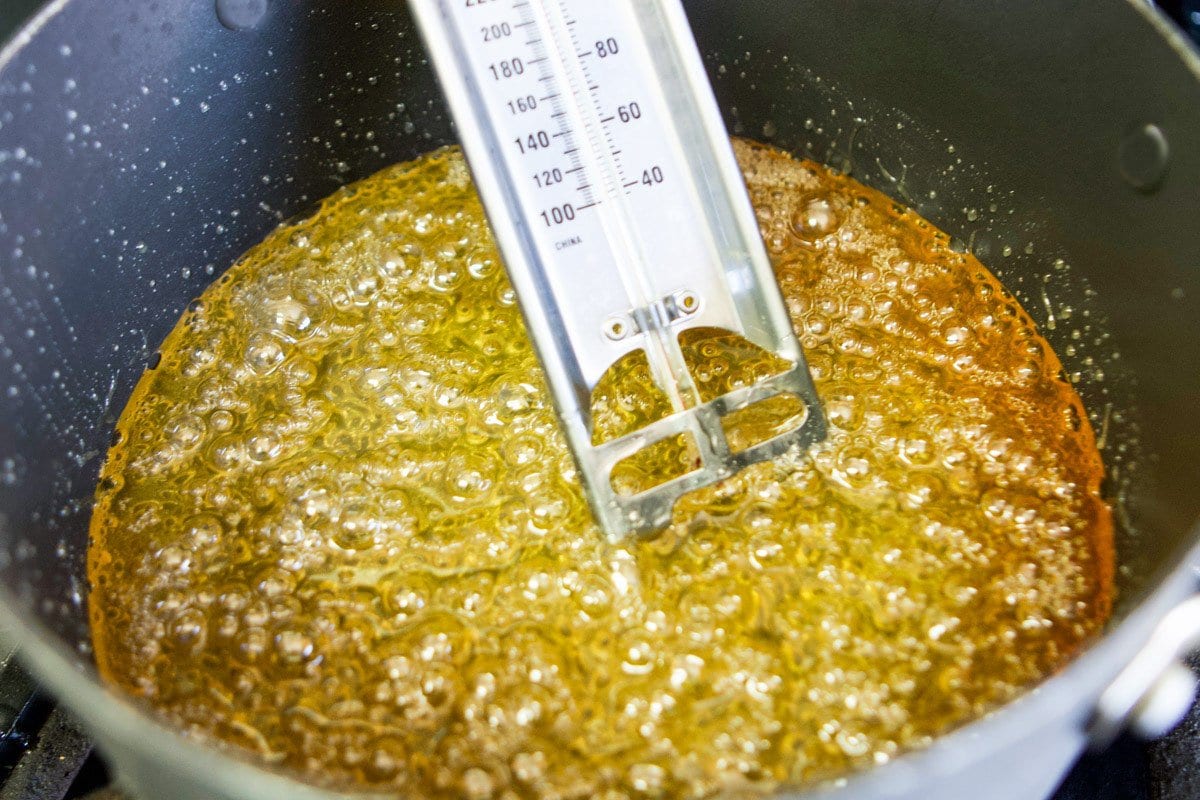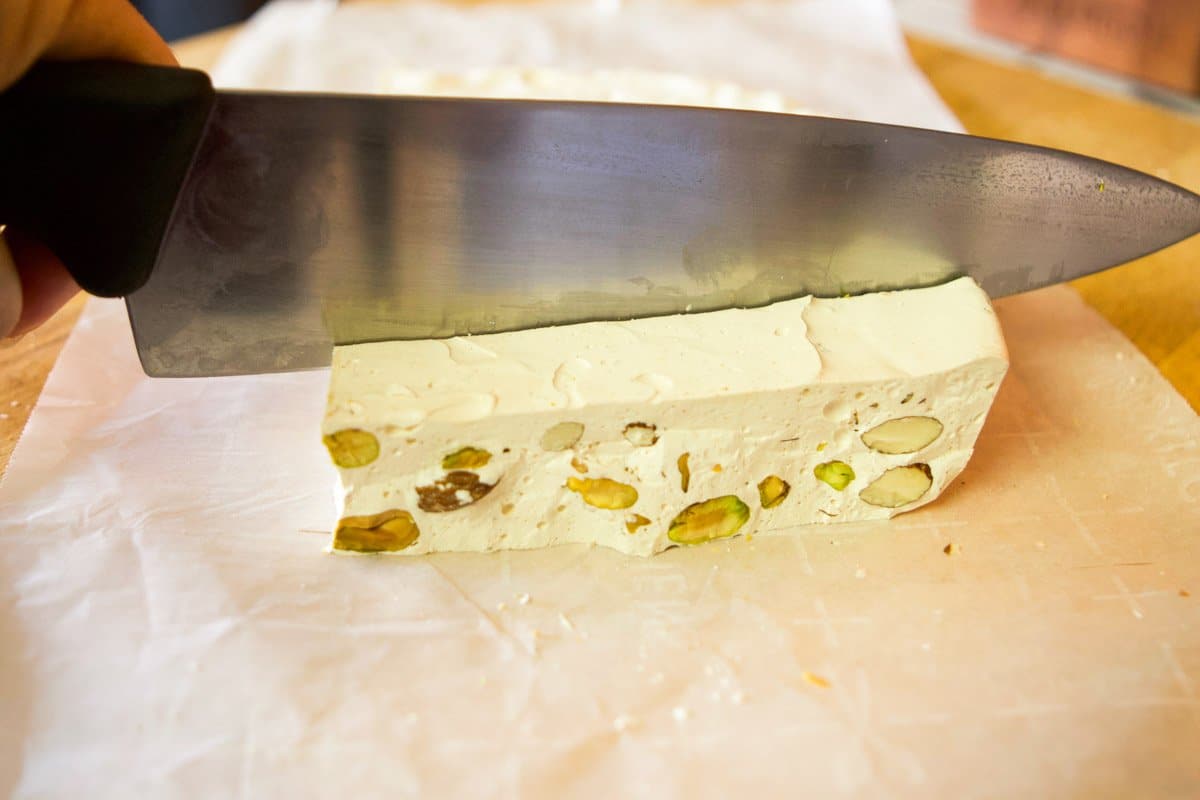 Traditional Mann Al Sama
I don't know if you're nostalgic like me; I prefer making Mann Al Sama like the one I had it when I was a child. To accomplish this, you have to shape the nougat into golf-sized balls, with the nut-filling sealed inside, instead of mixed throughout. Here's how it's done:
Iraqi Mann Al Sama
Follow the recipe steps listed in the recipe card. However, after toasting the nuts, add to a food processor, and pulse. Mix in the cardamom. Set nuts aside; do not mix in with the nougat!
After pouring the nougat into the prepared pan, cool on the counter for five-ten minutes, until easy to handle.
Pinch off a small portion of the nougat, roll into a ball, then flatten into a bowl shape.
Fill with the nut mixtures, seal, and roll into a ball.
Place on a floured tray, and continue with this process, until you've used up the entire mixture.
If you prefer the Mann Al Sama a little crunchier, be patient, they will get crunchier as they get exposed to the air. You can also refrigerate them if you are low on patience.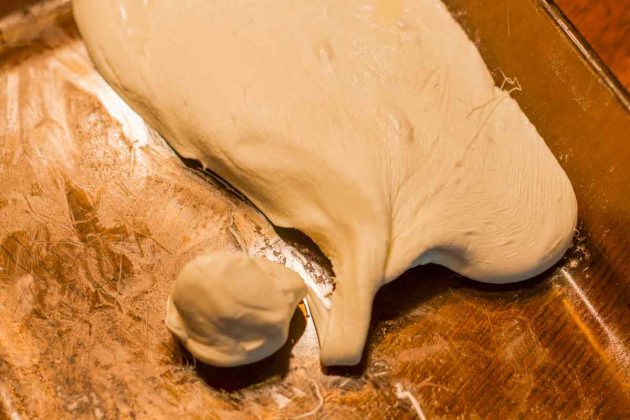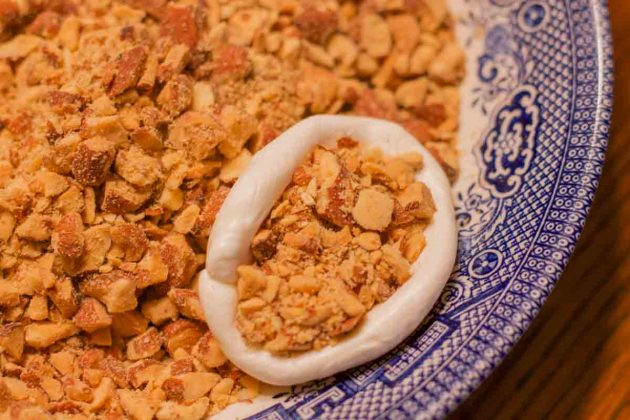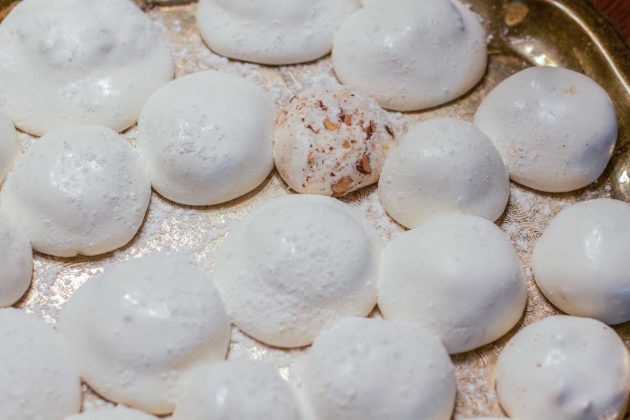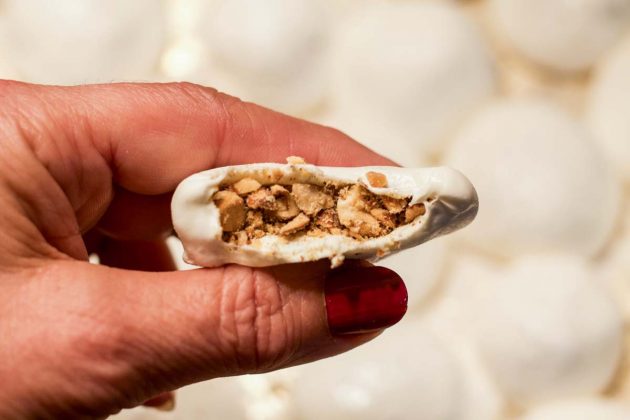 For more Middle Eastern sweets, check out the following posts: Qamardeen, Stuffed Dates, Kileche, Baklava, and Kadeh. Don't forget to check out my  Classic Middle Eastern Food Combinations.
Do you Pinterest? Please Pin and share!
IF YOU LOVE THIS RECIPE, PLEASE GIVE IT 5 STARS!
---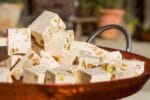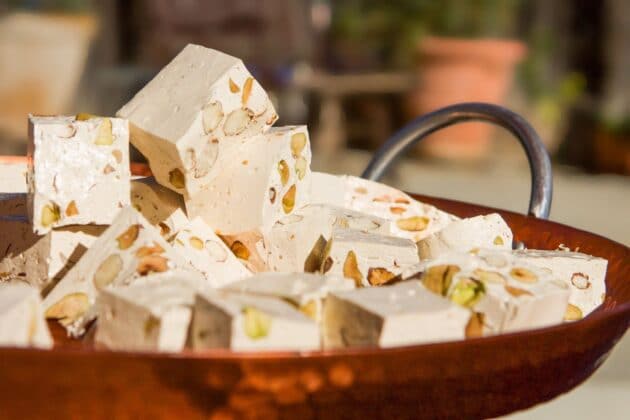 Mann Al Sama
Homemade Middle Eastern nougat, known as "Mann Al Sama."
Cuisine:
Assyrian, Middle Eastern
Ingredients
1/2

cup

toasted pistachios

1/2

cup

toasted almonds

nonstick cooking spray

1

T.

flour

1-1/2

cups

sugar

1

cups

light corn syrup

1/4

cup

water

2

large

egg whites

1

tsp.

cardamom powder

2

T.

butter

(melted)

1

tsp.

vanilla or rose water
Instructions
Toast nuts either in the oven at 300-degrees F., or in a pan, being sure not to burn. Set aside.

Spray an 8″ x 8″ dish with non-stick cooking spray and dust with flour.

Combine the sugar, corn syrup, and water in a medium saucepan over medium heat. Stir until sugar dissolves. Attach a candy thermometer on the side of the saucepan. Boil the mixture until the candy gauge reaches 250-degrees F. ("soft ball" stage).

Meanwhile, using a whisk attachment, beat the egg whites in a stand mixer, oh high, until stiff peaks form. With the mixer running, add approximately half of the 250-degree syrup into the egg whites. Mix on high until stiff, glossy peaks form.

Meanwhile, boil the remaining syrup until it reaches 290-degrees F. ("hard crack" stage). With the mixer still running, add the remaining syrup to the eggs, in a thin stream, followed by the cardamom, butter, and vanilla (or) rose water. Mix for a few additional minutes, scraping down the sides as needed.

Replace the whisk attachment with the paddle attachment, and set the speed to low. Add nuts and mix until combined.

Transfer the mixture to the prepared baking dish, using an oiled spatula. Allow to cool off before refrigerating. After a few hours, coax the nougat out of the dish and onto a cutting board. Using a large, sharp knife, cut nougat into desired portions.

Wrap portions individually in Saran wrap to keep them from sticking together.
Nutrition Facts
Mann Al Sama
Amount Per Serving (36 pieces)
Calories 120
Calories from Fat 36
% Daily Value*
Fat 4g6%
Cholesterol 2mg1%
Sodium 28mg1%
Carbohydrates 25g8%
Protein 2g4%
* Percent Daily Values are based on a 2000 calorie diet.