I'd like to clear up the title of this post (Turkish Coffee recipe) right off the bat. As you might have read in my previous posts, certain Middle Eastern recipes are claimed by different regions. Although technically the same, some of these recipes are known by different names, depending on where you happen to be from. This Turkish coffee recipe is a good example. Growing up, it was always referred to as "gahwha" in our home. "Gahwa" is the Arabic word for this particular "coffee."  It is also widely known as "Arabic coffee" throughout the Middle East. I'll never forget the time I served my Greek friend, Jenny, a cup. I made the mistake of calling it "Turkish coffee." Jenny quickly corrected me, saying it was "Greek coffee." If you know anything about the "Greek Genocide," you'll understand why. So choose your words wisely, depending on who you are serving.
What Do You Need To Make Traditional Arabic Coffee?
To make this authentic Turkish coffee recipe, you'll need a few ingredients and items. To start, you'll need the obvious, Turkish/Arabic coffee. Make sure that the coffee you buy has cardamom ground in; cardamom might be the main reason why I'm in love with this coffee! Aside from coffee, you'll need sugar, or a sweetener, such as Truvia. You will also need an "ibrik" to make the coffee in. Lastly, you'll need the demitasse cups in which the coffee is served. You may use espresso cups if you choose to. However, if you don't have the majority of the above-mentioned ingredients or supplies, I would highly recommend this kit, which has everything you need! What did we do before Amazon?
Traditional Turkish Coffee Recipe
This Turkish coffee recipe is pretty simple, so let's take a peek at the measurements. You will need one heaping teaspoon (see picture below) of Turkish coffee, one demitasse cup of water (or 1/3 of a cup), and 1/2  to 1 tsp. of sugar per cup. I make a minimum of two cups at a time, even if I'm the only one having some. To accomplish this, I use 2 demitasse cups of water, 2 heaping spoons of coffee, and 1 teaspoon of sugar (or a packet of Truvia). To make more servings, just increase the coffee and water by one part, and the sugar by 1/2 to 1 part. You might even want less sugar than that, it's a matter of personal preference.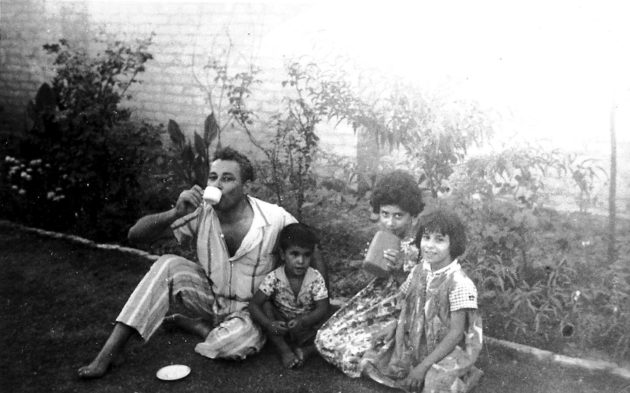 A Few Helpful Hints What Making Turkish Coffee
Now that you know how much of everything to use, let's talk about the actual process. To make the coffee, fill the ibrik with water, coffee, and sugar, and stir over medium heat. You will need to lift the ibrik off the flame occasionally to keep your hand from burning, as you stir. Stop stirring when bubbles start forming along the edges of the ibrik, and the foam starts rising to the surface. Remove ibrik from the flame and allow the coffee to recede. Repeat this step a few times, allowing the coffee to rise and recede. Fill each cup half-way, dividing the foam that rises to the surface between the cups. Finish by going back to fill the cups all the way. We call this foamy goodness "pata" in Assyrian, which means "face." Allow the sediment to settle for a few minutes before enjoying!
How Turkish coffee is Served
Turkish coffee is served in special Turkish coffee cups, as mentioned above. The coffee is usually served with a tall glass of ice water, along with something sweet on the side. This could be anything from baklava, a piece of chocolate, or Turkish delight.  Yes, Turkish delight is actually a thing. They're not an imaginary candy that the witch tempted Edmond with, in the movie The Lion, the Witch, and the Wardrobe. These tasty, jelly-like morsels, come in a variety of flavors, some with nuts, and are covered in powdered sugar, or coconut, which are my favorite!
Fortune Telling and Turkish coffee
Middle Eastern countries have been telling fortunes with coffee grounds for centuries. When a person finishes drinking their coffee, there is sediment that collects on the bottom. The cup is covered with the saucer, and swiftly flipped over and set aside for ten minutes or so. During this time, the sediment begins to create a pattern on the walls of the cup as it drains into the saucer. The cup is then flipped, and "read." Imagination is used to interpret not only what is seen, but what it signifies. This custom varies from those doing it "just for fun" and those who claim to be able to predict the future. The ones who take this practice seriously divide the cup into sections, each representing a different aspect of your life. One section representing the past, another the future, and different topics including love life, prosperity and so on…
Being a Christian, I don't partake in this fortune-telling tradition, even if it's "just for fun." The following Bible verses are pretty clear about how God views this type of practice: Duet. 18:9-12, Leviticus 19:26-31, 2 Kings 21:6, Acts 19:19, Leviticus 20:27, 2 Kings 17:17, Micah 5:12, and Isaiah 8:19. I could go on, but I think you get the point. So try this Turkish coffee recipe, share it with your friends, but skip the fortune telling!
Do you Pinterest? Please pin and share!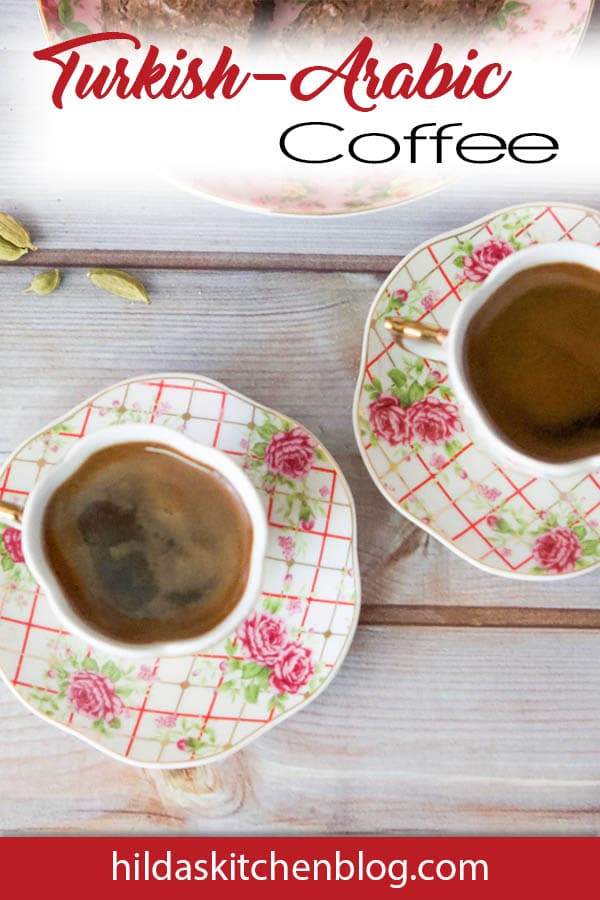 ---
Don't forget to check out my  Classic Middle Eastern Food Combinations.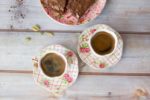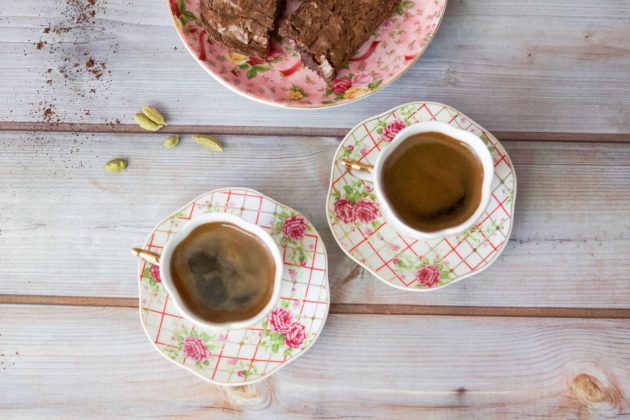 Turkish coffee Recipe
Authentic Turkish/Arabic coffee recipe.
Ingredients
2

tsp.

Turkish coffee

(with cardamom)

2/3

cup

water

1

tsp.

sugar

(or Truvia)
Instructions
Mix coffee, water, and sugar in an ibrik.

Stir over medium flame, occasionally lifting the ibrik off of the flame to keep your hand from burning, as you stir.

When the coffee begins to rise to the surface remove from heat and allow to recede. Repeat this step a few times. This develops a richer flavor.

Fill two cups half-way, making sure each cup has some of the foam that forms on the surface. Divide the remaining coffee between the two cups.

Allow the coffee to rest for a few minutes. This will help the sediment to settle to the bottom of the cup. Enjoy!
Nutrition Facts
Turkish coffee Recipe
Amount Per Serving (1 cup)
Calories 8
% Daily Value*
Fat 0g0%
Cholesterol 0mg0%
Sodium 3mg0%
Carbohydrates 2g1%
Protein 0g0%
* Percent Daily Values are based on a 2000 calorie diet.