Assyrian families are commonly known for their hospitality. Drop by unannounced and you will most likely find a teapot simmering on top of a tea kettle in the kitchen.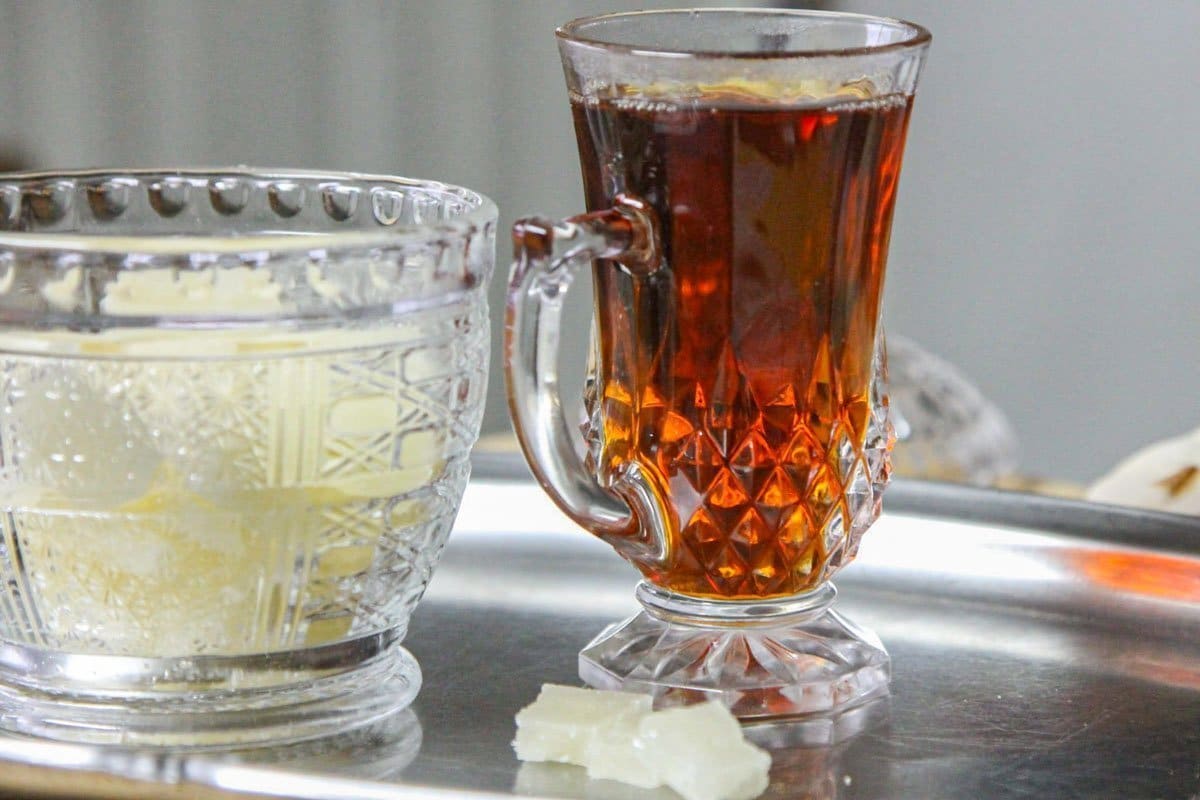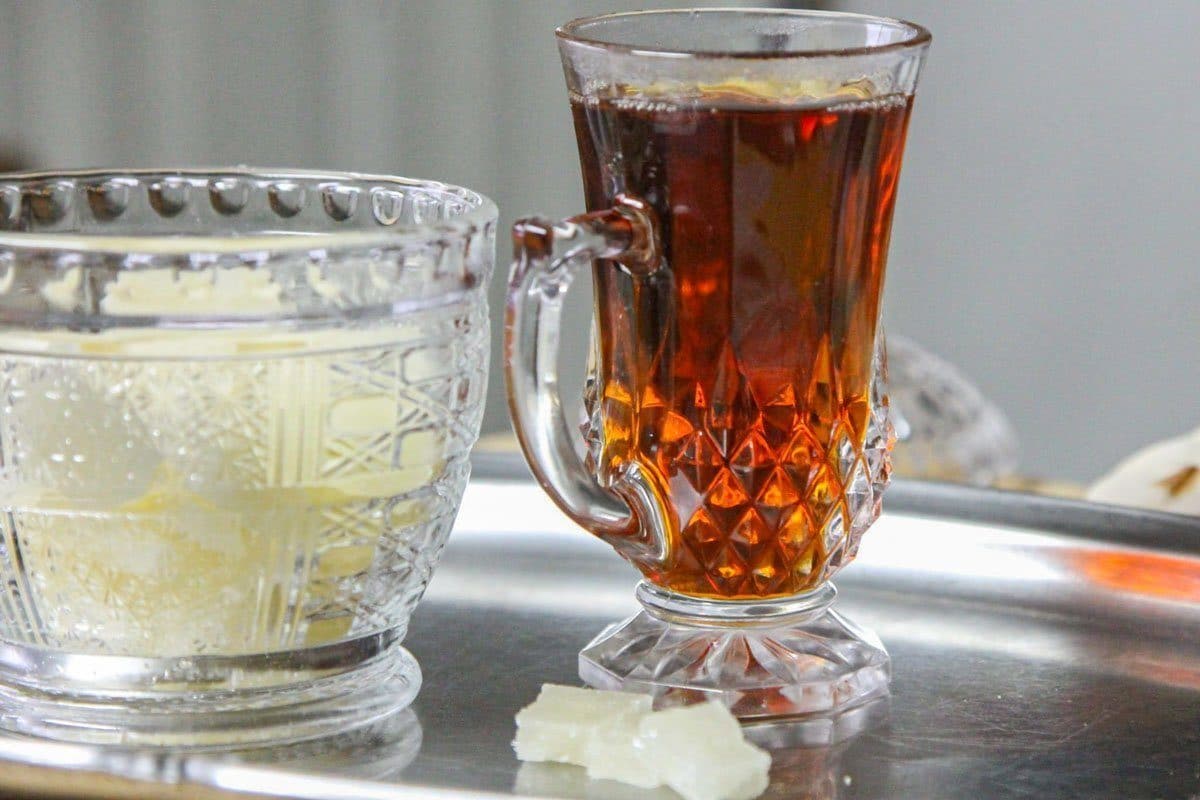 Guests are always welcomed with a "steechan it chai" or a "cup of tea." Mom's house was no exception.
As far back as I remember, mom made her own "Assyrian sugar cubes" that we call "Shachar D'Shlama."
When guests arrived, it was just expected that they would have one or more cups of tea. The tea was served with these cubes, along with plain sugar, and evaporated milk.
When having a larger gathering, you can bet the samovar would make an appearance!
Mom and her friends would plop a cube in their mouth, as they sipped their tea, and enjoyed their visit.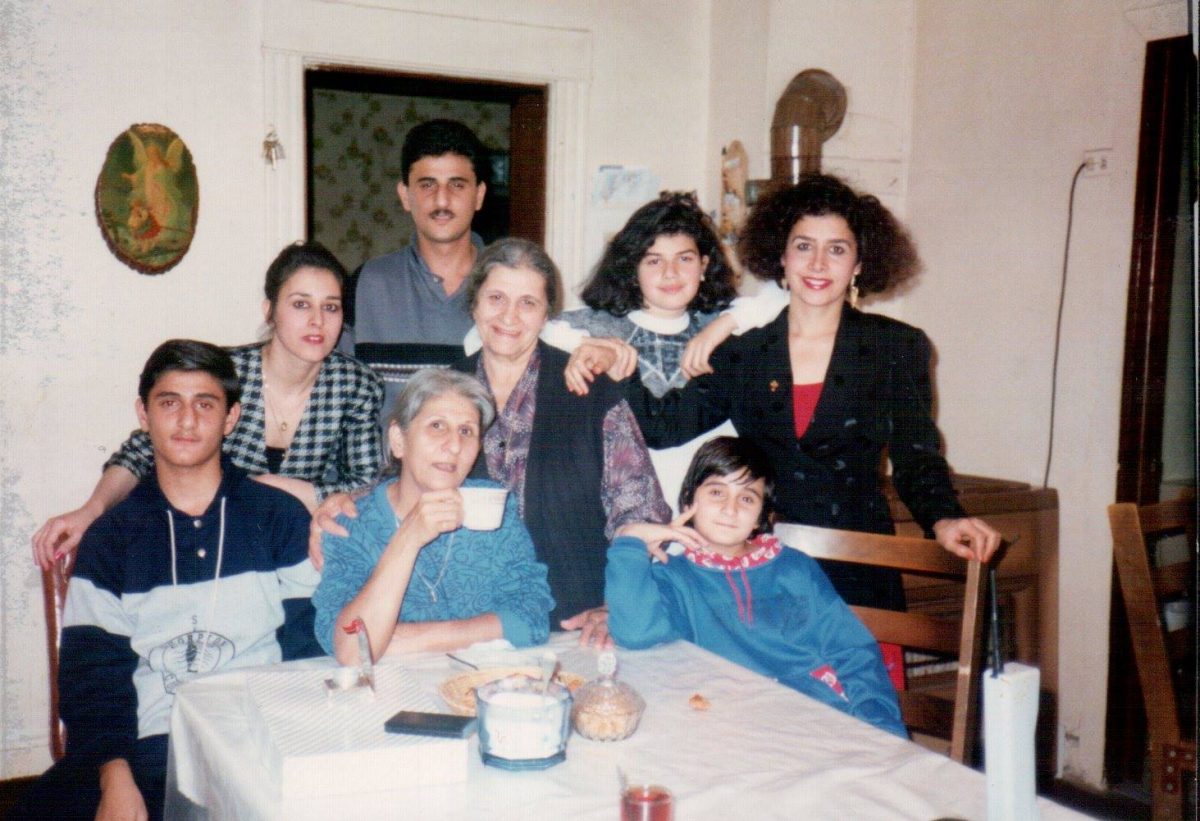 A typical gathering at our house in Chicago, with Aunt Alice, sitting, and mom standing behind her. My sisters, niece, and cousins are also present. Notice the sugar, along with the Assyrian sugar cubes (covered container) on the table.
Chai and Shachar D' Shalama
In the Middle East, sugar cubes are commonly served with hot tea or Chai. I always chuckle when I hear someone order a "chai tea," because they're basically ordering a "tea tea."
Assyrians call these sugar cubes "Shachar (or shakar) D'Shlama." When translated it means "Sugar of Peace."
Now, I don't think these Assyrian sugar cubes have magical powers that grant peace to those who consume them.
No, I think the name refers to gathering with friends, enjoying a cup of tea, in peace. Shachar D'Shlama is denser and thinner than store-bought sugar cubes.
If you prefer them thicker, just double the recipe.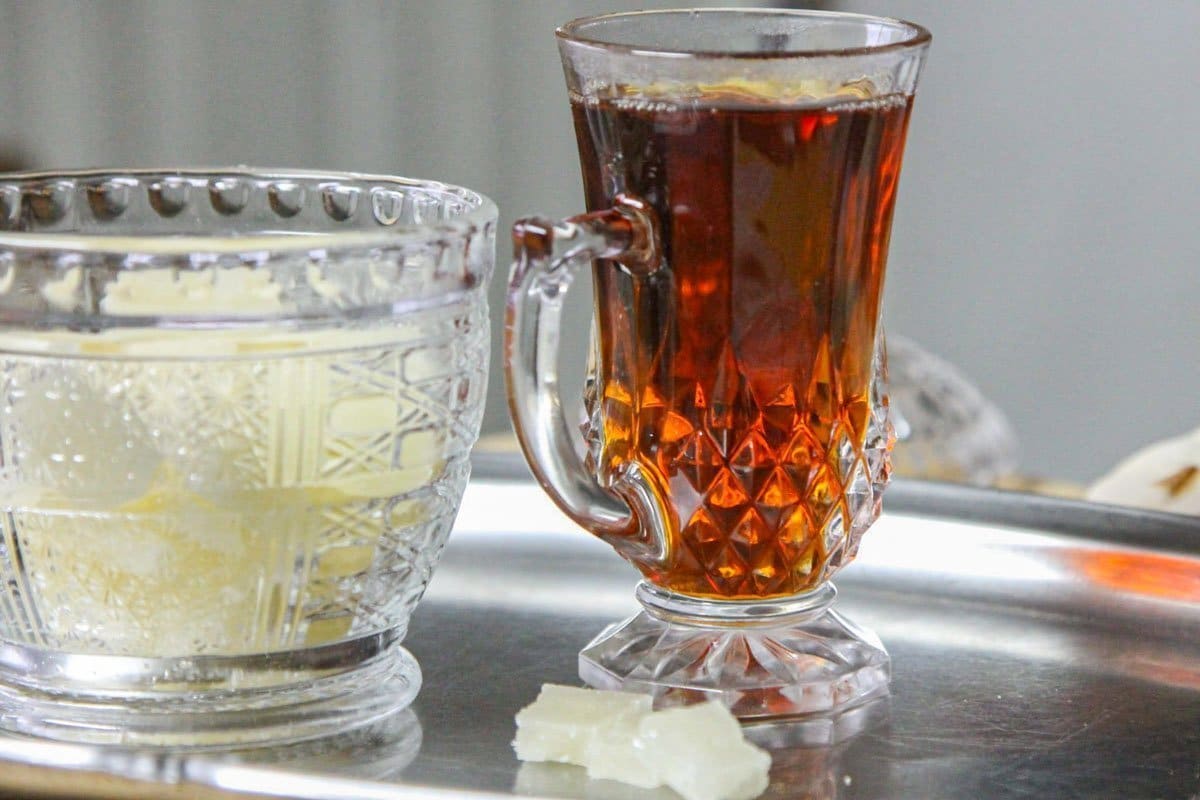 What You Need to Make Assyrian Sugar Cubes
Luckily, this is Assyrian sugar cubes recipe is pretty straightforward. You really don't need any obscure ingredients or tools. However, a candy thermometer, a pie tin, and some sugar nippers are a great start!
The first two items can be purchased anywhere, but where do you find sugar nippers?
Well, if you rummage through any Assyrian Grandmother's kitchen, you're sure to find a pair in one of her kitchen drawers.
The one that I have belonged to my mother, and it most likely belonged to her mother before her.
But, if you don't have an Assyrian Grandma, no problem. You can easily break the sugar with your bare hands.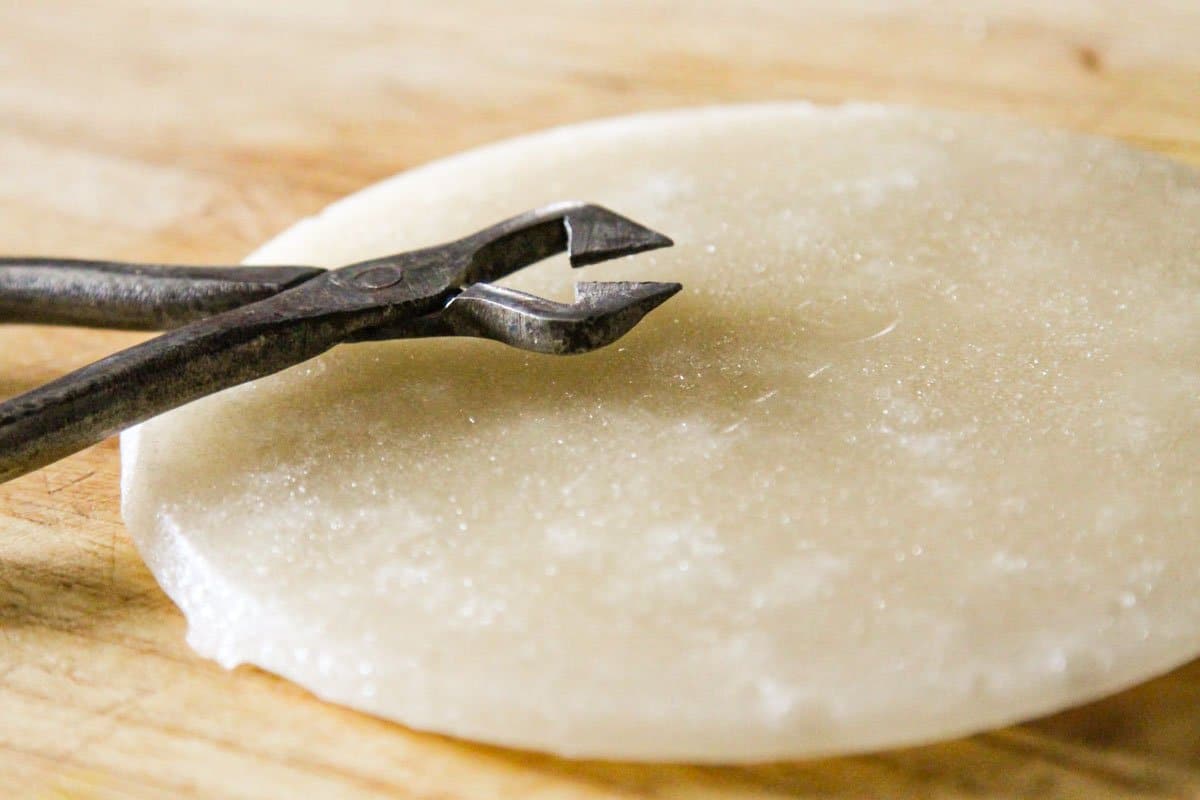 My Russian Roots
Doing some research, I was able to find a sugar nipper identical to the one I have on Etsy. They were described as "1930s Soviet Era Sugar Nippers."
My Maternal Grandmother was from Russia, so perhaps she brought the one that I have with her from Russia?
Speaking of my grandmother, just look at this awesome picture of Grandma Eulea (Julia in English) with Uncle, Sheeroza. I adore old family photos like this, don't you?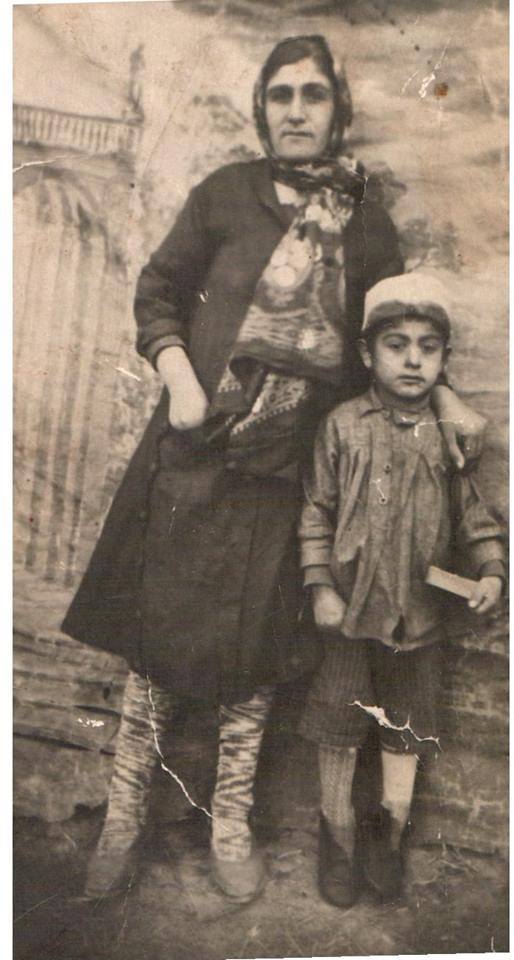 Assyrian Sugar Cubes
I make Assyrian sugar cubes/Shachar D'Shlama for sentimental reasons. I don't even take sugar with my tea, it just makes me feel close to my mom.
Using mom's cooking tools and gadgets make me feel somehow connected to her. In fact, it's no mere accident that I picked this particular pie tin to use.
It's from Mom's Pie House, in Julian, CA. Mom is always on my mind, and in my heart, but especially when I'm in the kitchen.
Who knows, maybe one day my own daughter, Nena, will use my sugar nippers when making her own Shachar D'Shlama. A woman can hope, can't she?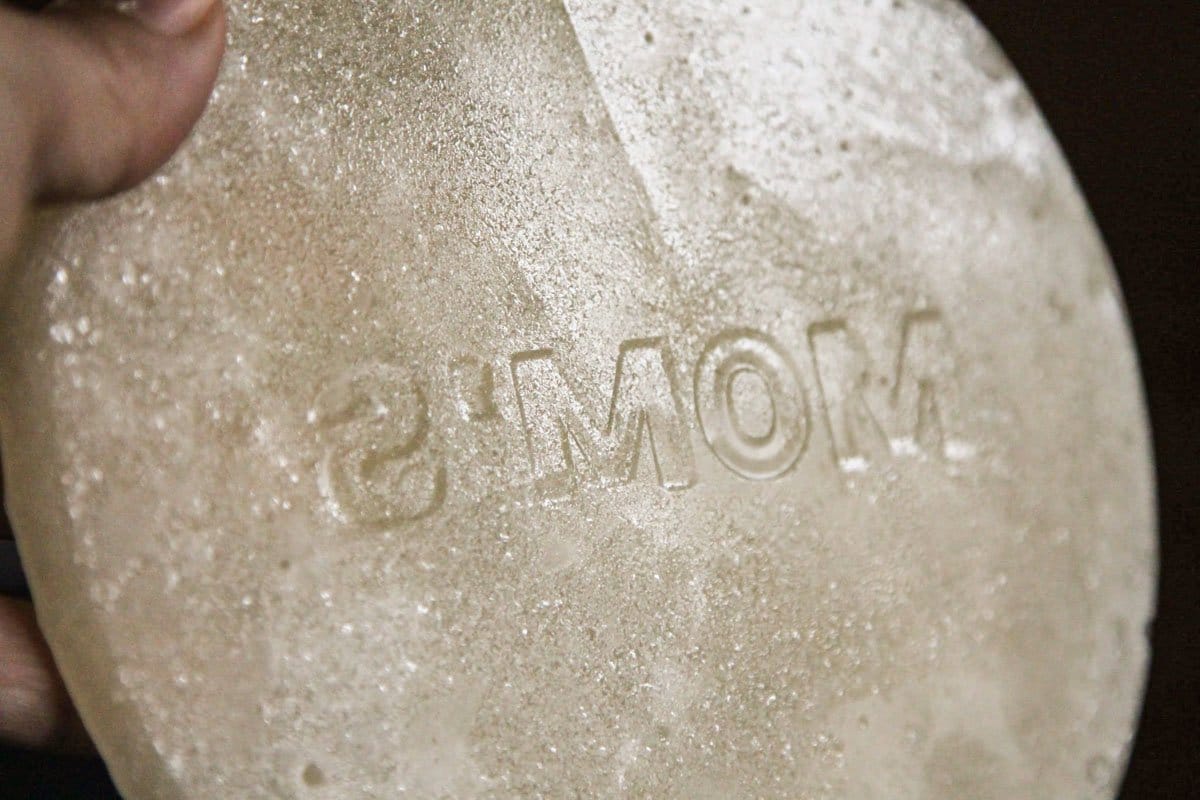 You may also enjoy the following recipes.
Stay in touch with me through social media…
Tried these recipes? Snap a picture and tag #hildaskitchenblogon Instagram.
Like my page on Facebook.
Do you Pinterest? Pin & share this recipe!
Assyrian Sugar Cubes
These Assyrian sugar cubes are perfect to serve with Middle Eastern tea.
Print
Pin
Rate
Servings:
1
16 oz container
Ingredients
1

cup

sugar

1/4

cup

water

2

drops

vanilla

2

drops

food coloring

(optional)
Instructions
Stir sugar, water, vanilla, and food coloring, if using, in a small pot. Bring to a boil, over low to medium heat. Attach a candy thermometer inside of the pot.

Continue to boil, without stirring, until a candy thermometer reaches "hard-crack" stage (305 F/ 155 C). This should take approximately 10 minutes, depending on your flame or temperature setting.

Pour in a pie tin and cool completely. Upon hardening, the sugar mold will easily snap out of the pan. Use sugar nippers to cut into cubes, or break off chunks by hand.

Serve with tea and allow them to melt in your mouth as you sip your tea.
Notes
If you like your sugar cubes thicker, just double the recipe!
Nutrition
Serving:
1
sugar cube
|
Calories:
12
kcal