"Potato Stew" is known as "Kari" (curry) or "Shirwa't Kitropeh" (potato stew) in Assyrian. This deliciously thick and rich potato stew is traditionally served over white rice.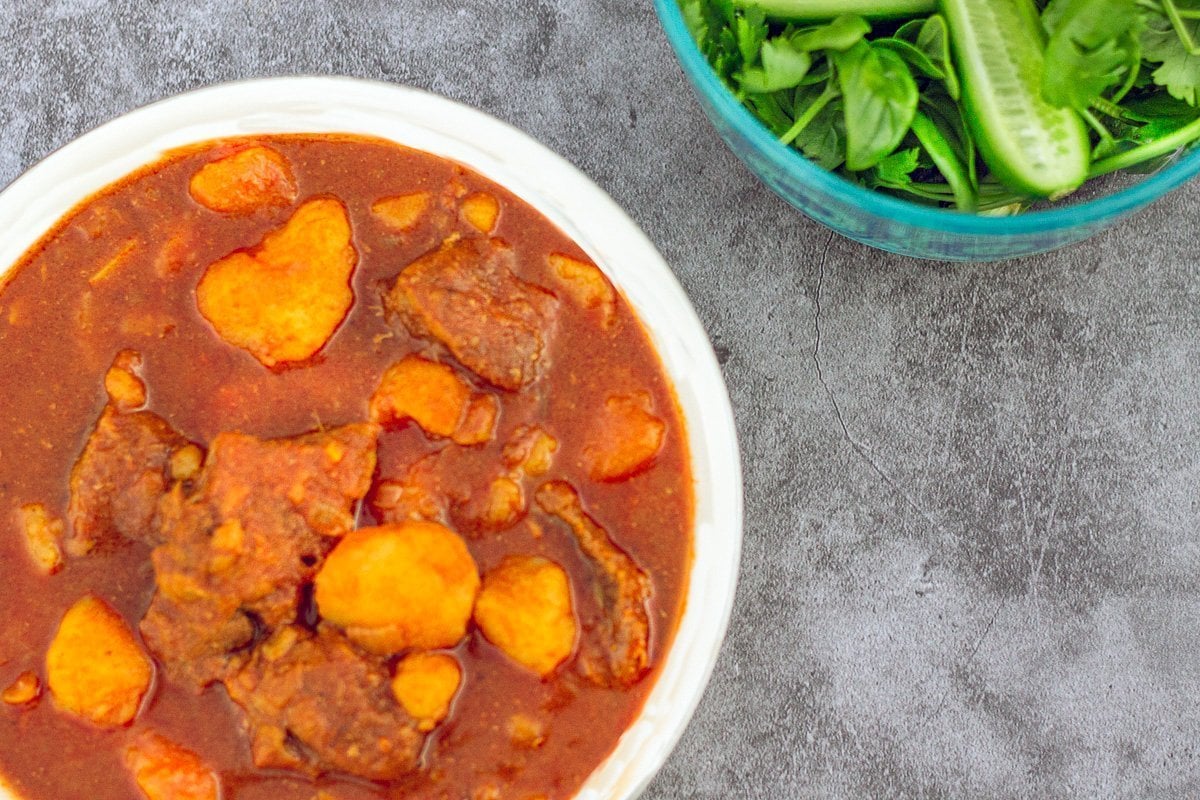 Assyrian Potato Stew Recipe
I might have mentioned in my other Assyrian stew recipes (Green Bean Stew, Okra Stew, and Bean and Lamb Stew), that stews are quite popular in the Middle East.
In fact, stews are served at least a few times a week if not more. Lamb or beef are usually included, in the stew. Occasionally, chicken is substituted.
In our family, mom always used lamb, and occasionally beef, but never chicken. I'm not sure why, but chicken was saved for baking or used in other recipes like Biryani, or Hareesa.
She did, however, make vegetarian versions of these stews on Wednesdays and Fridays, when she abstained from eating meat for religious reasons.
Most Assyrian stews do not include curry, however, almost all contain paprika.
This is one of the few stew recipes that actually contains a good amount of curry, which explains why this stew is also known as "Kari," or "Curry."
What are the best potatoes to use in a stew?
There is no fast and hard rule as to which potatoes should be used in stew, at least none that I follow.
It does matter, however, if you are looking for a specific result. In this particular beef stew recipe, I recommend using Russet or Idaho potatoes.
These potatoes contain high starch content and will thicken the stew, as they're meant to.
If you don't want the potatoes to fall apart, skip the Russett and Idaho potatoes. In their place, use waxed potatoes such as Red Potatoes or New Potatoes.
These potatoes will hold their shape better. Not only that, but they will also release less starch.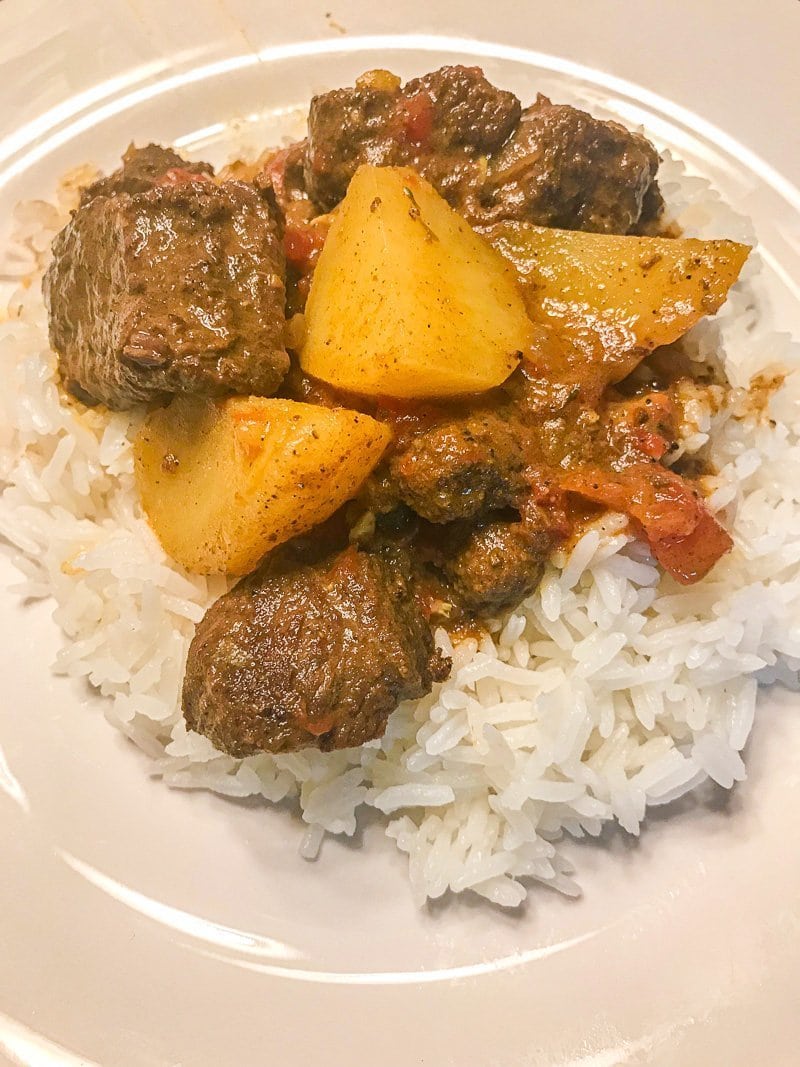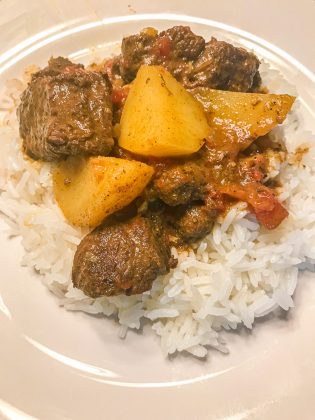 How long do potatoes take to cook in a stew?
No matter what potatoes you use, they should not require longer than 30 minutes of cooking in the stew. Depending on the variety you use, longer cooking will cause the potatoes to fall apart (especially starchy potatoes).
This is one reason we cook the meat first, to get it nice and tender, before adding the potatoes, which require less cooking time than the meat.
Do you boil potatoes before putting them in potato stew?
No matter what variety of potatoes you use, you do not need to boil the potatoes before cooking them in the stew.
I do, however, recommend frying them first. This not only enhances the flavor but helps them to keep their shape somewhat as they cook.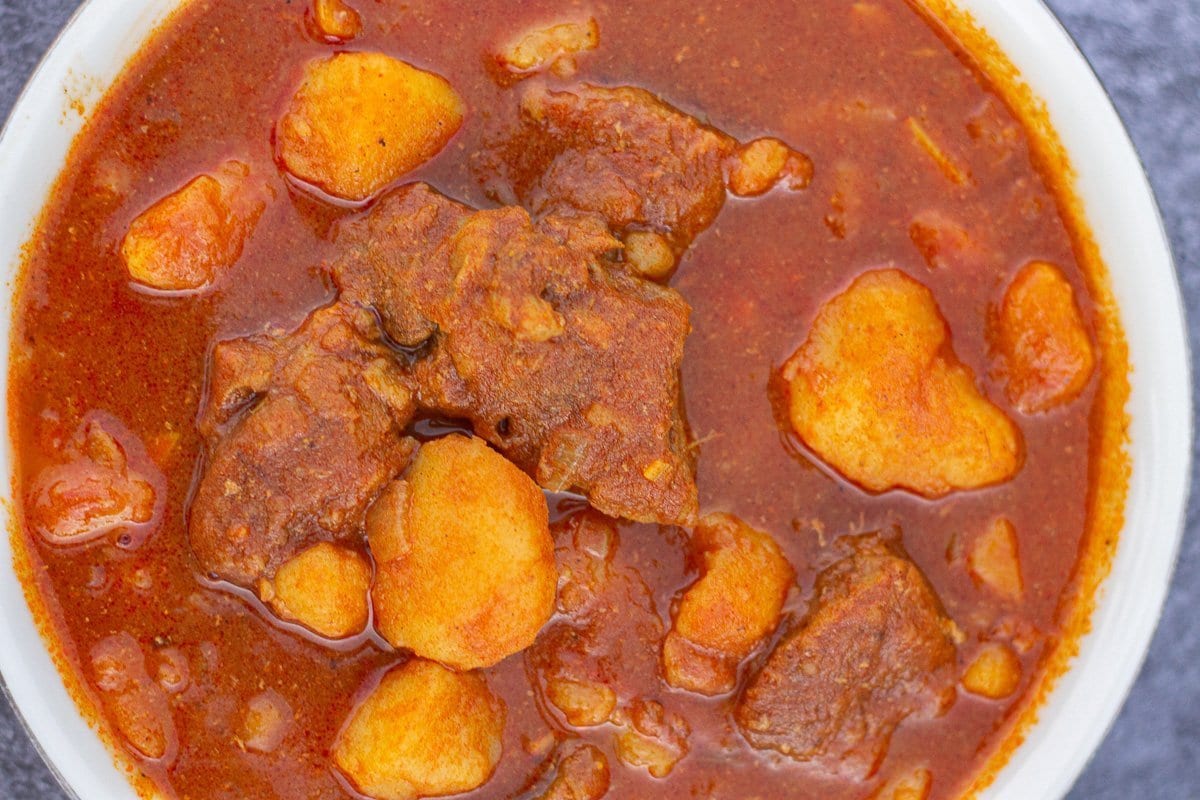 How Do You Thicken Stew?
Potato Stew is one stew where you don't have to worry about thickening. This is due to the starch content of the potatoes.
If using waxed potatoes such as red or new potatoes (which contain less starch) you can thicken the stew a few ways. A simple way to do this is to cook the stew longer.
Alternatively, you can use flour or cornstarch to thicken the stew. This can be done in two ways.
The first way is to coat the boiled meat in flour prior to browning. The flour will thicken the stew as it cooks.
The other is by dissolving one tablespoon or more of cornstarch in ½ a cup of cold water. Whisk this mixture into the stew, which will thicken as it comes to a boil.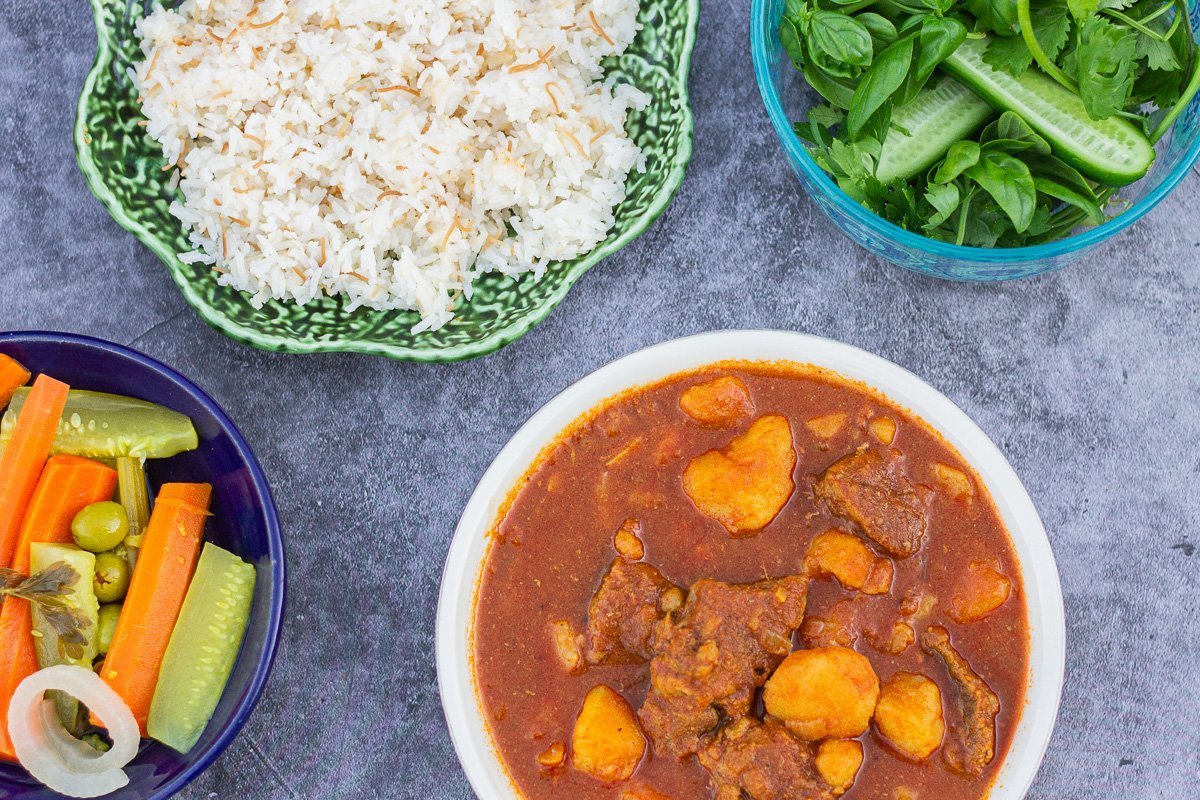 How Do You Make Stew Meat Tender?
The trick to making stew meat tender is to cook it for a long period of time. To accomplish this you can first boil the meat while covered, for approximately 45 minutes.
Next, drain the meat and save the broth to use in the stew. Finally, brown the meat and cook in the stew for an additional 30 minutes.
You may also like the following stew recipes:
Stay in touch with me through social media!
Tried this recipe? Snap a picture and tag #hildaskitchenblog on Instagram.
Like my page on Facebook.
Do you Pinterest? Pin & share this recipe!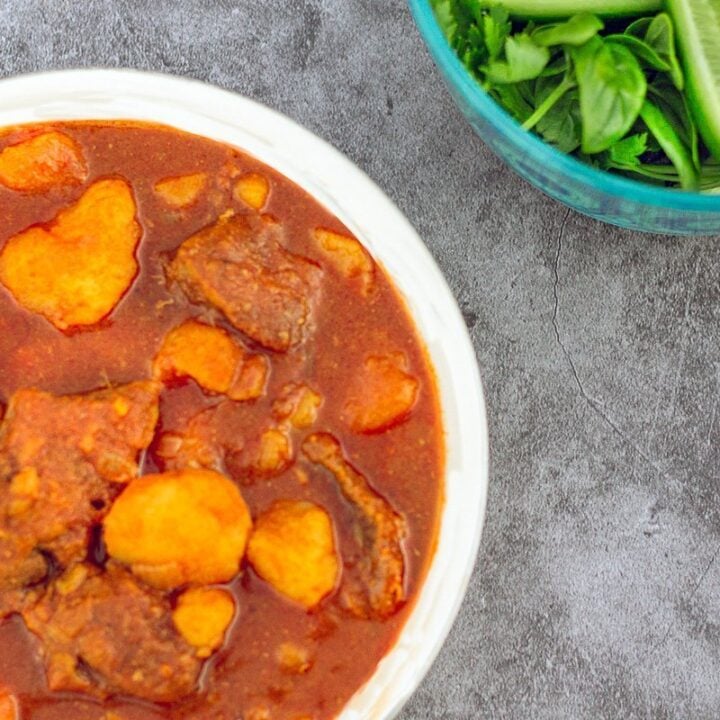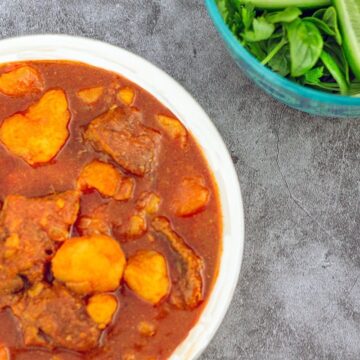 Potato Stew with Beef or Lamb (an Assyrian recipe)
Middle Eastern Potato Stew/Curry
Print
Pin
Rate
Ingredients
1

lb.

beef, lamb, or chicken

(with bones)

3

T.

vegetable oil

3

medium

potatoes

(cubed)

1

small

onion

(chopped)

3

cloves

garlic

(chopped)

3

oz.

tomato paste

2

tsp.

salt

1

T.

curry powder

½

T.

paprika powder
Instructions
Cut meat into 3" pieces and rinse well.

Place in a 6 qt. Dutch oven and cover with 5 cups of water.

Bring to a boil, then reduce heat and simmer for 45 minutes, covered.

Remove meat from the pot, strain and reserve remaining broth.

Rinse pot, dry, then add the vegetable oil.

Fry the cubed potatoes until golden.

Next, add the onion,and garlic and cook for a few minutes.

Return meat to the pot and sprinkle with salt, curry, and paprika and brown meat for a few minutes.

Dissolve tomato paste in 4 cups of reserved broth. If necessary, add more water to equal 4 cups.

Pour liquid over the meat and potatoes and bring to a boil.

Reduce heat and simmer, covered, for 30 minutes.
Nutrition
Calories:
463
kcal
|
Carbohydrates:
28
g
|
Protein:
25
g
|
Fat:
29
g
|
Saturated Fat:
9
g
|
Cholesterol:
75
mg
|
Sodium:
1253
mg
|
Fiber:
4
g
|
Sugar:
4
g