Rice, a staple in the Assyrian diet, is served as a side dish with most meals. Whether it's present alongside stew or kababs, or as the main meal, such as Biryani, somehow we manage to sneak rice into the menu. Vermicelli rice is one of my favorite Assyrian rice recipes. And yes, it reminds me of my mom, who was a rice-cooking boss!
Vermicelli Rice
Vermicelli rice was a dish that mom cooked at least a few times a week. It took me many years to learn how to make rice that she approved of. Part of the problem was that I always added more water than was necessary. I think that is a common mistake. Mom eventually showed me what I was doing wrong. She taught me that you can always add more water if needed, but you can't do anything to redeem mushy rice, or "bilchoo." The Assyrian word for "mushy" is "bilchoo." My sister, Beni, her daughter, Ninva, and I recently taught my daughter that word. We had a lot of fun trying to come up with examples for the word. Mushy rice would have been a perfect example!
Basmati vs. Jasmin Rice
Most Middle Eastern families and restaurants, for that matter, cook with basmati rice. My mom being the rebel that she was, used jasmine rice to make this vermicelli rice recipe. I proudly follow in her footsteps and prefer jasmine over basmati. Basmati rice comes from India and is very fragrant. In fact, in Hindi, "basmati" means "fragrant". Basmati is thinner and longer in appearance than jasmine. The difference in appearance is more evident once they're cooked. Grown primarily in south-east Asia, jasmine rice is also considered fragrant rice. When cooked, jasmine is stickier than basmati and smoother in texture. Try both and see which one you prefer, but as for me and mom, jasmine wins every time!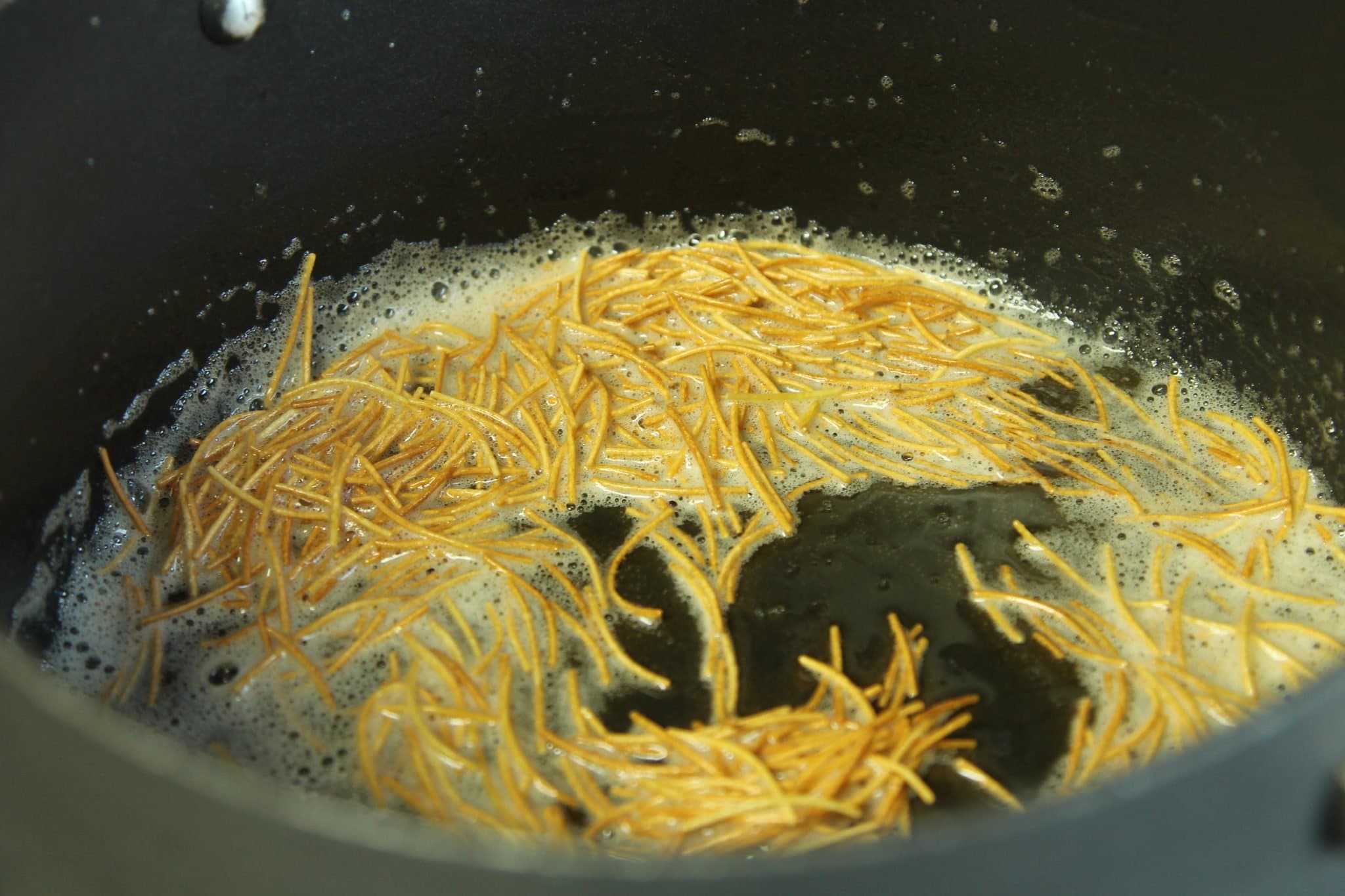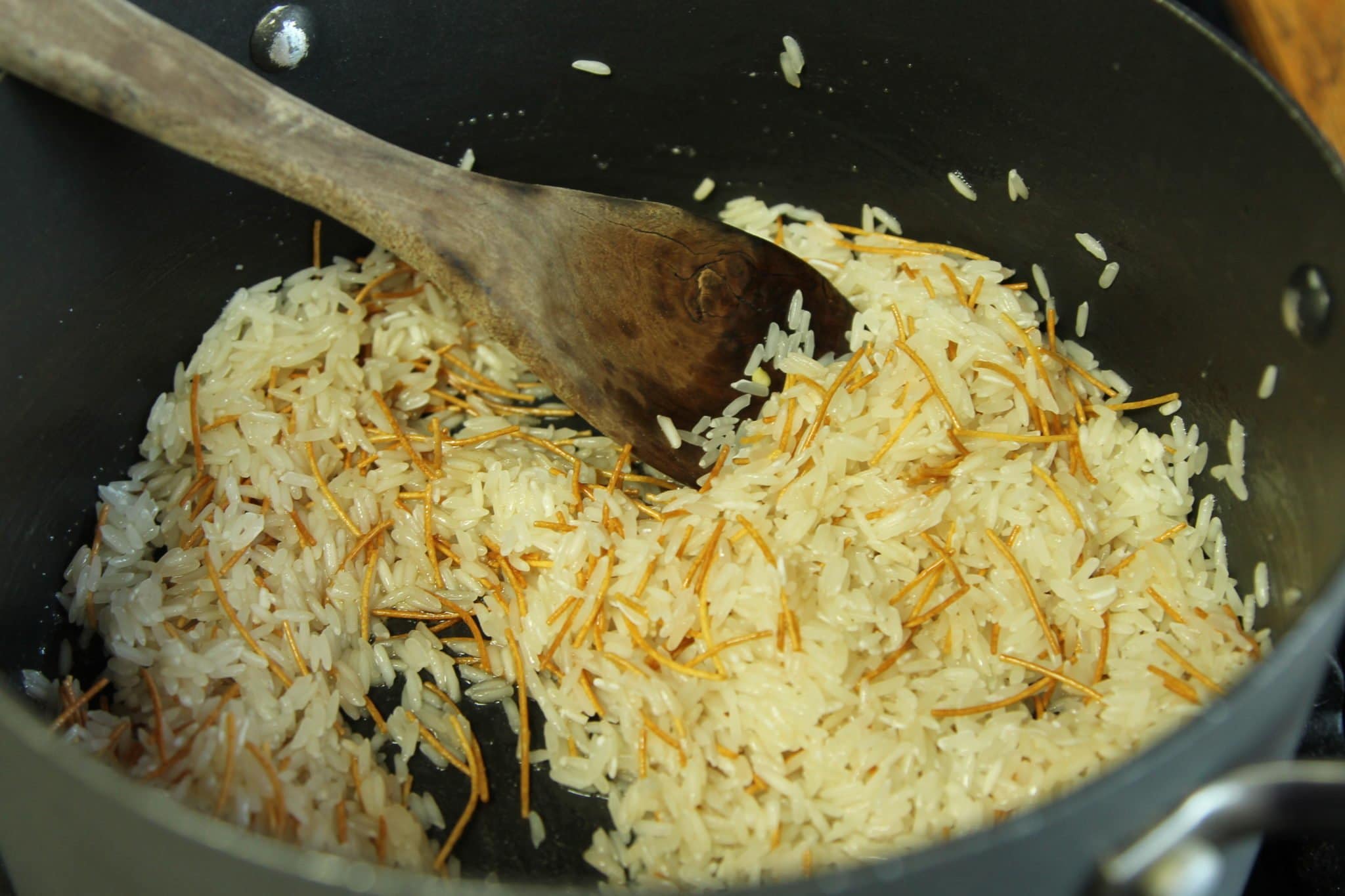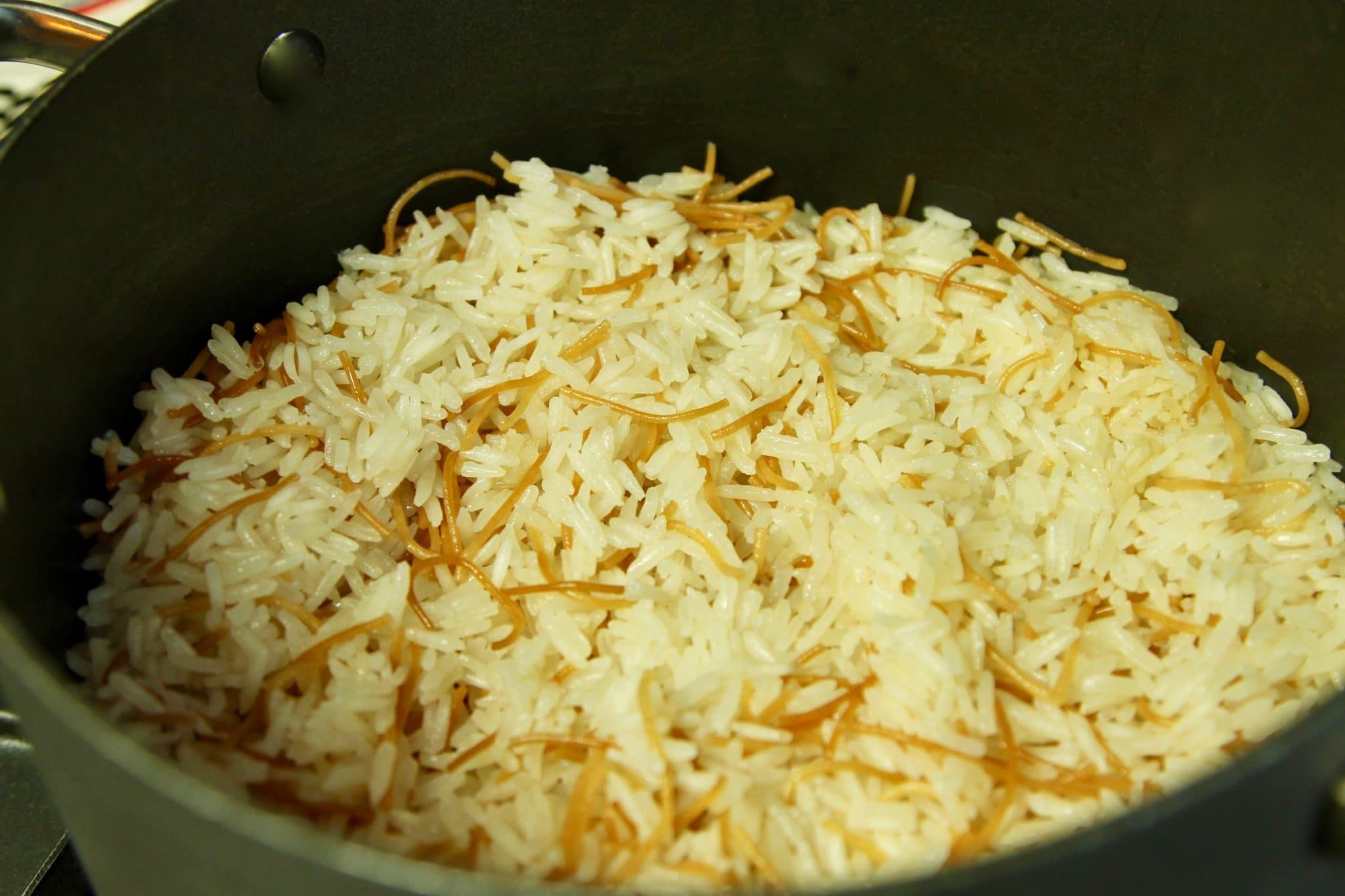 This rice goes great with the following recipes: Fasolia (Green Bean Stew),  Sumac Chicken, Shish Kabobs and Sheikh Mahshi(Stuffed Vegetables).
Do you Pinterest? Please pin & share!
---
Assyrian Vermicelli Rice
Assyrian Vermicelli Rice is a staple in the Middle Eastern diet. It's usually served alongside stews, kabobs, chicken, or by itself.
Print
Rate
Ingredients
1

T.

vegetable oil

1

T.

butter

1/4

cup

vermicelli noodles

1

cup

jasmine rice

1-1/4

cup

hot water

1

tsp.

sea salt
Instructions
Add vegetable oil, butter, and vermicelli to a medium-sized saucepan.

Stir over medium heat, until the vermicelli noodles are browned. Be careful not to burn them. They can go from perfect to burned in a matter of seconds.

Wash and drain rice, then add to the same saucepan and mix to combine.

Add hot water and salt and stir to combine. Bring to a boil, then cover and cook for 20 minutes.

Stir the rice at least once as it cooks. Serve with kababs, stew, chicken.
Nutrition
Calories:
236
kcal
|
Carbohydrates:
28
g
|
Protein:
2
g
|
Fat:
16
g
|
Saturated Fat:
4
g
|
Cholesterol:
16
mg
|
Sodium:
1165
mg
|
Fiber:
1
g
|
Sugar:
0
g