If you, like many of my friends, are addicted to Nonna Pia's Balsamic Vinegar Glaze, I'm here to put an end to your addiction. "Why," you might ask? Because you, my friend, can make your own amazingly thick and rich, sweet and tangy, Balsamic Vinegar Glaze.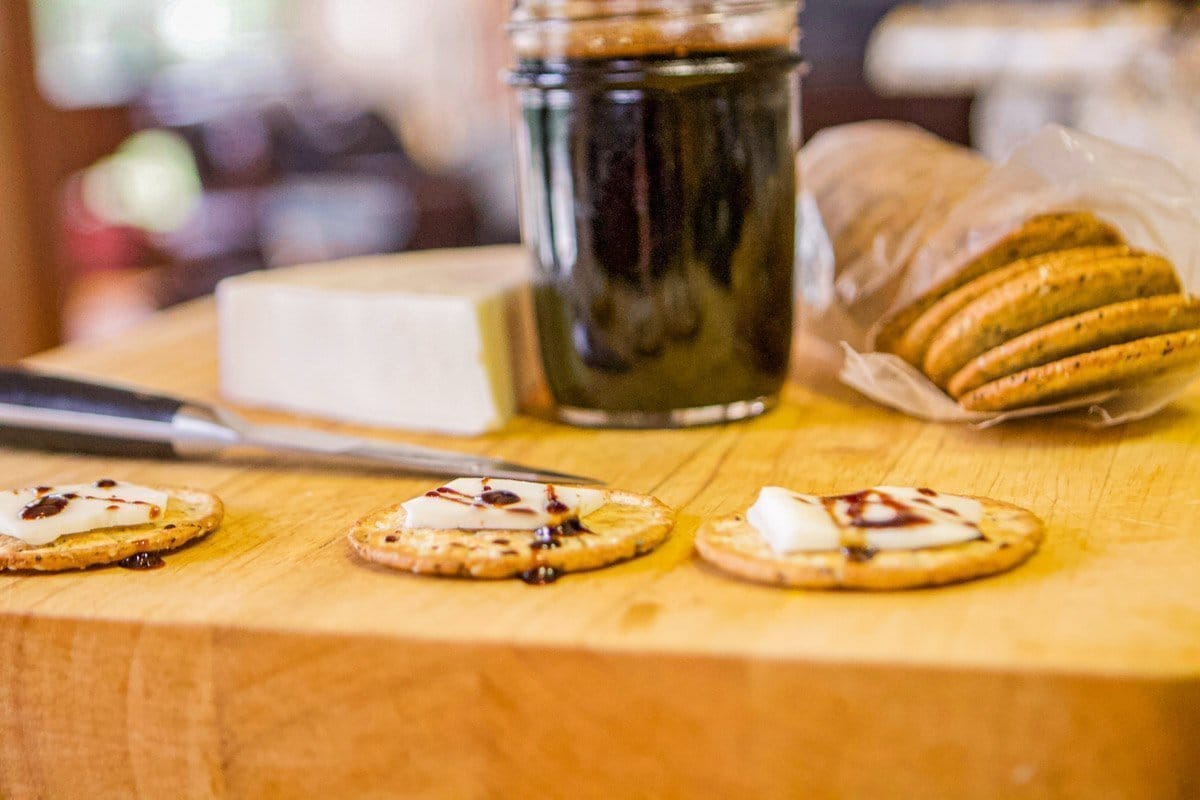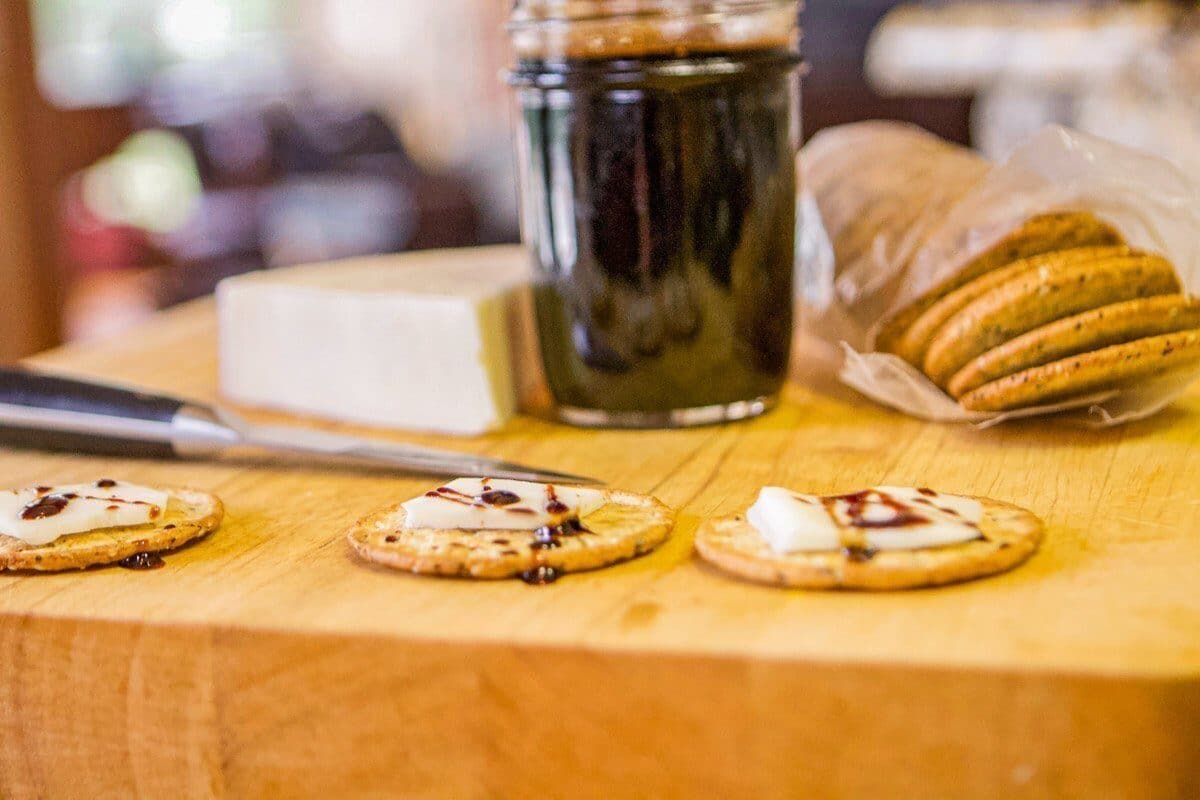 In my opinion, it's good enough to rival any store-bought Balsamic Vinegar Glaze, including Nonna Pia. Oh, and did I mention it only requires two to three ingredients?
So, how about we get in the kitchen so you can see how easy it is to make your own Balsamic Vinegar Glaze?
The Story Behind This Recipe
A few weeks ago we had our weekly get together at a local pub here in Montana.
Picture, a tiny hole-in-the-wall, packed with regulars enjoying a burger and beer. And since it's a very small town, everyone really does know your name!
My friend Kelly walked in and pulled up a seat next to me. Next, she rifled through her huge purse and pulled out a bottle of Nonna Pia's Balsamic Glaze.
Kelly set the bottle on the table in front of me and challenged: "Recreate this!" So, of course, I replied: "Challenge accepted!"
After looking at the ingredients on the bottle, I found it contained exactly what I expected, balsamic vinegar, and sugar. I knew that I had both at home, so when I got home I wasted no time in my effort to take Nonna Pia down!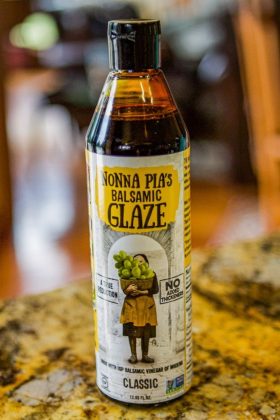 What is Balsamic Glaze Made Of?
Believe it or not, people actually google this question quite frequently. So, let's dig a little deeper into the components that make up this luscious Balsamic Glaze.
Furthermore, let's imagine the possibilities of how we can take this recipe even further by mixing and matching ingredients.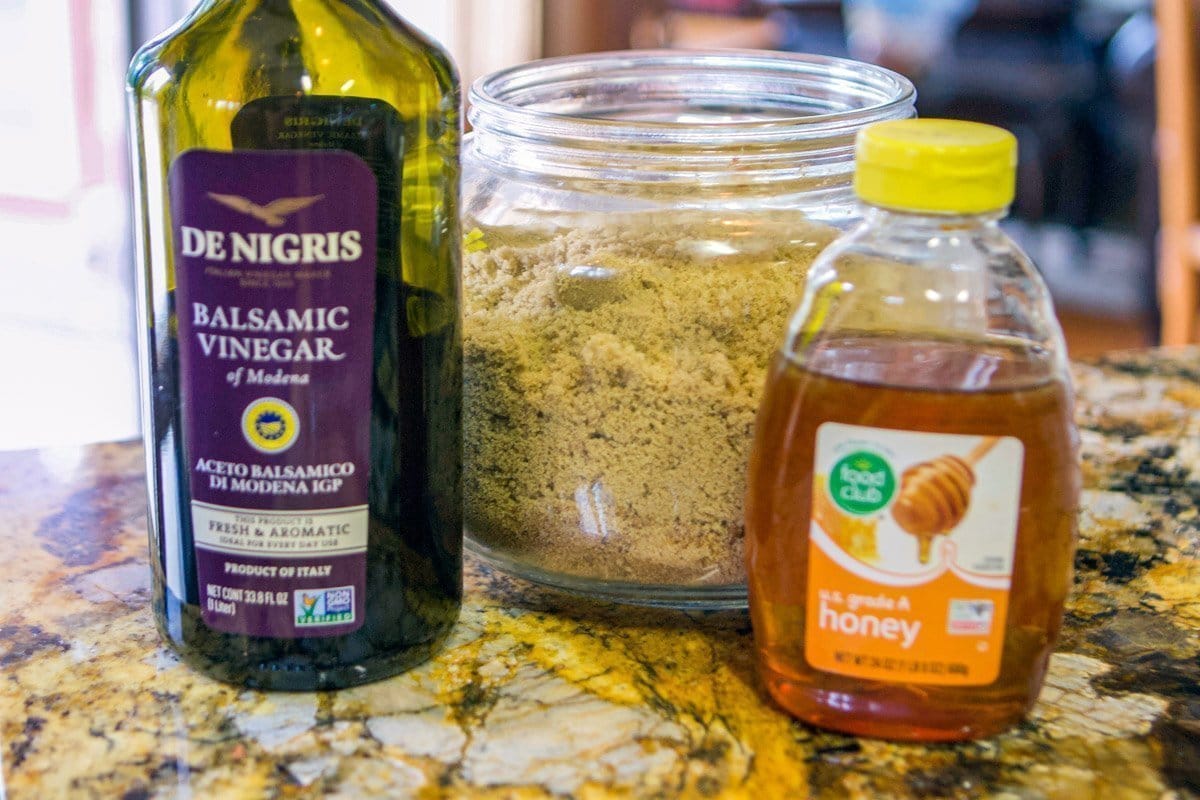 Balsamic Vinegar
The best balsamic vinegar available is known as "Aceto Balsamico Tradizionale di Modena." This translates to "Traditional Balsamic Vinegar of Modena" or "TBV."
TBV is made with grape must (fresh juice made with crushed grapes, including their skins, seeds, and stems).
The vinegar is aged a minimum of 12 years and stored in various barrels throughout this period. This includes barrels made of oak, juniper, mulberry, and cherry. This helps the vinegar to take on more complex flavors.
The less expensive "Balsamic Vinegar of Modena" or "BVM," can contain as little as 10% grape must, with red wine vinegar making up the difference. Additionally, it is usually aged only three to five years.
For the purpose of this recipe, I'm using Balsamic Vinegar of Modena because money doesn't grow on trees in Montana!
Sweetener
The other ingredient in Balsamic Vinegar Glaze is a sweetener. Some examples include white sugar, brown sugar, honey, maple syrup, or agave syrup.
In this recipe, I use a combination of brown sugar and honey. But, feel free to try different sweeteners and see which one becomes your favorite.
I plan on experimenting with various sweeteners to see what I can come up with. After all, experimenting in the kitchen is one of my favorite aspects of cooking. Don't you agree?
In one of my batches, I added a pinch of cayenne pepper, which was the batch that my husband preferred, but I realize not everyone enjoys spice as much as we do. However, if you enjoy your food with a little kick, give it a try!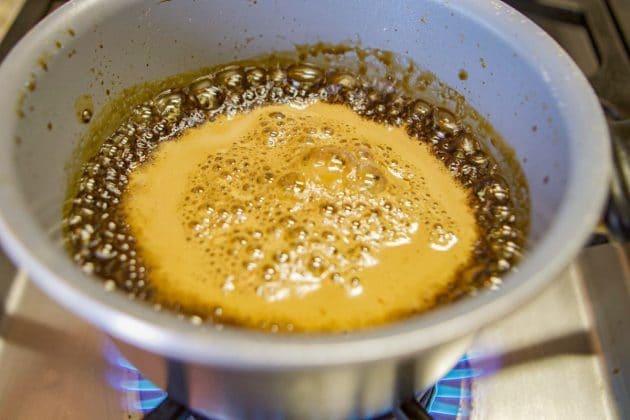 Is Balsamic Glaze Bad For You?
We've already covered the ingredients that make up Balsamic Glaze: Balsamic Vinegar and some form of sweetener.
One of these ingredients is very good for you, while the other not so much. I bet you can figure out which is which.
Balsamic vinegar can help lower cholesterol, aid in digestion, and support weight loss.
While consuming too much sugar can increase the chances of cancer, heart disease, increase blood pressure, cause weight gain, and lead to Diabetes.
So like anything, moderation is the key. If you don't guzzle it out of the bottle, you'll be ok!
Sugar to Vinegar Ratio
Since I was attempting to recreate the taste of Nonna Pia's Balsamic Glaze, I feel like I used more sugar than I would have otherwise.
In other words, if you care about how much sugar you consume, I recommend using half of the suggested sugar in this recipe.
As the glaze reduces, give it a taste. If you feel that you prefer it sweeter, just add more sugar until you are satisfied with the taste. If you are not worried about the sugar content, just stick with the original recipe.
Balsamic Vinegar Glaze Uses
So now that you've made this delicious Balsamic Vinegar Glaze, what are some ways you can use it?
To start, drizzle the glaze on grilled meats including chicken, Shish Kabobs, Lamb Loin Chops, and fish.
You can also drizzle this tasty reduction on salads, grilled peaches, watermelon, crackers topped with cheese, or one of my favorite ways to use it, drizzled over Gourmet Pizza!
Stay in touch with me through social media!
Tried this recipe? Snap a picture and tag #hildaskitchenblog on Instagram.
Like my page on Facebook.
Do you Pinterest? Pin & share this recipe!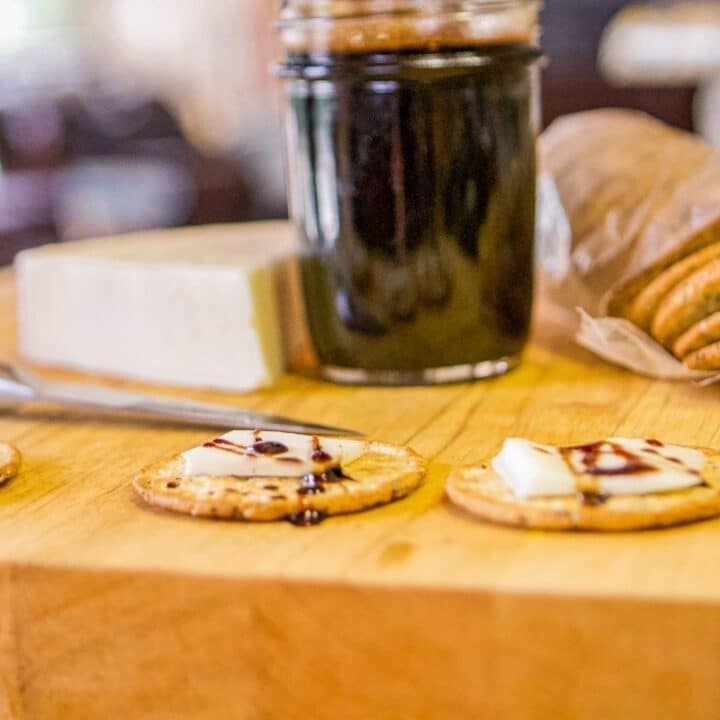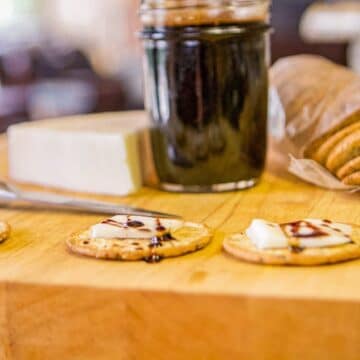 Balsamic Vinegar Glaze
Lucious and thick balsamic vinegar glaze that you can make with a few simple ingredients!
Print
Rate
Ingredients
1

cup

balsamic vinegar of Modena

5

T.

brown sugar

2

T.

honey
Instructions
Bring balsamic vinegar and brown sugar to a boil in a small saucepan.

Simmer, while stirring occasionally, until thickened and reduced by half. This should take anywhere from 15-25 minutes, depending on how thick you prefer your glaze to be.

Drizzle over meat, grilled veggies, salad, cheese and crackers, or just guzzle out the bottle!
Nutrition
Serving:
1
Tablespoon
|
Calories:
54
kcal
|
Carbohydrates:
13
g
|
Protein:
0
g
|
Fat:
0
g
|
Saturated Fat:
0
g
|
Fiber:
0
g
|
Sugar:
12
g