Sun-Dried Tomatoes
One of my favorite things about summer is growing a vegetable garden. This was an exceptionally good year. Besides being blessed with a load of Armenian cucumbers, I had an abundance of tomatoes. I can eat the cucumbers off the vine, all day long. Tomatoes, however, not so much. I of course used some of the tomatoes in my favorite tabouli salad. I pickled some of the green ones, like mom used to (pickled green tomatoes), but then I was stumped. Luckily, I remembered mom making sun-dried tomatoes and decided to give that a try!
Sun-Dried Tomatoes Anyone?
In July, I went on a two-week vacation to visit my family in Chicago. Upon my return, I found a large harvest of ripe Roma tomatoes waiting to be picked. Of course, I had no intention of letting all those beautiful tomatoes to go to waste. So today, I pulled out my food dehydrator and made some "sun-dried" tomatoes.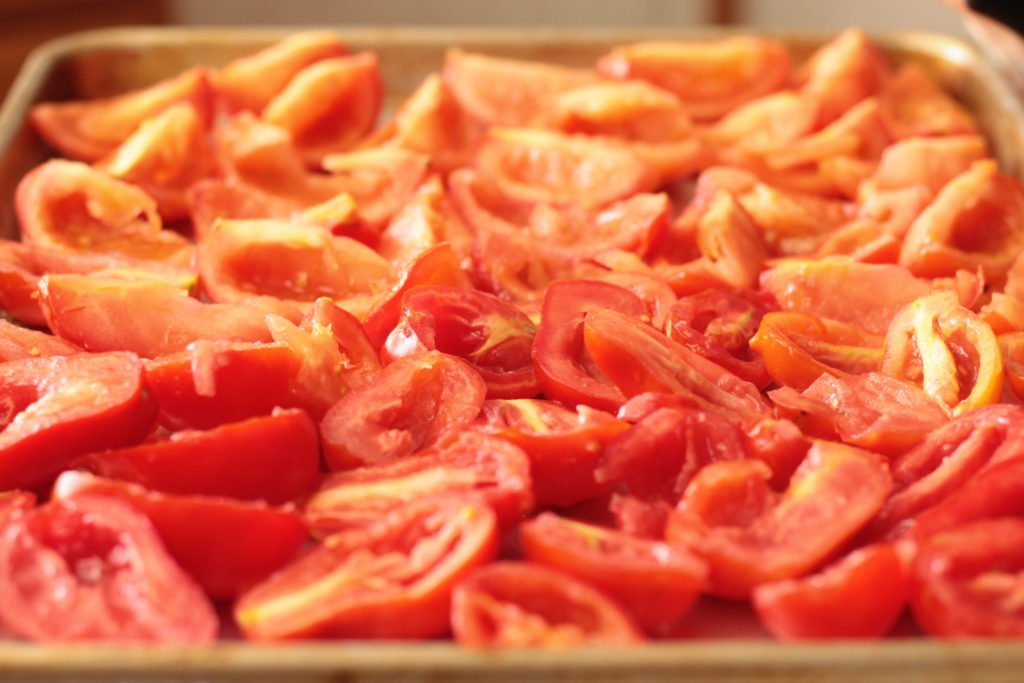 What If You Don't Have A Dehydrator?
First, if you don't have a dehydrator, may I ask why not? It's easily one of my favorite kitchen gadgets! Dehydrators come in a variety of styles and prices. Besides making sun-dried tomatoes, you can use the dehydrator to make so many other things like dried fruit, jerky, dried herbs, and fruit leather! But if you don't want to purchase a dehydrator, or don't want to wait until it arrives in the mail, there are other options, just not as cool!
Dehydrator Alternatives
So, you want to make sun-dried tomatoes, but don't own a dehydrator?  No problem, you can simply roast the tomatoes in the oven (200 degrees for 6-8 hours) depending on the size of the tomatoes. Or you can do as the name suggests, and dry them out in the sun. This is how my mom dried her tomatoes back in Iraq. Just be sure to cover them with cheesecloth, to keep the flies off. This method will take up to two or three days until the tomatoes are ready.
Do you Pinterest? Please pin and share!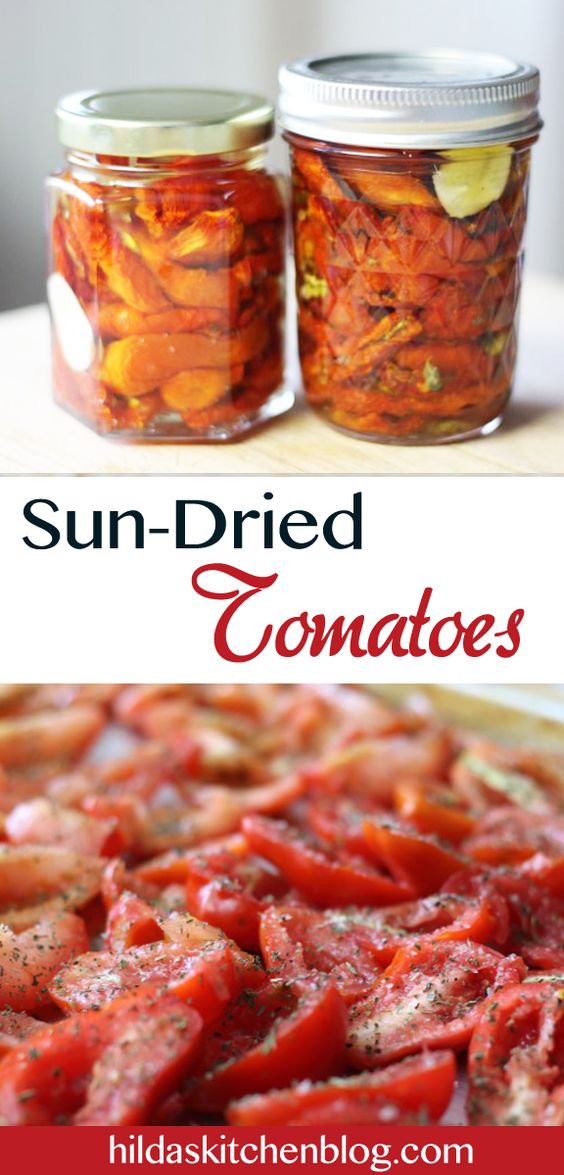 ---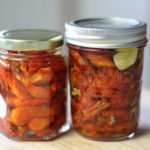 Sun-Dried Tomatoes
"sun" dried tomatoes, using a dehydrator.
Instructions
Pick tomatoes, then wash and dry them.

Slice the tomatoes in half. Carefully remove the seeds without removing the pulp in-between the seeds. Arrange the tomatoes on a cookie sheet.

Sprinkle the tomatoes with sea salt, basil, and oregano. You can also use other herbs that you prefer such as rosemary or thyme.

Place the tomatoes on the dehydrator trays, allowing some room between the tomatoes for air circulation. Follow the temperature and times suggested by your dehydrator. It took my dehydrator eight hours to dehydrate the tomatoes to the right consistency. Be careful not to over-dry the tomatoes. They should still be somewhat pliable.

Divide the tomatoes between two sterilized jars. Peel the garlic and cut in half, then divide between the jars.

Pour the olive oil over the tomatoes, making sure they are completely submerged. Seal and refrigerate until ready to use.
Nutrition Facts
Sun-Dried Tomatoes
Amount Per Serving
Calories 78
Calories from Fat 63
% Daily Value*
Total Fat 7g 11%
Cholesterol 0mg 0%
Sodium 174mg 7%
Total Carbohydrates 2g 1%
Protein 1g 2%
* Percent Daily Values are based on a 2000 calorie diet.
---
---