Not too many folks seem to be familiar with turnips these days. Let alone, Pickled Turnips! But trust me, once you taste these tangy and crunchy Pickled Turnips, you won't be able to stop at just one!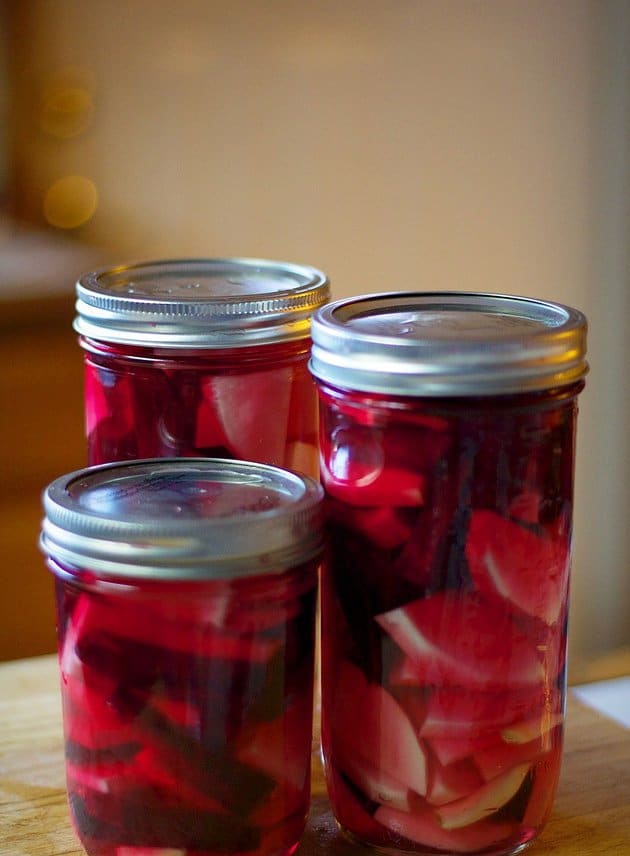 Not to mention, can you imagine trying to get your kids to eat pickled turnips? But if you did manage, they'd probably love them!
You may be asking: "what exactly is a turnip?" Turnips are considered a root vegetable, similar to beets, carrots, parsnips, and potatoes. Turnips belong to the Brassicaceae family.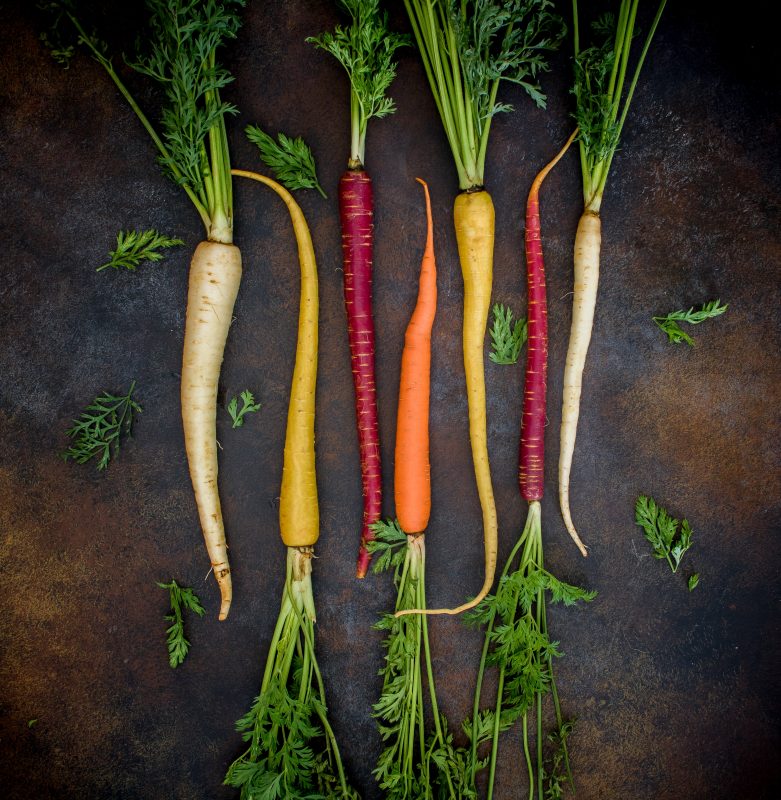 The Differences Between Rutabagas and Turnips
The first time I decided to make pickled turnips, I couldn't even find them in the store. Embarrassingly, I grabbed rutabagas instead! Something told me to go back and check the name above the display. Sure enough, I had grabbed rutabagas.
The two look very similar, and are actually considered "cousins." So learn from my mistake and check those labels! While doing some research on the differences between the two, I read that rutabagas are a hybrid of a cabbage and a turnip… who knew?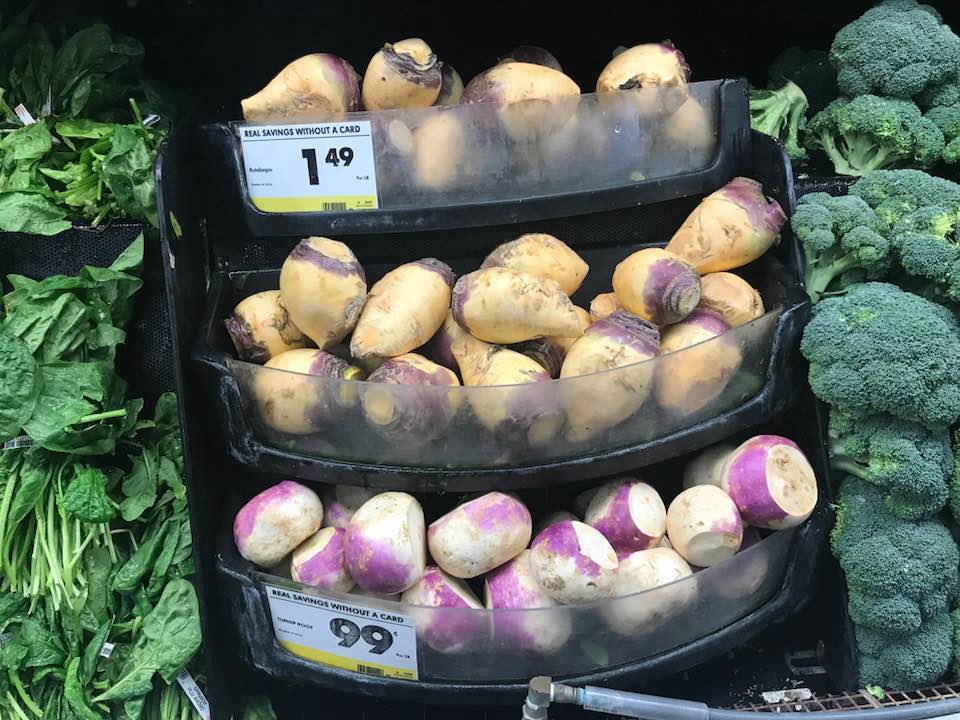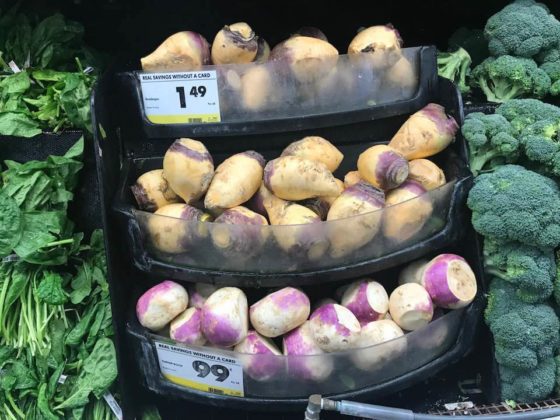 So now that you know a little bit more about turnips, what do you do with one? Use them to make Middle Eastern Pickled Turnips, ofcourse!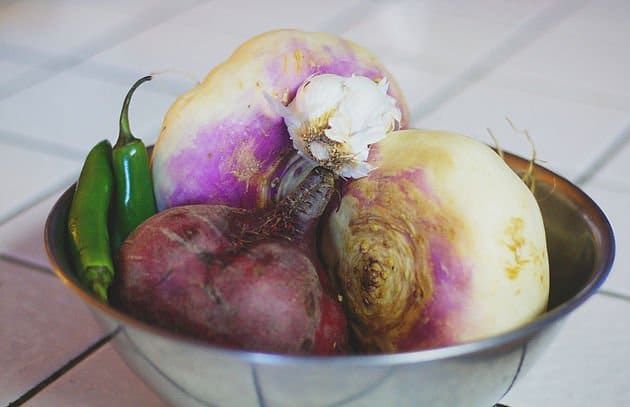 What To Serve with Pickled Turnips
In the Middle East, pickles are served with most meals. In fact, every good Middle Eastern housewife has a large tub full of pickles ready to dish out when company arrives.
My mom was no exception. She was known for her pickles. As a matter of fact, many years ago, my uncle, Bob, tried convincing her that she should market her pickles. But alas, it wasn't meant to be.
Middle Eastern restaurants serve Picked Turnips with many of their dishes, especially kabobs, and grilled chicken. Now you can make your own Pickled Turnips at home with this super easy recipe!
If you enjoy this recipe, you might also want to try the following recipes: picked mango, pickled eggplant, pickled tomatoes, pickled carrots, and Pickled Nasturtium Seeds.
My Easy Pickled Turnip Recipe
Dissolve salt in hot water and mix with vinegar.
Prepare turnips, serranos and garlic. 
Peel, and slice the beets into strips.
Divide the vegetables equally between the jars.
Divide the brining mixture between the jars.
Seal lids and store for at least one week before eating.
Do you Pinterest? Please pin and share!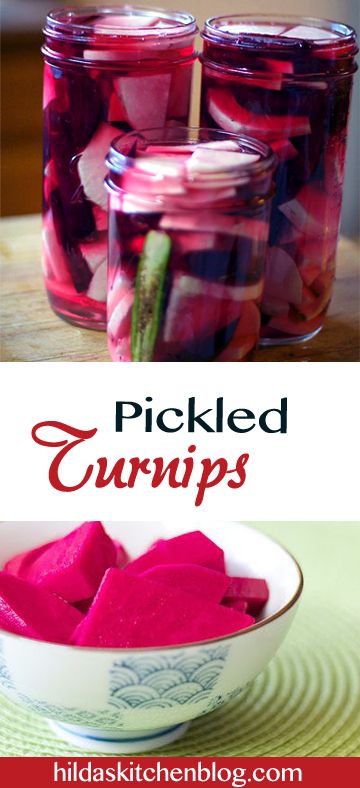 Pickled Turnips
Pickled turnips are quite addicting, and super easy to make!
Print
Rate
Ingredients
2

cups

water

1/4

cup

sea salt

1

cup

cider vinegar

1

cup

white vinegar

2

large

turnips

(approx. 11/2 to 2 lbs.

6

cloves

garlic

2

serrano peppers

2

medium

beets
Instructions
You will need four 1/2 quart canning jars.

Boil water, and stir in the salt until dissolved. Mix in the vinegar, and set aside.

Peel, and slice the turnips into fourths, then slice into rings. Slice each serrano down the middle, and remove the stem. Peel and slice garlic cloves into two pieces each.

Peel, and slice the beets into strips. The reason I don't cut them into the same shape as the turnips is to distinguish between the two once pickled and the turnips take on the same color as the beets.

Divide the vegetables equally between the jars, layering the turnips and beets.

Divide the vinegar and saltwater mixture between the jars, making sure the vegetables are completely covered, leaving at least 1/4″ space from the top of the jar.

Tighten the lids and store for at least one week before eating.

After a week, remove from the jars and serve with your favorite meal!
Nutrition
Calories:
27
kcal
|
Carbohydrates:
5
g
|
Protein:
0
g
|
Cholesterol:
0
mg
|
Sodium:
896
mg
|
Fiber:
1
g
|
Sugar:
4
g