It's Summer and I have tomatoes growing out of my ears, so what to do with all these tomatoes? I've made salsa, salads, fried green tomatoes, and Sun-Dried Tomatoes. I even made a green tomato pie, which reminded me a lot of apple pie, believe it or not. My friend Diane is the one who gave me that idea. Although I'd never heard of green tomato pie before, Diane ate it as a child. It was delicious, but guess what? I still have a lot of green tomatoes left on the vine. While pondering what else to make, I had a faint recollection of my mom's Pickled Green Tomatoes Recipe. Now, if only I had her here to show me how…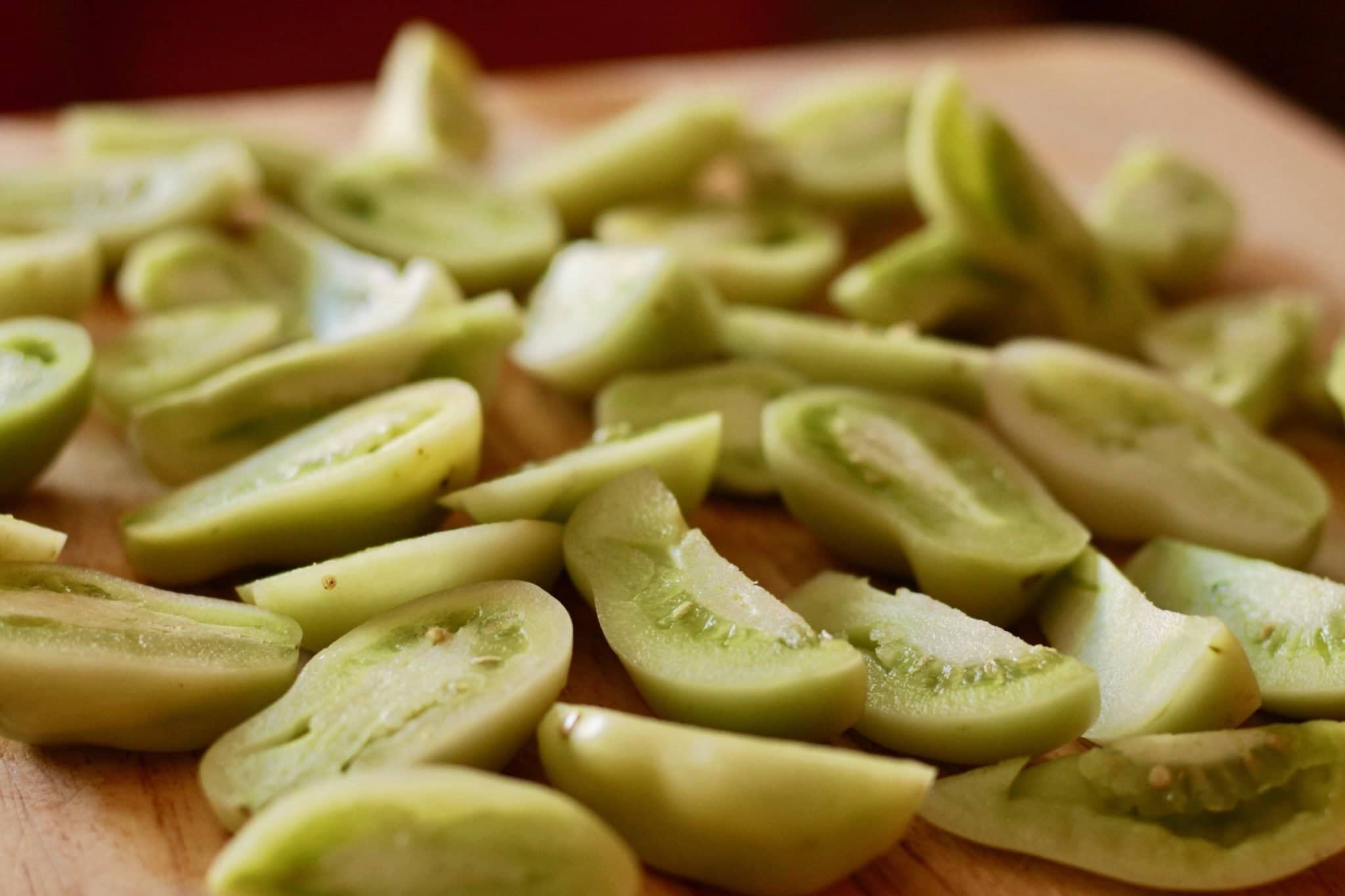 Pickled Green Tomatoes Recipe
Mom was not the type to use written recipes. As mentioned in my cookbook, every recipe was filed away in her amazing brain. Pickled green tomatoes aren't even mentioned in my book. Since it was a recipe that she didn't make too often, I didn't even think to ask her for the recipe. But I asked myself: "how hard can it be?" Well, I'm happy to say that it wasn't hard at all. Pickling green tomatoes is a piece of cake!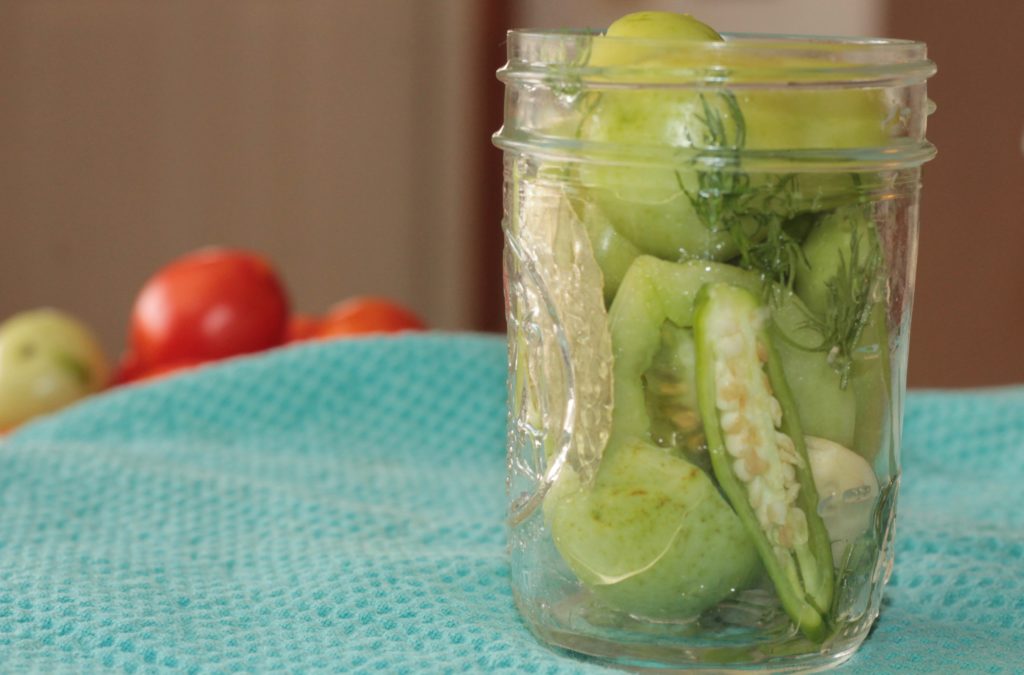 How Do You Make Green Tomato Pickles
Slice  tomatoes in half or quarters (depending on the size)
Pack in sterilized jars
Divide dill, garlic, Serranos (optional), and bay leaves (also optional)
Make a pickling solution with salt water and vinegar (see the exact amount in recipe card below)
Divide solution between the jars, and seal.
Refrigerate for at least a week before eating.
Do you Pinterest? Please pin and share!
You may also like the following recipes: Pickled Carrots, Pickled Nasturtium Seeds, Pickled Mangos, and Pickled Eggplant.
---
If you love this pickled green tomatoes recipe, please give it a five-star rating!
Pickled Green Tomatoes (Toorsheyeh)
A great way to use up leftover green tomatoes at the end of the growing season.
Cuisine:
Assyrian, Middle Eastern
Ingredients
1

lb.

green Roma tomatoes

3

cloves

garlic

2

serrano peppers

(optional)

2

bay leaves

(optional)

1/2

cup

white vinegar

3/4

cup

boiling water

1

T

sea salt

1

tsp

sugar

1

24 oz

wide-mouth jar

(or 3-8 oz jars)

2-3

sprigs

fresh dill
Instructions
Sterilize the jar or jars and lids in boiling water, while you prepare the vegetables.

Wash and slice the tomatoes in half or quarters, depending on the size of the tomatoes. Peel and slice the garlic cloves, and slice the serranos down the middle.

Pack the tomatoes, garlic and serrano peppers tightly inside the sterilized jar, then add the bay leaves and dill.

Boil the water and add to the vinegar. Stir in the salt and sugar until completely dissolved. Carefully pour the liquid into the jars until the tomatoes are completely submerged. Seal jar tightly and place in the refrigerator for a week to allow the tomatoes to pickle.
Nutrition Facts
Pickled Green Tomatoes (Toorsheyeh)
Amount Per Serving (0 g)
Calories 11
% Daily Value*
Fat 0g0%
Cholesterol 0mg0%
Sodium 0mg0%
Potassium 0mg0%
Carbohydrates 0g0%
Protein 0g0%
Vitamin A 0IU0%
Vitamin C 0mg0%
Calcium 0mg0%
Iron 0mg0%
* Percent Daily Values are based on a 2000 calorie diet.