This Assyrian Pickled Eggplant recipe is my attempt at recreating one of my mom's original recipe. The eggplant at stuffed with a mixture of garlic, chilis, and herbs and really absorb the delicious brine flavor.
Recently, while visiting my sister in Chicago, we discussed some of mom's old recipes. I mentioned that I recalled mom making pickled eggplant when I was younger. However, I didn't recall her making them in my adult years.
This was one of those times when having an older sister came in handy. Beni was able to recall the procedure that mom used to make pickled eggplant.
Taking advantage of her memories, and my knowledge of pickling, I pieced this recipe together.
I believe it's pretty close to mom's recipe, except maybe a little spicier. Give this pickled eggplant recipe a try, and let me know what you think!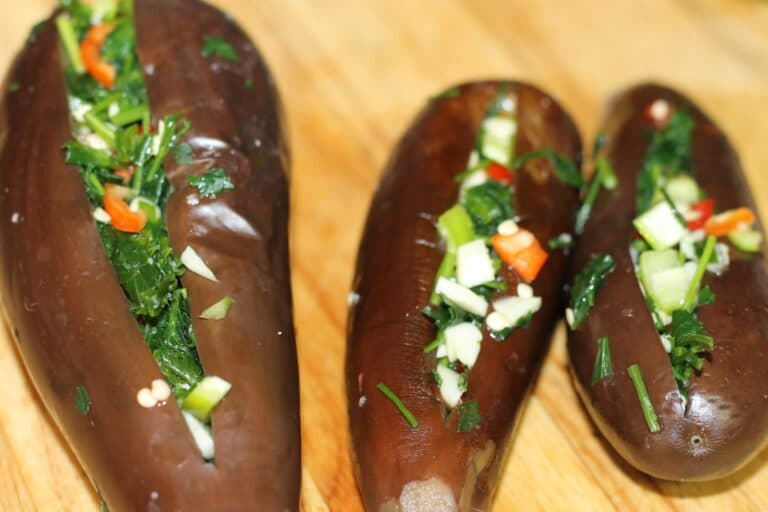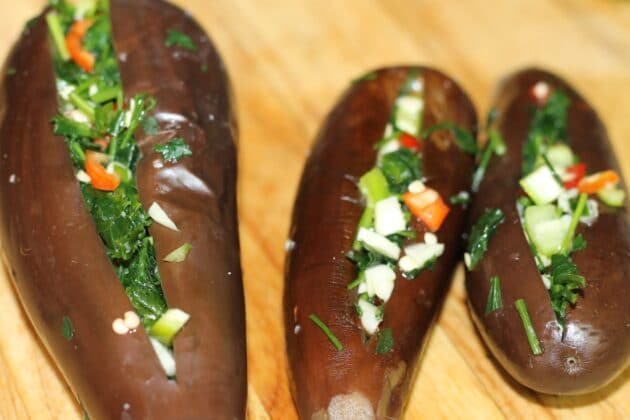 Other Pickled Fruits and Vegetables
Since you are interested in this recipe, I think it's safe to assume that you like pickled vegetables. Having that in mind, I'd like to share some other fruits and vegetables that you can pickle.
Pickled Mangos aren't something that you probably haven't given much thought to. Let me tell you, they're to die for! A great combination of sour and sweet, with just the right amount of spice. They are very popular in the Middle East, and India.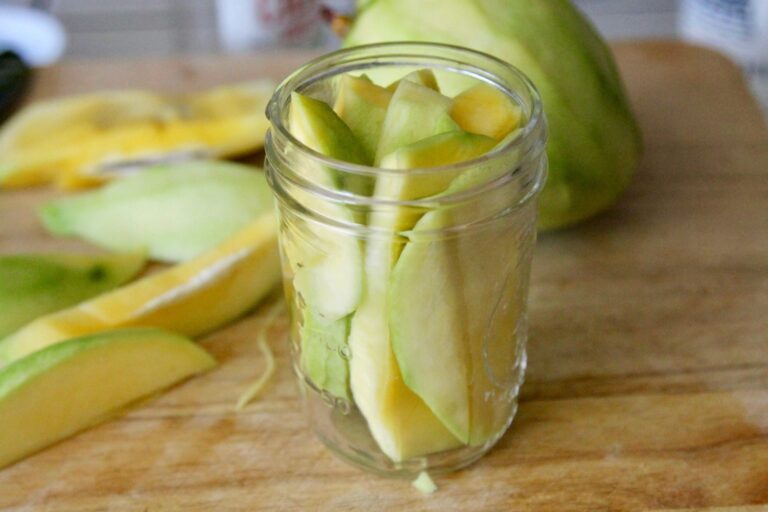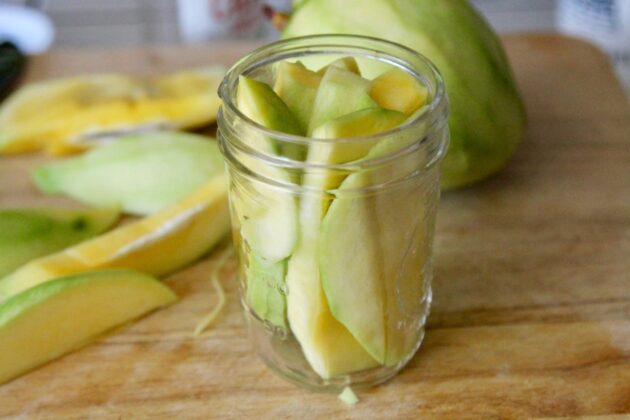 Preserved lemons, popular in North African Cuisine, are not only beautiful to look at, but a delight to taste!
Marinating lemons in salt and their natural juices has been done for centuries. This was done as a way of preserving the lemons to be used during the months when they were no longer in season.
The wonderful thing about this method is that not only are the lemons preserved, but their flavor is greatly intensified. In fact, the rind tastes like lemons on steroids! They are a great addition to most recipes where lemon is needed.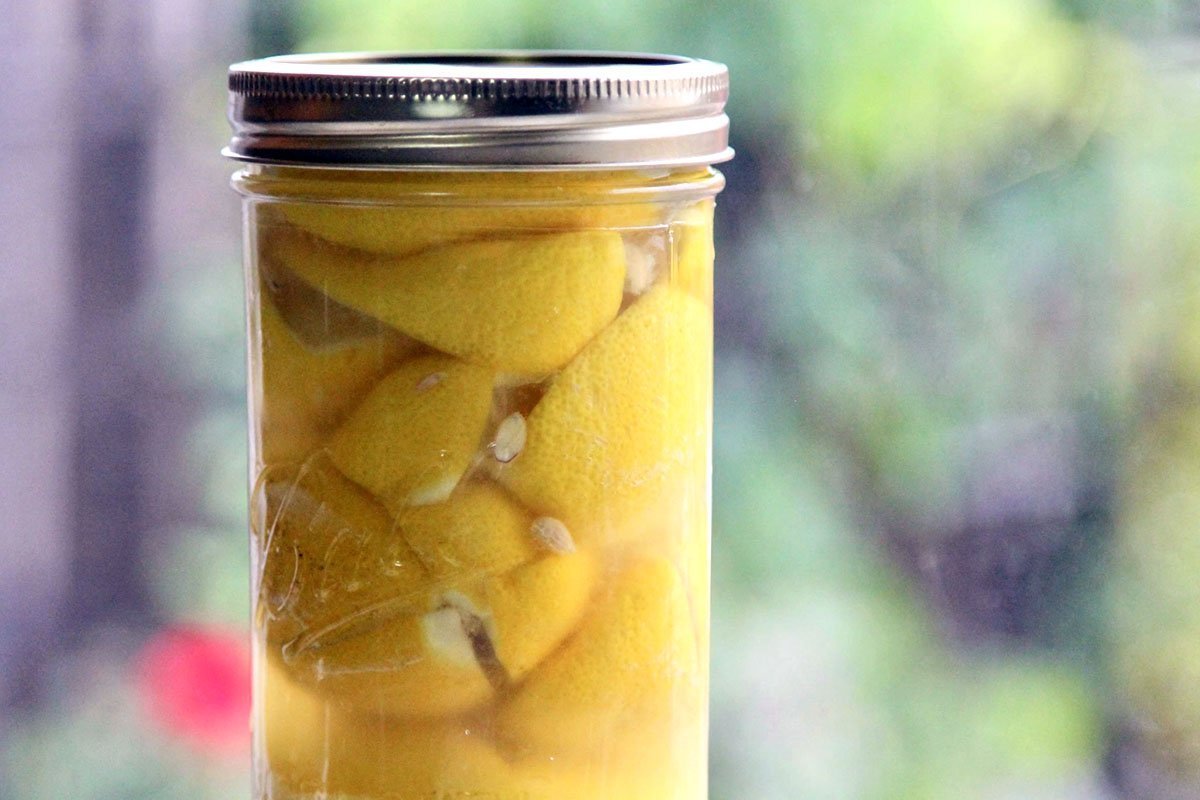 Pickled turnips are very popular throughout the Middle East. In fact, if you've ever been to a Middle Eastern restaurant, they were probably served with your meal. The turnips are pickled along with beets, which gives the turnips a beautiful dark pink color. They're almost too beautiful to eat. Get over it, eat them!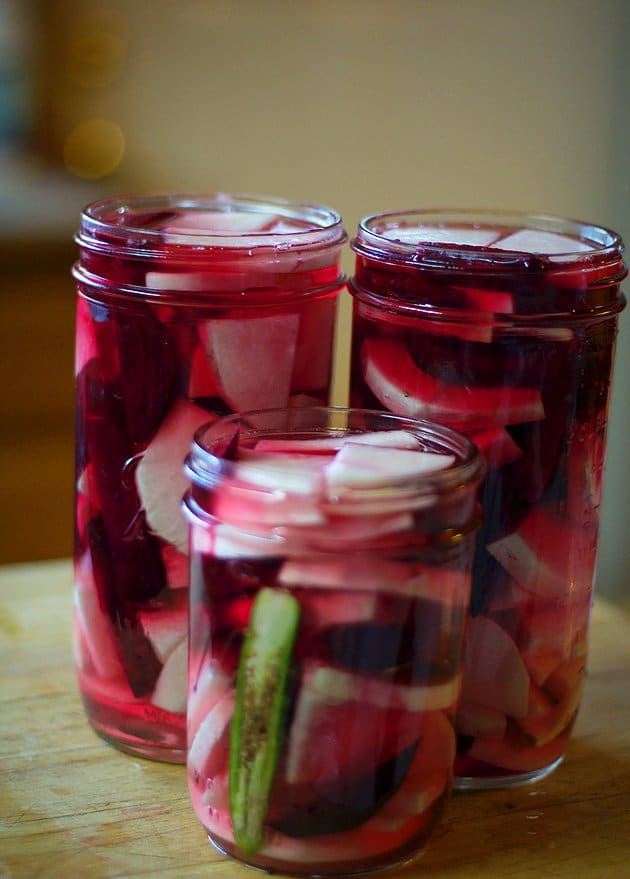 Stay in touch with me through social media!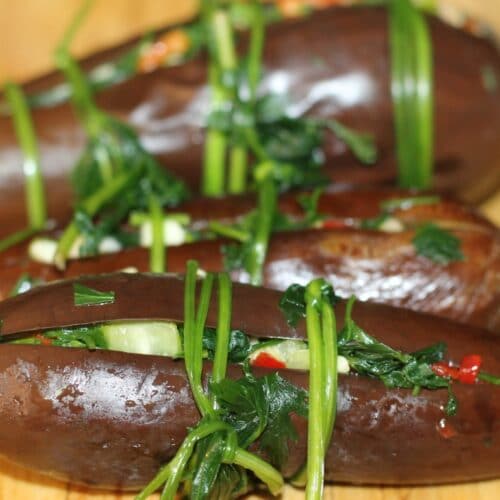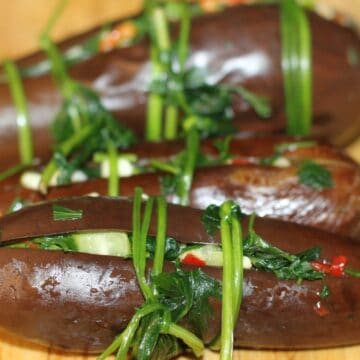 Assyrian Pickled Eggplant
Mom's Assyrian recipe for pickling eggplant.
Print
Pin
Rate
Ingredients
3-4

small

Chinese eggplant

4

tsp.

sea salt

5

cloves

garlic

peeled

5

serrano peppers

1/4

bunch

Italian parsley

1

cup

white vinegar

1

cup

water
Instructions
Trim the eggplant stems and make a long slit down the center of each eggplant. Make sure it's deep enough to stuff, but don't go all the way through.

Place eggplant in a small pot, and cover with four cups of boiling water, mixed with 1/2 tsp. of salt. Cover and allow to soften for 20-30 minutes. The goal is to get the eggplant soft enough to stuff, but still firm.

Meanwhile, peel and chop three cloves of garlic. Mince three of the serranos and add to the garlic. Chop the parsley, making sure to save some of the longest strands to tie the eggplant shut, after stuffing. If you prefer, you can use toothpicks to do this.

Mix 1/2 tsp. of salt into the stuffing mixtures. Once the eggplant are ready, rinse with cold water and gently stuff.

Tie each eggplant closed with a few strands of parsley stems. Arrange the eggplant into the sterilized jar. Add the remaining cloves of garlic and serrano peppers.

Mix vinegar, water and remaining salt until the salt is dissolved. Pour this mixture over the eggplant, seal and refrigerate for two weeks to allow the eggplant to pickle.
Nutrition
Serving:
8
servings
|
Calories:
59
kcal
|
Carbohydrates:
12
g
|
Protein:
2
g
|
Fat:
0
g
|
Saturated Fat:
0
g
|
Cholesterol:
0
mg
|
Sodium:
882
mg
|
Fiber:
5
g
|
Sugar:
7
g