Restaurant-style Chili Verde under ninety minutes is totally doable with this Instant Pot Chili Verde recipe! The deep, complex flavors are achieved by first broiling the vegetables, searing the pork, and adding just the right amount of seasoning. After that, just sit back, relax, and let your Instant Pot do the rest!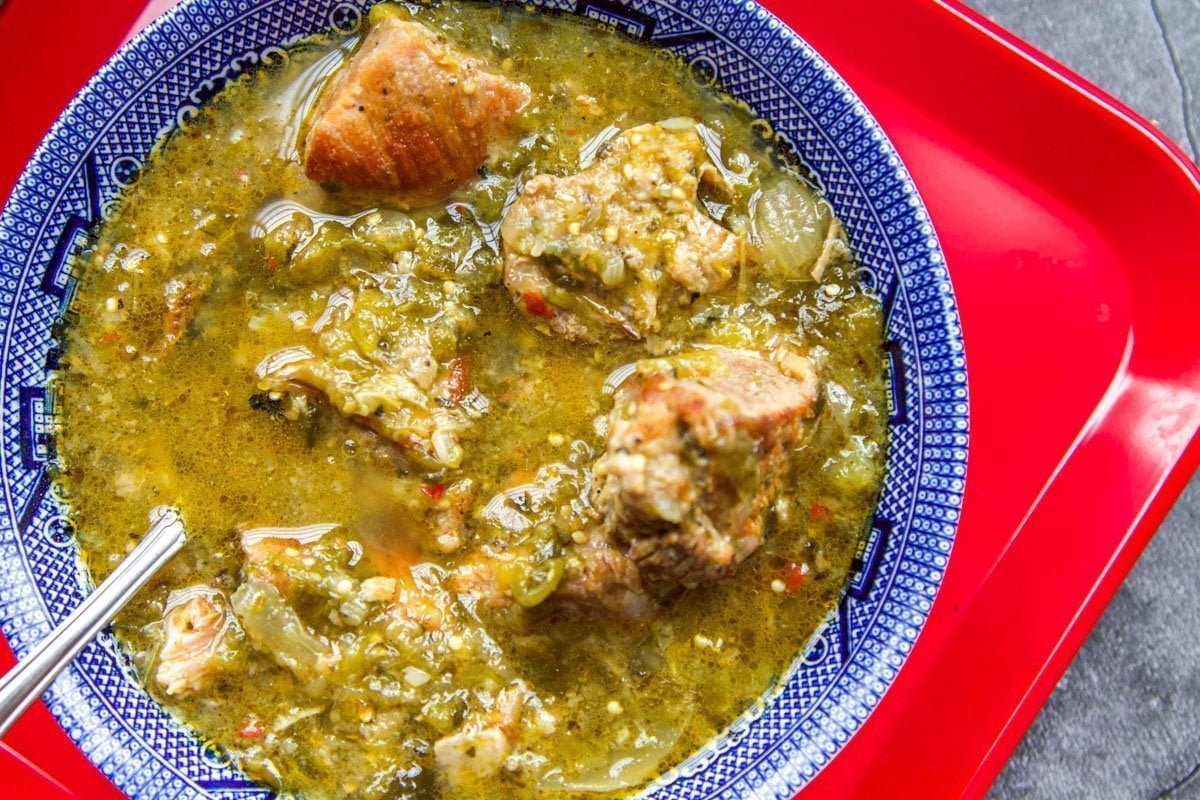 Quick and Easy Chili Verde
If you've followed my blog for a while, you might know that I already have an amazing "Off the Charts" Chile Verde recipe, which I posted in 2018. I wasn't particularly looking to add another Chili Verde recipe on my blog. That is until the one day when Scott came home from work two hours earlier than he was supposed to.
I realized that I wasn't going to have as much time as I needed to prepare the Chili Verde. Luckily, my Instant Pot came to my rescue. You may want to bookmark this Instant Pot Chili Verde recipe for those days when you're short on time too.
A Bit About Chili Verde
I always like to share a bit of information regarding the recipes at hand with my readers. Some of these facts came from this Chow Hound Post.
When translated, "Chili Verde" means "Green Chili."
In Mexico, authentic Chile Verde is referred to as "Cerdo Con Verdolagas" or "pork with purslane."
"Chili" Verde is spelled both with an "e" and an "i." Don't be surprised if you see it spelled both ways in this post.
Chili Verde originated in Northern Mexico.
Although Chili Verde was traditionally made with pork, these days it's made with a variety of meats including chicken, beef, and seafood.
Instant Pot Chili Verde
Preparing authentic Chili Verde can be a labor of love. Especially if you take the time to do it right. However, the end result is totally worth the extra effort. Using an Instant Pot reduces the cooking time.
Sure, you can go the easy route and use bottled salsa verde to simmer the pork in. However, ask yourself, "do you want mediocre Chili Verde or over the top Chili Verde?" I know what I want, and I'm not scared to do a little extra work to get it!
Make sure you have some great music playing in the background (I enjoy Abba, Bee Gees, Styx, Billy Joel, and Elton John). I also recommend a cold drink to sip on, and some air conditioning blasting. Especially if you're making this recipe during the Summer, and/or going through menopause. ?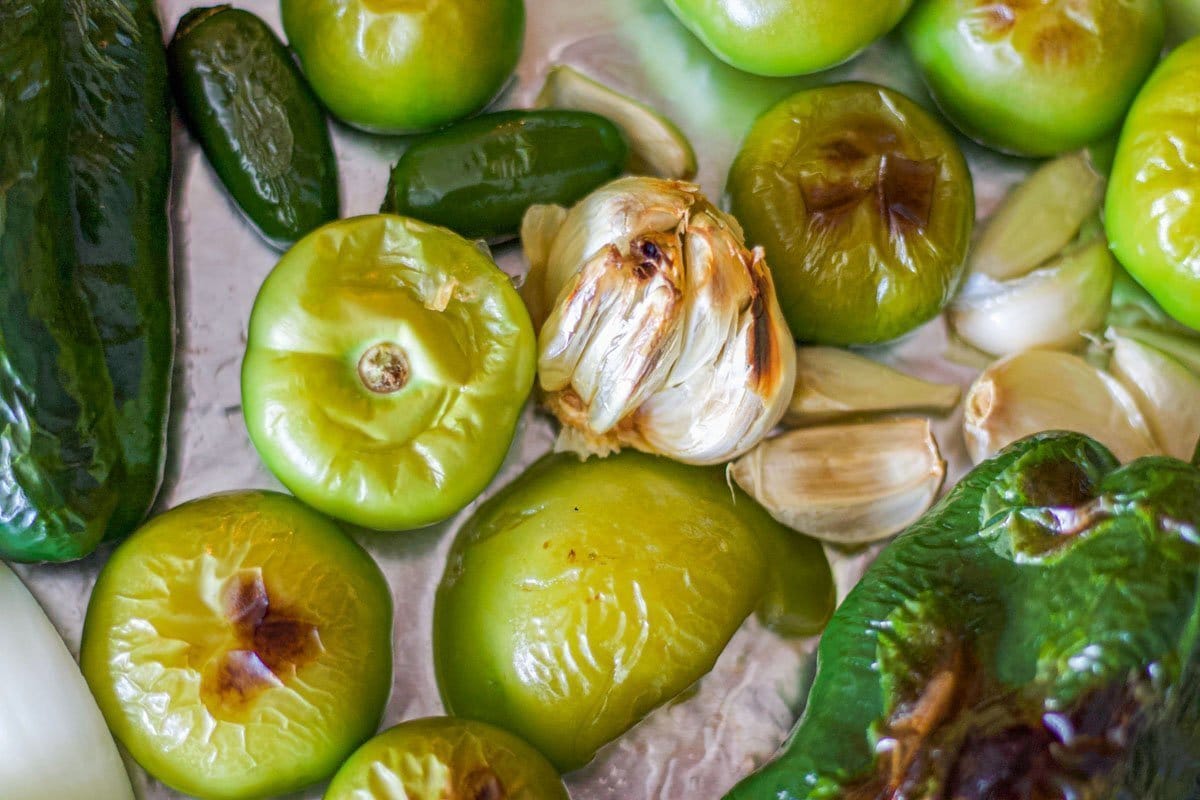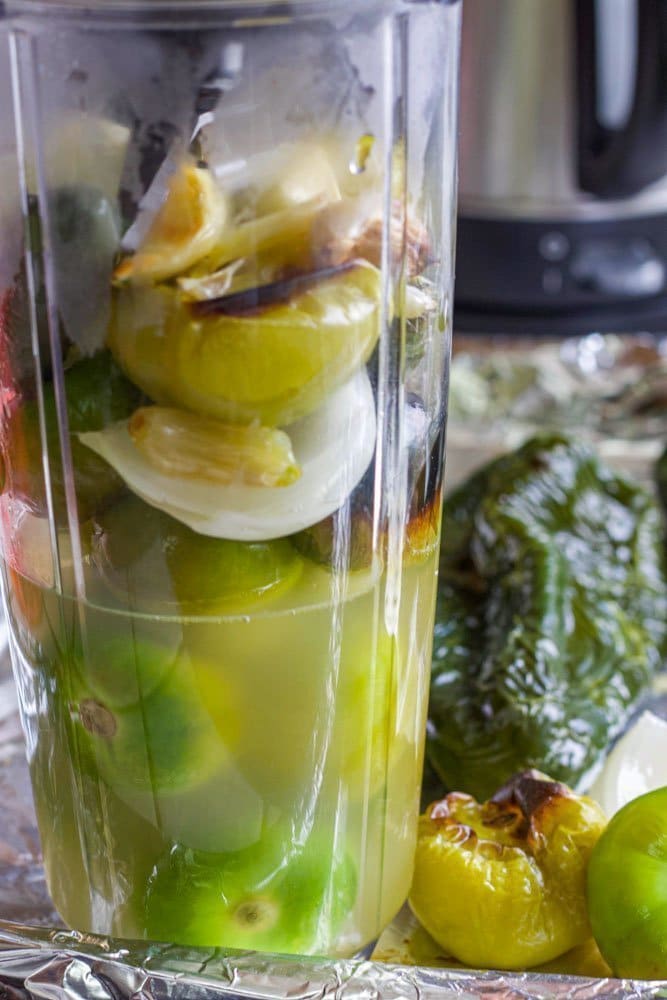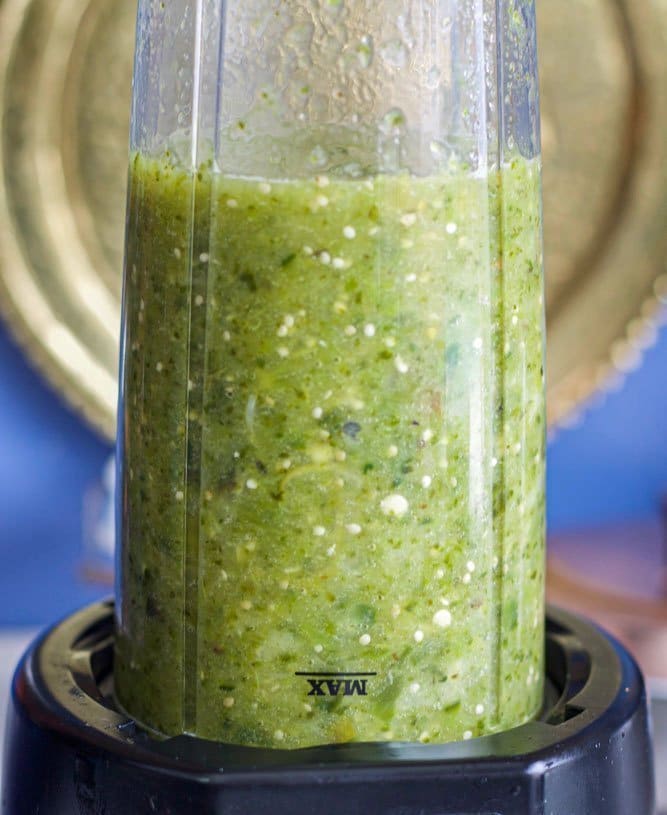 Easy Instant Pot Chili Verde
If you're thinking that making Chili Verde sounds too hard, relax, I got your back! If you can do the following tasks, you can tackle this recipe with confidence!
Broil Vegetables
Chop, season, and sear pork
Work a blender or food processor
Use an Instant Pot or Pressure Cooker
If you answered yes to all of the steps above, congratulations! You're on your way to making the best Chili Verde you've ever had!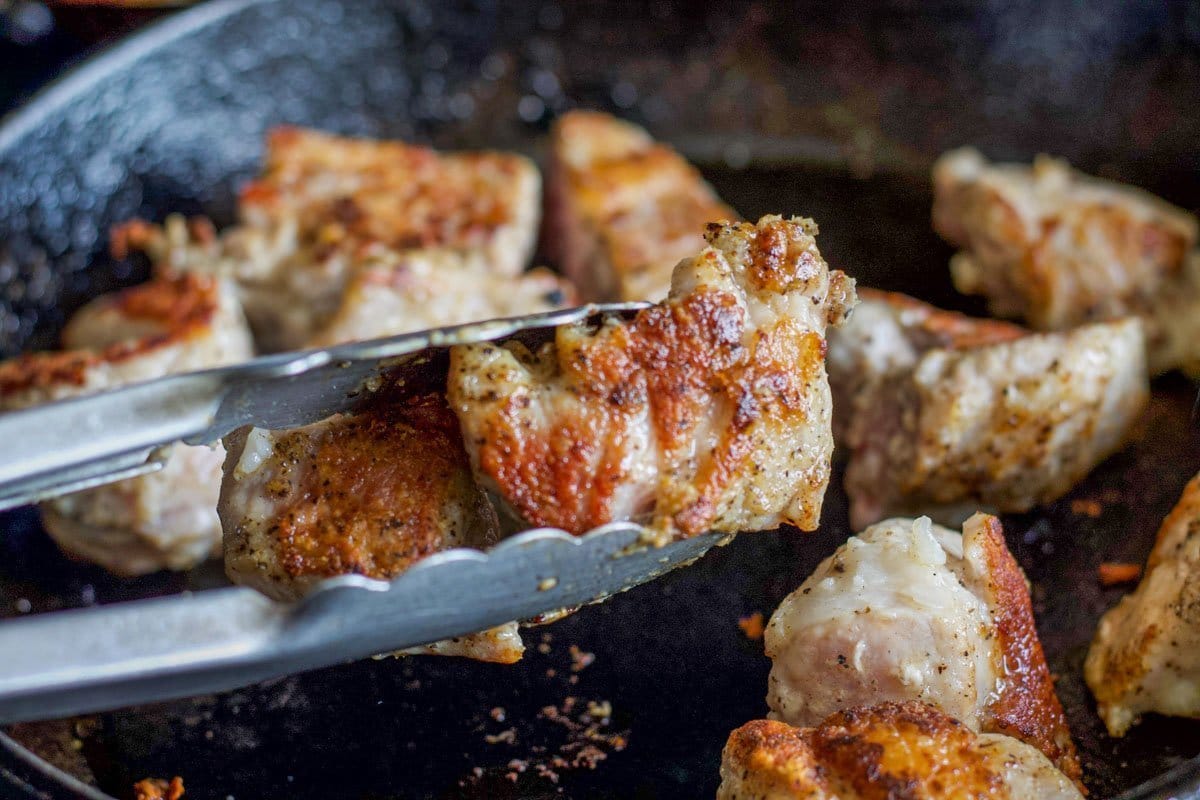 Mild Chili Verde
I've been asked by readers in the past how to dial down the heat in Chili Verde so that those who can't tolerate spicy food can still enjoy it.
The most obvious way is to leave out the jalapeno peppers. But sometimes the poblano peppers can be pretty spicy too. Replacing the poblanos with bell peppers is another way to dial down the spice factor. You can also cut back on the amount of black pepper used.
Although most enjoy the spicy kick of a good Chili Verde, there's no reason why those with a mild preference can't enjoy it too! Be sure to taste the tomatillo salsa mixture before pouring it over the pork to see if it needs adjusting. Not hot enough? Toss in a couple of diced habaneros in there… I dare you!
Leftover Chili Verde Ideas
Use the leftover Chili Verde to make green enchiladas. Just layer the meat and sauce between corn tortillas and cheese and bake in the oven.
Add Chili Verde meat to cheese quesadillas. Just go easy on the chili, or you will be left with a wet mess!
Add pork and some of the sauce over fries. Finish off with shredded Mexican cheese. Broil or bake long enough to melt the cheese.
Use the leftovers from Chili Verde to make nachos. Load tortilla chips with Chili Verde and cheese. Bake until the chips are crispy and the cheese is melted. Serve topped with diced onions, cilantro, guacamole, and sour cream.
Serve leftovers over Mexican Rice.
Try something totally different and serve it over my Tasty Mashed Potatoes recipe!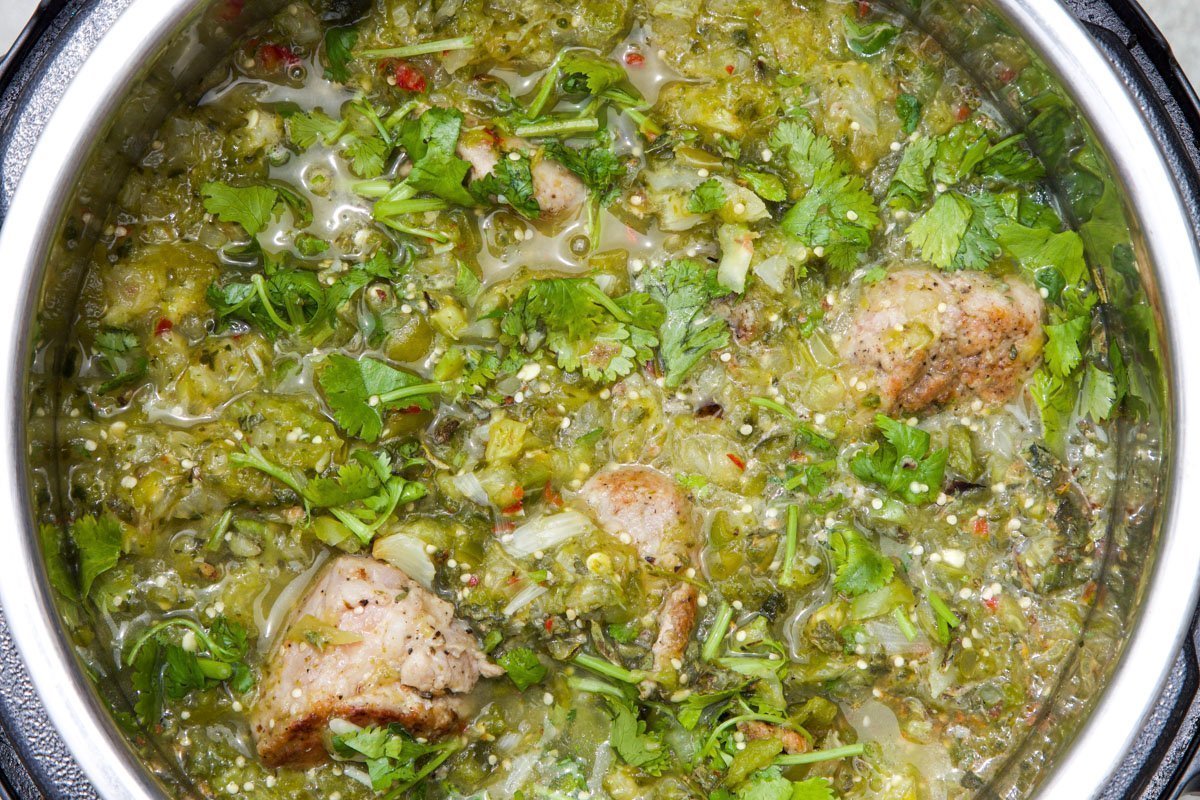 All your hard work has paid off. So grab some tortillas, it's time to dig into the best Chili Verde you've ever had!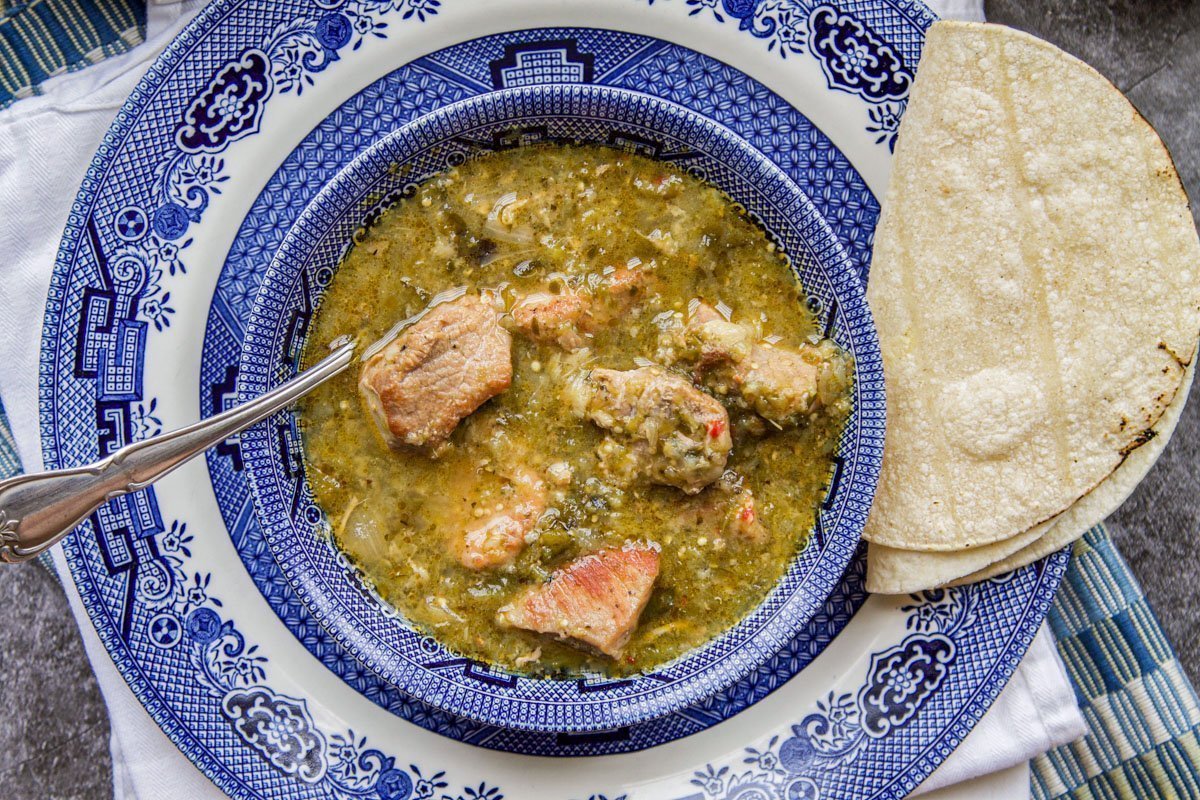 You may also enjoy the following Instant Pot recipes: Filipino Pork Adobo, Instant Pot Chicken Chili, Easy Instant Pot Pulled Pork, and Instant Pot Corned Beef.
Do you Pinterest? Please pin and share this recipe!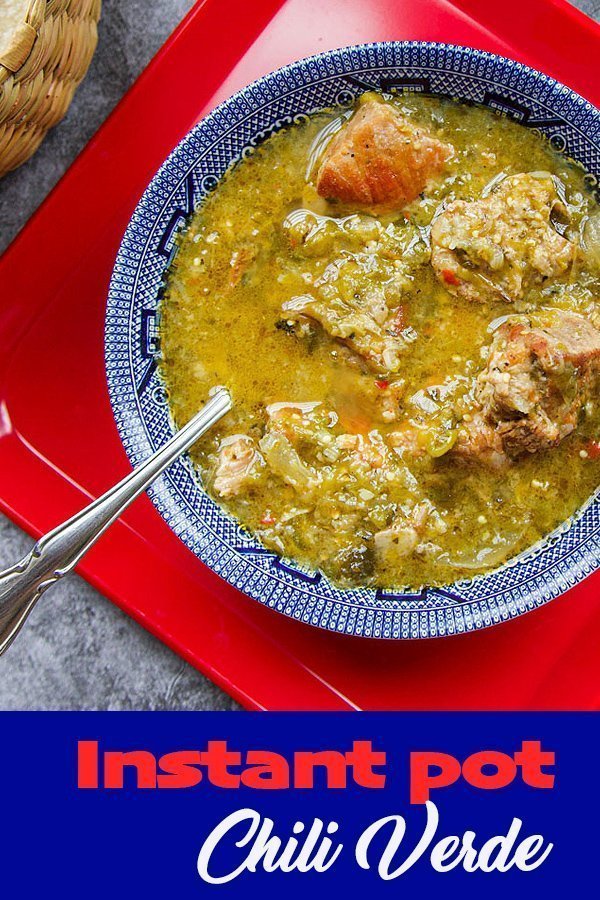 If you love this recipe, please give it a 5-star rating!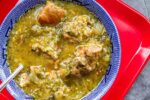 Instant Pot Chili Verde Recipe
Make restaurant-style Chile Verde at home in your Instant Pot!
Ingredients
1-½

lbs.

tomatillos

3

poblano chilis

2

jalapeños

1

large

yellow onion

1

head

garlic

3

T.

olive oil

(divided)

3½

lbs.

pork

(chunked)

1

T.

salt

1

T.

black pepper

¼

cup

all-purpose flour

1½

cups

chicken broth

1½

tsp.

cumin powder

1½

tsp.

ground corriander

1

T.

dried oregano

⅓

cup

cilantro leaves

¼

cup

chopped purslane
Instructions
Peel and wash tomatillos, and place on a foil-lined cookie sheet. Add quartered onions, garlic, and peppers. Drizzle with one tablespoon olive oil. Broil on high for five minutes. 

Meanwhile, chop pork into 2"-3" chunks, wash, and pat dry. Mix salt, pepper, and flour. Sprinkle the mixture over the meat. Work in until the meat is coated with the mixture.

Take the tray out of the oven, remove veggies that are charred. Flip the remaining vegetables and broil for an additional two to three minutes. Remove from the oven and allow to cool.

Heat the remaining olive oil in a cast-iron skillet. Sear pork, working in batches, and place in the Instant Pot.

Peel roasted garlic, and poblano peppers. Add to a blender, along with the other charred vegetables, and chicken stock. Depending on the size of your blender, you might have to do this in batches. Pulse the vegetables until roughly chopped.

Pour the mixture over the meat in the Instant Pot. Stir in the cumin, corriander, oregano, and cilantro.

Seal the Instant Pot and bring up to pressure (15 to 20 minutes). Cook on high pressure for 30 minutes. Vent manually, or allow the Instant Pot to vent naturally.

Serve with sour cream, warmed tortillas, shredded cheese, tortilla chips, and lime wedges.
Nutrition Facts
Instant Pot Chili Verde Recipe
Amount Per Serving
Calories 463
Calories from Fat 180
% Daily Value*
Fat 20g31%
Cholesterol 108mg36%
Sodium 2463mg107%
Protein 61g122%
* Percent Daily Values are based on a 2000 calorie diet.