This spicy Chili Verde Recipe is "off the charts good," at least according to my husband, Scott. Chunks of pork are cooked in a delicious made-from-scratch tomatillo sauce, until extremely tender.
What Does Chili Verde Mean?
You're probably familiar with Salsa Verde, but have you ever had Chili Verde? "Chili Verde" simply means "green chili" in Spanish. It's a slow-cooked Mexican stew made with a mixture of tomatillos, peppers, onion, garlic, chicken broth, and spices. All this goodness is simmered to perfection with tender chunks of pork. Is your mouth watering yet?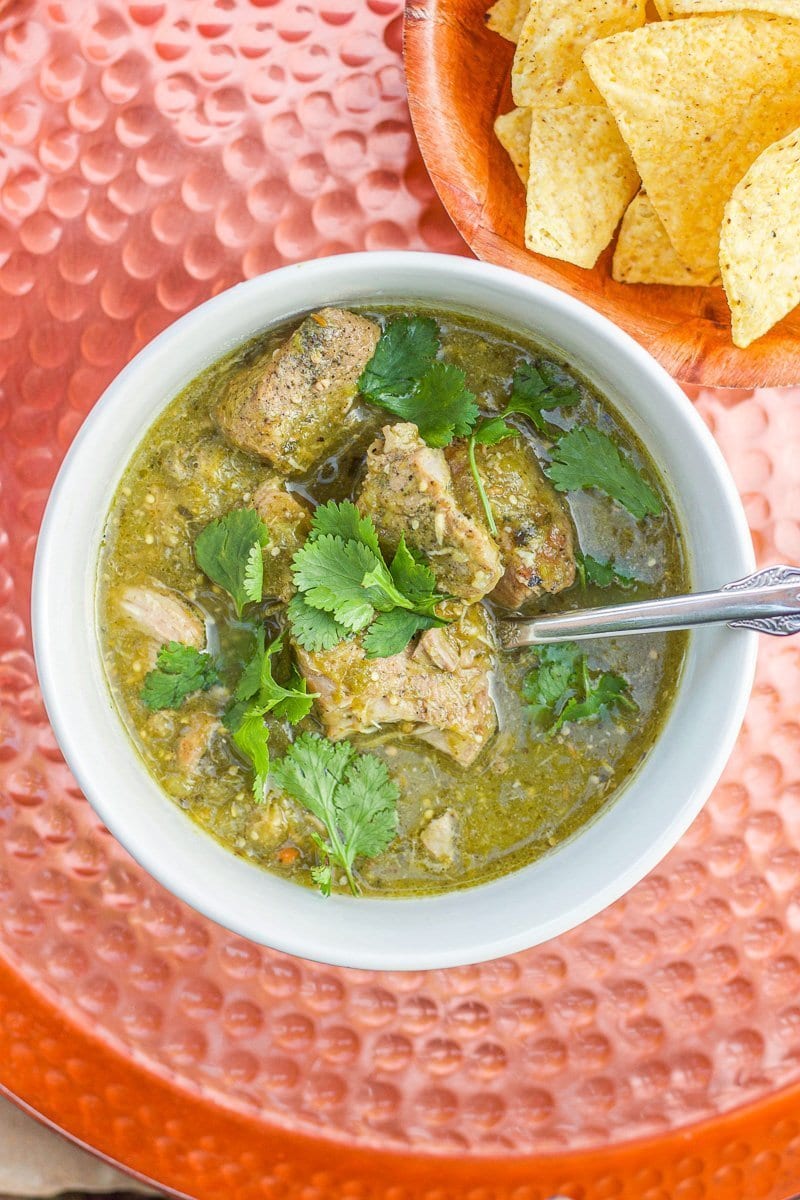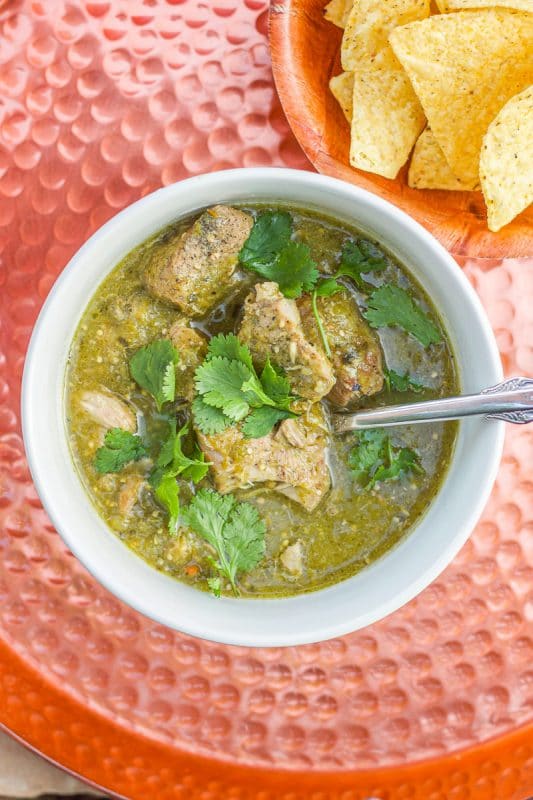 Should You Roast Tomatillos For Chili Verde?
I've seen recipes where for the sake of ease, skip roasting the vegetables, while some use bottles salsa verde. That's fine if you're in a bind and can't find tomatillos, otherwise, please don't make the same mistake. When it comes to cooking, quicker is definitely not better!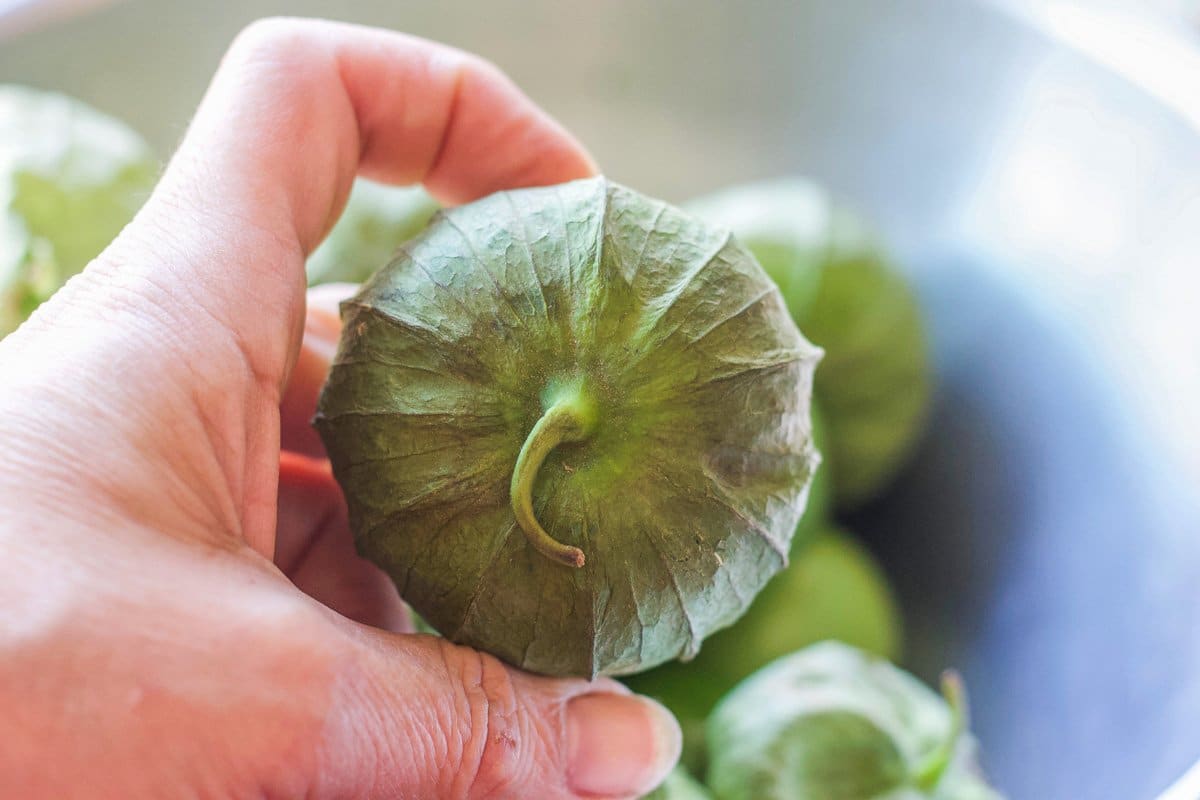 Roasting the vegetables adds a deep, rich flavor that really enhances the flavor of this dish. I don't know about you, but I definitely prefer roasted garlic over plain garlic. So please, no cutting corners. Crank up the tunes, pour yourself a margarita, and enjoy the process!
How to Roast Vegetables for Chile Verde
Place peeled and washed tomatillos on a foil-lined pan. Add poblano peppers, quartered onion, Serranos, and one head of garlic. Drizzle the garlic with one teaspoon olive oil. Broil the vegetables on high until charred.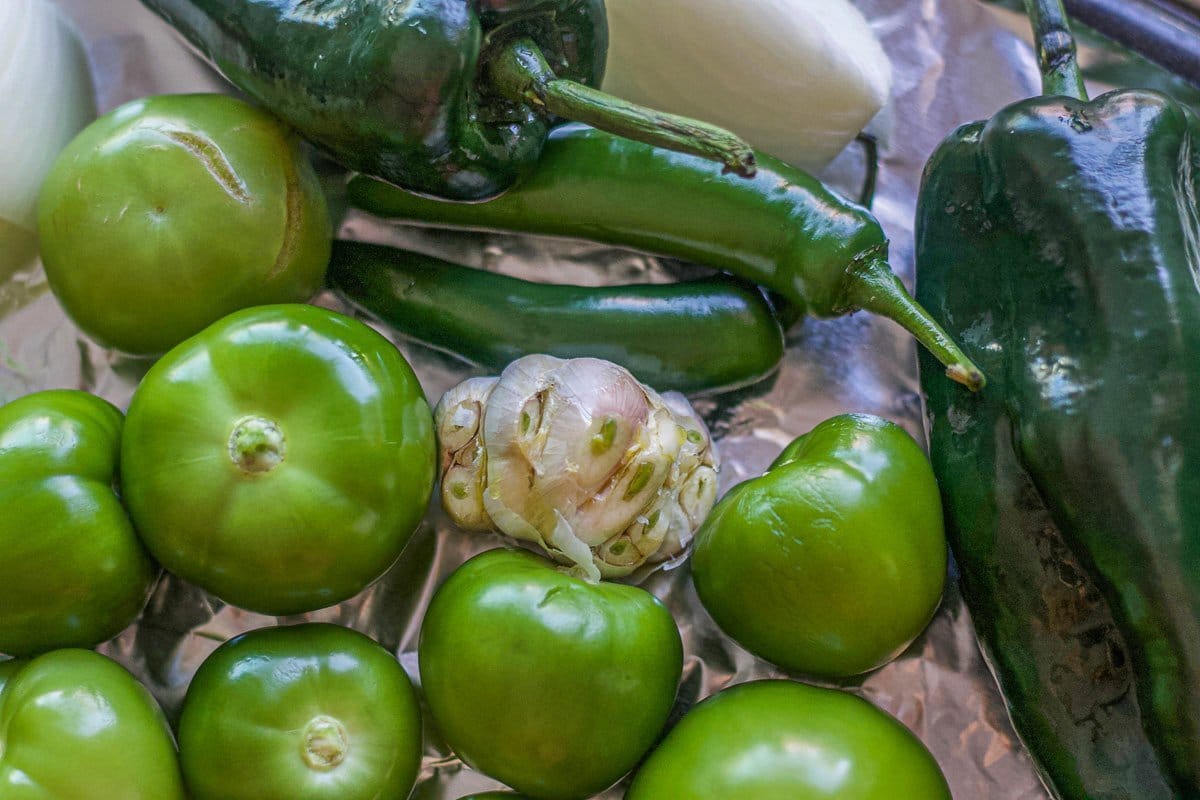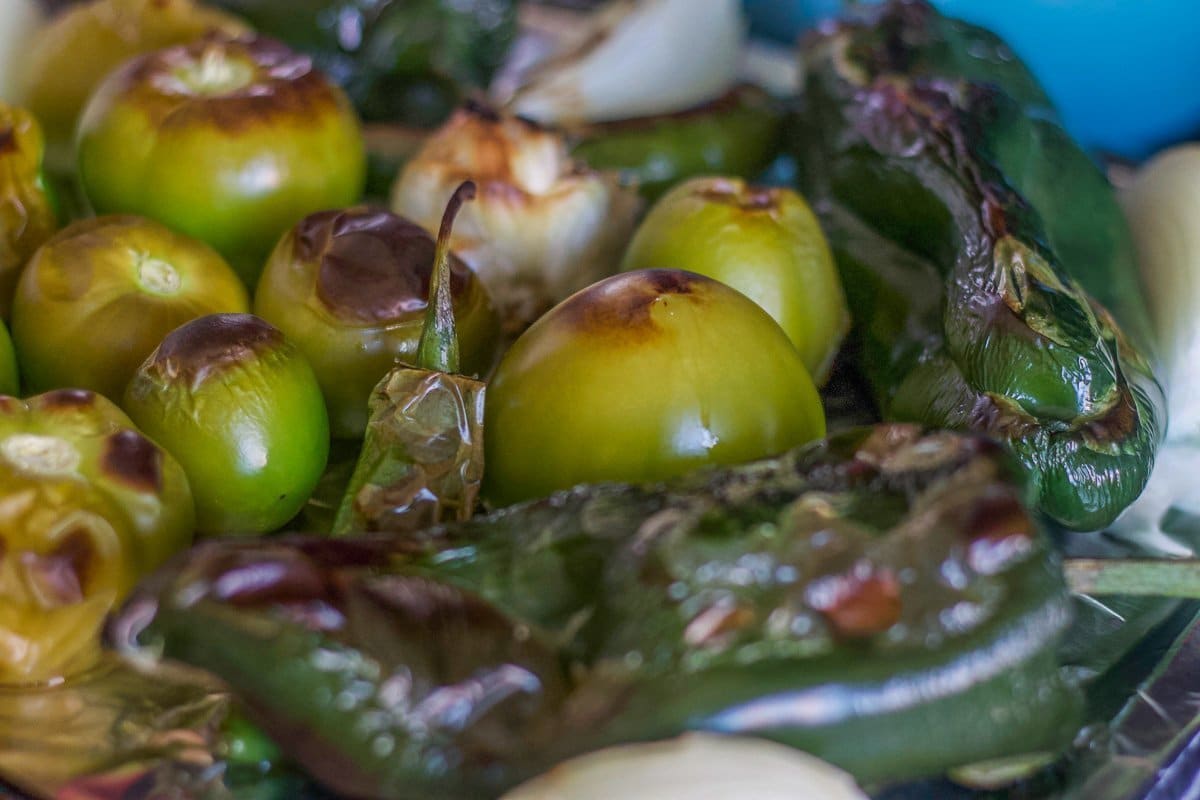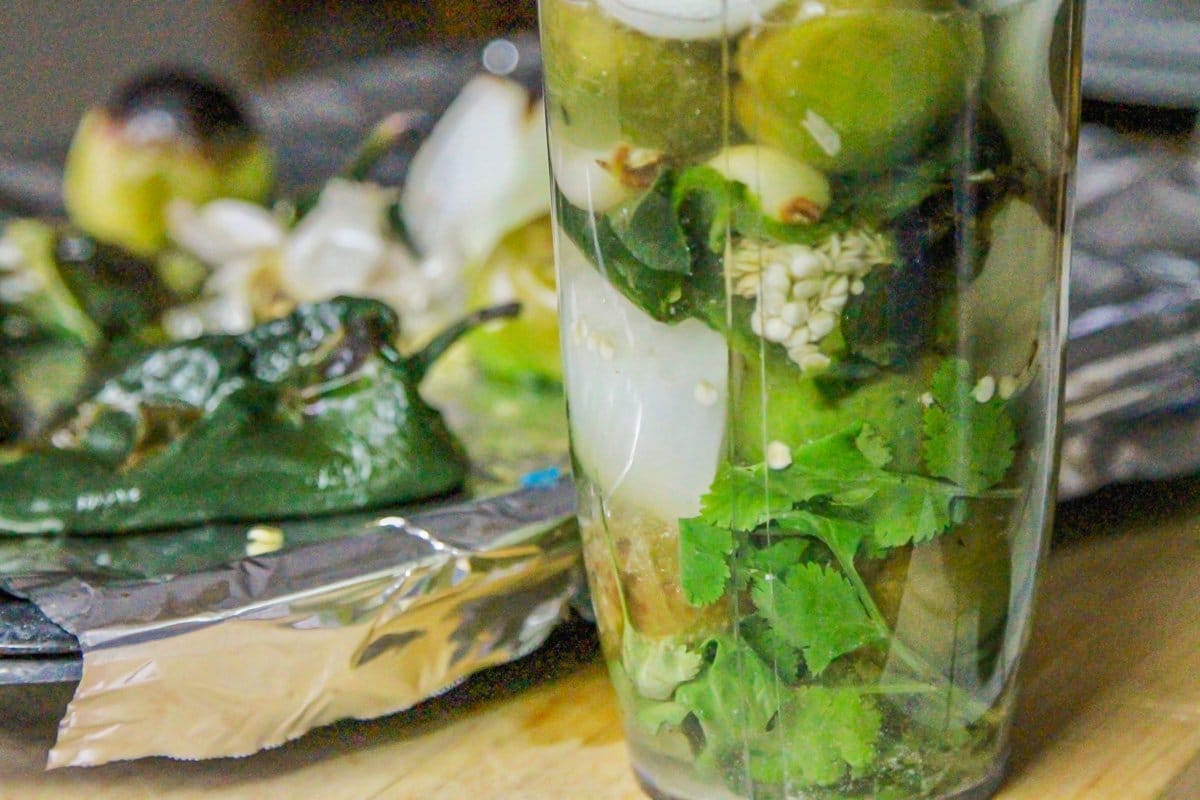 Can You Freeze Chili Verde?
Chili Verde is perfect for freezing. In fact, whenever I make this Chili Verde recipe, I end up freezing half of it. The quickest and easiest way to do that is to pour the extra Chili Verde in a large freezer Ziplock bag. Next, squeeze all the air out of the bag and seal.
How to Defrost Frozen Chili Verde
To defrost the frozen Chili Verde, remove the plastic bag from the freezer and soak in a deep bowl, filled with water. If you are not pressed for time, allow the Chili Verde to come to room temperature over a few hours. Otherwise, defrost in a microwave, or reheat on the stovetop.
Serving Suggestions
Chili Verde can be enjoyed in a bowl with a side of chips, similar to other chilis. But that's just one possibility. This tasty dish can also be served over some Mexican rice. But why stop there?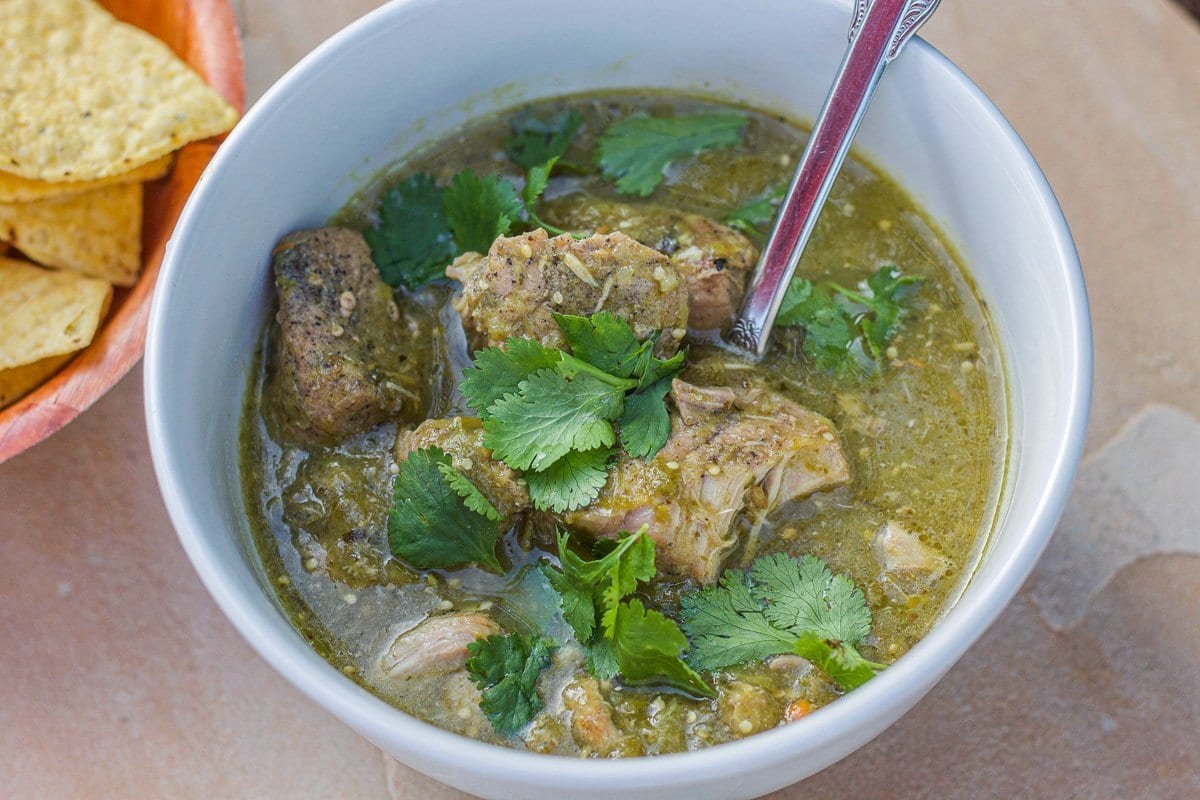 My personal favorite way of enjoying Chili Verde is in tacos. Use a slotted spoon to drain most of the liquid, then serve with corn tortillas, sour cream, and shredded cheese.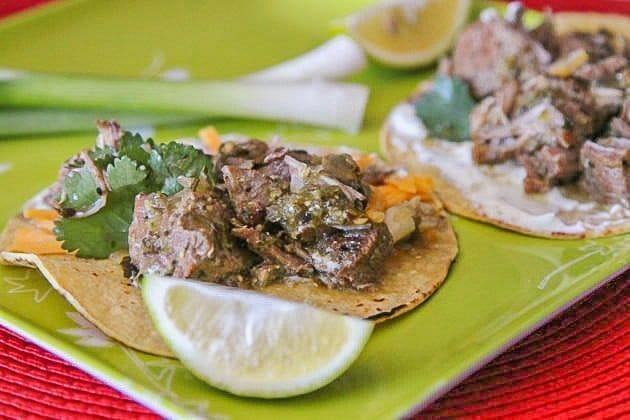 Chili Verde quesadillas are also a great possibility. If you are lucky enough to have leftovers, you can use some to make Mexican scrambled eggs the following morning.
You may also enjoy the following recipes: Turkey Pumpkin Chili, Instant Pot Chili Verde, Bison Chili, and Instant Pot Chicken Chili.
Do you Pinterest? Please help a girl out by pinning & sharing!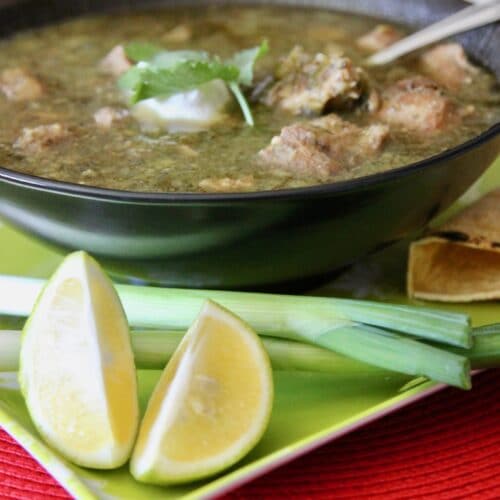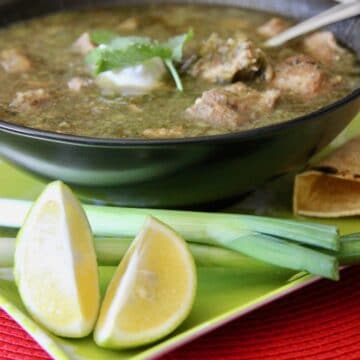 "Off the Charts" Chili Verde
Off the charts chili verde, even better than what you get at your favorite restaurant!
Print
Rate
Total Time:
4
hours
30
minutes
Ingredients
1-1/2

lbs.

tomatillos

3

poblano chilis

2

serrano peppers

1

large

yellow onion

1

head

garlic

1/4

cup

cilantro leaves

2

cups

chicken broth

3

lbs.

pork

cubed

1

T.

salt

2

tsp.

black pepper

2

T.

olive oil

1

tsp.

cumin seeds

1

T.

dried oregano
Instructions
Peel and rinse tomatillos. Arrange on a foil-lined sheet. Add poblanos and serranos. Roughly chop the onion and add to the tray. Slice the top off of the garlic bulb and add the bulb to the tray. Drizzle the garlic with one teaspoon olive oil. Broil the vegetables on high until charred.

While the vegetables are in the oven, salt, and pepper the cubed pork. Heat the remaining oil in a cast-iron skillet. Sear the meat, working in batches. Add the seared meat to a crockpot, including the pan juices.

Peel the skin off of the charred poblano chilis and serranos, once they're cool enough to handle.

Add the charred vegetables to a blender, along with the cilantro, and chicken stock. Depending on the size of your blender, you might have to do this in batches.

Pulse the vegetables until roughly chopped.

Pour the mixture over the meat in the crockpot. Stir in the cumin seeds and oregano. Cover the crockpot and cook for four to six hours.

Serve in a bowl, with a dollop of sour cream and a side of tortilla chips.
Nutrition
Calories:
275
kcal
|
Protein:
15
g
|
Fat:
17
g
|
Saturated Fat:
8
g
|
Cholesterol:
151
mg
|
Sodium:
1317
mg
|
Fiber:
3
g
|
Sugar:
7
g