If you love potato salad as much as I do, wait until you taste my Potato Salad with Dill! It's a perfect marriage between German Potato Salad and the classic American Potato Salad. It's for those times when you don't want to choose between the two. I mean really, why should you have to choose? I developed the tasty recipe over many years of experimenting. It even got the approval of my German mother-in-law! If you want to add another culture into the mix, serve it with my Sumac Chicken or Kabob recipe.
Potato Salad with Dill
Potato Salad may definitely be one of my guilty pleasures. If you don't feel the same, this potato salad my just change your mind. I love both the creamy texture of the potatoes, eggs, and dressing mix, along with the crunchiness of the bacon, onions, and celery. And can we talk fresh dill for a second? Talk about an herb that makes everything taste better! It's definitely my favorite herb! Be sure to use fresh dill instead of dried dill weed, there is a difference!
The Differences Between German and American Potato Salad
We can thank the Germans for introducing us to potato salad. Their version, however, is slightly different from our American potato salad. It only makes sense to take the best of both to create this amazing Potato Salad with Dill recipe! Let's take a quick look at some of the differences between German Potato Salad and American Potato Salad.
German Potato Salad
Germans serve potato salad warm
The salad dressing in German Potato Salad consists of oil or bacon grease, and vinegar.
German potato salad is sweetened with sugar.
Germans like to add bacon to their potato salad, and who can blame them?
Parsley is sometimes added to German Potato Salad.
American Potato Salad
American Potato Salad is served cold.
The dressing is usually made with mayonnaise or a combination of mayo and mustard.
Americans sometimes add boiled eggs to their potato salad.
Dill is commonly added to American Potato Salad.
My Special Birthday Present
I celebrated my 52nd birthday last week. Yes, I'm still accepting birthday gifts, in case you're wondering. ? A few weeks before my birthday, my son, Scott, started working on a project in the garage. I knew he was working on something for me because I was banned from the garage anytime he and my husband were in the garage. Scotty had been wanting to learn how to work with wood for quite some time. Finally, he and his dad were getting a chance to do just that. On my birthday, Scotty presented me with this beautiful cutting board. He spent way too much money on Roman olive wood because he has expensive taste. The board actually smells like olives! Is it weird that I want to hang it up on the wall instead of using it for its intended purpose?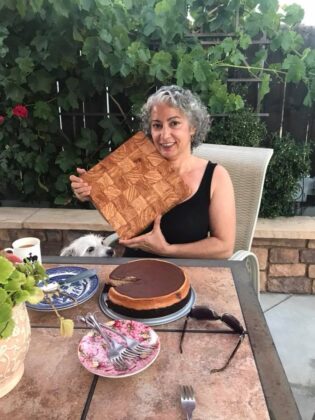 You may also like the following posts: Kicked Up Chicken Salad, Fattoush Salad, Broccoli Salad, and Chickpea Salad.
Do you Pinterest? Please pin & share!
German American Potato Salad
A tasty combination of American and German potato salad.
Ingredients
Potato Salad
2

lbs.

potatoes

(approx. 6 medium Idaho potatoes)

3

large

eggs

(boiled)

6

strips

bacon

1/3

cup

fresh dill

1/3

cup

onion

(purple, green, or mix of both)

2

stalks

celery ribs

(diced)
Dressing
1/2

cup

mayonnaise

1

tsp.

mustard

2

T.

bacon grease

2

T.

red wine vinegar

1

tsp.

salt

(or 1/2 tsp. salt & 1/2 tsp. lava salt)

1/2

tsp.

black pepper
Instructions
Boil potatoes for 25 to 30 minutes. Or until potatoes can be pricked with a fork with very little resistance.

Hard boil 3 eggs.

While the potatoes and eggs are boiling, fry six strips of bacon until crispy. Reserve two tablespoon of the bacon grease.

Chop the dill, onions, and celery, if using. I used a combination of red onion and green onion, but you can use either.

Next, crumble the bacon, and peel and chop the boiled eggs.

Peel the boiled potatoes and cut into quarters. Cut each quarter into eight sections.

Add all the chopped ingredients in a large bowl and gently mix.

Dressing: Mix all the salad dressing ingredients, including the reserved bacon grease.

Pour the dressing over the chopped ingredients and stir gently until combined. Chill a few hours until ready to serve.